Dallas Cowboys Rookie Sensation Micah Parsons Uses Michael Jordan Mocking a Teammate as Motivation to Become an All-Time Great
The Dallas Cowboys are a much different team in 2021. Rookie linebacker Micah Parsons is a huge reason for the team's surprising success. The 22-year-old revealed that he finds motivation in a specific clip of Michael Jordan.
Parsons uses the video to fuel his destructive Defensive Rookie of the Year campaign.
Micah Parsons learned lessons from watching Michael Jordan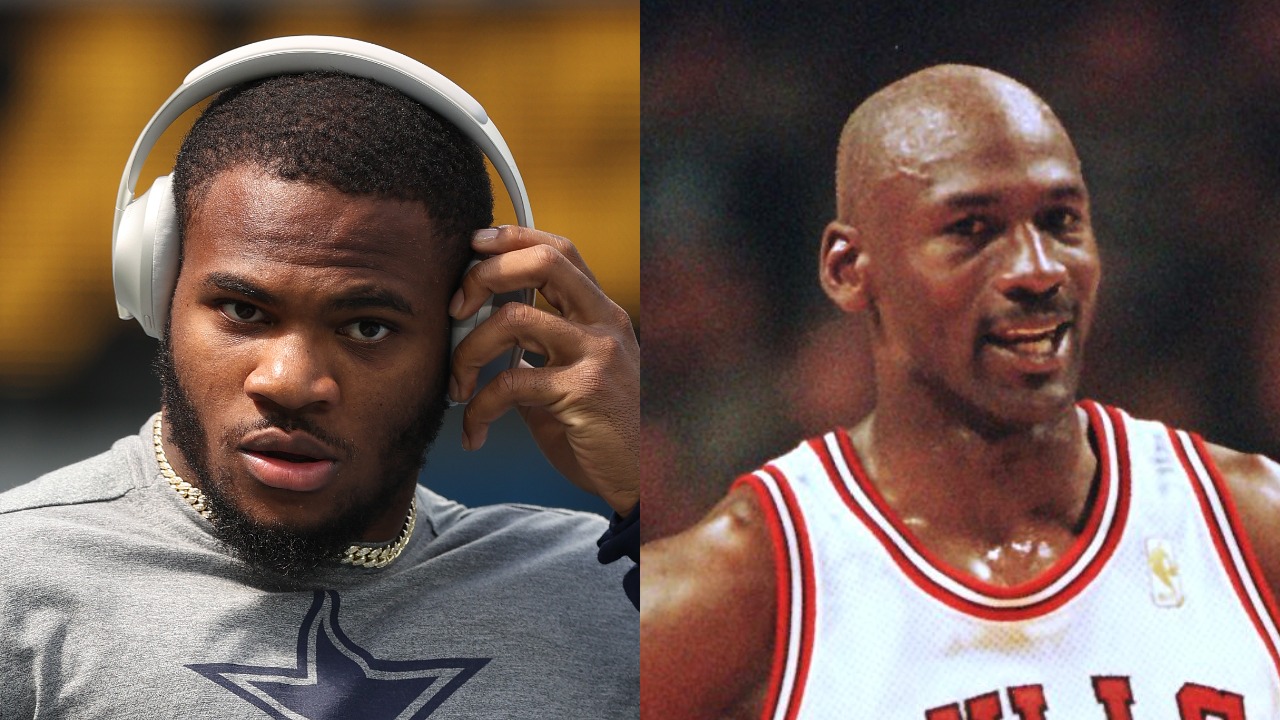 Dallas Cowboys linebacker Micah Parsons has taken the NFL by storm in such a short amount of time. The rookie has played just seven regular-season games, but he's already learning how to be a professional.
Parsons revealed he uses Michael Jordan as motivation. Jordan is arguably the greatest athlete of all time, regardless of sport. He referenced a particular clip that pushes him to take his game to another level.
MJ previously told a hilarious story involving his former Chicago Bulls teammate, Luc Longley. The Bulls were playing the Utah Jazz in 1998. Jordan complimented Longley for an impressive start to the game. The team had a comfortable lead but ended up losing by double digits.
"That is the last time I'm going to give you a compliment in the middle of a game," Jordan told Longley.
The clip helps Micah Parsons achieve a higher standard on the football field. He was hard on himself after the Cowboys defeated the New England Patriots in Week 6.
"If you go out there and you play OK, some people will be OK with that," Parsons said per Yahoo Sports. "I had an OK game; we won. But I don't think Michael Jordan would ever be OK with dropping 15 points and be like, 'We won.'"
The Harrisburg, Pennsylvania native understands how important he is to Dallas' long-term success, so he wants to be the best version of himself.
Parsons' intensity fuels the Cowboys' defense
The Dallas Cowboys hit the lottery when they drafted Micah Parsons with the No. 12 overall pick in the 2021 NFL Draft. He's already made the front office look like a group of geniuses.
Parsons' presence on the field has done wonders for new defensive coordinator Dan Quinn's defense. He plays the game fast and with reckless abandon, which is a nightmare for opposing offenses.
The Penn State product put every opposing quarterback on the Cowboys' schedule on his hit list. His supreme confidence has brought a certain swagger to the defense that it lacked in 2020.
In a recent interview with Michael Irvin, Parsons said the defense features "a bunch of go-getters." He's one of those players, and the chip on his shoulder pushes him to be great.
Even with his early success, Parsons isn't getting complacent. Michael Jordan's words continue to resonate with Parsons and serve as everyday motivation to improve his craft.
"I think no one should be OK with just playing OK," said Parsons. "I should have a higher expectation for myself, and I think the coaches have the same expectations, and I think that was weighing in on me."
The rookie's desire to be great is one of the many reasons he can be a star in the NFL for years to come.
The rookie linebacker could run away with Defensive Rookie of the Year Award
Mike McCarthy's Dallas Cowboys are currently 6-1 and have established themselves as one of the best teams in the NFL. The defensive improvements have been a significant reason for the team's resurgence.
Micah Parsons has been what Jerry Jones wanted and then some. He and Trevon Diggs have played lights out football. The two are a breath of fresh air for a defense that was porous for much of the 2020 season.
Parsons' versatility has been on full display in 2021. The Cowboys have lined him up at linebacker and defensive end. He's rushing the passer and dropping back in pass coverage. Although there's still plenty of room to grow, he's playing at a high level.
Parsons has recorded 42 tackles, which ranks second on the team. He also has 11 quarterback hits, seven tackles for loss, and 2.5 sacks. He's flying to the football and has shown a knack for making game-changing plays.
Of all the rookies who have shown out in year 1, the Cowboys' linebacker stands out. Dallas doesn't take a step forward on defense without Parsons. They wouldn't be Super Bowl contenders without him, either.
The 22-year-old's impact is evident. Barring injury, Micah Parsons could run away with the 2021 Defensive Rookie of the Year Award.
The talent is unquestioned. If Parsons continues to channel Michael Jordan, he could become one of the greatest linebackers the game has ever seen.
All stats courtesy of Pro Football Reference
RELATED: Trevon Diggs Reveals the Difference 1 Year Made for the Cowboys and Why They Can Win the Super Bowl: 'Feels Like a Real Team'