The Dallas Cowboys Are Scary Close to Adding a Superstar Into the Lineup Who Can Put Them Over the Top in the NFC
At 7-2 and in first place in the NFC East, the Dallas Cowboys have to be feeling pretty good about their playoff positioning.
They're coming off a 43-3 drubbing of the Atlanta Falcons, and other than a significant blip on the radar against the Denver Broncos, Dallas has been one of the hottest teams in the league.
Before the loss to Denver, Dallas had secured a six-game winning streak. The 30-16 loss was an ugly affair, but the Cowboys showed grit and resiliency against the Falcons, proving they could put an ugly loss behind them.
So yeah, things are going pretty good for Dallas.
They're about to get better once their superstar left tackle is back in the lineup.
The Dallas Cowboys could get Tyron Smith back as soon as this weekend
The Cowboys have a huge game coming up this weekend against a 6-4 Kansas City Chiefs team that has seemingly gotten back its swagger. The Chiefs are winners of three in a row and are coming off a 41-14 win over a solid Las Vegas Raiders squad.
Patrick Mahomes regained his form in the win, throwing for 406 yards and five touchdowns.
As important as it's going to be for Dallas' defense to step up against the Chiefs, it will be equally as vital for the offense to keep pace with Mahomes and company.
That's where the good news comes in. According to Cowboys' COO Stephen Jones, it sounds like Tyron Smith has the potential to play against Kansas City.
Asked whether or not Smith will be able to play, Jones told 105.3 The Fan that "he's got a real shot."
"I do think we'll add Tyron to the list of guys who will be able to step up and play," he added.
Getting Smith back would be huge for Dallas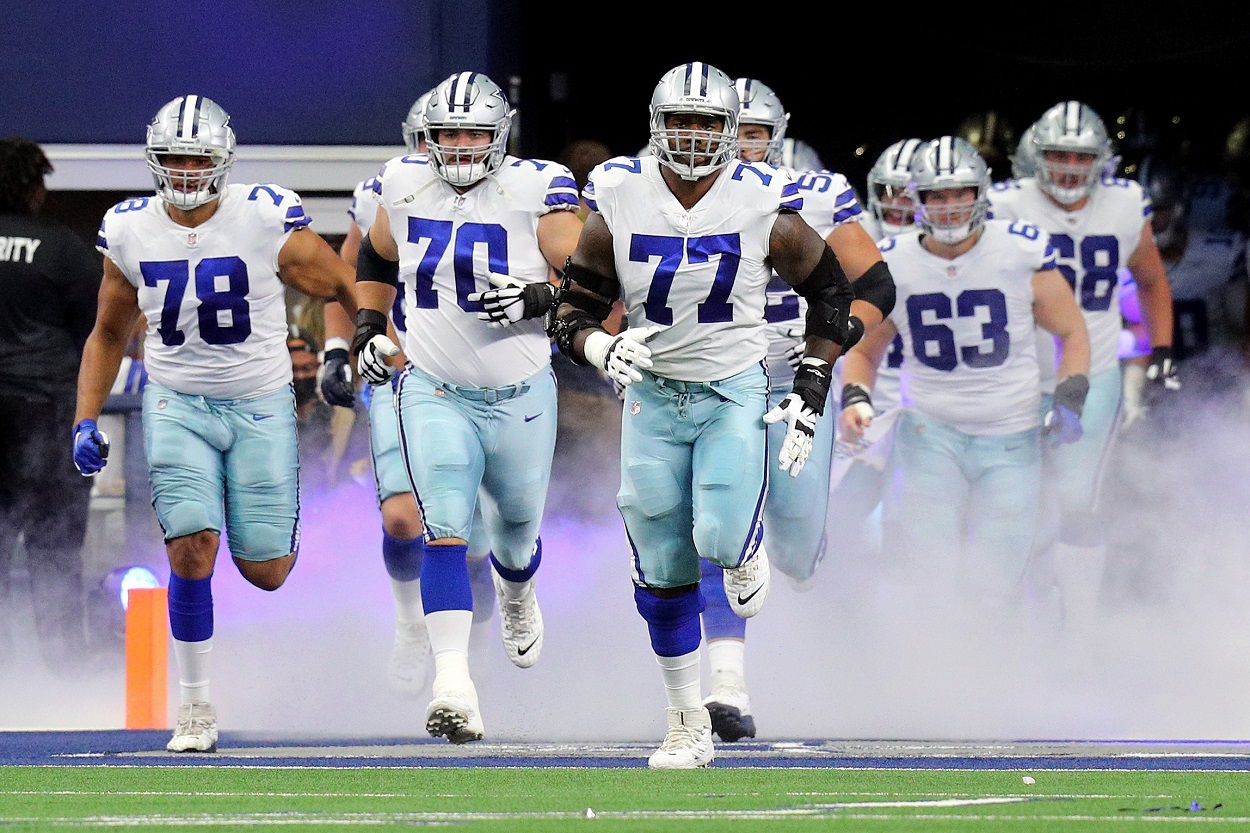 Smith's resume speaks for itself. He's one of the best offensive linemen in football, and he's been a significant part of Dallas' offensive success ever since the Cowboys drafted him with the ninth overall pick in the 2011 NFL Draft.
Getting him back into the lineup would be huge, literally. At 6-foot-3, 320-pounds, he's a mountain of a left tackle, and he's as steady as they come. He's a seven-time Pro Bowler and a two-time All-Pro.
Smith has been out with a left ankle injury since the first half of Dallas' October 31st win over the Minnesota Vikings. With Smith out, Dallas was forced to play swing tackle Terence Steele in his position with La'el Collins back at right tackle.
The good news? The Cowboys' offense as a whole was outstanding against the Falcons, putting up 431 total yards, including 317 through the air.
The bad news? The Cowboys' offensive line kept quarterback Dak Prescott clean against Atlanta, but the same wasn't true in the loss to Denver, which was the first complete game without Smith. With Steele starting in his stead, Prescott was hit five times, sacked twice, and he threw an interception.
It's no surprise that there's a massive dropoff between a perennial Pro Bowler and a swing tackle, but it's worth remembering just how big of a difference Smith can make for Dallas' offense when he's good to go.
If he can go, Dallas could really use Smith against Kansas City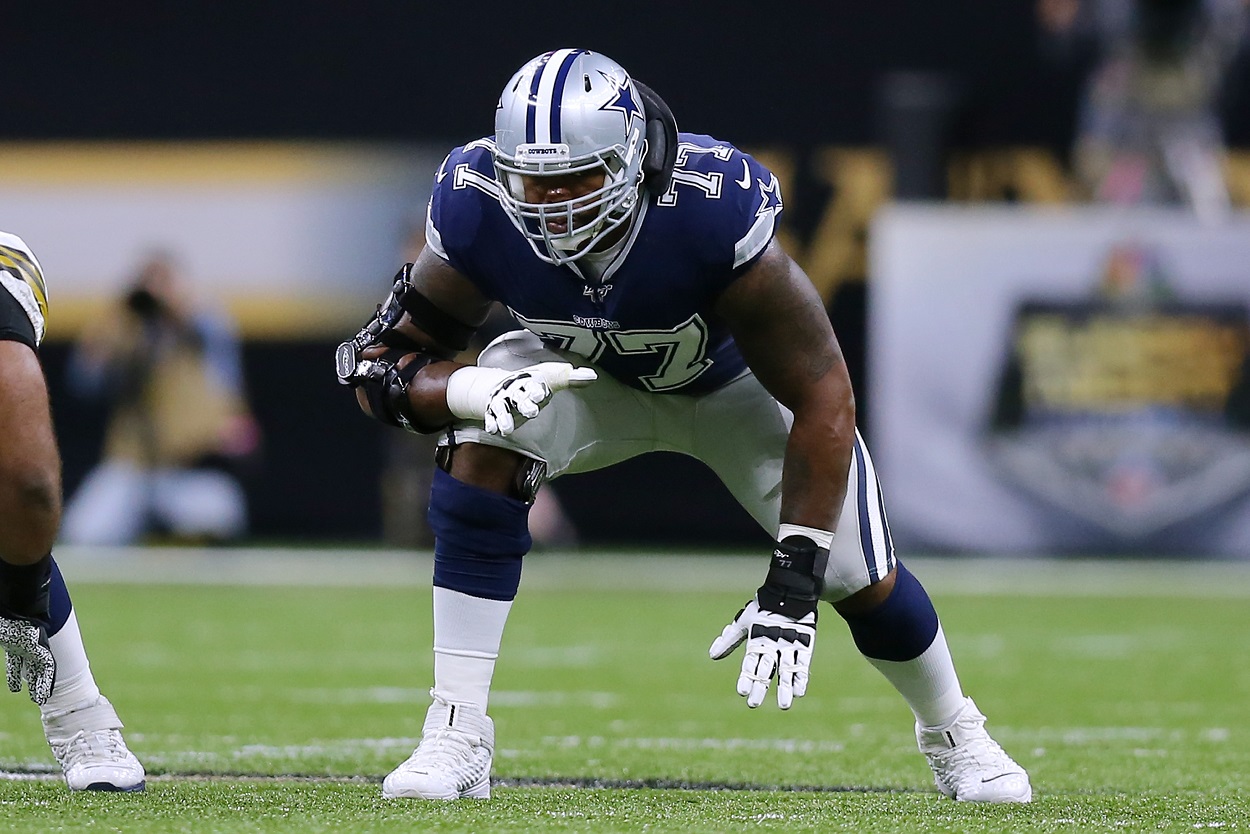 It sounds like Smith is close to being ready to play, so if there is any chance he can go, Dallas would be wise to give him the start.
Of course, playing it safe with a long playoff push being the main goal is always an option, but going into Arrowhead Stadium and coming away with a win is never an easy task. Dallas' offensive line will need to be as close to full strength as possible because even a pedestrian Kansas City defense can be very tough with the crowd behind its back.
This is a big game for both teams, and getting a win in Kansas City in mid-November is a daunting task for even the best of teams.
Kansas City hasn't been great defensively in 2021, but the Chiefs are good at one thing, and that's applying pressure. Defensive coordinator Steve Spagnuolo blitzes on 30% of Kansas City's defensive snaps, and though they don't always get home, the Chiefs hurry the quarterback on 12.5% of dropbacks. That's the ninth-best hurry rate in the league.
Defensive tackle Chris Jones only has three sacks this season, but he's always a threat to have a big game, and linebacker Nick Bolton is Top 10 in the NFL so far this season with ten tackles for loss.
Prescott's health is one of the main factors determining how realistic the Cowboys' Super Bowl aspirations are this season. With that in mind, keeping him upright and paving the way for Ezekiel Elliott on the ground are two major keys to success for Dallas. That's true against both the Chiefs and anyone else coming up on the Cowboys' schedule, so even if Smith can't get back this weekend, the sooner he gets back, the better for Dallas.
With every win and loss making a difference in a tight race for the top spot in the NFC, getting Smith back could be the thing that puts the Cowboys right over the top.
Stats courtesy of ESPN and Pro Football Reference.