The Dallas Cowboys Show a Strange Willingness to Throw Dak Prescott Right Into the Lion's Den
The Dallas Cowboys are willing to throw star quarterback Dak Prescott directly into the fire, fresh off a major injury and without even playing a single preseason game.
Prescott missed time earlier in training camp with a shoulder issue and has not played since Week 5 of the 2020 season, when he suffered a devastating ankle injury. He is also fresh off signing a massive contract extension. However, Cowboys executive vice president Stephen Jones doesn't seem to think Prescott needs preseason reps before jumping right back into the action.
Dak Prescott is nursing one injury after recovering from another
Prescott came into the offseason with some optimism. His recovery from a broken ankle was going well, as he displayed good mobility and began throwing on schedule.
It got even better when he reached an agreement with the Cowboys on a four-year, $160 million contract. The two sides had been at odds in contract talks for some time, but Dallas made its commitment to Prescott as the franchise signal-caller. Things were going quite smoothly.
But the two-time Pro Bowler experienced a bit of a setback.
Prescott has been dealing with a shoulder strain for the majority of camp. The Cowboys shut him down from throwing, though he resumed those drills during camp on Wednesday.
Dallas is wisely being cautious with the star quarterback, and Prescott himself has stated he is taking things slow to ensure he will be ready to go when the regular season starts.
Indeed, the regular season is the priority. Still, Prescott has not played a snap in close to a full calendar year. Are the Cowboys comfortable letting him trot out onto the field without any preseason reps? According to Stephen Jones, the answer is yes.
Stephen Jones said concern about the QB playing in preaseason games is "overrated"
Jones thinks whether Dak Prescott plays in the preseason is inconsequential.
"I know people worry about that, but I think that's overrated," Jones said, via ESPN's Todd Archer. "Dak Prescott knows how to play the game of football and whether he plays a series or two in Houston isn't going to affect how he's going to play against Tampa."
The sentiment isn't without merit. Preseason games are becoming less and less a part of offseason work. Most stars tend to sit most if not all of the preseason, including and especially star quarterbacks.
The difference, in this case, is the fact Prescott has yet to test his surgically-repaired ankle in a game situation, much less see how the shoulder feels after the early bump in the road. Some might argue the Cowboys are smart to hold Prescott out if they are concerned about fragility. Yet, it's a tall order to ask him to step on the field and perform against the defending world champion Tampa Bay Buccaneers come Week 1.
Prescott indicated Wednesday he could still play in the third and final preseason game, but the Cowboys seem indifferent.
Will Prescott pick up where he left off?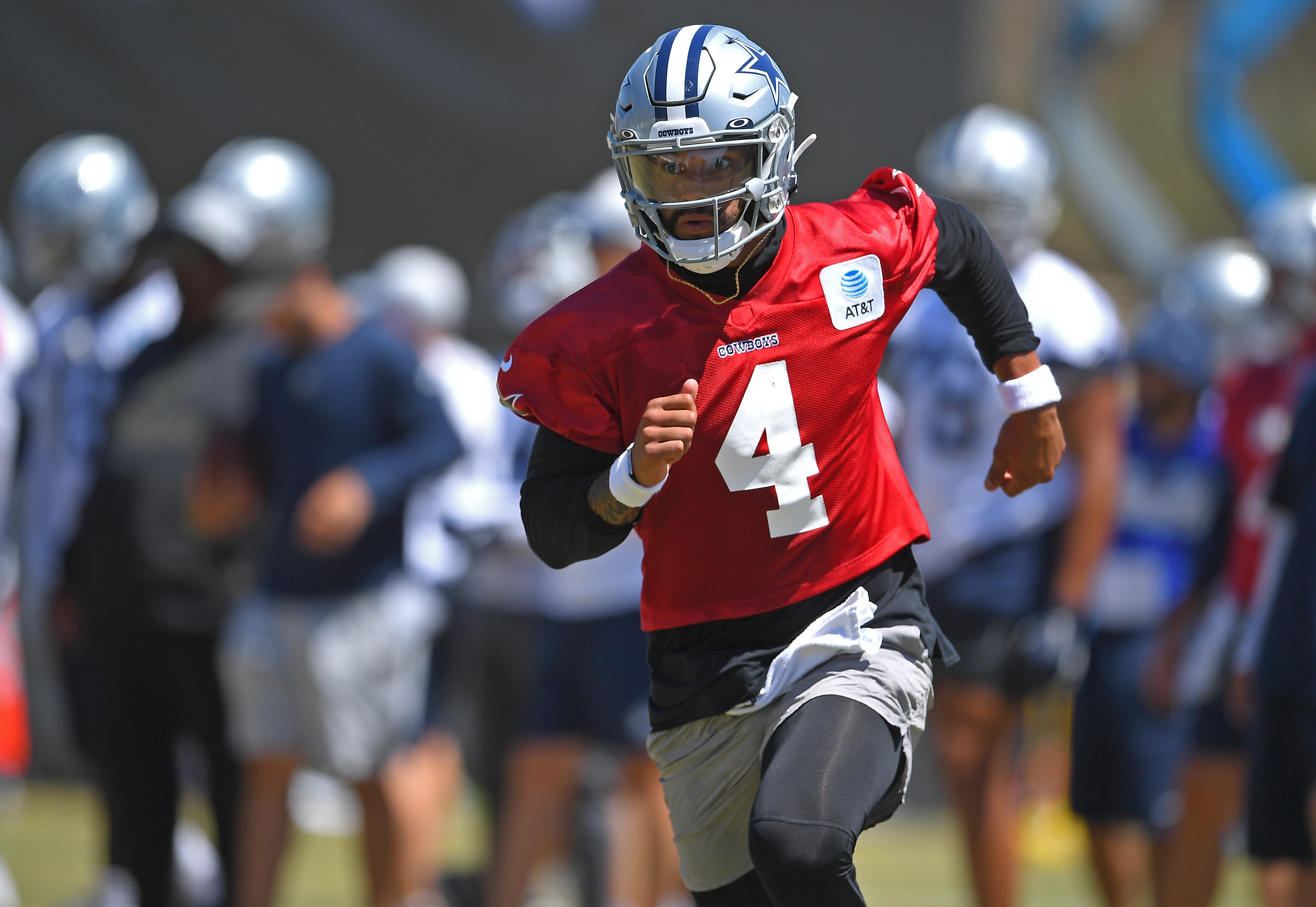 Dak Prescott's 2020 campaign got off to a flying start before the untimely injury.
The 28-year-old almost single-handedly kept the Cowboys in games, completing over 68% of his passes in the first five contests and averaging a whopping 371.2 yards per game. That latter number is despite the fact he missed more than a full quarter in Week 5. Prescott's 7.72 net yards gained per pass attempt was best in the NFL during that stretch.
Will the Cowboys get the 2020 version of Prescott, who was headed for a career year? Or, will the lack of preseason reps and extremely cautious approach come back to bite him? Time will tell, but the Cowboys are showing a strange amount of complacency considering they need Prescott to be in elite form.
Stats courtesy of Pro Football Reference.