The Dallas Cowboys Strike Down 'Utterly Laughable' Rumors of a Drastic Quarterback Trade
Two NFL teams are dealing with similar problems. The Seattle Seahawks are dealing with a superstar quarterback in Russell Wilson who has hinted that he may want out of town. The Dallas Cowboys are once again having trouble securing their own franchise quarterback, Dak Prescott.
Naturally, the two teams have been linked in rumors of a potential blockbuster quarterback swap. A source within the Cowboys has seemingly put those rumors to bed once and for all.
Wilson-for-Prescott? 'Utterly laughable'
RELATED: Russell Wilson Reportedly Has 4 NFL Teams on His Potential Trade Wishlist
The first person to bring up the possibility of Russell Wilson as a Dallas Cowboy was, oddly enough, Wilson himself. On Thursday, his agent released a list of the only four teams he would accept a trade to. On that list was, of course, Dallas.
Earlier this offseason, the Los Angeles Rams and Detroit Lions authored a blockbuster deal when they swapped quarterbacks Matthew Stafford and Jared Goff. It wasn't a stretch to theorize that the Seahawks and Cowboys would pull the same stunt with Wilson and Dak Prescott. The Cowboys have yet to sign Prescott to a long-term deal or place the franchise tag on him.
Sunday afternoon, NFL reporter Jane Slater shot this idea dead.
"Not only do I not think this is happening, I did go ahead and check that with one of my team sources," said Slater. "They equally found the scenario laughable."
Pros and cons of Wilson to Dallas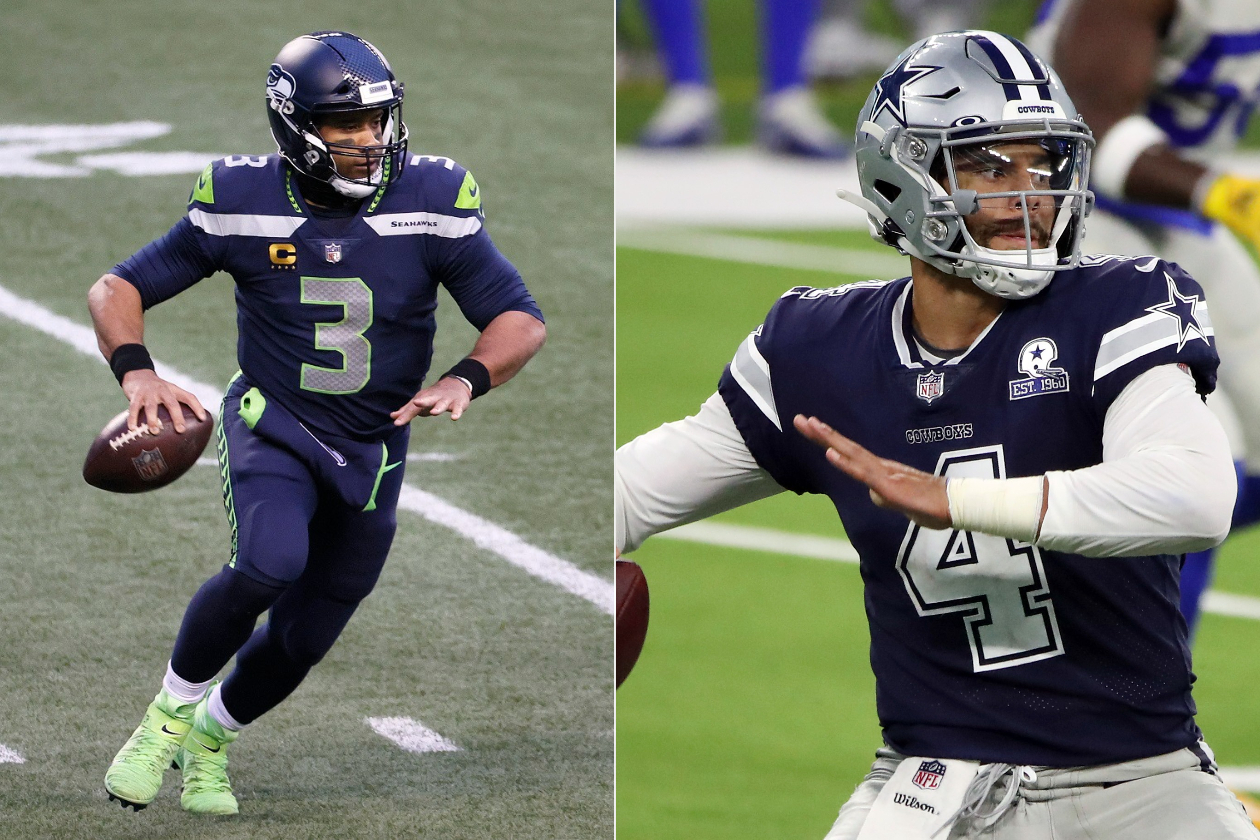 RELATED: Emmitt Smith Cautions the Dallas Cowboys About Dak Prescott
Let's be clear. Unless Jerry Jones is pulling some strings behind the scenes, a Russell Wilson-to-Dallas deal is probably not going to happen. The following exercise is purely theoretical.
If this did happen, the Dallas Cowboys would receive a quarterback with serious credentials. Russell Wilson has two NFC championships and a Super Bowl win under his belt. He also has plenty of playoff experience, something most of the Cowboys roster doesn't have. As the first half of his 2020 season showed, he still has frightening accuracy and improvisational skills.
However, the actual upgrade would be questionable. Wilson is 32 years old and closer to the end of his career than the beginning. By contrast, Prescott is only 27 and in the prime of his career, with his best days most likely ahead of him.
Most of his career struggles can be chalked up to the failures of Jerry Jones to surround him with a decent supporting cast. This is something Russell Wilson usually has in Seattle, despite his recent comments suggesting otherwise. Place Wilson in an unchanged Cowboys offense, and odds are that the win total doesn't improve much.
Logistical problems with this quarterback swap
Now here's why the Wilson/Prescott trade will probably never happen, regardless of how much Cowboys fans might like it to happen.
According to NFL reporter Michael Silver, it will take a lot more than an equivalent starting quarterback for the Seahawks to even consider moving Wilson. In fact, it will take a whopping three first-round picks. Perhaps the addition of Prescott could lower this to two, but nonetheless, even Jerry Jones might scoff at a deal this reckless.
If the Seahawks do agree to this, they would sustain the largest cap hit in NFL history: $39 million. This will be even larger than the $33.8 million cap hit the Philadelphia Eagles absorbed for trading Carson Wentz to the Indianapolis Colts earlier this month.