Dallas Cowboys WR CeeDee Lamb Is Primed for a Major Breakout Season in 2021
When CeeDee Lamb first fell to the Dallas Cowboys at No. 17 overall in the 2020 NFL Draft, they were ecstatic. Many NFL scouts and draft analysts had Lamb as the top receiving prospect in his class. The Cowboys being able to land him so late in the process was a major steal.
The Cowboys didn't necessarily need Lamb — they're pretty loaded at wide receiver with Amari Cooper and Michael Gallup already on the roster. Throw in a running game led by Ezekiel Elliott, and many felt the Cowboys should've opted toward a defensive player with their first-round selection that year.
However, when someone as talented as Lamb falls into your lap, you don't turn that opportunity down.
CeeDee Lamb should live up to his first-round status and then some for the Dallas Cowboys in 2021
Lamb's rookie season was an extremely productive one. In fact, if it wasn't for Justin Jefferson breaking records with the Minnesota Vikings, many would have walked away from this past season viewing Lamb as the top young WR in the sport. He finished 2020 with 74 receptions, 935 yards, and five touchdowns — all impressive numbers for a first-year wideout.
Since the Cowboys' starting quarterback — Dak Prescott — missed a majority of the season with an ankle injury, Lamb's numbers look even more impressive. He was doing all of this while catching passes from Andy Dalton, Ben DiNucci, and Garrett Gilbert.
Not exactly a Hall of Fame-caliber list right there.
Lamb is having a dominant training camp
To build off his impressive rookie campaign, Lamb has shown up to training camp in phenomenal shape. He's been a constant highlight reel, hauling in mindbending catch after mindbending catch.
With a special combination of size (6-foot-2, 189 pounds), speed, and physicality, Lamb has quickly established himself as a player who can thrive at all three levels of the route tree.
He's explosive enough to create separation immediately after the line of scrimmage, physical enough to withstand hits over the middle of the field on intermediate slant routes, and fast enough to burn defenders over the top on downfield concepts.
The Cowboys' deep passing attack should only make life easier for the former Oklahoma Sooner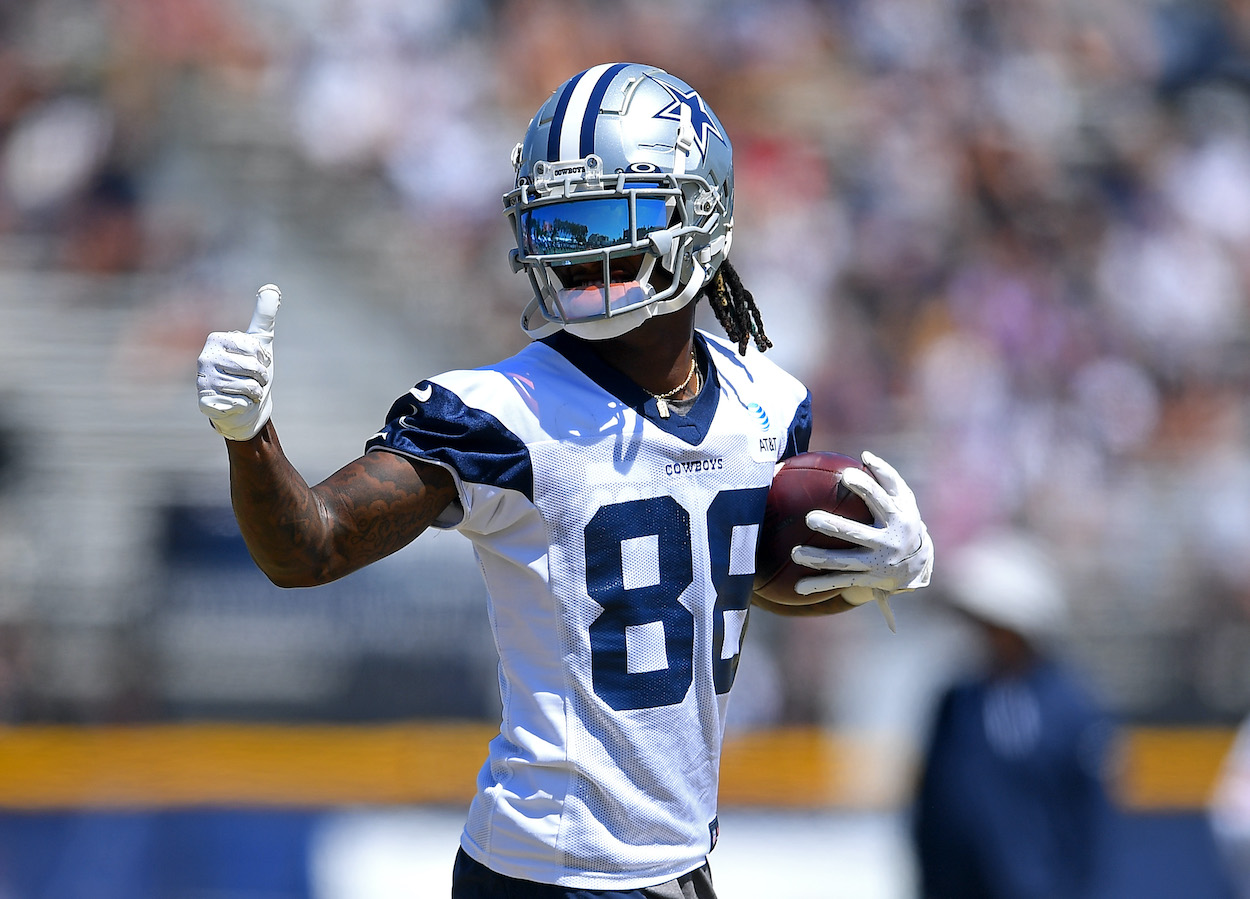 While Lamb may sometimes need to fight for targets, having too many weapons is simply not a thing in today's NFL.
The Cowboys have three wide receivers capable of putting up monster numbers at a moments' notice, which should only make Lamb's life easier as he navigates through his sophomore season.
Unless defensive coordinators decide Lamb is a bigger threat than Cooper and Gallup (which he might be), he will likely spend a majority of his Sundays being covered by Nos. 2 and 3 cornerbacks. The NFC East, in particular, doesn't have the best of defenses, which only adds to the likelihood of Lamb having a massive 2021 season.
Assuming Prescott returns to action 100% healthy and throws the ball as he did in 2019, the sky is the limit for Lamb and this Cowboys offense.
Lamb has WR1 material written all over him, and he's playing for an offense that is looking to move the ball down the field at a high rate. That creates a best-case scenario for Lamb in year two as he looks to establish himself as one of the NFL's top receiving threats.
All stats courtesy of Pro Football Reference.