MLB
MLB: Why Dallas Keuchel and the Atlanta Braves Make Sense for Each Other
After closer Craig Kimbrel finally decided on a new team and signed with the Cubs, it was inevitable that free agent starting pitcher Dallas Keuchel wouldn't take much longer to sign his contract. Like Kimbrel, Keuchel was looking for a multi-year deal worth tens of millions of dollars; unlike Kimbrel, Keuchel didn't get that. The former Astro ended up signing a one-year deal with the Atlanta Braves worth a prorated $13 million over the remainder of the season.

Why it took him so long to sign
The Astros offered Keuchel a qualifying offer — worth $17.9 million for one year — in the fall, which he declined. That meant if a team signed him in the offseason, that team would have had to give up a draft pick to the Astros as compensation for them losing Keuchel. The draft pick compensation carried through to the 2019 MLB draft in early June. Once the draft happened, the signing team no longer had to give up a draft pick in order to sign Keuchel, which was important because teams are more protective of their draft picks now than they have been in the past.

The Braves were more willing to sign Keuchel when all it took was money and not a lost draft pick. In terms of his performance, Keuchel is a low-spin, low-velocity pitcher in an era when teams are looking for high-strikeout guys who throw heat.

Why Dallas Keuchel and the Atlanta Braves make sense for each other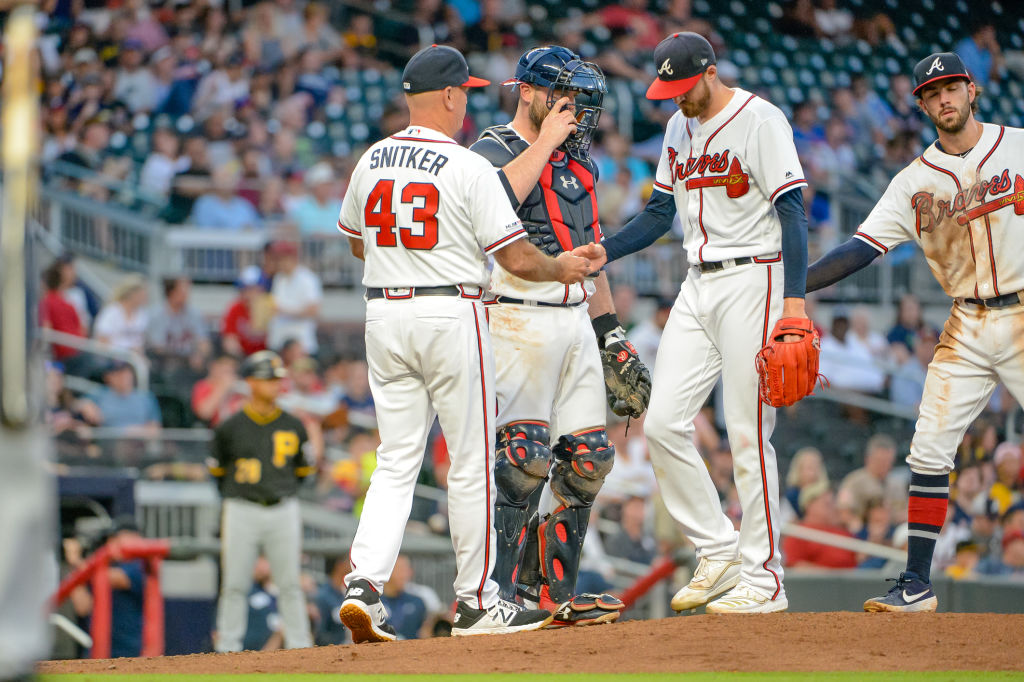 It makes sense that the Braves wanted to sign Keuchel because their starting rotation has been struggling. One of the veterans of the staff, Julio Teheran, has been pitching decently with a 3.03 ERA, but rookie Mike Soroka has been the surprising star of the rotation. In his first 10 starts, Soroka is 7-1 with a 1.38 ERA, though he's averaging fewer than a strikeout an inning with 57 punch-outs in 65.1 innings.

Outside of Teheran and Soroka, the rotation is struggling. Max Fried has a 3.68 ERA, but Mike Foltynewicz and Kevin Gausman have 5.89 and 6.15 ERAs, respectively. Keuchel gives the team another veteran presence in the rotation who, importantly, has shown that he can pitch well in the pressure of the postseason.

The Braves make sense for Keuchel because he isn't much of a strikeout pitcher, so going to the National League may help him since he'll be facing a pitcher a couple of times per game instead of the designated hitter. And being in the National League East, he'll have a few starts against the Mets and Miami Marlins, who are both below league average in runs per game. The Marlins are the worst team in the majors in that stat.

When will he make his Braves debut?
Since Dallas Keuchel wasn't in major league spring training and hasn't pitched since October, he won't slot into the Braves starting rotation right away. He is expected to make two or three starts in the minors before coming up to the big leagues. With the typical five or six days between starts, that would put Keuchel on a timeline to be added to the Braves' major-league roster in late June or early July.

Depending on Keuchel's performance, that timeline may be altered. If he struggles down on the farm, the Braves may leave him down there longer and wait until after the All-Star break to bring him up. He pitched well in his first start in the minors on June 10, striking out nine with just one walk in seven innings in his first start with the Rome (Ga.) Braves.

Who did the Braves outbid for Keuchel?
Reports indicate that the Yankees had an offer on the table for Keuchel, but it only amounted to $11 or $12 million, which the team wouldn't increase. That allowed the Braves to swoop in and outbid the Yankees with the $13 million deal that Keuchel eventually agreed to.