Dallas Mavericks Reportedly Decide Pursuit of Dream Free Agent Will Never Work
For much of the truncated NBA offseason, rumors had the Dallas Mavericks in hot pursuit of Kawhi Leonard. That interest hinged on Leonard opting out of his $36 million player option for 2021–22 and leaving the Los Angeles Clippers as a free agent. But reports indicate only half of that is going to happen.
Those rumors have, in turn, given the Mavericks pause. According to a report, Dallas is more likely to pursue a point guard than go after Leonard.
Dallas Mavericks reportedly don't want to try the 'wait and see' strategy
According to Adrian Wojnarowski of ESPN, Kawhi Leonard is not likely to leave the Clippers after declining his option.
"I've got no indication that Kawhi Leonard is interested in doing anything besides re-signing with the Clippers and rehabbing that injury."

Adrian Wojnarowski
"That injury" is the partial ACL tear in Leonard's right knee. He injured the knee in Game 4 of the Western Conference semifinals against the Utah Jazz. Leonard missed LA's last eight playoff games. He underwent surgery to repair the injury on July 13.
Marc Stein reported on Substack that the Mavericks are reading the handwriting on the wall. They have shifted their free agency focus to signing one of the top point guards on the market. Dallas also wants to retain one of their free agents.
Mavericks join a crowded field trying to get Kyle Lowry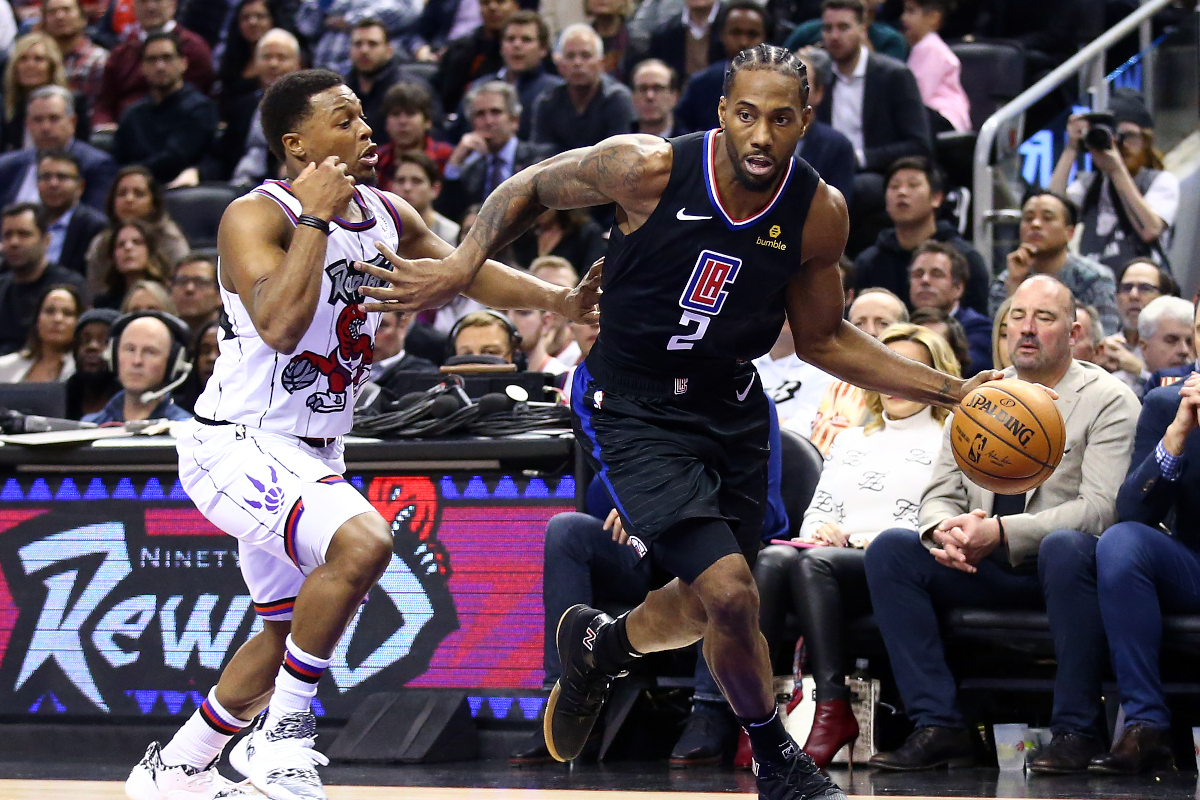 Although Kyle Lowry is 35, he is one of the most attractive free agents on the market this summer. There are several high-profile point guards on the market. But Lowry is the only one who has led a team to an NBA title. Lowry missed the All-Star Game in 2021 for the first time in seven years. The Toronto Raptors' plunge down the standings was a factor in that.
Lowry played in only 46 games this season for Tampa Toronto. In January, he missed two games with a foot injury, and was out four in February with a balky thumb. Lowry played in just seven games after March 29 for various reasons: foot, back, and tanking rest.
But when Lowry played, he was still productive. He averaged 17.2 points, 7.3 assists, 5.4 rebounds, and 1.0 steals in 34.8 minutes per game last season. Lowry posted a shooting slash line of .436/.396/.875. That was his best 3-point mark since 2017–18, and Lowry's free-throw shooting was the second-best of his career.
Lowry would have had one of the top rebounding seasons by a player 6-feet or shorter. But he missed the qualification standards. His 5.6 rebounds per game average in 2017–18 is the third-best in NBA history at that height. That trails only Hall of Famer Guy Rodgers, who averaged 6.5 a game in 1960–61 and 5.8 a night in 1959–60.
And Chris Paul did lead the Phoenix Suns to the NBA Finals in 2020–21 at age 36. So, there's a precedent there if one wants to look closely enough.
Tim Hardaway Jr. is also a priority for the Dallas Mavericks
Tim Hardaway Jr. isn't scoring at the rate he did a few years ago for the New York Knicks. But he finished fifth in the Sixth Man of the Year voting last season. Hardaway averaged 16.6 points in 28.4 minutes per game and showed his 39.8% 3-point shooting in 2019–20 wasn't a fluke. He hit 39.1% last season; he was a 34.3% marksman from distance over his first six NBA seasons.
Hardaway is coming off the four-year, $70.95 million contract he signed with the Knicks as a free agent in 2017. He originally came to Dallas in the six-player deal that also brought Kristaps Porziņģis to the Mavericks in January 2019.
Arguably, Hardaway has been at least as valuable to Dallas as Porziņģis since the trade. But that might not be entirely accurate depending on your metric of choice. Per the Value over Replacement Player (VORP) statistic, Porziņģis (3.2) has the edge over Hardaway (2.1) over the last two seasons. Porziņģis did not play in 2018–19 while recovering from a torn ACL.
Dallas has Bird rights on Hardaway, meaning they can exceed the salary cap to retain him. The Mavericks project to have roughly $34.3 million in projected cap space this offseason. They also have their $3.7 million bi-annual exception, the $9.5 million non-taxpayer mid-level exception, and a trade exception of nearly $1.7 million.
Superstar Luka Dončić becomes eligible for a supermax extension this summer, as well. Hence, the Dallas Mavericks want to position themselves to take the next step from merely reaching the postseason.
Statistics courtesy of Basketball Reference and Stathead; salary data courtesy of Spotrac.