Damian Lillard and Paul George Are Feuding but Who Wins the Net Worth Battle?
Damian Lillard and Paul George are both NBA superstars, but while they are both very talented on the court, the focus recently has been on the beef that they have with each other off the court. So, since Lillard and George have each had a lot of success, and they both have recently called each other out — which superstar has a higher net worth?
Damian Lillard has become a top NBA guard on the Portland Trail Blazers
RELATED: Damian Lillard Made Big-Time Programs Like Duke and UCLA Kick Themselves
The Portland Trail Blazers selected Lillard with the sixth overall pick in the 2012 NBA draft. He has ultimately become one of the top stars in the league as he has earned five All-Star selections as has been All-NBA four times so far.
After winning the Rookie of the Year award in 2012-13, averaging 19 points per game and 6.5 assists that season, he has since averaged 20 points per game or more in every other season. Additionally, since 2015-16, he has averaged 25 points per game or more every year.
In addition to his individual success, Lillard helped the Trail Blazers have a lot of success in 2018-19 as they went 53-29 and reached the Western Conference Finals. They, however, ultimately lost to the Golden State Warriors.
This season has arguably been the best season of Lillard's career. He is averaging career-highs in points per game with 29, and assists per game with eight. He is also shooting a career-best 45.6% from the field and 39.5% from 3-point range, also a career-best.
Paul George has become a top scorer in the NBA
RELATED: Anthony Davis and Paul George: Which LA Superstar Has a Higher Net Worth?
The Indiana Pacers selected Paul George with the 10th overall pick in the 2010 NBA draft. After averaging 7.8 points per game in his first season, and 12.1 in his second, George averaged 17.4 points per game in 2012-13. 
Following that season, George has since averaged 21 points per game or more in every season but 2014-15 when he only played in six games. George's best season so far was probably in 2018-19 when he scored a career-high 28 points per game on the Oklahoma City Thunder to go with 8.2 rebounds (also a career-high), and 4.1 assists. George also led the NBA with 2.2 steals per game that season.
George is now on his third team as he has played for the Pacers, Thunder, and now the LA Clippers. He had a lot of success with the Pacers, taking them to two consecutive Eastern Conference Finals in 2012-13 and 2013-14. Now, the Clippers are one of the best teams in the league as they are second in the Western Conference. George is averaging 21.4 points per game, 5.7 rebounds, and 3.9 assists this season.
For his career, George is a six-time All-Star and a five-time All-NBA honoree.
The two NBA superstars went back and forth on social media
RELATED: The NBA Would Be Much Different Had Paul George Landed With LeBron James in Cleveland
During a game in the NBA bubble where the Clippers beat the Trail Blazers 122-117, Lillard missed two crucial free throws at the end of the game. After he missed the shots, Clippers guard Patrick Beverley mocked him.
Lillard then said this after the game.
"Asking me about Patrick Beverley, who I sent him home before at the end of a game," Lillard said, according to CBS Sports. "Paul George got sent home by me last year in the playoffs. So they know. The reason they're reacting like that is because of what they expect from me, which is a sign of respect. It just shows what I've done at a high clip more times than not. I'm not offended by it. If anything, it should just tell you how much it hurt them to go through what I put them through in those situations previously."
Later on Instagram, George then wrote, "and you getting sent home this year." Lillard then replied, saying, "keep switching teams … running from the grind. You boys is chumps," per CBS Sports.
Social media was certainly interesting after the Clippers' win over the Trail Blazers.
Does Paul George or Damian Lillard have a higher net worth?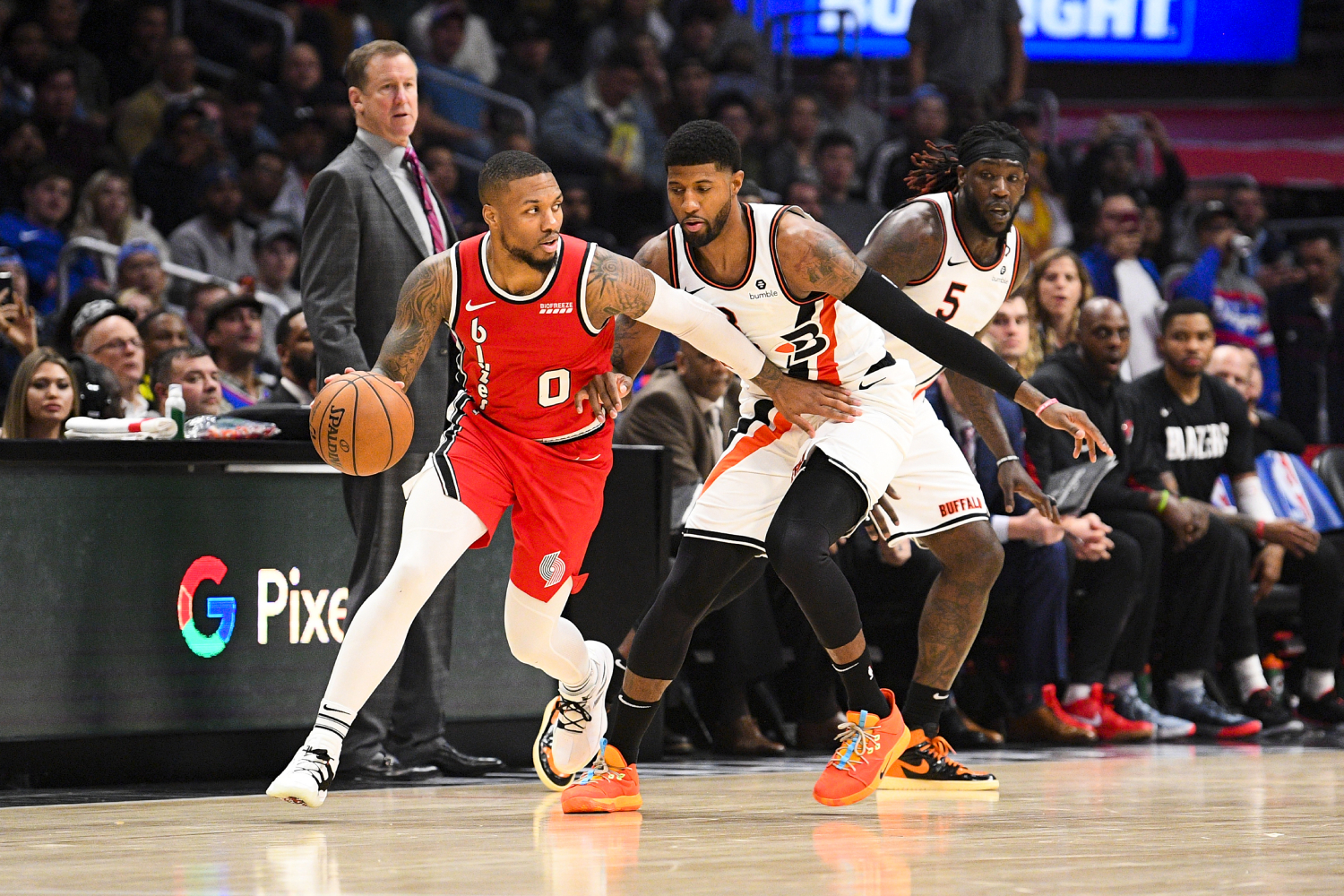 RELATED: Russell Westbrook and James Harden: Who Has a Higher Net Worth?
Since both George and Lillard have been so successful in the league, they have both made a lot of money. George has made an estimated $144.46 million in his career, while Lillard has earned an estimated $122.1 million.
So, who has the higher net worth? George has Lillard beat, but only slightly. George is worth $80 million, according to Celebrity Net Worth, while Lillard is worth $70 million.
Their achievements on the basketball court have certainly paid off for both of them.
Stats courtesy of Basketball Reference; Contract numbers courtesy of Spotrac