Damian Lillard Blasts Skip Bayless After Feuding With Paul George and Dropping 51 Points on the 76ers
Damian Lillard has recently been in a feud on social media with Paul George and Patrick Beverley. Now, he has beef with Skip Bayless on Twitter. The Portland Trail Blazers star just dropped 51 points on the Philadelphia 76ers, but Bayless is still being critical of Lillard. This has led to Lillard blasting Bayless on Twitter.
Damian Lillard went back and forth with Paul George and Patrick Beverley
RELATED: Damian Lillard Escaped Death From Gunpoint to Become an NBA Superstar
The Trail Blazers recently lost to the LA Clippers 122-117 in the NBA bubble, and Lillard missed two crucial free throws at the end of the game. After he missed the shots, Clippers guard Patrick Beverley mocked him.
Lillard then responded by saying this after the game.
"Asking me about Patrick Beverley, who I sent him home before at the end of a game," Lillard said, according to CBS Sports. "Paul George got sent home by me last year in the playoffs. So they know. The reason they're reacting like that is because of what they expect from me, which is a sign of respect. It just shows what I've done at a high clip more times than not. I'm not offended by it. If anything, it should just tell you how much it hurt them to go through what I put them through in those situations previously."
Later on Instagram, Paul George wrote, "and you getting sent home this year." Beverley also commented, "Cancun on 3."
In response to George, Lillard commented, "keep switching teams … running from the grind. You boys is chumps," per CBS Sports.
He answered with 51 points against the Philadelphia 76ers
RELATED: Damian Lillard Made Big-Time Programs Like Duke and UCLA Kick Themselves
The next day, after he missed the free throws against the Clippers, Lillard torched the Philadelphia 76ers. 
The Trail Blazers barely got the win as the final score was 124-121, and Lillard was the main reason they came out on top. He scored 27 points in the second half and 18 in the fourth quarter, as he ultimately finished with 51 points. He also had seven assists and two steals in the game.
The performance was big for Lillard in several ways. According to StatMuse, he became the 10th player in NBA history with 10 career 50-point games, joining Wilt Chamberlain, Michael Jordan, Kobe Bryant, James Harden, Elgin Baylor, Rick Barry, LeBron James, Allen Iverson, and Kareem Abdul-Jabbar.
The win also put the Trail Blazers only a half-game behind the Memphis Grizzlies for the No. 8 seed in the Western Conference.
Skip Bayless got blasted on Twitter by Damian Lillard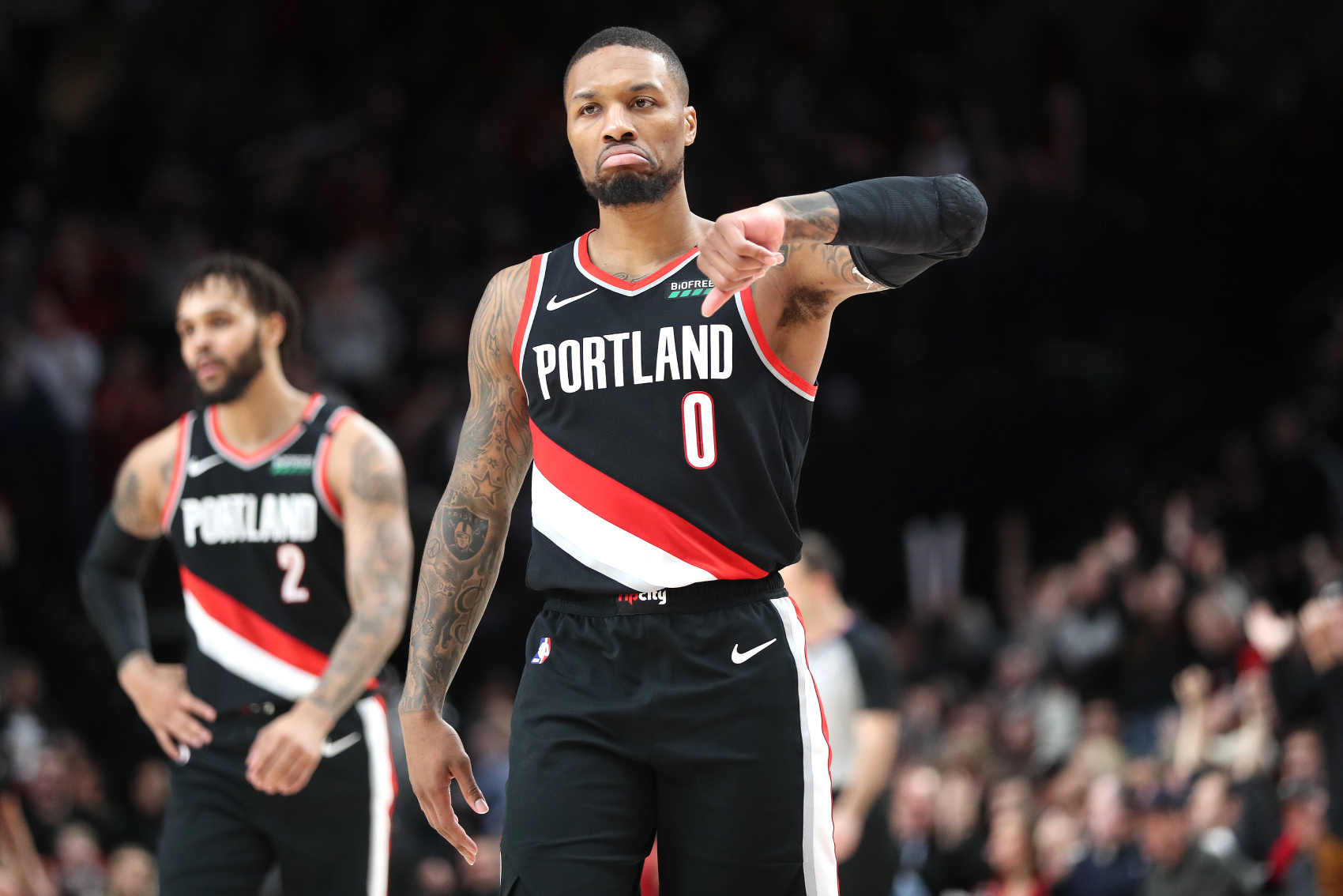 RELATED: Skip Bayless Just Shockingly Praised LeBron James Despite the Lakers' Struggles in the NBA Bubble
Following Lillard's 51-point game and his feud with George and Beverley, Bayless tweeted, "I'm still not buying 'Dame Time' and apparently the Clippers aren't either."
Lillard did not seem too happy about his comment.
"I have never been buying nothing about you fam. You a joke. And after our private convo full of back pedaling you will never have my respect," Lillard tweeted.
Someone then asked Lillard if Bayless was different in private than on TV, and Lillard responded, "Totally different." Additionally, in response to being asked if he would ever go on Bayless' show, Skip and Shannon: Undisputed, Lillard simply said, "Hell no."
Lillard is not the only player that Bayless has been critical of, as he also criticized LeBron James in the past. Because of this, a Twitter user asked Lillard how he thought Bayless would do in a one-on-one conversation with James, and Lillard tweeted, "Ask him what he said when I asked him 'and why you always hatin on Bron?'"
It's clear that Lillard is not happy with Bayless right now. Maybe he will do something similar to what he did after he went back and forth with George and Beverley, though, and drop 50-plus points in honor of Bayless.
Stats courtesy of Basketball Reference