Damian Lillard and CJ McCollum and 4 More of the Best Backcourts in the NBA
With another NBA season approaching, it's time to put together "best" lists to try to figure out which teams are the most likely to make the postseason, and potentially win the NBA championship. This time we're taking a look at the best backcourts in the league. With guards such as Russell Westbrook, Chris Paul, D'Angelo Russell, and Kyrie Irving changing teams, the list looks different than it has in the past as they adjust to their new teammates and offenses. With that in mind, here's a look at the five best backcourts in the NBA entering the 2019-20 season.

5. Kemba Walker and Jaylen Brown, Boston Celtics
Kemba Walker left the Hornets in free agency and landed with the Celtics this summer, requiring him to develop chemistry with new backcourt-mate Jaylen Brown. The duo got some of that experience in the FIBA World Cup, as they both played for Team USA in the tournament.

Walker and Brown should make a good combination together because Walker can score. Walker averaged a career-best 25.9 points per game last season. Brown excels defensively, which is one of the weak points of the 6-foot-1 Walker's game, especially as he enters his 30s in May.

4. Kyrie Irving and Joe Harris, Brooklyn Nets
Kyrie Irving and Joe Harris were teammates in Cleveland, and now they're reuniting in Brooklyn. Harris led the NBA with a 47.4% on shots from behind the arc last season, and he should get a lot of chances at open looks this season playing with Irving, who does a good job of breaking down defenses with his ball-handling.

Harris is a catch-and-shoot wing, which should mesh well with Irving, who won a championship playing with JR Smith, who had a similar catch-and-shoot style as Harris.

3. Ben Simmons and Josh Richardson, Philadelphia 76ers
Josh Richardson joins Ben Simmons in Philly's backcourt after coming over from the Heat in a four-team trade in July in which the 76ers sent Jimmy Butler to Miami. Playing together, Simmons and Richardson should prove to be a strong combination of size, defense, passing, and scoring. At 6-10, Simmons is the biggest point guard in the NBA, and the 23-year-old is a good ball-handler in a power forward's body. He is also more athletic than guys his size typically are. 

Mix that with Richardson, who can score from many areas on the court and is a good rebounder and passer for his position, and the 76ers' backcourt should be a formidable one for other teams to have to deal with this season.

2. Stephen Curry and D'Angelo Russell, Golden State Warriors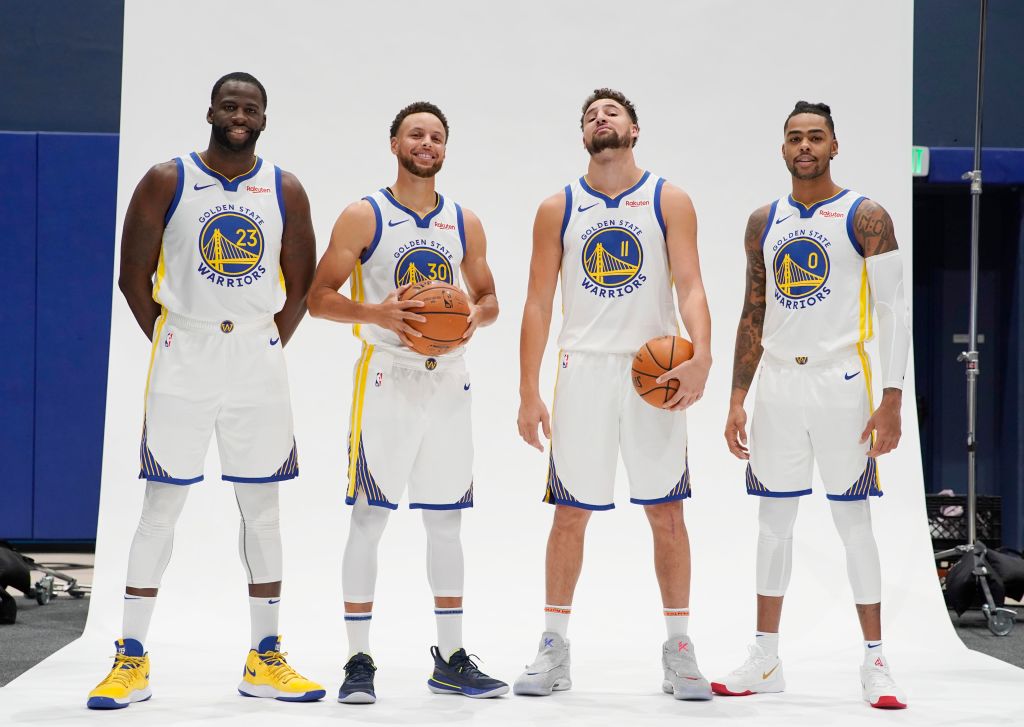 Any time Stephen Curry is in a backcourt, it is likely going to end up on a top-five list. Joining Curry in the backcourt this season is D'Angelo Russell, who came over to Golden State this summer in a trade with the Nets.

Russell is coming off his first All-Star season, in which he averaged 21.1 points and seven assists per game. Given his stature, Curry draws a lot of attention from defenses, and he is the best player Russell has ever played alongside, which should be good for Russell as he won't face as many double teams. Curry and Russell should spell trouble for other NBA foes this season.

1. Damian Lillard and CJ McCollum, Portland Trail Blazers
The top backcourt in the league is located up the west coast from San Francisco, with Damian Lillard and CJ McCollum in Portland. They've played together for six seasons — and Portland hasn't had a losing season in that time — so they are a cohesive unit that is coming off of a West Conference Finals appearance.

The duo averaged a combined 46.8 points, 8.6 rebounds, and 9.9 assists per game during the regular season a year ago — and the numbers were even better in their 16 postseason contests. The backcourt is the core of the Blazers team, and Lillard and McCollum should be able to carry the team to a seventh consecutive playoff appearance.