Damian Lillard's Dream of a Huge Payday Will Dictate Portland Trail Blazers' Search for a New GM
The Portland Trail Blazers are a mess right now. Not only are star guards Damian Lillard and CJ McCollum out with injuries, but the organization is reeling in the wake of firing president of basketball operations and general manager Neil Olshey. Trade rumors swirl around Lillard, even as the team reportedly has declared him untouchable. Interim GM Joe Cronin is bailing as fast as possible, but the boat in Portland is still taking on water.
Under new coach Chauncey Billups, the Trail Blazers are 11–15. That's tied for ninth in the Western Conference with the reeling Minnesota Timberwolves, who visit Moda Center on Dec. 12. Portland owns the longest active playoff streak in the NBA, eight seasons. Being in play-in tournament territory wasn't part of the plan.
Why is Damian Lillard out for the Portland Trail Blazers?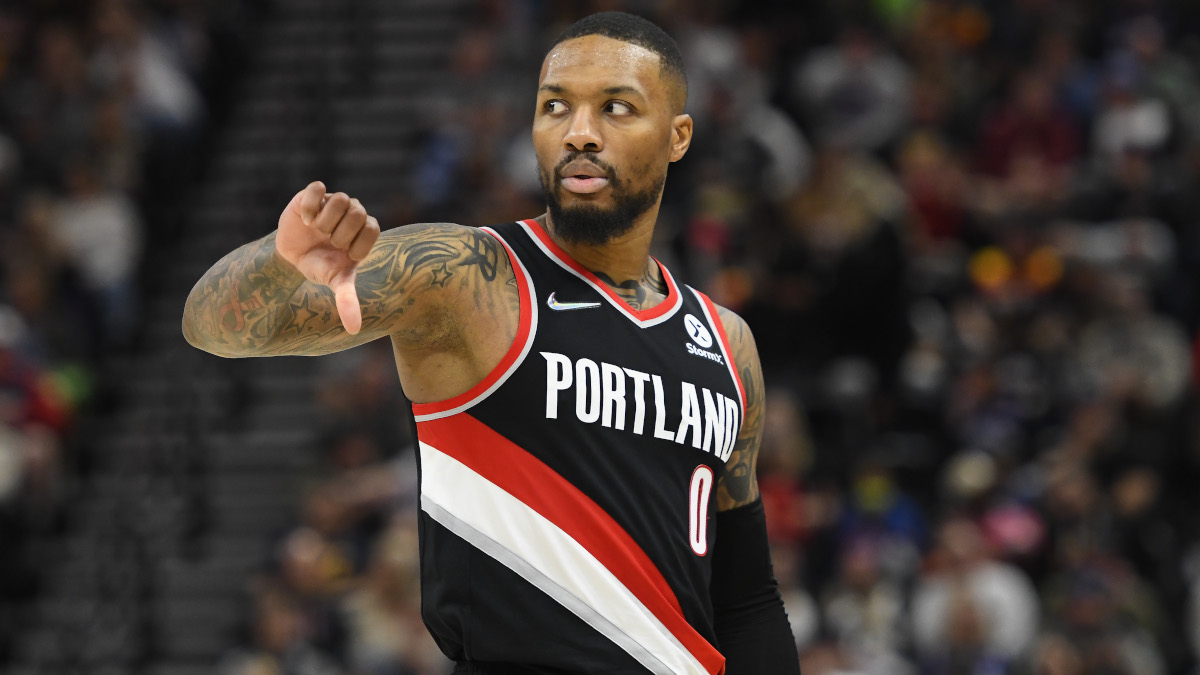 Superstar Damian Lillard has missed the last five games for the Portland Trail Blazers. He remains out indefinitely with lower abdominal tendinopathy. Lillard's condition is a strain to the tendon that connects the abdominal muscles.
Before he went out, Lillard tried to play through the discomfort. He's shooting at career-low levels, just 39.7% overall and 30.2% from 3-point range. His 21.5 points per game scoring mark is more than seven less than last season and is his lowest since 2014–15.
Trade rumors have revolved around Lillard since the offseason. He continues to deny them all. But a recent report linked Lillard's future in Portland to the search for a new general manager.
Damian Lillard reportedly wants an enormous contract extension
Damian Lillard signed a supermax extension in July 2019 for four years and $176.3 million. He's in the first year of that contract. The deal includes a $48.8 million player option for 2024–25, his age-35 season.
According to Adrian Wojnarowski of ESPN, Lillard wants a two-year extension to take him to the NBA's age-38 threshold for contracts. Such a deal would cost the Portland Trail Blazers $51 million in 2025-26 and $55 million the following year.
You're not alone if you think that is an enormous sum of money for a player in his age-36 and 37 seasons.
Wojnarowski cited potential GM candidates as having no desire to give Lillard such a contract. Several executives told Wojnarowski that Lillard's status could be a deal-breaker if offered the Trail Blazers' GM position:
"Several executives told ESPN they would be far more interested in the Blazers job with ownership's blessing to move Lillard sooner than later."
Lillard maintains that he is committed to Portland for the long haul. But Wojnarowski's report indicated he was denied a pair of power moves last offseason.
Lillard wanted influence on the roster and coaching hire
Per Wojnarowski, Lillard and his camp tried to push Olshey into a pair of moves. But the Portland Trail Blazers didn't hire Jason Kidd to replace Terry Stotts as head coach. Instead, Billups came to Portland, and Kidd wound up with the Dallas Mavericks.
There were also reports Olshey didn't actively pursue a trade that would have sent McCollum and four first-round picks to the Philadelphia 76ers for disgruntled Ben Simmons.
McCollum last played Dec. 4 and is out indefinitely with a collapsed lung. The Trail Blazers have lost four straight and seven of their last eight to slide down the Western Conference ladder.
According to Wojnarowski, three teams told him they are waiting for Lillard to request a trade next summer before picking up the phone to talk to Cronin or his eventual successor. The reason for that is simple: If Lillard wants out, Portland loses leverage in trade talks. It's the same scenario playing out in Philadelphia with Simmons.
The Blazers' ownership situation further complicates things. Jody Allen runs the team as caretaker of a charitable trust set up by her brother. Microsoft co-founder Paul Allen owned the Blazers from 1988 until he died in 2018. Jody Allen doesn't have the history or level of involvement with her brother's team.
The Portland Trail Blazers say the GM search won't be a rush job. But Damian Lillard's future and the franchise's fate are very much intertwined. The next few months could be defining for one or both.
Statistics courtesy of Basketball Reference. Contract information courtesy of Spotrac.