Damian Lillard Dunks on Another Report of Portland Trail Blazers Tension and Ben Simmons Trade Rumors
In a cycle that seems designed to lather, rinse, and repeat for several months, another report surfaced that Damian Lillard isn't happy with the Portland Trail Blazers. Naturally, a social media volley from Lillard followed, blasting the report's authenticity. Just another day that ends in "y" for the Blazers and Lillard. That's even as the franchise appears from the outside to be rapidly approaching a crossroads.
The firing of president of basketball operations and general manager Neil Olshey came after an investigation into allegations of workplace misconduct. Whether Olshey's departure can signal the clearing of the dark cloud over the organization or simply another thunderhead added to the din remains to be determined. What is known is that Portland is underperforming, often at embarrassing levels.
A new report links Damian Lillard, the Portland Trail Blazers, and Ben Simmons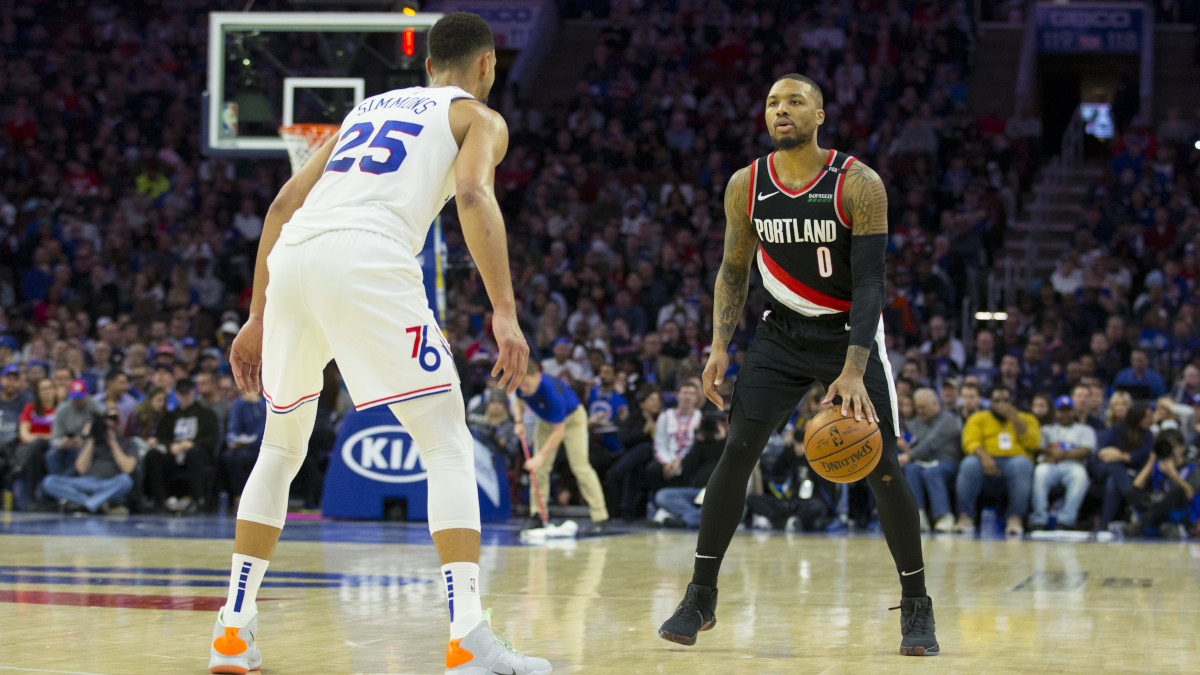 On Dec. 6, Shams Charania and Sam Amick of The Athletic reported interest from Damian Lillard in the Portland Trail Blazers acquiring embittered Philadelphia 76ers All-Star Ben Simmons:
"Sources say the Trail Blazers, under Olshey, discussed the framework of a trade for Simmons, moving CJ McCollum, a first-round draft pick, and a young player such as Nassir Little or Anfernee Simons to Philadelphia. The 76ers, sources said, at one point asked the Trail Blazers for McCollum and multiple draft picks and multiple draft swaps, which Portland rejected."
The report also claimed Lillard "would like to play" with Simmons. There are basketball reasons why it would be a good pairing, almost all of them relating to Portland's worst-in-the-NBA defense. Simmons is a versatile, switchy defender with two All-Defensive selections on his resume.
The last Trail Blazer named to an All-Defensive team was Theo Ratliff in 2003–04 (and it should be noted he played only 32 games with Portland after a mid-season trade).
Meanwhile, Portland has lost back-to-back home games by 31 and 28 points, respectively. Those losses prompted coach Chauncey Billups to question his team's effort and pride.
As for how Lillard plays into this, he's denied every media report discussing his dissatisfaction with the Trail Blazers since the offseason. At this point, there are two possibilities. The first is to take Lillard at face value.
Maybe Lillard is happy with the Portland Trail Blazers
Damian Lillard signed a four-year contract extension in 2019 that runs through 2024–25. It doesn't include a player option; it's a straight package that pays Lillard $176.3 million, including $39.3 million this season.
Lillard tweeted a response to the report from The Athletic that was dismissive:
"These mfs love drama too damn much."
That tracks with Lillard's reaction last summer to a report that he wanted the Portland Trail Blazers to trade him. But former players Reggie Miller, Charles Barkley, and Shaquille O'Neal — now all NBA analysts — have said it's time for Lillard and the Blazers to go their separate ways.
Noted New York Knicks fan Stephen A. Smith claims his sources indicate Lillard wants to go to the Knicks.  Speak it into existence, SAS.
In any event, Olshey backed off the McCollum-Simmons trade discussions because he liked the roster he had built, according to Charania and Amick. Portland has the longest active string of playoff appearances in the NBA, eight straight, but have only reached the Western Conference Finals once.
Of course, there is one other possibility to consider.
Perhaps Damian Lillard doth protest too much
In the theme of what William Shakespeare wrote in Hamlet centuries ago, it's difficult not to wonder if Damian Lillard's protestations to every media report that he's not happy with the Portland Trail Blazers are nothing more than an elaborate smokescreen.
After all, a proverb states, "Where there is smoke, there is fire." Simply put, rumors start for a reason.
Lillard is in his 10th season with the Trail Blazers. He's been a Rookie of the Year and made six All-NBA teams. But Portland hasn't been able to turn regular-season success into more than one deep playoff run. In 2019, the Blazers reached the conference finals before the Golden State Warriors rapidly showed them the exit in a dominant sweep.
Of the eight consecutive postseason berths, five ended with first-round losses. Then there were the reports that Lillard wanted Jason Kidd, now head coach of the Dallas Mavericks, to come to Portland. Instead, Olshey hired Chauncey Billups, a first-time head coach.
The Portland Trail Blazers are 11–13. Their defense is ranked 30th in the NBA only because it can't be ranked any lower. Billups is blasting his players publicly regularly. There are reports the locker room isn't happy with Billups.
And thrown in with that is front-office turnover and repeated reports of an unhappy franchise star in Lillard. Does he want to go? Does he want to stay while several of his teammates go? That depends on whether you're listening to the rumors or Damian Lillard's denials of them.
Statistics courtesy of Basketball Reference. Contract information courtesy of Spotrac.