Damian Lillard Eviscerates 'Insider' Who Keeps Trying to Suggest He Will Demand a Trade
Portland Trail Blazers star Damian Lillard is tired of other people speaking for him and stirring up trade rumors out of nowhere.
Dame's future with the Trail Blazers has come into focus this offseason. Despite murmurings that Lillard would request a trade this summer, the six-time All-NBA point guard clarified he was not requesting to be moved. Yet, one NBA "insider" continues to push the narrative that Lillard wants out of Portland.
Lillard is currently focused on trying to help Team USA win the gold medal at the 2020 Tokyo Olympics. However, he still found the time to shut down the insider's latest report.
Reporter from True Hoop keeps reporting Damian Lillard plans to request a trade
Does True Hoop's Henry Abbott have some kind of agenda? It's sure starting to feel like that's the case.
Abbott was one of the first reporters to kick off the buzz surrounding a potential Lillard trade request with an initial report for True Hoop on July 16. That report caused quite the stir and forced Lillard to address his future after a Team USA practice.
The 31-year-old honestly assessed the Blazers and said the organization needs to do something to get past playoff losses and be more competitive. Still, he said no trade request was in the cards.
Abbott, however, won't give it up. He reported Tuesday that Lillard told Olympic teammates he was still grappling with a potential trade demand and could even forgo game checks. Abbott added Lillard's trade request was imminent if the Blazers failed to show him an acceptable offseason blueprint.
Once again, Lillard made a point of publicly denying the rumors.
Lillard shot down Abbott's latest report
One emoji. That's all it took for Lillard to refute Abbott's report and, ideally, put an end to the nonsense.
Lillard went to Twitter on Wednesday morning to address the rumors following Team USA's victory over Iran in Tokyo. He quote-tweeted Abbott's latest report and merely put the "facepalm" emoji. That wasn't all, however.
Blazers teammate CJ McCollum saw fit to chime in. He quote-tweeted Lillard's response to the scuttlebutt and even seemed to poke fun at Abbott, prompting Lillard to say, "it's gettin out of hand."
It bears wondering where Abbott gets his information when Lillard has consistently refuted trade rumors. It's not as if Dame denies he is frustrated, either.
Lillard is consistently straightforward with his thoughts and desire to win. Why would he feel a need to gossip about giving up game checks and putting a percentage on a trade request, as Abbott reported?
Lillard will likely be the first to say he wants a trade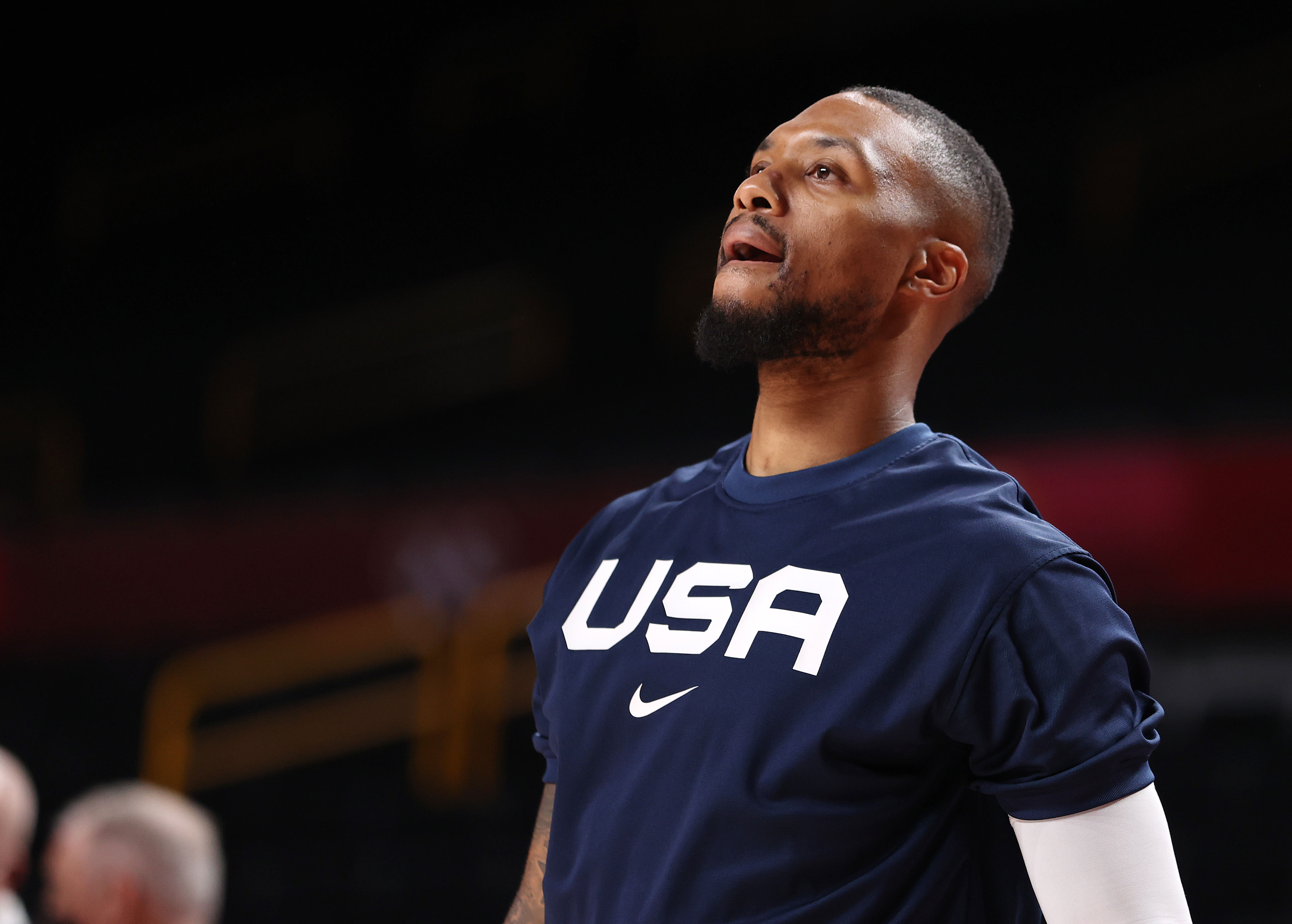 Again, Damian Lillard speaks his mind. He has always done so, whether it be on Twitter or in the press. If he wants out of Portland, he is likely to say so himself.
Now, does his latest denial of Abbott's report mean he will assuredly be with the Blazers for the 2021-22 season? Not necessarily. It's entirely possible Portland's failure to upgrade the roster and shake things up ultimately forces Lillard's hand.
However, it's that time of year when NBA reporters love to conjure things up seemingly out of thin air. Lillard sees through the smoke.