Damian Lillard Is Aiming to Become Kobe Bryant and Tim Duncan, but the Portland Trail Blazers Won't Let Him
Damian Lillard was talented and productive enough in college to be drafted sixth overall out of tiny Weber State in 2012. He's done nothing but ball for nine seasons since, in the process becoming the most recognizable Portland Trail Blazer of all time. (An argument could be made for Clyde Drexler or Bill Walton. But after that, it's a drop-off to LaMarcus Aldridge and Brandon Roy. Ouch.) Dame has always made it known he wants to be a Blazer forever. He wants to follow the Kobe Bryant-Tim Duncan path and remain with one franchise for his entire career. But Portland is making that exceedingly difficult on him.
Lillard isn't James Harden. He's not Anthony Davis. He's not Carmelo Anthony to take it back a decade. The 31-year-old doesn't want to force his way to a bigger market or form a super team. Lillard just wants Dame Time to be winning time. But it feels like Portland isn't giving him the chance.
Dame found a home in Portland and has always been grateful to the organization that took a chance on him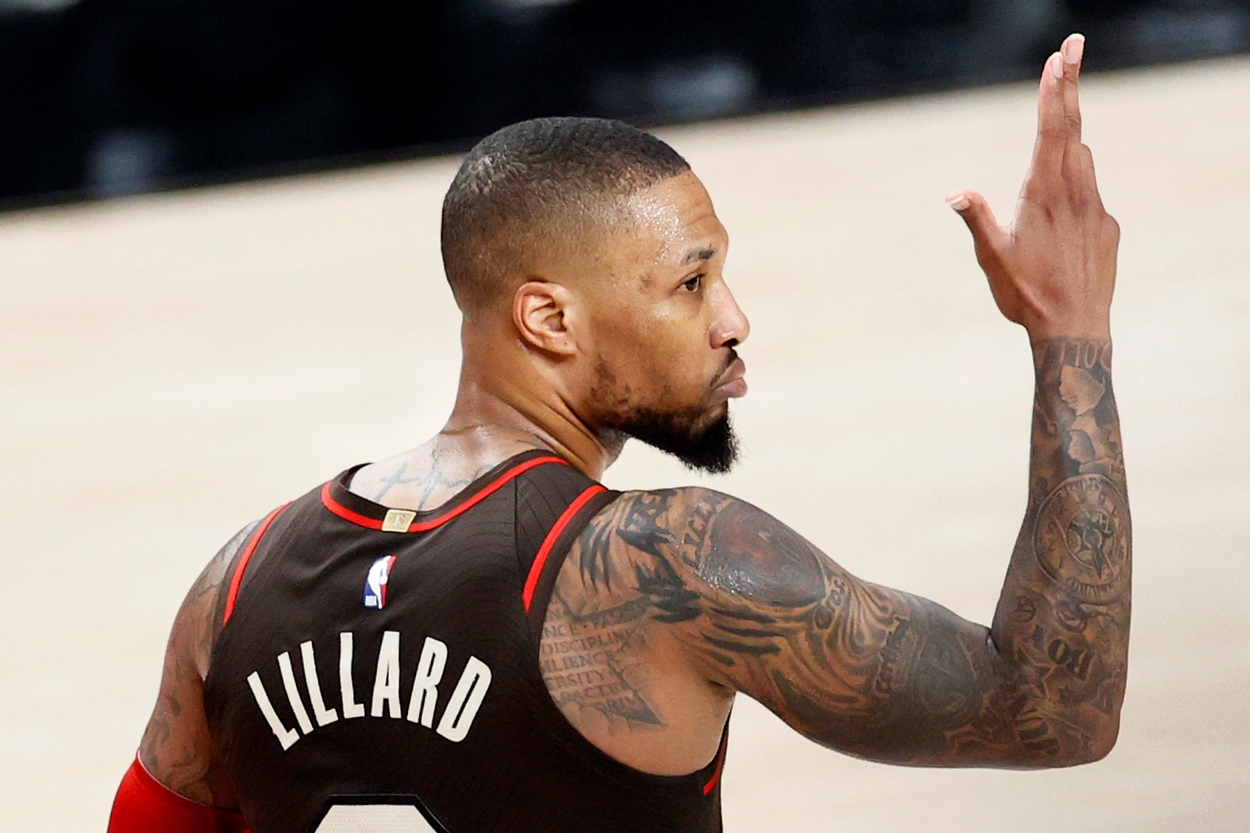 As Lillard told NBCSports:
"It's always good to be the first one to do something. Especially being part of an organization I plan on being a part of for my entire career. It's an honor, but I would have liked for it to be in a winning effort.''

Damian Lillard on his desire to stay in Portland for his entire NBA career
For context, that quote came in 2016. Dame has always embraced the city and franchise that embraced him first. The six-time All-NBA star is loyal, perhaps to a fault. He's thrown himself headfirst into Portland as a city. Lillard respects the people, and they respect him back. Portland isn't just a home for him. It's a home.
The Blazers have made the playoffs every season since that quote. But they lost in the first round four times out of the six times.
In that same NBCSports article in 2016, Lillard added:
"When I really like what a place is about, that's what I want to stick to. I want to stick to things that click with who I am as a person."

Lillard on his feelings about the Trail Blazers organization
Damian Lillard wants to take the Kobe-Duncan path, but Portland is making it extraordinarily difficult
The Trail Blazers made it to the Western Conference Finals in 2018-19. It seemed like Dame Dolla and the franchise had finally gotten over the proverbial hump. Fast forward two years and Portland has two more first-round exits. And the team's front office hasn't done much to change that.
In 2019, the Blazers brought in Pau Gasol, Rodney Hood, and Anthony Tolliver. In 2020, it was Hood again, Derrick Jones Jr, Harry Giles, and the organization held onto 36-year-old Carmelo Anthony for another year. So far this offseason, the team has re-signed trade deadline acquisition Norman Powell and added Tony Snell, Ben McLemore, and Cody Zeller. The Blazers swapped out Jones Jr. for Larry Nance Jr. in a trade with the Cleveland Cavaliers. None of those names are convincing Lillard he needs to stay in Portland.
Lillard averaged 34.3 points and 10.2 assists in last year's first-round exit, shooting 45% from three on 13 attempts per game. The only other Portland player to average more than 20 points was CJ McCollum, who scored 20.7. Dame dropped 55 points, 10 assists, 6 rebounds, and drilled 12 threes in game five. Logo Lillard dominated an entire series, made big shots left and right, was almost automatic from deep… and his team lost in six games to Denver. It was the first time he spoke publicly about the franchise not doing enough to build a championship contender, via ESPN:
"I mean, we didn't win a championship, so obviously where we are now isn't good enough. I don't know what a shakeup looks like or what changes will be made or could be made, but obviously as is, it wasn't good enough. We came up short against a team without their starting point guard and shooting guard (Will Barton and Jamal Murray). … Obviously, where we are isn't good enough to win a championship if it's not good enough to get out of a first-round series with two of their best three or four players not on the floor."

Damian Lillard on the state of his team after last year's first-round playoff exit
Lillard is making every effort to stay, but right now an eventual exit feels inevitable
Even with Dame putting the pressure on the organization, the only addition to the roster this offseason was Nance. If Portland wants to hold onto its biggest superstar, bigger moves need to be made.
Lillard has said in the past that he wants McCollum as his backcourt running mate. Blazers' General Manager Neil Olshey has quickly and definitively shot down any notion of dealing McCollum. But keeping him on the roster has become counterproductive. The former Lehigh star is the team's best trade asset. The backcourt duo of he and Lillard is obviously not enough to win a title. A move has to be made, and it will have to be McCollum that gets sent packing. Otherwise, Portland will end up losing the best player the franchise has ever had.
All statistics courtesy of Basketball-Reference and roster information courtesy of Spotrac.
RELATED: The Milwaukee Bucks Are Taking a Tremendous Risk With Head Coach Mike Budenholzer's 3-Year Extension