Damian Lillard Left a Bright-Eyed Michael Porter Jr. Totally Awestruck During the NBA Playoffs: 'Bro, I've Never Seen That Before'
Portland Trail Blazers star point guard Damian Lillard has left quite a few mouths agape with his spectacular long-distance shooting and remarkable heroics in crunch time. But what he did during a first-round series against the Denver Nuggets was unlike anything Michael Porter Jr. had ever seen before.
Porter and the Nuggets would ultimately get past Lillard and the Blazers in six games. Still, Dame's spectacular play proved unforgettable for MPJ.
Damian Lillard put up ridiculous numbers against the Nuggets
Damian Lillard might not have been able to lead the Blazers past the Nuggets, but he put up some monster stats.
Lillard was the be-all, end-all for a Portland offense that got inconsistent performances from supporting cast members such as CJ McCollum and often played without Jusuf Nurkic due to foul trouble. Dame averaged 34.3 points, 10.2 assists, and 4.3 rebounds while shooting 44.9% from beyond the arc on 13 attempts per contest.
The series nearly flipped in Portland's favor, thanks to an absurd Lillard performance. The series was tied at two games apiece heading into Game 5, though things looked bleak for the Blazers when they were outscored 38-25 in the first quarter.
No matter, Lillard was about to lead the forward brigade. He scored 11 points in the second quarter, with the Blazers cutting the lead to just three points at the break. Portland seized the advantage after a 32-27 third period, but Denver took control of the game late.
The Nuggets opened the fourth quarter on a 13-4 run and stayed in command for most of the period. But Lillard would not let Portland die. He hit multiple big threes, including an absurd game-tying triple with just three seconds left.
Denver again looked to have seized control of the game in overtime. The Nuggets led by as many as nine points with just over two minutes remaining. Yet, Dame Time was still in full effect. Lillard scored all of Portland's last 12 points in the final two minutes, including another game-tying triple with just six seconds left.
Although the Nuggets finally put the game to bed in the second overtime period, Lillard was the story of the night. He finished with 55 points on 17-of-24 shooting, including 12-of-17 from beyond the arc. Dame also had 10 assists and six rebounds. It was a performance that, months later, still resonates with Michael Porter Jr.
Michael Porter Jr. felt like a little kid watching Dame rain in threes from everywhere
Michael Porter Jr. and some of his Nuggets teammates couldn't even fathom some of the shots Lillard made in Game 5. It got to the point where they could only laugh at the level of difficulty and the fact Dame made tough jumpers look easy.
Porter told JJ Redick on the Old Man & The Three podcast that he loves Lillard's mentality and understood the effort he put into the series. The 2018 first-round pick also felt obligated to express his astonishment to teammates.
However, Porter and the Nuggets weren't going to be lulled into a trance by Lillard's spectacular play.
Denver made a concerted effort to send heavy defensive pressure Dame's way in Game 6. Bigs hedged hard and doubled when he tried to work off screens, and the Nuggets typically pressed him to force him to give the ball up. Head coach Mike Malone decided if his team were going to lose, someone other than Lillard would have to do it.
The defensive changes worked. Lillard racked up 13 assists, but he also had five turnovers and shot 3-of-11 from beyond the arc. More notably, Dame did not get the contributions he needed from his teammates, especially considering Nikola Jokic scored 36 points and Porter added 26 of his own.
Alas, the Nuggets overcame Lillard's one-person show. But his Game 5 performance is a reminder of his reputation as one of the best clutch performers of this generation.
Damian Lillard's stats suggest he might have been the best clutch player in the NBA last season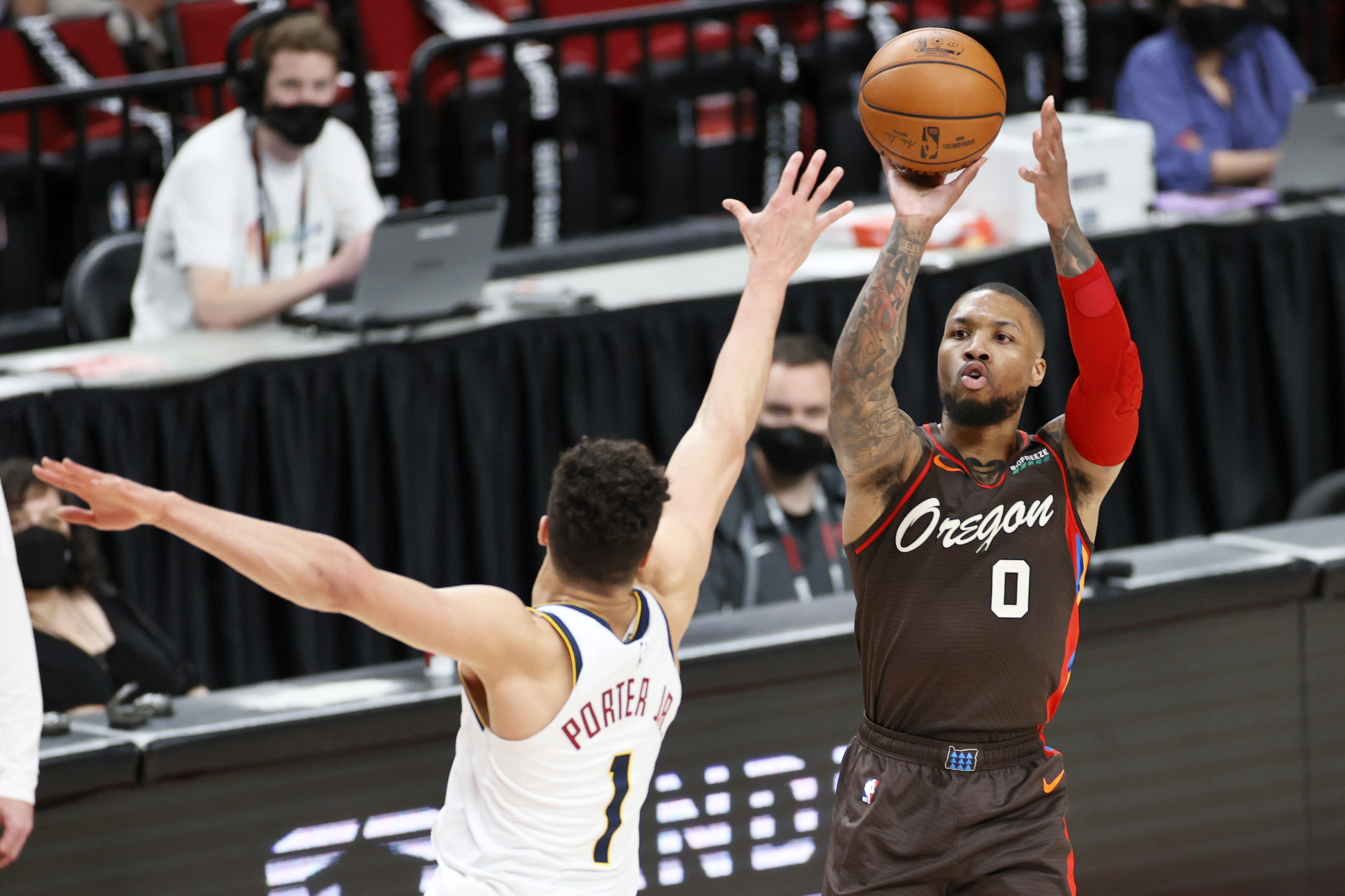 Damian Lillard was arguably the best clutch player in the NBA during the 2020-21 campaign; the stats back it up.
Lillard's player impact estimate (PIE) in clutch situations trailed only Joel Embiid. However, Dame had a much higher offensive rating (127.2 to 112.0) than Embiid in those spots. Moreover, his shooting numbers were practically superhuman.
The six-time All-Star had a 71.6% true shooting clip and 61.4% effective field goal mark. That's absurd, considering he also had one of the highest usage rates in clutch spots.
Whether Damian Lillard's clutch exploits will ever help lead the Blazers to an NBA championship remains to be seen. For now, though, he continues to dazzle his peers with his shot-making.
Stats courtesy of Basketball Reference and NBA.com.
RELATED: Damian Lillard May Have Hinted at the All-Star He Wants the Blazers to Pursue