Damian Lillard's 'Moment of Truth' Philosophy Makes All the Difference for His Trail Blazers
For the last several seasons, Damian Lillard has undoubtedly been one of the hottest players in the NBA. Yet he doesn't always get the same level of fame as players like Stephen Curry and LeBron James. In large part, that's due to the fact that Lillard plays in a relatively small market. His Portland Trail Blazer teams are also consistently good but not great.
Lillard has finally received a bit more attention this season. Despite having suffered many injuries, his Blazers team is outperforming expectations — thanks largely to Lillard's heroics. Let's look at the Blazers' season so far, Lillard's contribution, and the mentality that's allowed him to become such a successful leader.
Expectations for the Portland Trail Blazers' 2021 season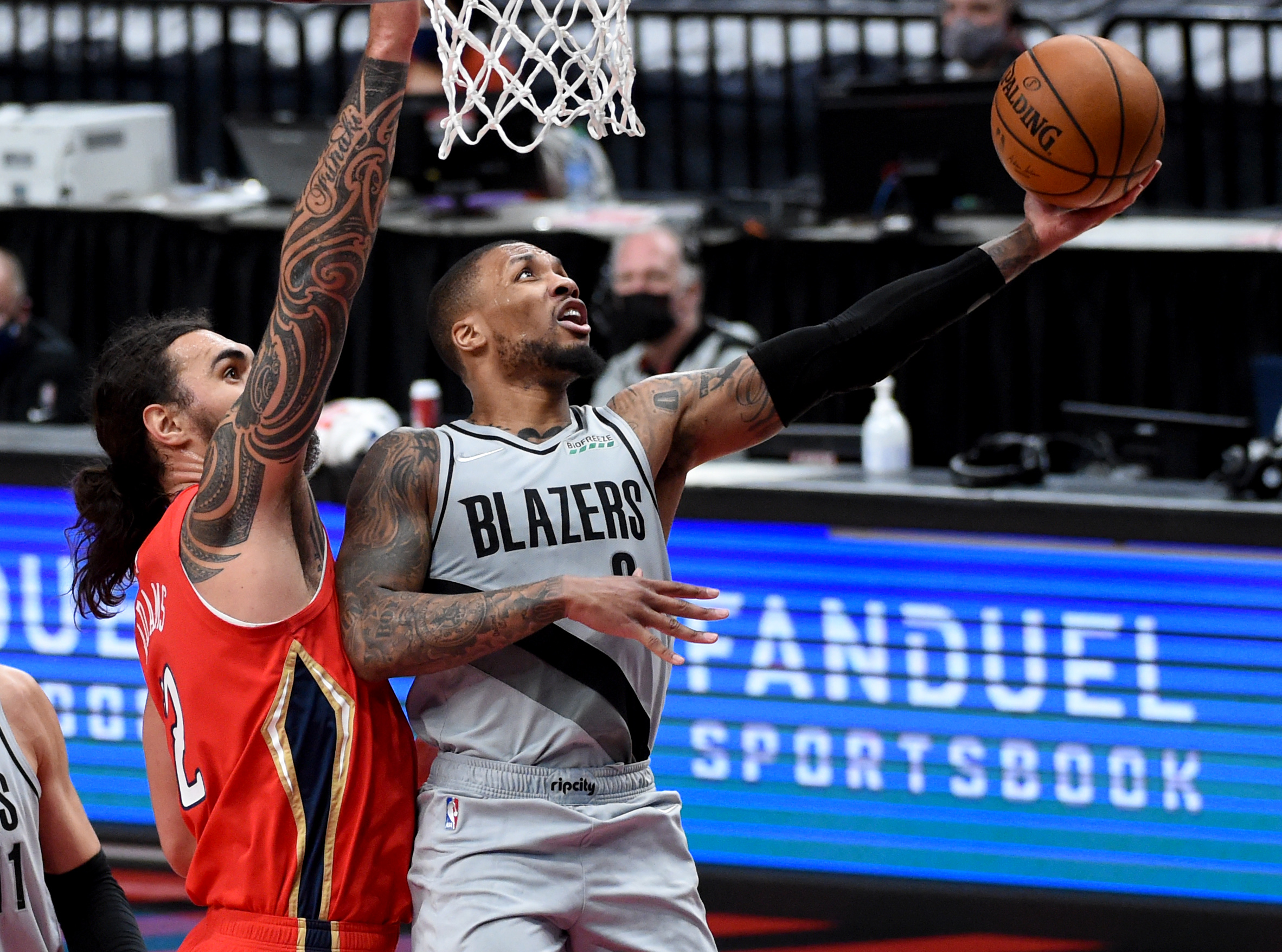 RELATED: Damian Lillard's Tattoos All Have a Special Meaning
In 2019-20, the Blazers put together a 35–39 record and just squeaked into the playoffs with the eight seed, per Basketball Reference. They were promptly dispatched by the top-seeded Los Angeles Lakers in the first round. Coming into this season, most analysts predicted that the Blazers would show marginal improvements, largely thanks to the return of a fully healthy roster.
The general expectation was that the Blazers would be roughly a .500 team, competing for one of the lower rungs in the Western Conference playoff picture. For instance, ESPN predicted that the Blazers would finish the season with 38.2 wins, giving them an approximately 58% chance of making the playoffs.
So far the Blazers have significantly outperformed those expectations. Through the first 35 games, the Blazers have a 21–14 record and are currently in fifth place in the playoff picture, per ESPN. If they can maintain their .600 win percentage for the rest of the season, that would give them 43.2 wins — five more than their original projection.
Lillard's role in the Blazers' first-half surge
What makes the Blazers' success this season so impressive is that is has come despite a significantly depleted roster. Lillard's backcourt mate C.J. McCollum has missed the last 22 games with a foot fracture. Meanwhile, center Jusuf Nurkic has missed the last 23 games with a fractured right wrist, per the NBA.
With two of their best three players injured, most analysts expected the already-thin Trail Blazers to plummet down the standings. Instead, they went on an impressive tear, at one point stringing together six consecutive wins. To an extent, the Blazers' surprising run was the product of a relatively weak schedule, as detailed by Yahoo.
Yet a more important factor is Lillard's off-the-charts play. This season, Lillard is averaging 29.8 points, 4.3 rebounds, and 8.0 assists per game, per Basketball Reference. Lillard has been especially lethal playing in the clutch, which is defined as the last five minutes of games within five points.
Through February 17, Lillard's 82 clutch points were first in the NBA. He also lead the league in terms of clutch field goal percentage, clutch three-point percentage. And in such games, the Blazers had the league's best record, at 12–3, per NBC Sports. Simply put, Lillard is the NBA's most reliable late-game performer.
Damian Lillard's 'moment of truth' philosophy
RELATED: Damian Lillard Escaped Death From Gunpoint to Become an NBA Superstar
Lillard's exceptional play this season has even earned him recognition as a possible MVP contender. His late-game heroics have become such an integral part of the Lillard experience that fans have renamed the last five minutes of games "Dame Time."
Lillard has even developed his own philosophy about how to step up his game when it matters most. As he recently expressed it to Insider:
When the moment comes — the moment of truth, I guess — where it's time to win or lose, a play needs to be made, a shot needs to be made, the team needs to be lifted up, just being able to recognize that moment and take yourself to that place mentally. To where, regardless of what kind of game it has been, embrace this moment, embrace this opportunity to rise up, and have a moment when it's most needed.

Damian Lillard on his make-or-break moments
Of course, it takes more than just a "moment of truth" mentality to really impact games in that way. You also have to have a truly elite-level set of skills, which is exactly where Lillard shines.