Damian Lillard Is More of A 'Killer' Than Stephen Curry, According to Allen Iverson
There's no doubt Damian Lillard and Stephen Curry are two of the best players, let alone point guards, in the NBA. Both have led their respective teams to success — Curry more than Lillard, at least to this point — but both will one day go down as Hall of Famers. The difference in their games can simply come down to taste. Dame can be outwardly vicious with his play, while Steph is a little more reserved in his trash talking.
Allen Iverson — who has experience playing the same position and with the same style and flair — admitted both are among the best in the league. But he explained that Lillard is more of a "killer" than Curry.
Damian Lillard and Stephen Curry are two of the best point guards in the NBA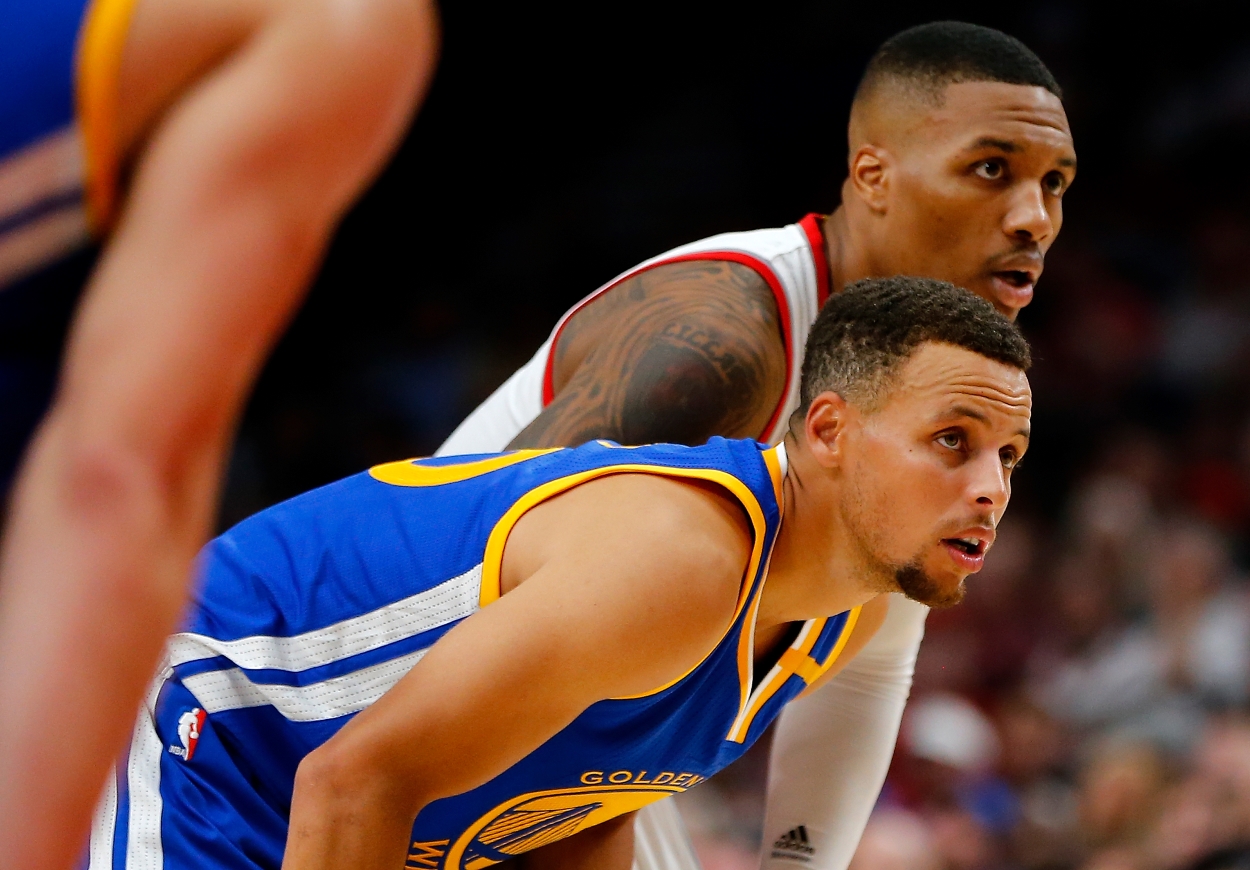 Curry led the league in points last season, scoring 32.0 per game. Lillard was third at 31.3. The former Davidson star led the league in 3-point attempts per game with 12.7. Dame was second at 10.5. Steph shot 42.1% from deep, while Lillard shot 39.1%.
Both are also excellent playmakers. Dame Dolla averaged 7.5 assists in 2020-21 and Steph has a career average of 6.5.
The biggest difference between the two has been winning. Chef Curry has three titles to his name — 2015, 2017, and 2018. Lillard has yet to make an NBA Finals and has only advanced to the conference finals once (in 2018 when Portland lost to Curry and the eventual-champion Warriors).
Steph has had more talented teammates throughout his career, though. He's played with Kevin Durant, Klay Thompson, and Draymond Green, to name a few. Lillard's best teammate has been CJ McCollum. It's fair to say the 2012-13 Rookie of the Year has done more with less.
While the pair are comparable in terms of stats, Iverson said Lillard has an edge in one category.
Allen Iverson said Lillard is more of a "killer" than Curry
During his playing career, AI described himself as more of a "killer" than a point guard. That fits, as Iverson was more of a scorer than a pure point guard and certainly played with more toughness and physicality than most.
In a Bleacher Report interview, Taylor Rooks asked The Answer to describe his five favorite "killers" in the league right now. In order, Iverson said Curry, Durant, James Harden, Bradley Beal, and Lillard. But Portland's six-time all-star stood out to the former MVP.
"Oh Dame, Dame's a killer. Certified.

"He's a monster with it. Steph is just bad as hell, but Dame is just a rude m***********. He's just rude. He's just disrespectful, he can just do anything. Pass half court and just let it fly, buzzer beaters at the hash, just like no fear, just nothing."

Allen Iverson on Damian Lillard
AI only had praise for Curry, but he clearly sees a difference in Lillard's game. Steph can let it fly from half court, can hit buzzer beaters, and isn't afraid either. Dame just has a certain edge, a certain attitude, a different kind of chip on his shoulder as Iverson sees it.
Lillard and Curry will continue to battle it out in the Western Conference
Rumors have been swirling around the six-time all-NBA star's desire to remain with the Trail Blazers. He's admitted publicly the franchise hasn't been good enough to win a championship; but he's also unwavering in his allegiance to Portand, at least for now.
Curry, on the other hand, has been without Thompson for more than two years. Durant left. Green has been a no-show offensively. The two-time MVP has been forced to carry Golden State on his own. But Thompson is expected back this season and the Warriors' young players got a year's worth of experience around the two-time scoring champ.
Lillard is looking to break through to the Finals for the first time. Steph is looking to get back. The two are on a collision course in the Western Conference in 2021-22 and maybe both of them will prove to be the "killer" Iverson sees.
All statistics courtesy of Basketball Reference.
RELATED: Shaquille O'Neal Tells Damian Lillard to Leave the Portland Trail Blazers if He Wants to Win: 'I Don't Really Like Guys Teaming up, but It's Just the Way It Is These Days'