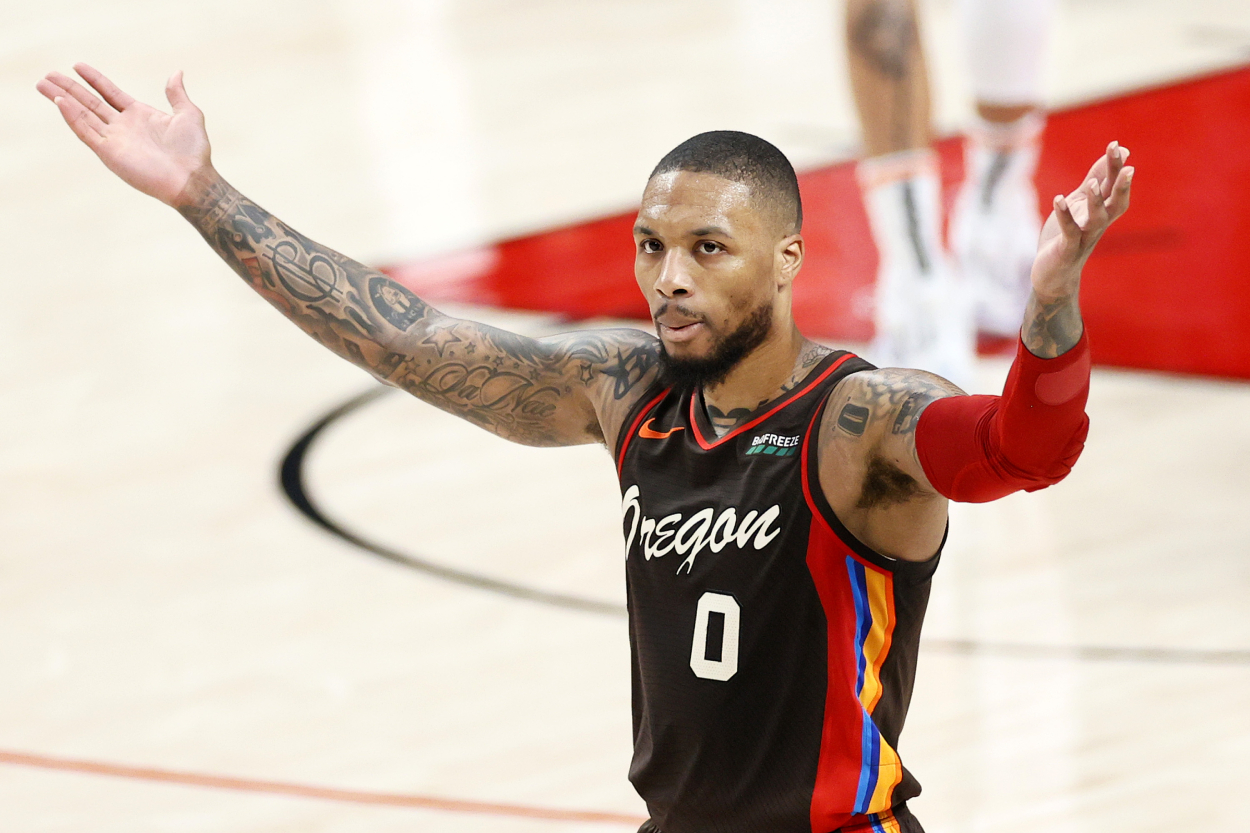 Damian Lillard Could Potentially Team Up With 1 NBA Superstar Whose Team Has Reportedly 'Discussed' Pulling off a Blockbuster Trade
There has been a ton of trade speculation surrounding Portland Trail Blazers star Damian Lillard, especially since Portland has failed to contend for championships season after season. In fact, another superstar's team has reportedly discussed acquiring Lillard in a blockbuster trade that would ultimately form the NBA's next big superteam.
Although he hasn't demanded a trade, nor has he publicly expressed having major issues with his team, Damian Lillard has been involved in a plethora of trade rumors in recent weeks. It's unclear if Lillard indeed wants the Portland Trail Blazers to deal him elsewhere, but the speculation reportedly has teams looking into what packages they can put together to acquire the star guard.
In fact, according to a recent report, one megastar's team has "internally discussed" dealing for Lillard, just in case he eventually becomes available.
That team is Stephen Curry's Golden State Warriors.
Damian Lillard has been involved in trade rumors
Lillard is under contract with the Portland Trail Blazers through 2023-24 and has a player option for 2024-25. But during the time he has become one of the best point guards in the NBA, the Blazers have consistently failed to put a championship team around him year after year.
Lillard is a six-time NBA All-Star and has averaged over 25.0 points per game every season since 2015-16. In 2019-20, he scored 30.0 points and dished out 8.0 assists per game before averaging 28.8 points and 7.5 assists in 2020-21.
Dame's elite play has led Portland to eight consecutive playoff trips, but the Blazers have lost in the Western Conference first round in five of those eight seasons. They have also only made it to the Western Conference Finals once.
The Trail Blazers' inability to find success in the playoffs could ultimately play a role in Lillard leaving Portland, according to a report from Chris Haynes of Yahoo Sports in June.
Lillard, though, still sounds like a guy returning to his team next season. 
"I'm prepared to go in and do my job every year like I always do," Lillard said July 8 after practicing with Team USA, per Sports Illustrated. "Hopefully we make strides in a positive direction, and we can become a better team with a new coach. That's where I am with it."
But the guard also added: "Anything that I have to say, I'm going to say it directly to [Blazers team president Neil Olshey], and I'm going to address it directly with my team. I don't really have nothing to say to you guys about it. Everything I need to say and feel has been said to Neil."
The Golden State Warriors have 'internally discussed' a trade for Damian Lillard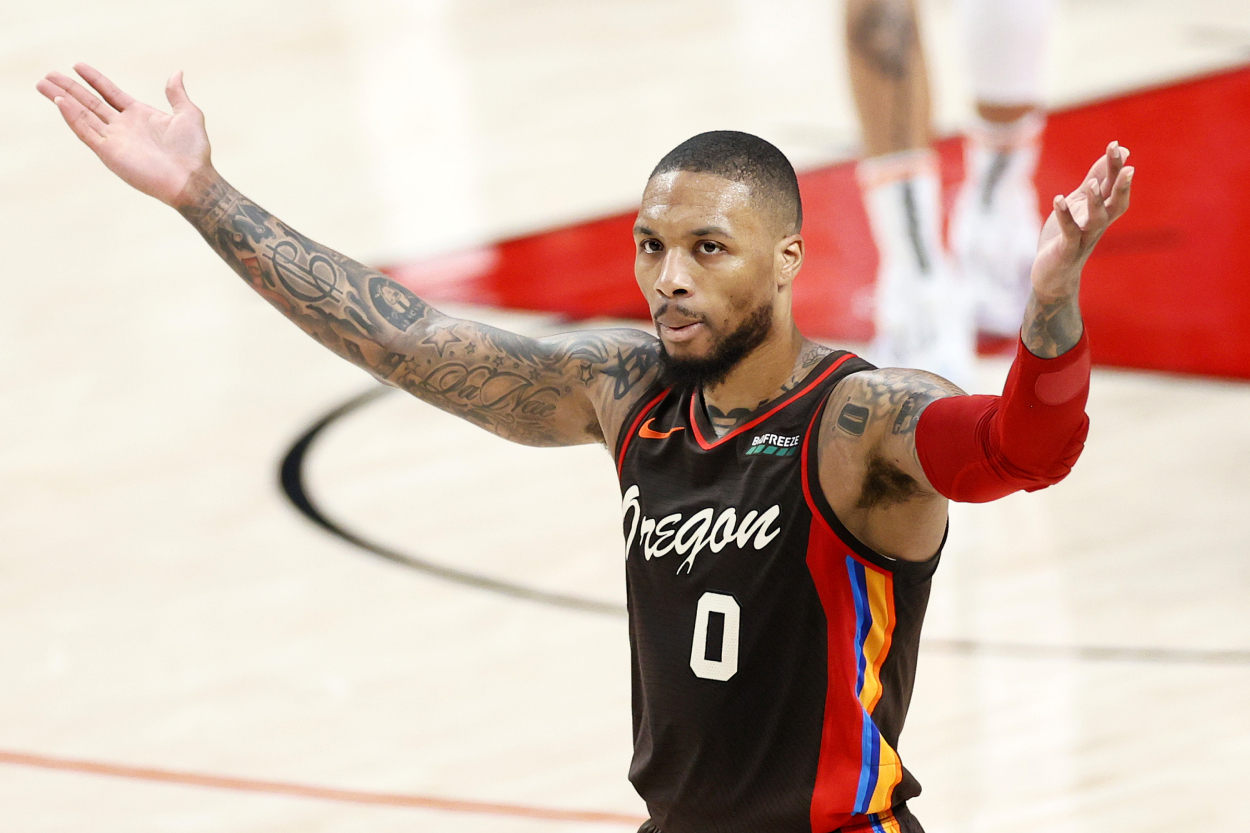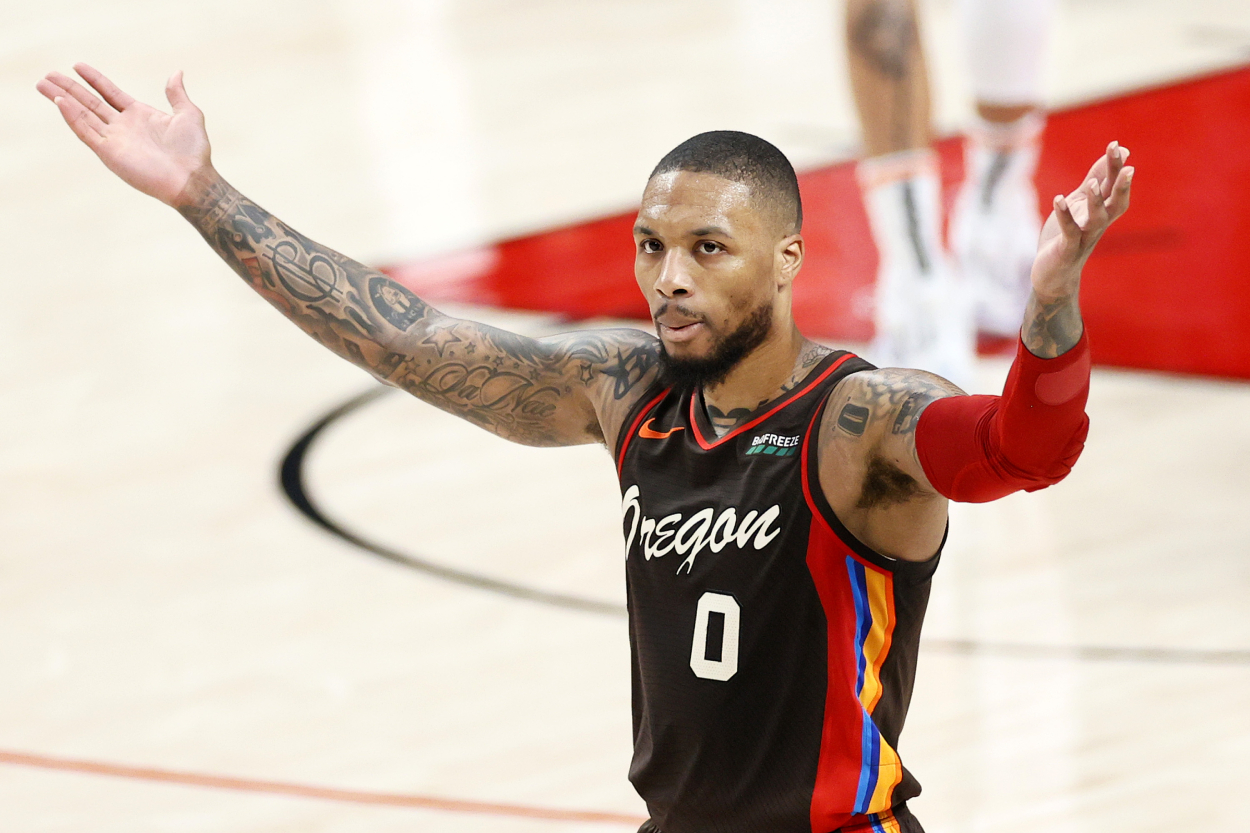 Although Lillard hasn't publicly said he wants out of Portland, the trade rumors are still just as hot as ever.
In fact, Anthony Slater of The Athletic recently reported that the Golden State Warriors have "internally discussed" a trade for Lillard.
"Would the Warriors get involved? Yes," Slater wrote for The Athletic. "They'd make a call and have already internally discussed the idea, as I'm sure most contenders have, considering the rising smoke out of Portland."
However, Slater questioned if Lillard would want to go to the Warriors — who are now in San Francisco and no longer in his hometown of Oakland — and ultimately "serve as a backcourt 1B to Steph Curry."
"My sense is no. And I don't think any trade for Lillard gets past first base if he hasn't already approved the landing spot," Slater reported.
Dame and Stephen Curry would be dangerous on the Warriors
As of now, a Golden State Warriors team consisting of Damian Lillard, Stephen Curry, and Klay Thompson is unlikely, but we can still imagine what it would look like if Golden State were to trade for Dame.
Slater believes the Warriors would give up their two first-round picks this year, future firsts, James Wiseman, and Andrew Wiggins to get Lillard. They would be going all-in on trying to win more titles during the Curry-Thompson era while also sacrificing their future a bit, but those teams would be electric — especially offensively.
A Curry-Lillard-Thompson backcourt would be one of the greatest shooting teams of all time. 
Lillard is a 37.5% career 3-point shooter and has shot over 39% from long range each of the last two seasons. He has also averaged 24.7 points throughout his NBA tenure. 
Curry, on the other hand, is arguably the greatest shooter in league history. He is a 43.3% 3-point shooter, has scored 24.2 points per game in his career, and led the NBA in scoring with 32.0 points per game in 2020-21.
Lastly, Thompson would give the trio a 19.5 career points-per-game scorer, and someone who has shot 41.9% from long range in the NBA.
The only problem the Warriors would have would be on defense, as Lillard is 6-foot-2 and Curry is 6-foot-3. But they can always add some veterans through free agency or contract buyouts to help them on that end of the court.
We may never see Lillard on the Warriors, but he, Curry, and Thompson would be one of the most explosive Big Threes to ever exist. Who would be able to stop them?
Stats courtesy of Basketball Reference