Damian Lillard Is 'Obsessed' With Bringing a Golden State Warriors Star to Portland in a Move That Would Send Shockwaves Through the NBA
Damian Lillard has been a top-10 NBA superstar for more than half a decade, but he has yet to bring the Portland Trail Blazers to the promised land. The Blazers have advanced past the Western Conference semis only once during Dame's tenure.
In 2019, his team made it to the Western Conference Finals before being swept by the Golden State Warriors. Now Dame reportedly wants to bring Warriors championship stalwart Draymond Green to Portland in a move that would dramatically alter the NBA's landscape and give the six-time All-Star his best shot at a title so far.
The Blazers can't seem to give Dame enough help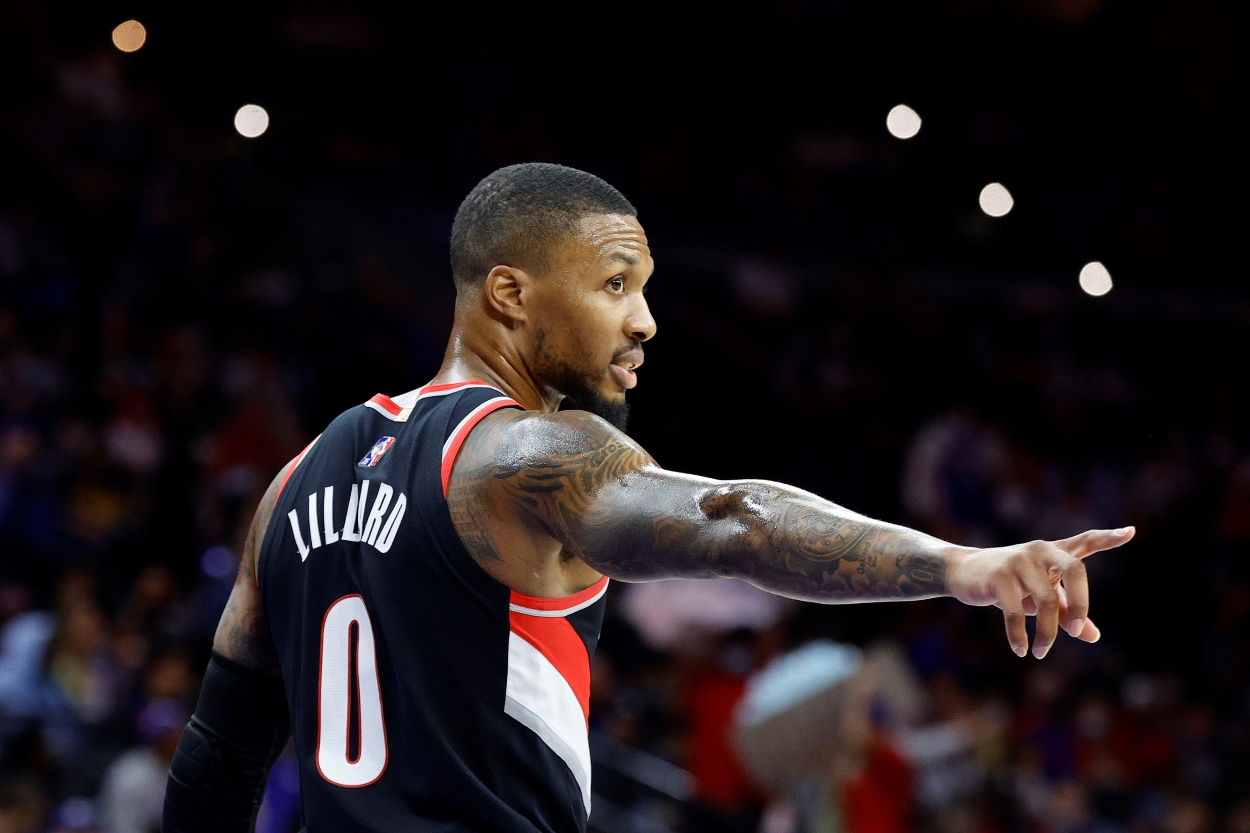 CJ McCollum has been the Robin to Lillard's Batman in the backcourt. Offensively the duo is a handful, but two small guards create problems for Portland on the other end of the floor.
Jusuf Nurkic is a solid center alongside that pair, but he's played 45 total games in the last two seasons.
The rest of the Blazers roster consists of role players like Larry Nance Jr, Robert Covington, Norman Powell (another small guard), Cody Zeller, and talented but unproven young players like Anfernee Simons and Nassir Little.
Some of the acquisitions Portland general manager Neil Olshey has made to help Lillard have ranged from not good enough to straight-up bad. In 2019, it was a washed-up Pau Gasol along with Rodney Hood and Anthony Tolliver.
The next year, it was Derrick Jones Jr. (who's since been traded), Harry Giles, and Carmelo Anthony. Other additions have included Powell, Tony Snell, Ben McLemore, Zeller, and Nance.
None of those players are going to help Dame win a title. But Lillard has also been fiercely loyal to Rip City and refuses to go the Anthony Davis–James Harden route and demand a trade. So the next best option would be to bring a better player in.
Enter three-time NBA champion and 2016-17 Defensive Player of the Year Green.
Draymond Green would give Damian Lillard the defensive help he's been missing
Through seven games, Portland is 3-4 and sits 20th in the league in defensive rating. The Blazers are also 20th in steals and 18th in blocks. They've given up the ninth most points on average in the entire league (112).
They allowed the fifth-most points in 2020-21 (116.1), the sixth most in 2019-20 (115), and even gave up the sixth-most points in the NBA the year Dame carried them to the conference finals.
Meanwhile, Green has been the defensive centerpiece of one of the league's juggernauts of the past six seasons. He has career averages of 1.4 steals and 1.0 blocks. Those totals would put him atop Portland's list this year in steals and only 0.1 blocks behind McCollum.
Golden State was second in defensive rating during the 2014-15 season when Green, Stephen Curry, and Klay Thompson won their first championship together pre-Kevin Durant. They were also second in their 2016-17 title season.
And according to the HoopsHype podcast and Anthony Slater, Green is who Lillard wants to cure his team's ills.
Draymond would instantly become the Blazers' best defensive player, not to mention the effect he would have on the team's culture with his attitude and toughness, something the franchise has lacked since Lillard arrived in 2012.
There is actually a legitimate path to a Portland-Golden State swap involving Green
Draymond is 31 years old and has a contract approaching $100 million that runs through 2022-23 with a player option for 2023-24, according to Spotrac. He's also declined significantly on the offensive end since his first few seasons in the league.
Green hasn't played more than 66 games since 2017-18, and since then has scored only 7.4 points per game. He's still affecting wins in other ways, namely with his averages of 7.0 rebounds, 7.4 assists, and 2.4 stocks (steals plus blocks), but has still shot 27.9% from three.
The former Michigan State star is clearly a declining offensive player with a recent injury history and a massive contract that could run through his age 33 season. If the right offer presents itself, there's a scenario where Golden State would part with Draymond.
And if Dame is persistent enough with Olshey to find a way to bring Green to Portland, there's always a way to make it happen.
Draymond would be more valuable to Dame Dolla and the Blazers than he is to the Warriors at this point. A move to bring him to Portland makes sense, and if the franchise point guard wants it to happen, there's a reasonable chance it could.
All statistics courtesy of NBA.com.
RELATED: Damian Lillard Is More of A 'Killer' Than Stephen Curry, According to Allen Iverson