Damian Lillard Just Propositioned Kevin Durant to Move to Portland, With Trail Blazers Teammate Jusuf Nurkic Weighing In
Damian Lillard may not be an NBA champion just yet, but his skills have made him one of the best players in the NBA. And he's certainly cemented his legacy with the Trail Blazers. That said, Portland is intent on building a team around Lillard.
Naturally, Lillard and his team are looking to recruit some stars. In fact, Damian Lillard himself made a proposition for Kevin Durant to move to Portland and play for the Trail Blazers.
How the Portland Trail Blazers roster is shaping up right now
After 10 years with Portland, it's clear Lillard is a great player who can compete with the best in the NBA. However, without a championship trophy, Lillard's legacy is still up for debate. The Trail Blazers have been building a team around Lillard though. While he's a great player, he also needs some great teammates.
Portland and Dame fans have a lot of names on their mind, including guys like Jaylen Brown and Bradley Beal. The Trail Blazers recently received Jerami Grant from the Detroit Pistons in exchange for some future draft picks. Portland also drafted some good players in Shaedon Sharpe and Jabari Walker. However, Lillard has some bigger names in mind. They both have great legacies with the Golden State Warriors.
Late last year, Lillard was "obsessed" with getting the Warriors' power forward, Draymond Green, to join the team. However, Green recently helped the Warriors clinch a win over the Boston Celtics at the 2022 NBA Finals. So Green going to Portland is unlikely. Another unlikely idea from Lillard is to get Kevin Durant to take a trip to Portland.
A look at Damian Lillard's photoshopped proposition to Kevin Durant
As Yahoo Sports reports, Lillard recently posted a photoshopped pic of himself and Durant where both of them are wearing jerseys for the Trail Blazers. The original picture came from the 2020 Summer Olympics, where Lillard, Durant, and even Green were on Team USA. Lillard deleted his post on Instagram not long after he made it, but by then, it'd already made waves.
Somebody else probably did the photoshop for him, because it's a well-done edit. In any case, the photo blew up quickly. Even Lillard's teammates got in on the fun.
Jusuf Nurkić, who plays center for the Trail Blazers, simply tweeted a cryptic green puzzle piece emoji as a caption to the photo. Durant's brother also chimed in, but he was less cryptic by saying, "Noooooooooo sir".
Kevin Durant to the Portland Trail Blazers is a long shot but it could be worth it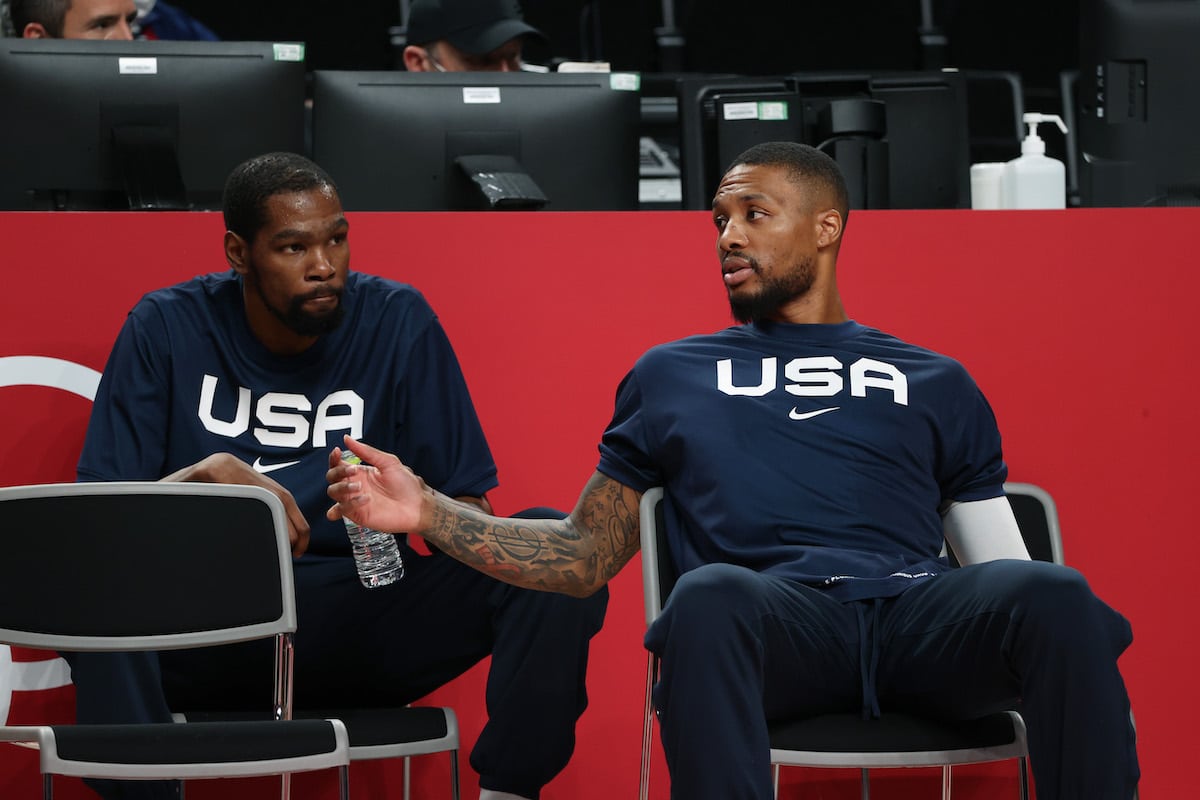 This proposition was probably not very serious from Lillard. But if things fall into place, it could make Portland a team to watch.
Durant is a superstar in his own right. Teaming up with Lillard as he did during the Olympics could turn Portland into championship contenders. That being said, it's unlikely that Brooklyn would give up Durant so easily, so the only hope for this hail mary of a move would have to involve Kyrie Irving.
Durant and Irving have a strong bond, but Irving's antics relating to COVID-19 vaccines has caused the Nets to suffer a lot last season. That said, there was a lot of questions about if Irving was going to leave the Nets and Durant. But he recently settled those questions by opting to stay for another year. What happens after though, could be very interesting for Lillard and Portland.
RELATED: The Kevin Durant Hype Is Absurd, and Shannon Sharpe Just Proved It