Damian Lillard's New Coach Provides Even More Evidence That the Trail Blazers' Point Guard Is Simply a Different Breed of Superstar: 'Dame, He Has Kind of an Old Soul'
Damian Lillard's name has been included in nearly every trade rumor that popped up this offseason. The Philadelphia 76ers wanted him in a Ben Simmons deal. LeBron James and the Los Angeles Lakers came calling before they acquired Russell Westbrook. Regardless of how many times the Portland Trail Blazers superstar reiterates that he's not leaving the franchise, the gossip train rolls on.
After last year, Portland fired long-time head coach Terry Stotts and brought in former all-star point guard Chauncey Billups to lead the team. After having the chance to get closer to Dame as the Blazers prepared for the 2021-22 campaign, Billups has discovered what the NBA refuses to believe — that Lillard is just a different kind of superstar.
Damian Lillard continues to be one of the best players in the NBA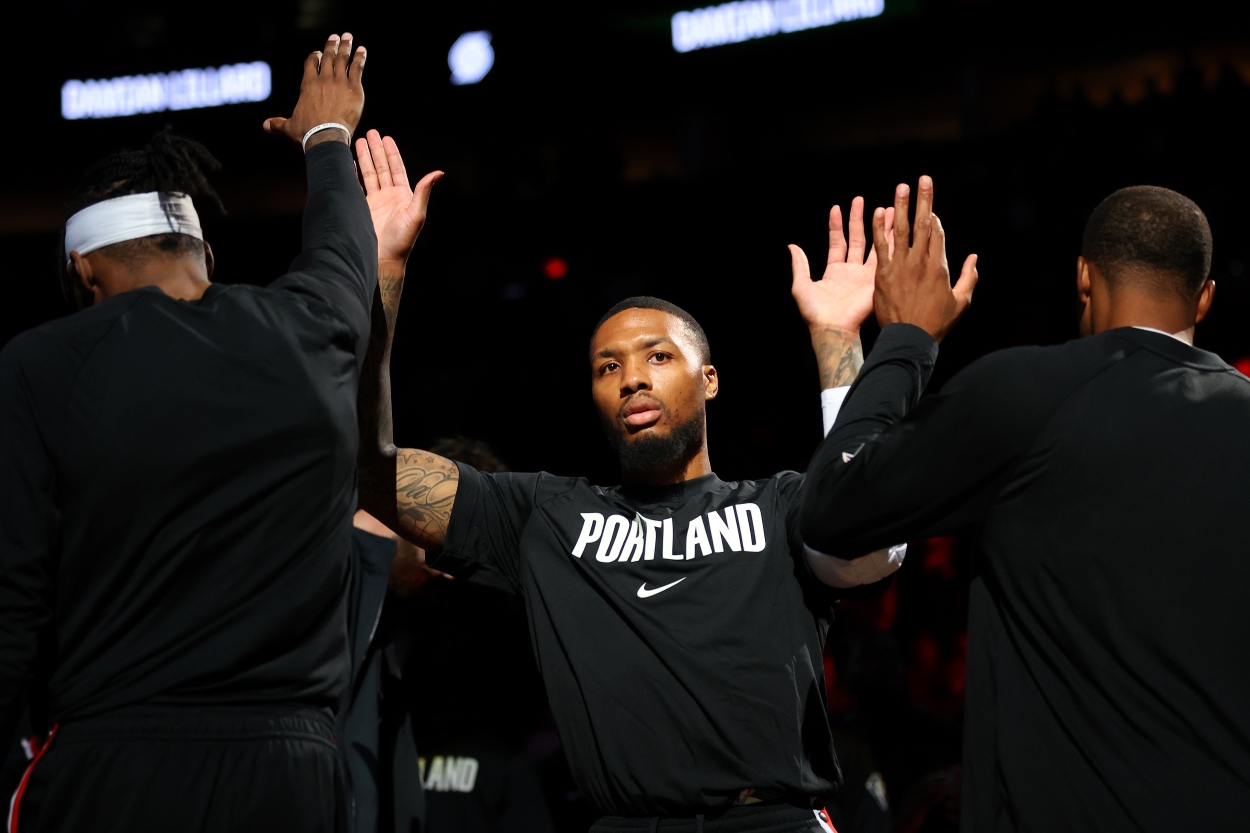 Dame was the sixth-overall pick in the 2012 draft out of Weber State. He made an immediate impact on the league, averaging 19.0 points and 6.5 assists his first season in Portland on his way to winning the NBA's Rookie of the Year Award.
Lillard's scoring totals jumped each of the following four seasons. He's also averaged 6.6 assists through the first nine years of his career as he's proven to be an underrated playmaker. His jump shot has become more reliable and more necessary — the six-time all-star has averaged double digits in 3-point attempts the past two seasons while shooting 39.6% from deep.
He's made his clutch gene obvious with several playoff daggers, and his exploits pulling up and launching — and hitting — from the logo and half-court have somehow, incredibly, become routine.
Dame Dolla has received MVP Award votes in five different seasons and has been named to the All-NBA First-Team once and the second-team four times.
His individual resume speaks for itself. But the reason Lillard's name continues to find its way into the rumor mill is that Portland hasn't been able to put a legitimate championship contender around him yet.
Billups confirmed Lillard is an unusual NBA superstar by today's standards
Portland has made the playoffs in eight of Lillard's nine seasons in the league but has only made the conference finals once. Understandably, Dame is getting more and more frustrated every season the Trail Blazers make an early postseason exit.
But with career postseason averages of 25.7 points, 4.5 rebounds, and 6.2 assists, he can hardly be blamed.
The first public frustration Lillard has ever shown came after last season's first-round loss to the Denver Nuggets. Despite posting 34.3 points and 10.2 rebounds per game on 44.9% shooting from three on a whopping 13 attempts per night, Portland went home early. Again.
Regardless, as the conjecture continued all offseason, Dame never demanded a trade. He never publicly said he had any desire to leave Portland. In fact, he repeatedly said via social media that he was staying.
Billups took over as the team's head coach on June 27. Since then, he's been in constant contact with his best player. The former Pistons legend told Adrian Wojnarowski on The Woj Pod that through those conversations, he's gotten an even more up-close look at what makes Lillard different than his fellow NBA superstars:
"A lot of (our time) was spent just kind of sharing how I felt about the game. Dame, he has kind of an old soul. Even though this is 2021, I feel like he has like a 1990s spirit, an '80s spirit, you know, where he sees the game kind of like the generation I played in."

New Portland head coach Chauncey Billups on Damian Lillard
In an era of player movement and player empowerment, the Oakland native has chosen to stay with one franchise for the entire first decade of his career. He hasn't decided to take his talents elsewhere. Lillard feels like Portland is home; he loves the city, and the city loves him back.
He's made it unmistakably clear that he doesn't want to play professional basketball anywhere else — just like how the superstars of the 1980s and '90s did it, as Billups explained.
For now, Dame is choosing to stick it out in Portland
Not much changed with the Trail Blazers this offseason. Portland got a new head coach, but most of last year's roster stayed the same. Lillard is still paired with his No. 2, CJ McCollum, in the backcourt. The most significant acquisition the Blazers made this summer was acquiring Larry Nance Jr. from the Cleveland Cavaliers.
The team will run it back with a core of Lillard, McCollum, Norman Powell, Nance, Jusuf Nurkic, and Robert Covington.
On paper, that doesn't seem like a championship-caliber rotation. Maybe having an NBA champion at the helm will make a significant difference, or perhaps just a major shakeup, in general, will help.
But Dame refuses to leave the organization that took a chance on him out of a tiny college in Ogden, Utah. He has a different mindset than the majority of superstars in today's NBA. He's loyal, maybe to a fault.
But now Billups has seen that loyalty first hand, that "old soul" that Lillard uses to drive him every season. He's gotten a glimpse of what makes his franchise cornerstone tick.
Dame has more than held up his end of the bargain with the franchise. Now it's the Trail Blazers' turn to do their part and help him win a championship in the only professional city he's ever known.
All statistics courtesy of Basketball Reference.
RELATED: Shaquille O'Neal Tells Damian Lillard to Leave the Portland Trail Blazers if He Wants to Win: 'I Don't Really Like Guys Teaming up, but It's Just the Way It Is These Days'