Damian Lillard's Uncertain Future on a Crisis-Laden Blazers Team Could Lead to a $33 Million Blockbuster Deal Happening Sooner Than Anticipated
The Portland Trail Blazers are in crisis mode and now must grapple with the reality that Damian Lillard could request a trade. Unless something drastic happens, Dame is likely to want out by the time February rolls around.
Head coach Chauncey Billups lit into his team after a blowout loss to the Boston Celtics this weekend, and his inability to improve Portland's defense now makes it appear as though he was the wrong man for the head coaching job. Meanwhile, the front office is in flux following the firing of former general manager Neil Olshey.
After preaching progress all summer, Lillard can only sit back in frustration. Olshey's inability to make drastic moves, paired with the ill-fated Billups hiring, backfired on the Blazers, who are 11-13 through 24 games.
However, Dame reportedly hopes to play with Ben Simmons, and now might have even more leverage to force his hand and help bring the disgruntled Philadelphia 76ers star to Portland.
Damian Lillard reportedly wants to play with Ben Simmons
Shams Charania and Sam Amick of The Athletic shed some light on all the calamity in Portland, reporting that "tension is rising" between Billups and the players. Damian Lillard, too, laments the current situation, but that could change if the Blazers choose to make a bold move.
The Athletic reported that Lillard "would like" to play with Ben Simmons, whose trade market has yet to be clearly defined amid his continued absence from the 76ers. Moreover, the Blazers and Sixers reportedly had talks for Simmons during the offseason.
According to Charania and Amick, Blazers guard CJ McCollum was the centerpiece of the initial talks. Portland hoped to toss in another young player and a pick, while Daryl Morey and the 76ers allegedly wanted multiple picks and swaps in addition to McCollum.
Portland, at the time still under Olshey's leadership, walked away from those conversations. But Olshey's previous assertions of the current Blazers roster being good enough is once again being proven false. Moreover, Simmons might be a better fit alongside Lillard than McCollum.
Simmons would significantly improve the Blazers defense
Ben Simmons could significantly impact a Blazers defense that bleeds points.
The Blazers likely felt the transition from Terry Stotts to Billups would lead to defensive improvement. But through 24 games, Portland ranks last in the NBA in defensive rating. Jusuf Nurkic is a target for opposing teams in pick-and-roll, which is more of a problem considering neither Lillard nor McCollum are very stout as on-ball defenders.
Swapping out McCollum for Simmons has serious potential. The 76ers star can take on the most challenging matchups on a nightly basis. His length and quick hands make him a nightmare for the best offensive guards in the sport, as evidenced by consecutive All-Defensive First Team selections.
Simmons would assuredly make Portland's defense better and alleviate some of the efforts Lillard has to give on that end of the floor. That, in turn, might help Lillard improve upon his career-worst shooting numbers.
The Blazers likely would have to figure out how best to incorporate Simmons offensively. But guys like Lillard and Norman Powell can get to the rim, which might make Simmons even more helpful in the dunker's spot than he has been in Philly.
A CJ McCollum-for-Ben Simmons trade makes even more sense with the Blazers looking for answers and trying to keep Dame happy. Plus, the financials match up, as McCollum is making just over $30 million this season while Simmons is owed just north of $33 million.
But will the Sixers lower the asking price, and does it even matter?
Can the Blazers and 76ers find a deal?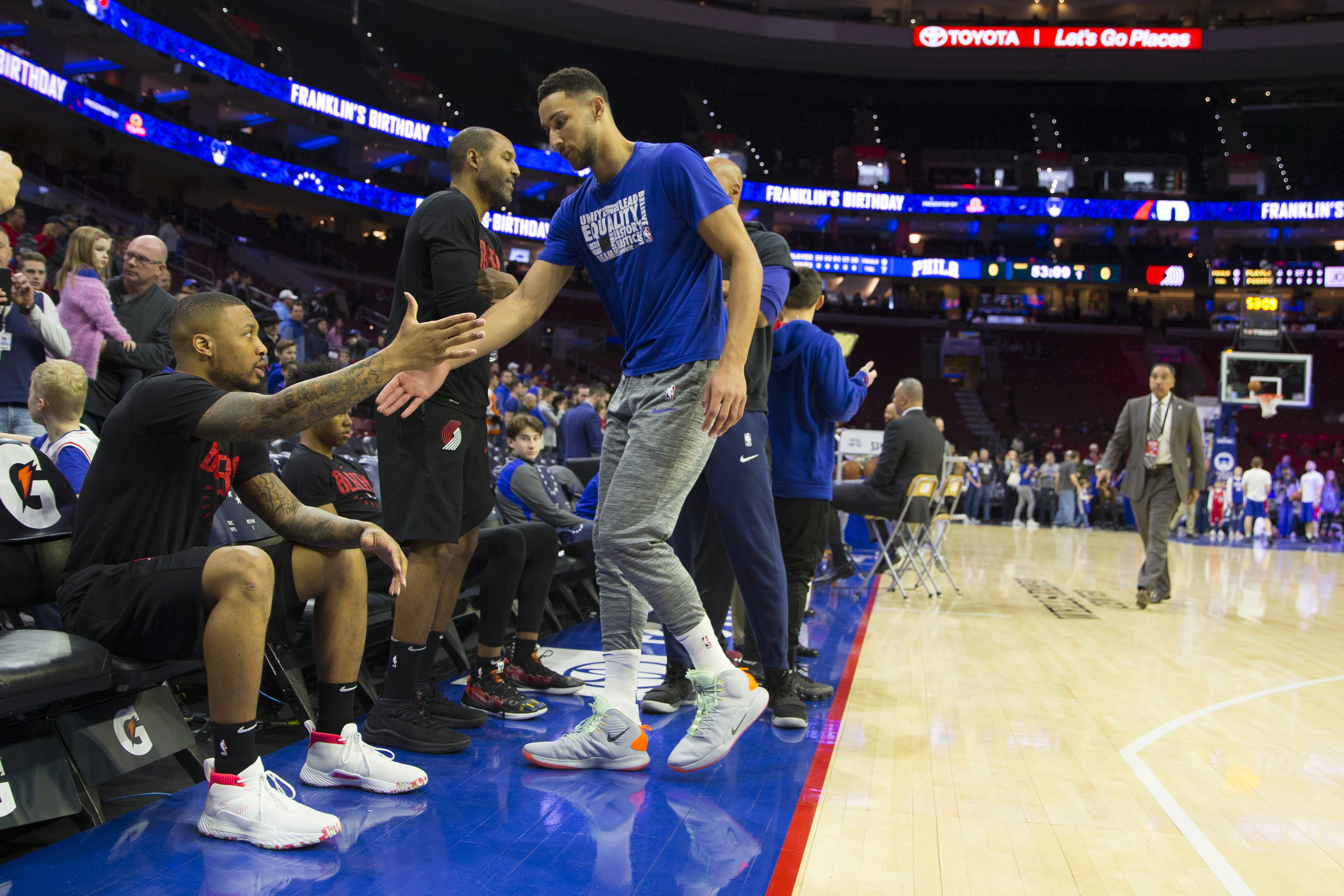 Initial negotiations between the Blazers and 76ers were fruitless. But Portland must show more urgency given its woeful start to the season, and Lillard's apparent desire to play with Simmons could reinvigorate talks between the two clubs.
The Blazers must decide how they value future draft picks. If they give up significant capital to acquire Simmons, they risk missing out on getting young talent to build around a Simmons-Lillard backcourt. However, if they remain too guarded, then they risk Lillard asking for a trade. That, in turn, would probably lead to a total rebuild.
Interim general manager Joe Cronin faces a host of difficult decisions in the coming months. But if the Blazers are insistent on keeping Dame, then they might have to pull the trigger on a Ben Simmons trade, regardless of Philly's asking price.
Contract information courtesy of Spotrac.