Dan Campbell Lacks Proper Play-Calling Experience for Detroit Lions
Celebrate good times; come on. Dan Campbell and The Detroit Lions have won their very first game of the 2021 season.
Fresh off a walk-off win over the Minnesota Vikings, the Lions are now 1-10-1 and obviously feeling good about getting the term "winless" out of their vernacular.
While the good times currently roll in Detroit, there are still five games left to be played and a whole organizational rebuild ahead of Campbell and the Lions.
Even after the win, his latest admission shouldn't have fans feeling too confident.
Two bad Dan Campbell play calls nearly lost the game for the Detroit Lions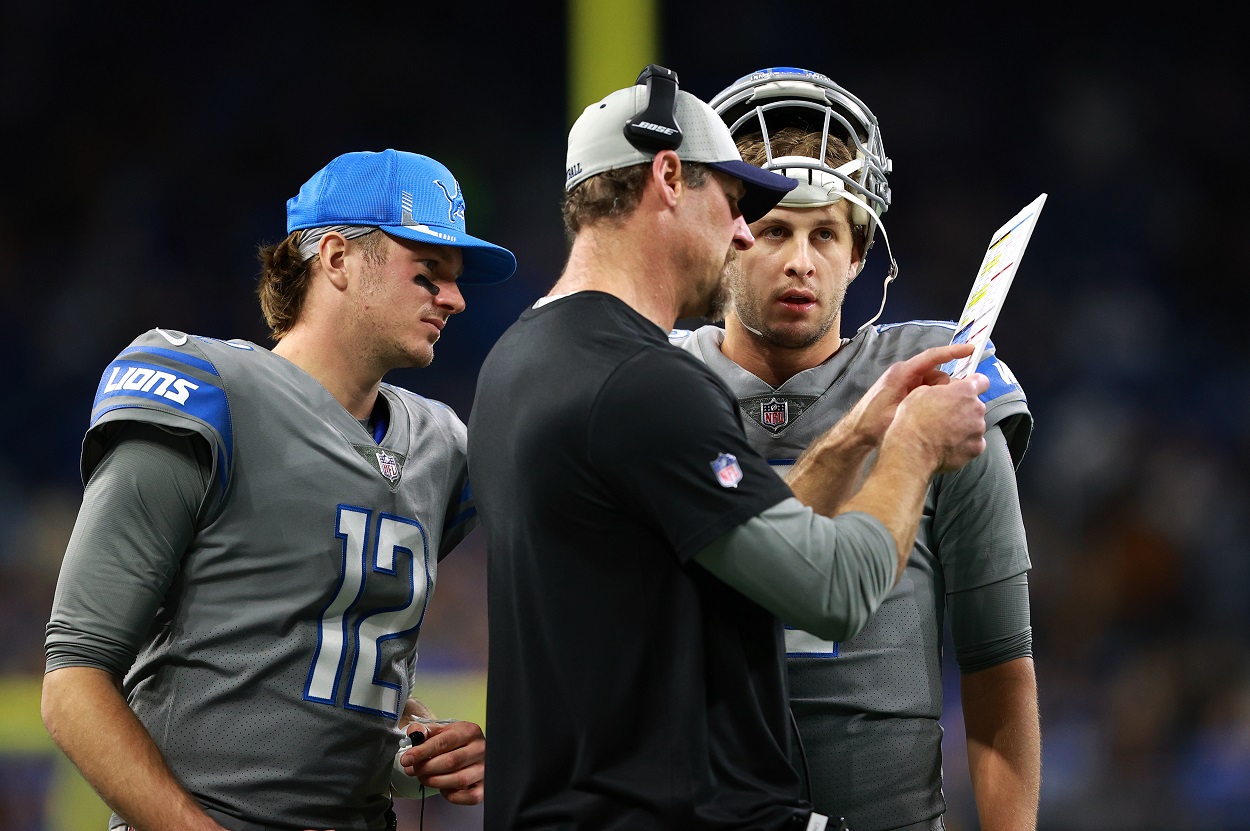 Clinging onto a 23-21 lead with 5:32 to go in the game, the Lions fielded a punt at their own 19-yard line, undoubtedly hoping to put the game away.
Two plays later and facing a 3rd-and-1 with just 4:49 to go, Campbell called a run up the middle to Jamaal Williams. While normally a decent idea considering Williams' reputation as a hard-nosed runner between the tackles, the Lions were stuffed.
Now facing a 4th-and-1 on their own 28 yard-line, Campell decided to call an ill-fated play-action pass rather than lean on a pretty decent offensive line to pick up one yard. Jared Goff rolled out to his right and was stripped of the football by Minnesota linebacker Blake Lynch. The Vikings took over on the Lions' 19 and scored a touchdown six plays later to go up, 27-23.
Campbell shockingly admits that he called a terrible play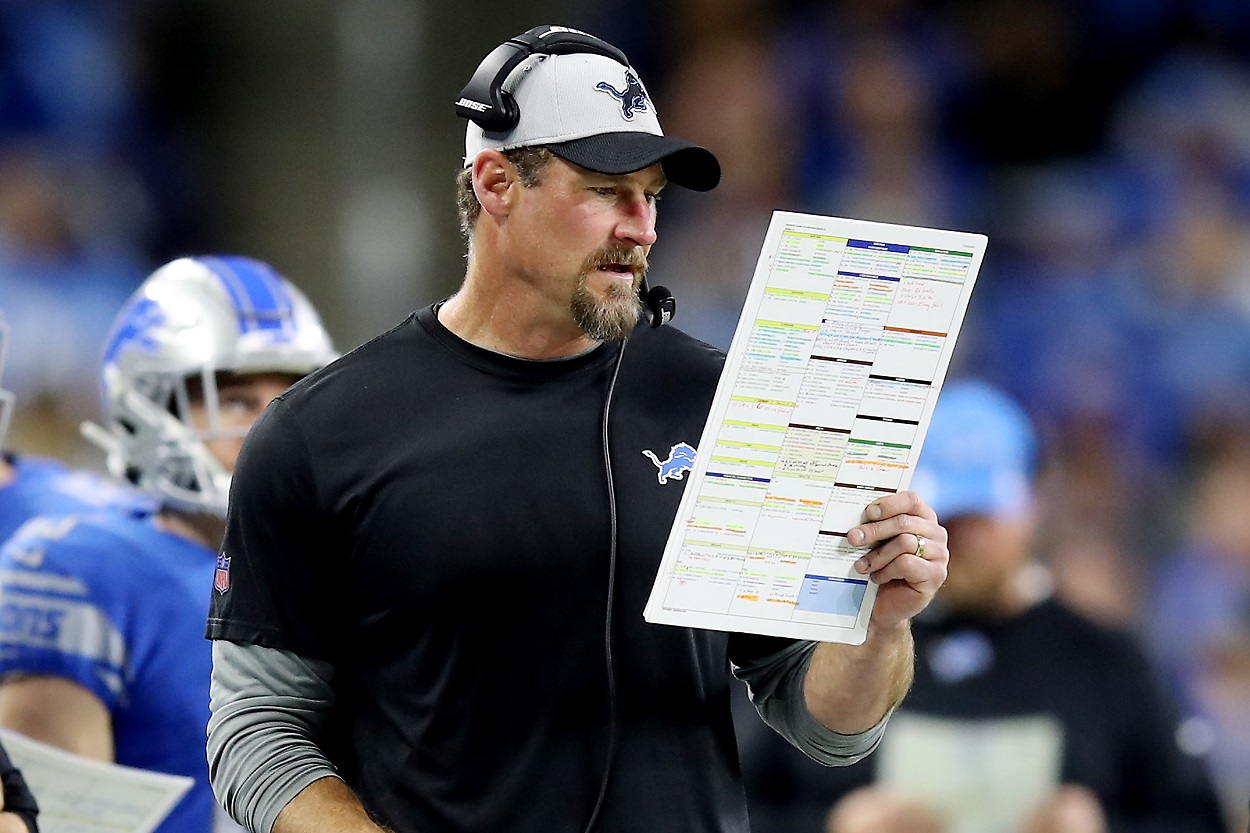 Alls well that ends well for Detroit. The Lions drove the field after the Vikings' touchdown and got a game-winning touchdown of their own. Never mind the fact that the Vikings played mind-boggling bad prevent defense on that drive. Never mind that Minnesota head coach Mike Zimmer should be fired when the season is up, and this game will be a major reason why.
A win is a win, and the Lions fought hard for their first. Credit where it's due.
There is a shocking and, frankly, troubling twist for Lions fans hoping that Campbell is the right person to pull them out of the NFL's basement, though. Lost in the elation of the win is the fact that Campbell was putrid as a play-caller in one of the biggest spots of the game, and he knew it.
Speaking recently on 97.1 The Ticket in Detroit, the head coach said he knew he wanted to be aggressive to counter a typically explosive Minnesota offense. That's what explained his decision to go for it on fourth down deep in his own zone late in the game. Missing that fourth down is not what troubled him, though. It was his decision-making right before that play that has him feeling regretful.
"If I could have one of those back, it would have been the third-down call before that fourth down," he said. "I hated the play that I gave to our offense and Jamaal [Williams]. I didn't like that. We should not have even been in that 4th-and-1, in my opinion, had I called a better play."
Campbell is in over his head as a play-caller
A first-time head coach, Campbell has never called plays in his coaching career. He was an assistant head coach/tight ends coach for the New Orleans Saints from 2016-2020, but he's never had the responsibility of looking at the situation on the field, looking down at a play sheet, and calling a play.
Here's how ESPN described him when he was hired:
The 44-year-old Campbell, who has never been a coordinator in the NFL, is viewed as a motivator and someone who can bring a team together, rather than an X's-and-O's guru.
The Lions hired veteran coach Anthony Lynn to be Campbell's offensive coordinator this season, but Campbell stripped Lynn of the play-calling duties in a desperate move to shake things up after an 0-8 start. While a play-calling switch-up is in the manual for coaches looking to inject some life into their team, the fact of the matter is that Campell chose a coach with zero play-calling experience over one who had just been a head coach for four seasons and an offensive coordinator for a season before that.
The coach he chose with no experience? It was himself.
The Mike Valenti Show With Rico on 97.1 in Detroit basically put it this way: Would you want your doctor to have zero experience before operating on you? How about the person doing your taxes? Would you want them to be figuring out the tax code as they go? Campbell is basically an NFL head coaching intern learning things as he goes, as Valenti put it.
Would you want a play-caller who "is viewed as a motivator and someone who can bring a team together, rather than an X's-and-O's guru," calling plays? Apparently, the Lions are OK with it.
The fact of the matter is that Campbell is learning how to call plays in the NFL on the fly.
It would be one thing if he was quickly becoming the next Kyle Shanahan or Matt LaFleur, but he's made multiple head-scratching decisions per game since taking over the play sheet, and he's now openly admitted to botching what should have been an easy call on 3rd-and-1. It wasn't just that play, either. He followed up what he admitted was a bad call with the terrible play-action call on fourth down. The Vikings sniffed that out in a heartbeat. It didn't even have a chance to succeed.
The win and the good feelings surrounding it provide Campbell cover, but the Vikings gift-wrapped him that excuse. The fact of the matter is he's basically in a paid internship worth millions of dollars, and he's struggling to figure it out as he goes.
One win, as exciting as it was for Detroit, doesn't change that.
Stats courtesy of ESPN and Pro Football Reference.