Dan Marino Considered Playing for the Minnesota Vikings Before Retiring
Few quarterbacks have the resume of Dan Marino. As the quarterback of the Miami Dolphins from 1983-99, he was consistently among the best at his position — an MVP, a nine-time Pro Bowler, three-time All-Pro, and eventual Hall of Famer. The only thing he seemed to avoid was a Super Bowl. Had he returned after leaving the Dolphins after 1999, however, this might've been different. 
Dan Marino's career
Marino was the 27th overall pick in the 1983 NFL Draft. While heavily touted coming out of Pittsburgh, he wasn't a surefire success story. Marino's arm was undoubtedly great, but there were questions. Pittsburgh has never been known as a football powerhouse, and coming out of a lesser-known school can turn off some teams. The Dolphins, however, did not care.
Marino took the field for the team in 1983 and went 7-2 as their starting quarterback. He had an adequate arm and a penchant for getting the ball down the field in even the direst of situations. While there were some kinks to work out, it was clear that the team had somebody special leading their offense as they hoped to rebuild.
Marino wasted no time after his rookie season. In 1984, he was already one of the best quarterbacks in the NFL. Not only did he lead the Dolphins to a 13-2 record, but he also did so with ridiculous numbers. 5,000 yards, 48 touchdowns, 64-percent accuracy, Marino had the total package of what the Dolphins wanted at quarterback. He was an All-Pro quarterback for three out of the first four seasons that he played.
Marino never quite reached these heights afterward, but it doesn't mean he fell off, either. The Dolphins were consistently winning behind his arm, and well into the 90s, he was the face of the franchise. Despite the lack of Super Bowl success, Marino was a god in Miami, but after a mediocre 1999 season, there were rumors that he might play elsewhere.
Dan Marino as a Minnesota Viking?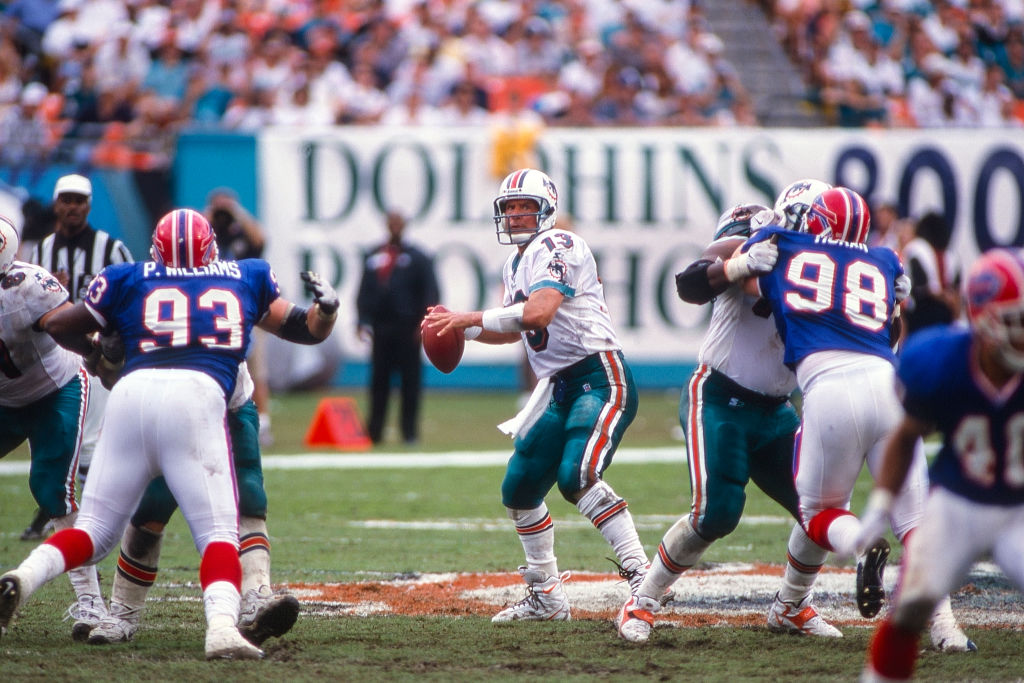 Marino was 39 when he finished his career in Miami. At the time, however, it was not clear that he was ready to hang it up. Despite some clear regression, he was not a bad quarterback. On top of this, the Dolphins had never done him any favors by fitting deep rosters around the Hall of Fame quarterback.
Marino was interested in coming back, but it wasn't necessarily with the team he'd made his name for. The Minnesota Vikings were one of the most intriguing young teams in the NFL. With receivers like Cris Carter and a young Randy Moss, the team had a bright future ahead of them. Adding a veteran presence like Marino could have set the franchise up for some brief success before he retired.
The Vikings had just drafted Daunte Culpepper, and having the quarterback learn from behind one of the All-Time greats might have done his career some good. All of this was speculation, however. Getting a player to move after 17 years takes work, but after seeing Tom Brady leave for Tampa Bay in 2020, we now know that it is not impossible.
Dan Marino on the Vikings
Marino confirmed the rumors that he was interested in joining the Vikings on the Dan Patrick Show in 2018. When asked by Patrick about the possibility of ever doing something so brash, Marino explained why it was something that he may have been interested in doing. Despite the interest, however, he claims that it was never close.
"I thought about it, for sure," Marino said. "That's when they had Randy Moss, Cris Carter — that could have been fun."
He went on to explain that his body was too broken down to play more in the NFL. That factored into his retirement.
As Peyton Manning showed in Denver, getting an aging quarterback is not always a bad idea. They can provide leadership and ripple effects that last far beyond their tenures. Marino's never worked out, but the idea of him throwing to two of the greatest receivers in history is an interesting one. Still, being able to say he played 17 years with one franchise might also be good enough.