Dan Marino's 'Really Simple' 7 Words of Advice Set Ryan Tannehill on the Path to NFL Stardom
Since he entered the NFL in 2012, Tennessee Titans quarterback Ryan Tannehill's name has been linked with Miami Dolphins legend Dan Marino.
Nearly a decade ago, the Dolphins drafted Tannehill and hoped the Texas A&M product would become the franchise quarterback the team had lacked since Marino retired in 2000. Although he's thriving in Tennessee instead of Florida, the 33-year-old signal-caller remains grateful for the advice he received from the Pro Football Hall of Famer several years ago.
Dan Marino offered Ryan Tannehill simple advice earlier in the latter's career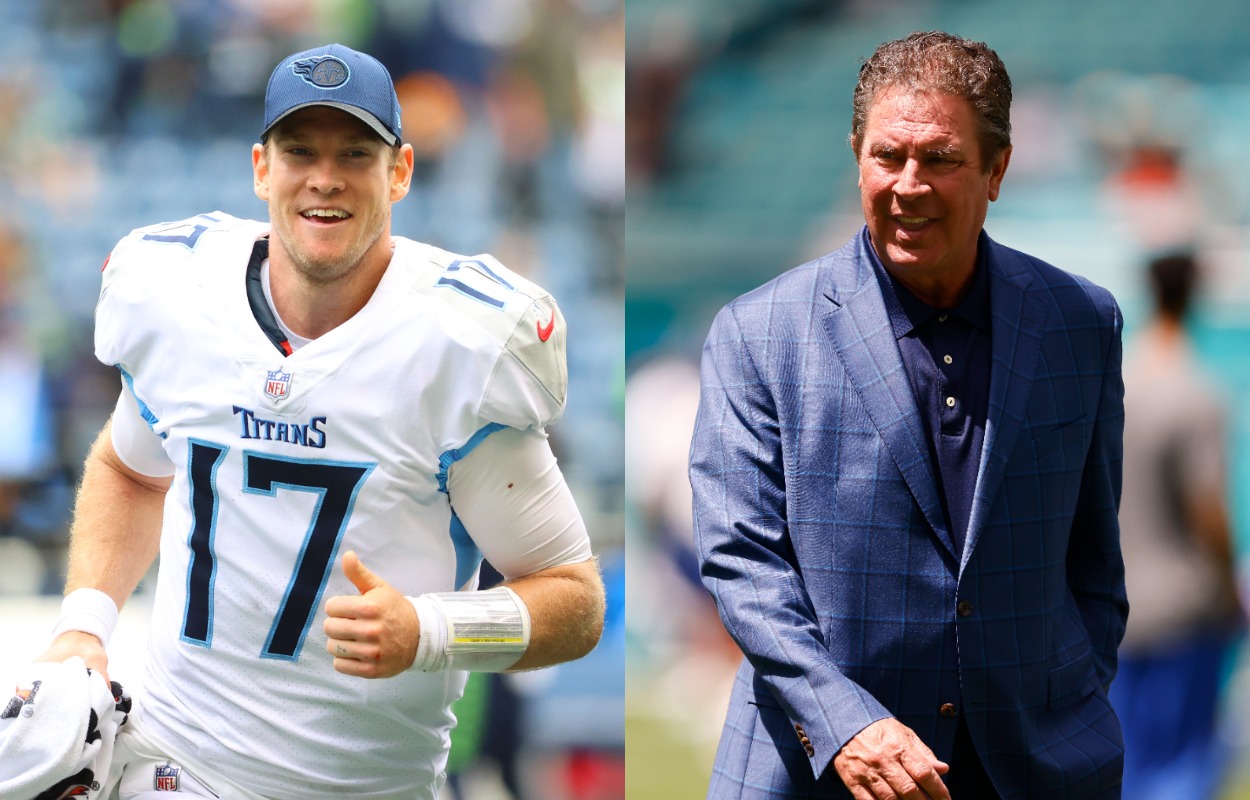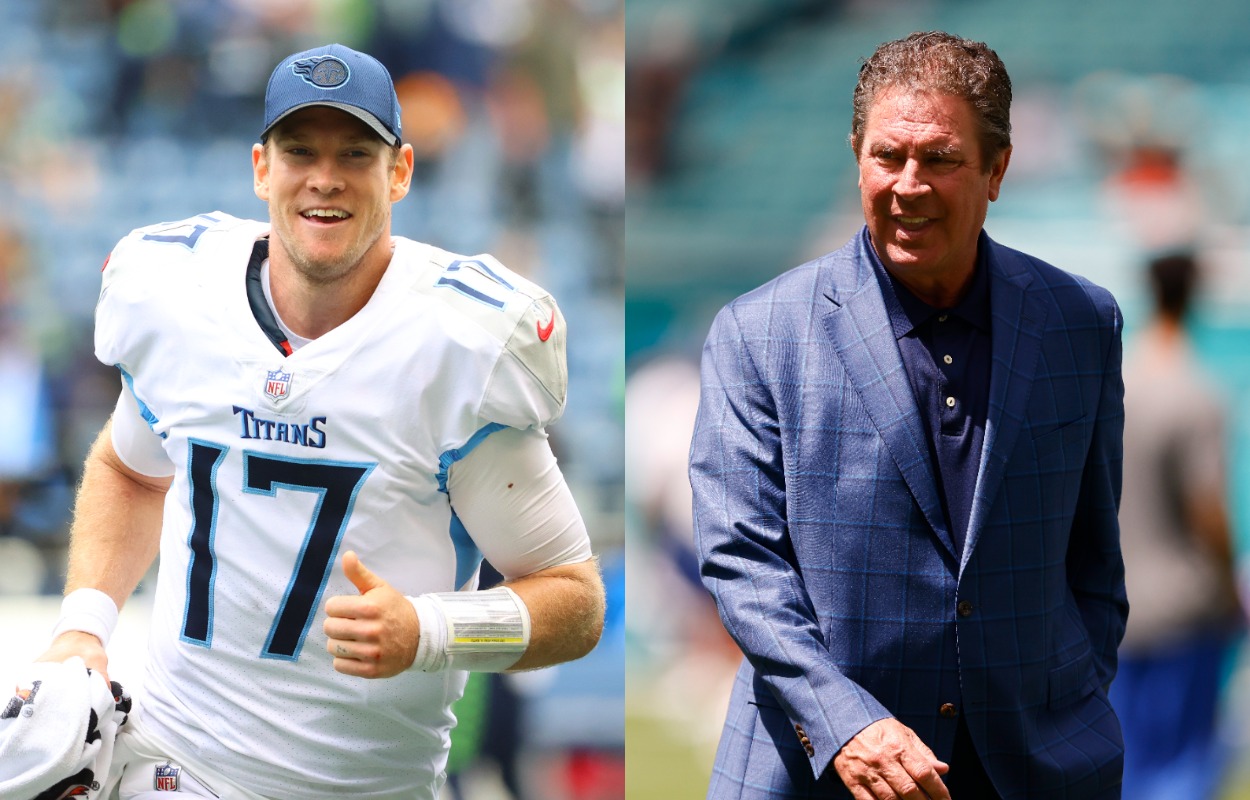 In the umpteenth reminder that time flies in the NFL, Tannehill is already in his 10th NFL season. He's had plenty of opportunities along the way to pick the brains of some of the greatest players in league history.
In a recent interview with the New York Post, Tannehill reflected on spending time with Marino when the former played for the Dolphins from 2012-18. The 1984 NFL MVP joined the Dolphins as a special adviser in 2014 after spending over a decade with CBS Sports.
"Dan had a bunch of good things to say, but probably my favorite and one that stuck was: "Pick your guy and let it fly." Something really simple, and [it] definitely translates."

Ryan Tannehill
Tannehill did not specify when Marino offered him that advice other than it occurred when both were in Miami. However, his numbers as a passer significantly improved following the Hall of Famer's return in 2014.
Marino's advice helped set Tannehill on the path to eventually turning his NFL career around
If you're skeptical about Marino's advice, consider that Tannehill threw 36 touchdowns against 30 interceptions in his first 32 games with the Dolphins. From 2014 through 2018, the first-round quarterback totaled 87 passing touchdowns against 45 interceptions in his next 56 games.
Without rewriting history, it's not wrong to say Tannehill had plenty of positive moments and plays in his final few years with the Dolphins. It wasn't his fault that he lacked a legitimate No. 1 receiver or game-changing tight end for most of his time with the Dolphins.
Of course, there's also no excuse for all of the negatives from Tannehill's tenure in Miami. He had plenty of turnovers and throws he wanted back, and it still remains up for debate how much of his overall problems are on Adam Gase, the Dolphins' head coach from 2016-18, and how much responsibility falls on the veteran quarterback.
Outside of a breakout season in 2014 where he threw for over 4,000 yards and recorded 27 passing touchdowns, advanced stats weren't friendly to Tannehill during his Dolphins tenure. We can forgive poor coaching in Major League Baseball if a hitter registers a low Wins Above Replacement score because that's on the hitter. Whether the statistic in question is quarterback rating or Pro Football Focus grades, the same logic can't always be applied when discussing a quarterback playing in one of Gase's system.
As we know, though, the Dolphins traded Tannehill to the Titans in the spring of 2019. Fantasy football managers and Titans fans will attest to how the quarterback has mastered picking his guy and letting it fly over the last few years.
Tannehill will take the Titans a long way if he continues heeding Marino's advice
As of Oct. 2, 2021, Tannehill had completed 67% of his passes for 7,317 yards, 59 touchdowns, and 16 interceptions in 31 games and 29 starts with the Titans. He went from Marcus Mariota's backup in October 2019 to starting in the AFC Championship Game three months later.
Life has certainly improved for Tannehill since arriving in Tennessee. He signed a four-year, $118 million contract in 2020, which will tentatively keep him with the Titans through the 2023 season. He's become a reliable starting quarterback and avoided the nagging injuries that bothered him in Miami.
The Dolphins are still searching for a legitimate franchise quarterback in the post-Marino era. Whether it will be Deshaun Watson, Tua Tagovailoa, or Arch Manning remains undetermined.
As for Tannehill, he's picking his guy and letting it fly on a team that appears destined to win the AFC South for a second straight season. Not bad for a quarterback who the football world collectively wrote off two years ago.
Like Sportscasting on Facebook. Follow us on Twitter @sportscasting19.
RELATED: Dan Marino Never Won a Super Bowl, but He Had His Opponents Applauding Him in the Game That Got Him to One