Dan Marino Reveals What it Took for Him to Sign Up for 'Ace Ventura'
Thousands of players throughout NFL history lined up under center. While most of the historically great quarterbacks won a Super Bowl at some point, two others stand out above the rest: Dan Marino and Fran Tarkenton. Both routinely appear on all-time top 10 QB lists. While Tarkenton's career ended in the late 70s, Dan Marino played through the 1980s and 90s. Football grew in popularity throughout Marino's career, and he established himself as part of American culture. Although his name mostly comes up today when Patrick Mahomes breaks another one of his records, Marino was very popular in the 90s. One of his most popular off-the-field moments? Appearing on the big screen alongside Jim Carrey.

Dan Marino's role in Ace Ventura: Pet Detective.
The plot of Ace Ventura: Pet Detective revolves around the Miami Dolphins and a character named Ray Finkle's need for revenge against Dan Marino. The legendary QB initially didn't agree to appear in the film, holding out until he met with star Jim Carrey.

Marino recently told Peyton Manning he planned to inform Carrey he wasn't going to appear in the film. Without one of the central characters, it's unclear what the production team would have gone on to do, but just like the star detective, Jim Carrey had a plan.

How Jim Carrey got Dan Marino on board
While speaking to Manning, Dan Marino revealed how Jim Carrey got him to change his mind about appearing in the film. It happened in trademark Carrey fashion:

"He came in this restaurant in L.A. dressed like Ace Ventura, with the tutu and everything. [He was] running around and messing with people, all the stuff he does in the movie." 

Marino thought further about the role as he laughed through the entire lunch. It didn't take long for him to say yes to the part. "I thought about it, like, it can't hurt. I'll do it, but I'll just take the cash up front," Marino said. 

One Hollywood lunch later, Dan Marino was a movie star. Still active in the NFL at the time, Marino probably didn't know the movie would include his final (albeit fictional) Super Bowl trip. He led the Dolphins to the title game in 1984, but they came up short, and that was his lone Super Bowl. But plenty of great players don't win the big one, but Marino cemented his place in 1990s pop culture by appearing in the movie.

How successful was Ace Ventura: Pet Detective at the box office?
Ace Ventura: Pet Detective outkicked its coverage, to use a metaphor Dan Marino would enjoy.

On a budget of only $15 million, the movie grossed more than $100 million worldwide, according to Box Office Mojo. Ace Ventura, The Mask, and Dumb and Dumber all premiered in 1994 and rocketed Jim Carrey to superstardom.

Marino continued to play football but dabbled in Hollywood after his debut in the film. Along with plenty of TV appearances as himself, he acted in The Magic School Bus and The Simpsons, and appeared in a Hootie and the Blowfish music video.

Other athletes in Hollywood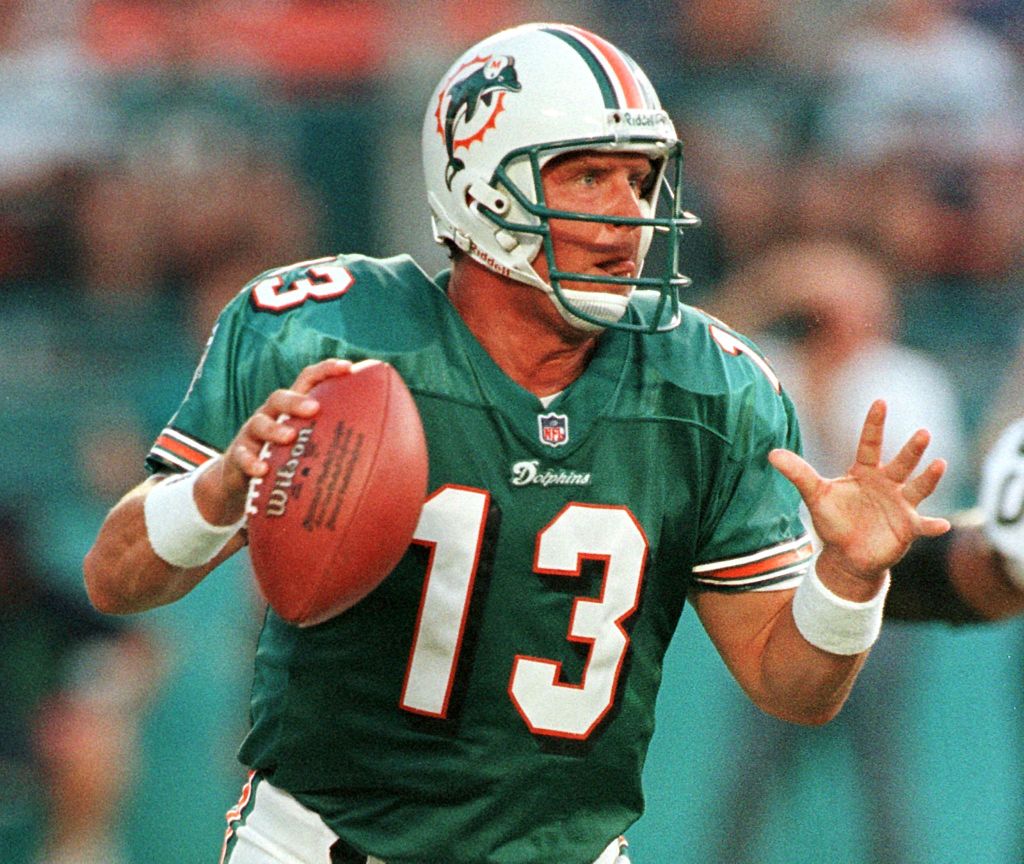 Dan Marino wasn't the first athlete to cross over to film, and he won't be the last.

Uncut Gems, currently in theaters, features Kevin Garnett showing remarkable range. Shaquille O'Neal drew fans into Blue Chips and performed well (not to mention the less-strong Kazaam). Brett Favre memorably appeared in There's Something About Mary. John Cena finds himself in two to three new starring roles a year and even made it to the Fast and Furious franchise. Even more athletes featured in cameo roles. Kareem Abdul-Jabbar grabbing a child by the shirt and instructing him to "tell your old man to drag Walton and Lanier up and down the court for 48 minutes," will live in cinematic history.

Dan Marino acted in an unplanned movie role and wound up an even bigger star. Although he never won a Super Bowl, he still ensured America would always remember him with the rest of 1990s nostalgia. What's fascinating about his role is how Marino changed his mind and finally agreed to it despite his initial hesitation. Twenty-five years later, there's no more doubt about whether it was a good decision or not. Marino's success gives us something to remember: when life presents you with an opportunity you're unsure about, sometimes you just have to say, "Allllllllrighty then!"