Dan Orlovsky Has a Terrifying Message for the Titans Regarding Ascending Colts RB Jonathan Taylor: 'I Think He's Becoming One of the Best Backs in Football'
Despite a rocky start which included three straight losses to start the season, the Indianapolis Colts are quietly surging back up the standings. Led by a rejuvenated Carson Wentz at quarterback, the Colts have won three of their last four. They'd be on a four-game win streak if kicker Rodrigo Blankenship didn't shank a would-be game-winning field goal against the Baltimore Ravens in Week 5.
With hype quietly growing in Indy and a massive AFC South showdown looming with the Tennessee Titans, NFL analyst Dan Orlovsky chimed in with who he thinks the difference-maker can be.
Dan Orlovsky is all in on Colts RB Jonathan Taylor
During a recent NFL on ESPN segment, former NFL quarterback and NFL analyst Dan Orlovsky chimed in with his thoughts on Colts running back Jonathan Taylor. Naming him a member of "The Dan Wagon," Orlovsky argued for Taylor being one of the best backs in the league.
"Jonathan Taylor reminds me a lot of Nick Chubb from the Cleveland Browns, again the yards after contact," Orlovsky said.
"I think he's becoming one of the best backs in football. I also think if the Colts are going to have a huge win this weekend at home against the Titans…Jonathan Taylor is got to have a huge game."
Taylor is off to a sensational start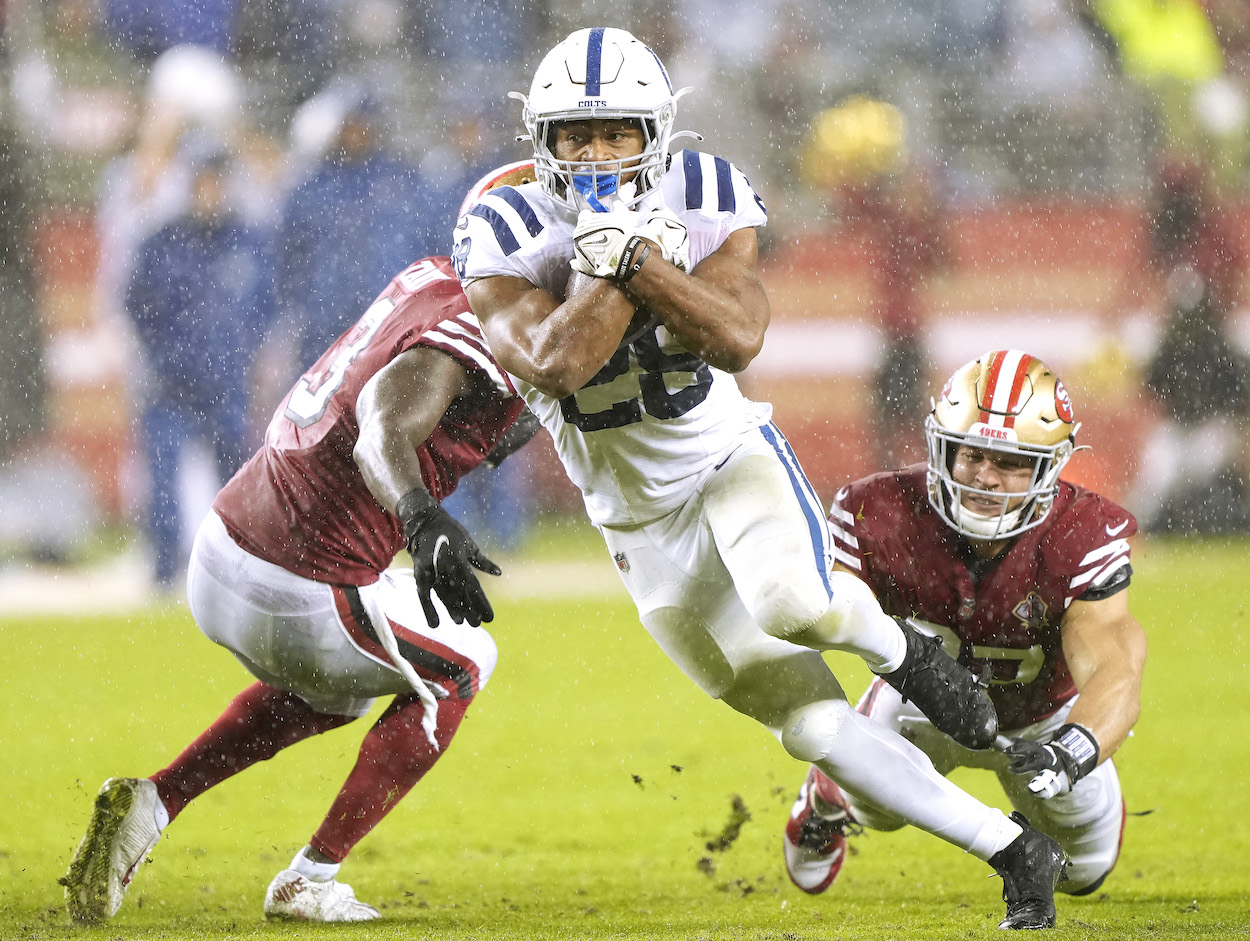 Orlovsky hit the nail on the head with his analysis. Taylor is off to a great start this season. He's quickly establishing himself as one of the NFL's premier backfield threats.
Heading into Week 8, Taylor currently ranks second in total rushing yards, fifth in rushing yards per game, fifth in yards per attempt, third in rushing touchdowns, and second in rushing first downs. In all facets of his game, he is dominating.
What makes matters even more impressive is that Taylor is doing all this playing behind a battered offensive line. All-Pro left guard Quenton Nelson has been in and out of the lineup with injuries, left tackle Eric Fisher missed the start of the season with an Achilles injury, and right tackle Braden Smith is only now returning to practice. Instead of cruising through open holes, Taylor is battering his way past defenders.
Early on, Taylor stepping up for the Colts was even more important, considering Wentz was nursing foot and ankle injuries. He needed a few games where he'd be allowed to take it easy and hand the ball off.
Taylor is the key to a Colts win over the Titans
The Colts are trending in the right direction. However, they still have a ways to go to catch up to the Titans. This year, Tennessee is off to a 5-2 start with wins over the Buffalo Bills and Kansas City Chiefs.
The Colts have games against the New York Jets and Jacksonville Jaguars up ahead to make up ground. However, they need to find a way to steal a game against Tennessee first. A Week 8 win over them would go a long way to helping Indy's playoff odds.
Wentz and the Colts' defense need to step up in their own regard. However, Taylor is the key to a Colts win. He needs to control the game's tempo with his strong running, simultaneously outdueling Derrick Henry in the process (the league's leading rusher).
All stats courtesy of Pro Football Reference.
RELATED: The Colts Just Pulled off a Shrewd Money Maneuver Which Signals Reinforcements Arriving for Carson Wentz