Dan Snyder May Finally Be Losing His Grip on the Washington Football Team After 22 Miserable Years
Even after 22 years of mostly unsuccessful football, even after a year rocked by scandal, Dan Snyder is still the owner of the Washington Football Team. That could change pretty soon if a report from a Washington-area sports radio station is accurate.
Dan Snyder could get the boot
RELATED: Alex Smith's Release Has Given Taylor Heinicke a Free Pass to the Starting Job for Washington
For months, the NFL has led an investigation into the internal culture of the Washington Football Team under Daniel Snyder, who has owned the team since 1999. Washington-area sports radio station 105.7 The Fan has reportedly obtained some pages from the league's report, which may be 130 pages long.
According to J.P. Finlay of NBC Sports Washington, at the top of the list of recommendations is to "force the owner to divest his ownership of the team."
This would not be unprecedented in sports history. The NBA did the exact same thing in 2014 with former Los Angeles Clippers owner Donald Sterling after his racist comments went public.
Shortly after Finlay's tweet, CBS Sports' Jonathan Jones disputed the earlier tweet via an NFL spokesman. According to Jones, Finlay's finding was "absolutely false" and that the league has received "no such report". Still, even if the league hasn't received it, that doesn't completely rule out the possibility that such a report exists.
What's going on with Washington?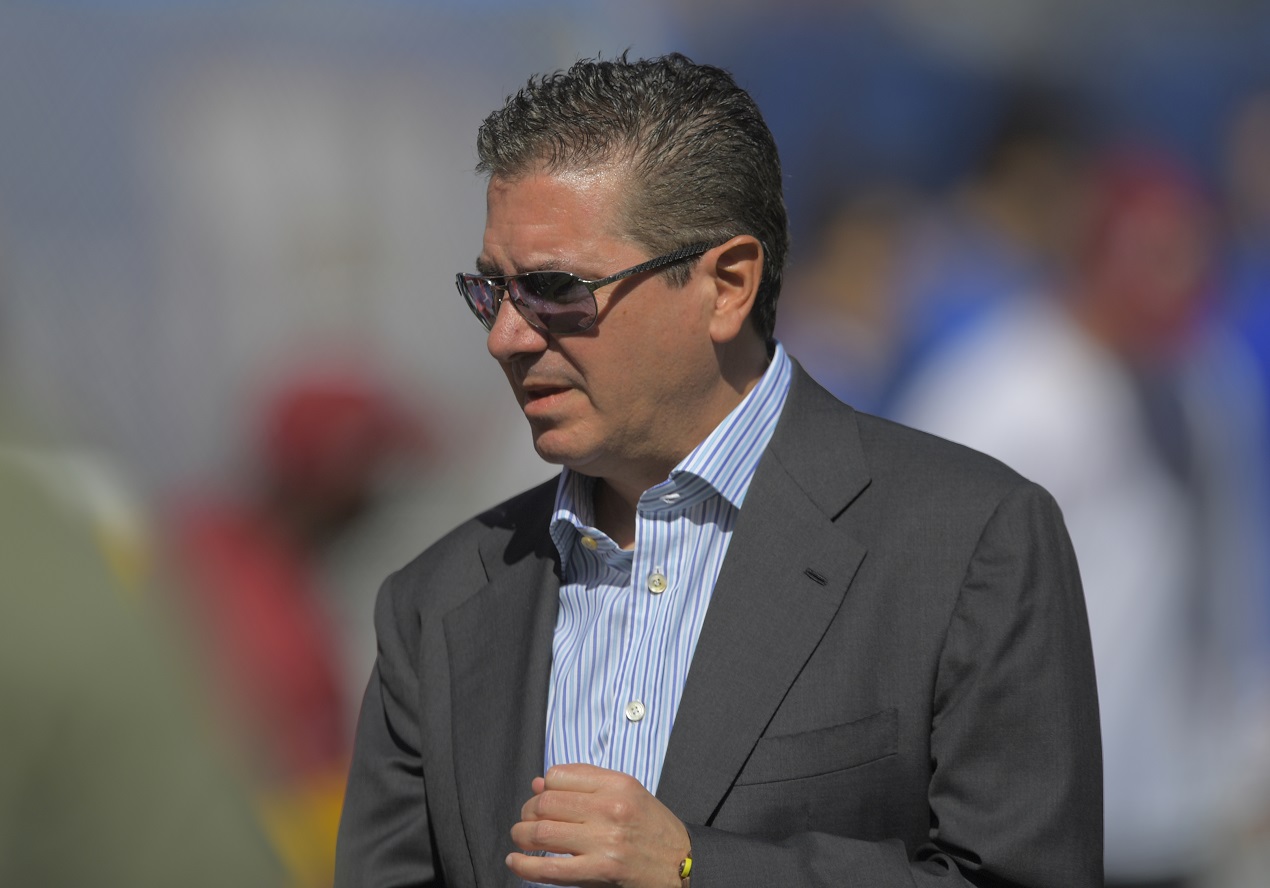 RELATED: Jay Gruden Just Eviscerated Desean Jackson and Pierre Garcon for Their Roles in an Ugly Washington Moment
You're probably wondering what's taken the NFL so long to realize that Dan Snyder is not a very good owner. After all, in his 21 seasons in charge, the Washington Football Team has reached the playoffs only six times. They have won only four division titles and two playoff games, never reaching the NFC Championship Game under Snyder's watch.
All the while, Snyder gained a reputation for blowing money on high-priced free agents that never panned out. Washington became a landing spot for expensive busts that contributed little to the team. Some of these include Deion Sanders, Bruce Smith, Jeff George, Adam Archuleta, and the granddaddy of them all, Albert Haynesworth.
Worse still, less than a year ago, 15 former employees went public to the Washington Post. The resulting story exposed a sexist and toxic working environment within the team. According to the Sporting News, while Snyder himself didn't make any sexual advances, he is accused of fostering a "culture of abuse".
Who would replace Dan Snyder?
If the NFL really does force Snyder to sell, someone has to step forward to buy the team. Luckily…or maybe not, depending on your point of view…one potential buyer happens to be the world's richest man.
According to ProFootballTalk's Mike Florio, Amazon CEO Jeff Bezos has had an interest in owning an NFL team since 2018. Perhaps that team might end up being Washington. Last month, FrontOfficeSports reported that Bezos' attorney has spoken with the accounting firm Moag & Co. The firm has been involved in recent legal disputes with Snyder over the ongoing scandal.
For their part, the other NFL owners might not mind having Bezos around, either.
"It's well known that the owners of the other NFL teams wouldn't mind having him in," Florio told 105.7 The Fan. "…given that he runs Amazon and given that it would be a hell of a lot easier to work out deals for the streaming rights to games if one of the guys that they're a partner with is also the guy that runs Amazon."