Dana White Was Baffled by a Recent Performance of a Rising UFC Star
Injuries can occur to any UFC fighter, but sometimes, those injuries may be more psychological than physical. This may have been the case for Kevin Holland, a rising star in the UFC's middleweight division, during Fight Night on March 20. Let's look at Kevin Holland's most recent fight against Derek Brunson as well as Dana White's reaction.
Kevin Holland vs. Derek Brunson
RELATED: John McCarthy Slammed Dana White for Criticizing the Media: 'I'll Show You His Little, Dweebie Ass'
While 2020 was a bad year for many people, Holland had a great year in the UFC. He fought five times in 2020, and he won all five. Not only that but the entertaining fighter who got knockouts while talking trash to his opponents. This put him on the UFC radar. In 2021, he got a chance to headline. His opponent was Brunson, a UFC veteran who's a great wrestler. 
If Holland had won this fight, he would've gotten himself close to a title shot. However, Brunson, while playing the role of a gatekeeper, successfully kept Holland away from the title shot dream. Instead, Brunson used his elite wrestling skills to take Holland down for 25 minutes. 
Despite that, Holland's constant trash talking didn't stop at all. Furthermore, due to the fact that the event took place behind closed doors, fans at home as well as White could hear pretty much everything Holland said. As such, when the judges decided that Brunson had won by unanimous decision, White didn't have kind things to say about Holland.
Dana White thinks Kevin Holland had a mental breakdown
RELATED: Khabib Nurmagomedov's 1st MMA Opponent Was a Bear and PETA Won't Let Him Forget It
Like MMA Fighting reports, Holland did more than just talk trash to Brunson. He was talking to various people who were ringside, including Khabib Nurmagomedov as well as White. One funny moment: When Holland asked Nurmagomedov, a talented wrestler, for advice to defeat Brunson.
Regardless, Holland's antics did not sit well with White, who said, according to MMA Fighting, "I think that was a mental breakdown. I don't know what he was doing. I think he might not have been able to handle the pressure and just broke mentally. I haven't seen anything like that."
White then compared Holland's antics to an old boxing fight between Lennox Lewis and Oliver McCall, where McCall, "kept his hands at his side and was crying." With that being said, White further clarified that Holland wasn't "crying" like McCall was. Instead, White said Holland "thought everybody in here was his friend and he was just out having some fun."
What actually happened at 'UFC Fight Night: Brunson vs. Holland'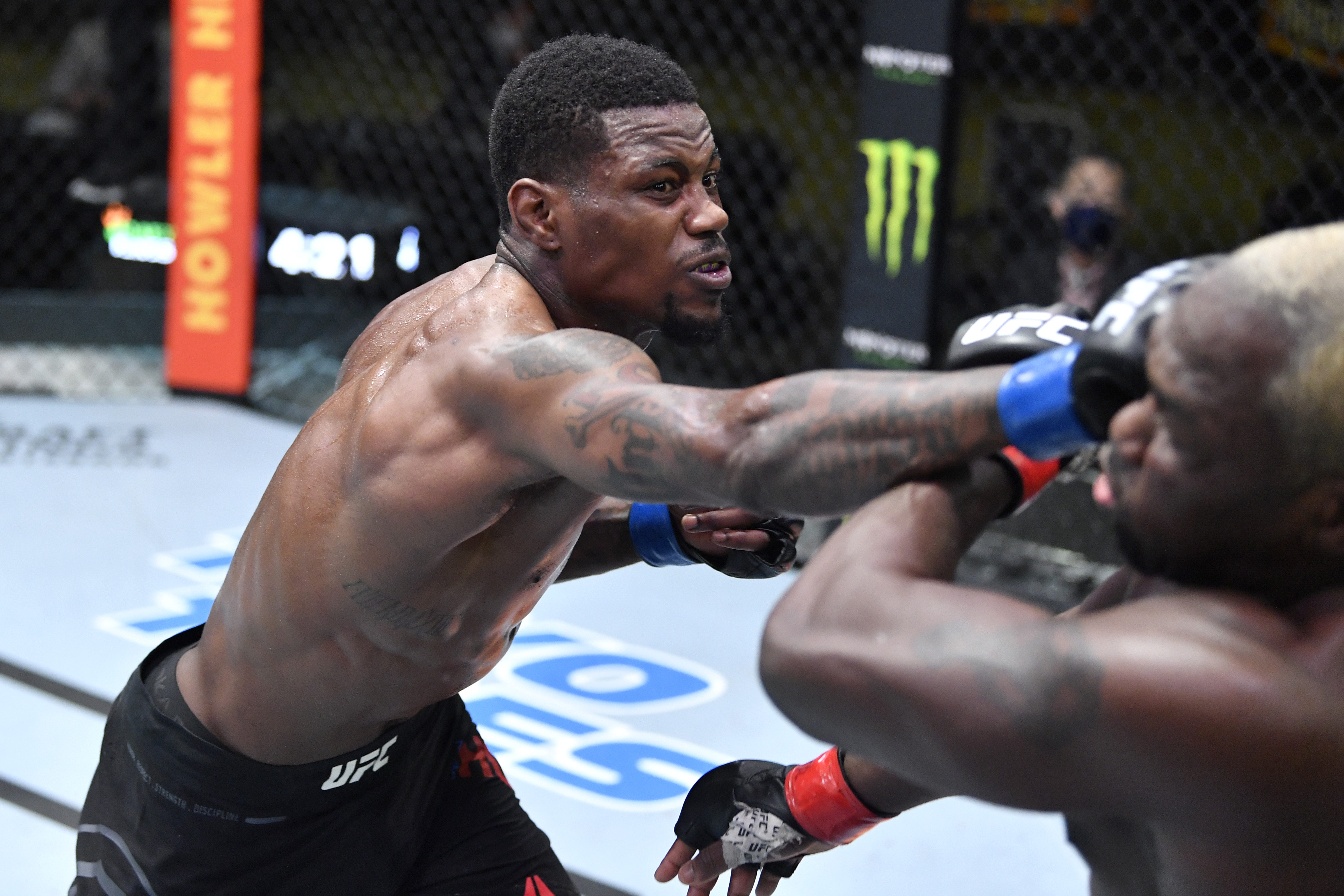 There is a kernel of truth to what White said about Holland. But others think that saying Holland experienced a "mental breakdown" was a stretch to say the least. For example, Brunson simply thought that talking a lot was an aspect of Holland's personality. On top of that, in a social media post after the fight, Holland fired back at critics who didn't like his constant talking. 
Furthermore, Holland said, according to MMA Fighting, "I'm gonna be me [till] I die. Never said I wanted to be the champ. I said I wanted to have a good time and that I did." As such, White's remark about Holland wanting to have some fun in the octagon was extremely accurate, and while it may have been fun for him, it probably wasn't as fun for his fans, or for White.
Holland is a rising star, and fans wanted to see him get to the top. This setback puts a damper on those goals, and it didn't help that the fight wasn't exactly the most exciting fight on the card.