D'Angelo Russell Says He and the Lakers Share the Blame for Why He Failed in Los Angeles
At 24 years old, D'Angelo Russell is already one of the NBA's top young guards. That was what the Los Angeles Lakers envisioned when they used the No. 2 overall pick on him in 2015.
The problem, though, is that D'Angelo Russell is excelling for the Minnesota Timberwolves, not the Lakers.
Russell recently explained why his divorce from the Lakers was for the best, as well as why he and the team share blame for why things didn't work out.
D'Angelo Russell played his first two seasons in Los Angeles
RELATED: D'Angelo Russell Reveals How Much He Hated Lakers Coach Byron ScottR
The Los Angeles Lakers thought they found their point guard of the future in the 2015 NBA draft. D'Angelo Russell only lasted two years in Los Angeles, though, and the negatives overshadowed any positives.
It's not that Russell played poorly with the Lakers. He averaged 14.3 points and four assists in 143 games over two seasons; not stellar numbers, but those are fine stats given he played his two Lakers seasons at 19 and 20 years old.
The problem, and what eventually spelled Russell's departure, was a 2016 incident with teammate Nick Young.
Russell allegedly and secretly filmed Young talking about cheating on his fiancee, rapper Iggy Azaela, as a prank. The video leaked and Lakers players and officials never treated Russell the same way.
Russell says this is why he and the Lakers share blame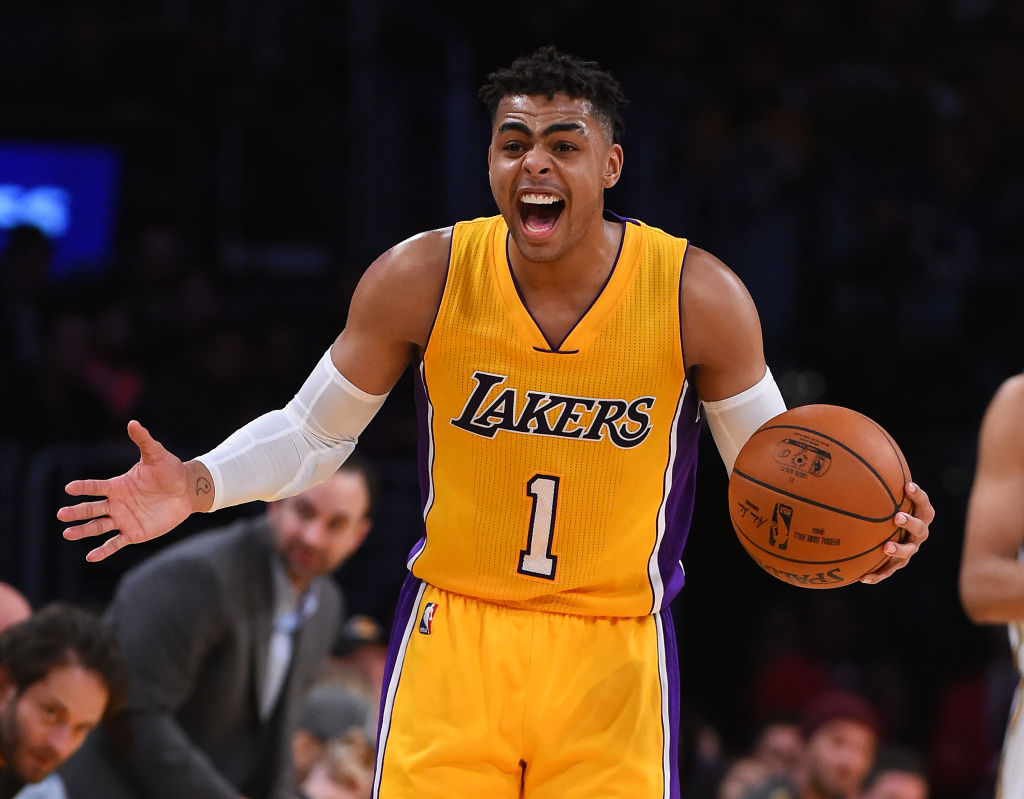 RELATED: The Sad Way Phil Jackson's Coaching Career Came to an End
D'Angelo Russell is a strange place at this point in his career. He's already a journeyman at 24 years old despite earning All-Star honors and emerging as one of the NBA's top young guards.
Russell made NBA history this year for the wrong reasons. He is the only player to play four different teams and become an All-Star all before he turned 24.
Still, the Lakers years weigh heavily on D'Angelo Russell's mind. In an interview with The Athletic, Russell explained the real reason he believes things didn't work out in Los Angeles.
"I didn't know how to be a professional and the guidance wasn't there also. I don't blame anybody. I blame myself. It was really a blur to me, just in the sense that the things that I've been through ever since then."
Although Russell explicitly said he doesn't blame anybody, the comments about guidance not being there speak for itself.
D'Angelo Russell has a new and possibly better home in Minnesota
RELATED: Will Acquiring D'Angelo Russell Keep Karl-Anthony Towns With Timberwolves?
D'Angelo Russell reinvented his career when the Lakers traded him to Brooklyn in June 2017. Russell averaged 15.5 points and 5.2 assists in his first season with the Nets, although a knee injury limited him to only 48 games.
Russell truly broke out in his second and final season with the Nets. The 6-foot-4 guard earned All-Star honors when he averaged 21.1 points, 3.9 rebounds, seven assists, and 1.2 steals per game.
Brooklyn moved on from Russell, though, after they signed Kyrie Irving last summer.
D'Angelo Russell surprised many by signing with the Golden State Warriors, who acquired him in a sign-and-trade involving Kevin Durant.
The move was shocking, especially because Klay Thompson — who missed all of this season before the coronavirus pandemic because of a torn ACL — is still under contract.
Russell averaged 23.6 points and 6.2 assists in 33 games with the Warriors this season. The Warriors traded him to Minnesota on Feb. 6 in a package that brought Andrew Wiggins and a first-round pick back to California.
Russell's overall numbers took a slight dip when he joined the Timberwolves, though he has an extremely bright future in Minnesota.
D'Angelo Russell will play most of the 2020-21 season at 24 years old and has formed a dangerous partnership with Karl-Anthony Towns. He's left the problems from Los Angeles behind him and Russell is ready to take that next step whenever basketball returns.