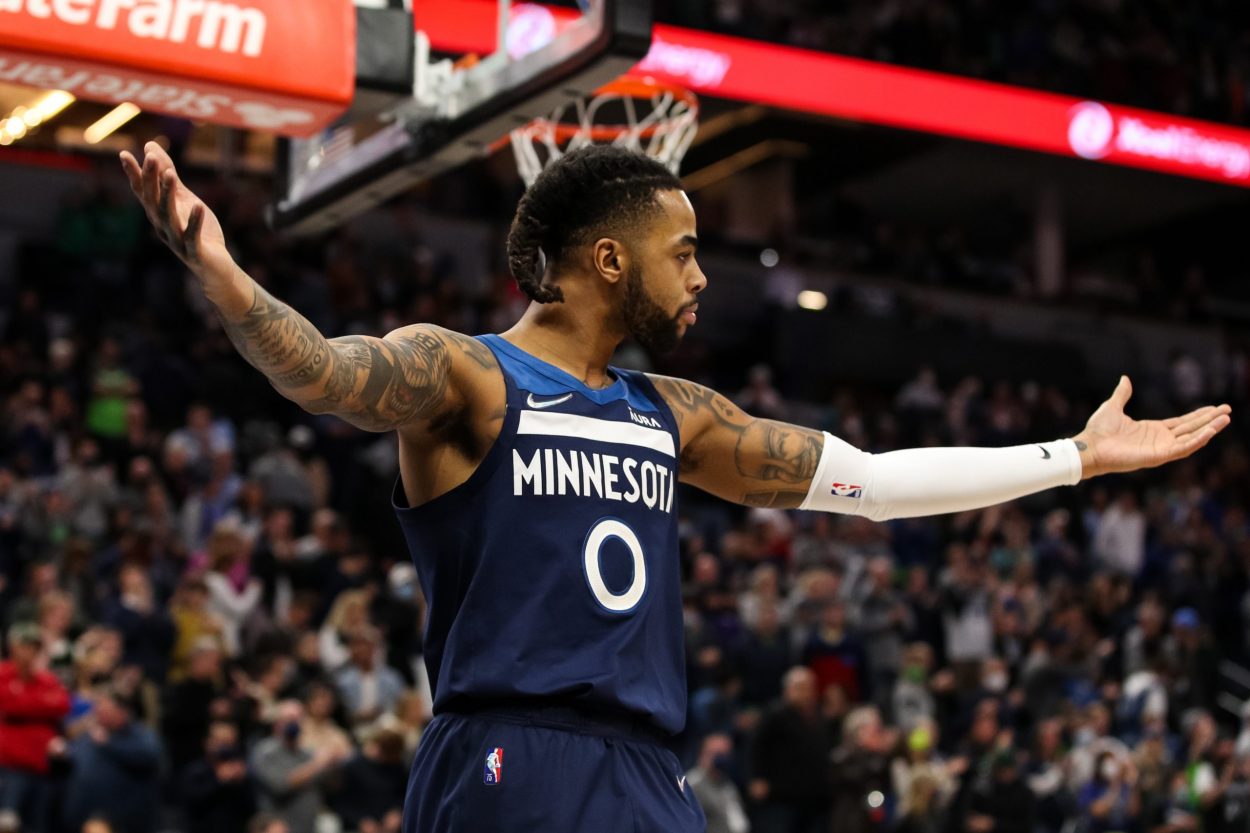 D'Angelo Russell Is Shooting the Ball Terribly but Still Making a Huge Impact for the Timberwolves
Though the raw numbers might not suggest it, D'Angelo Russell is having a brilliant season for the Minnesota Timberwolves.
One might tend to feel the Minnesota Timberwolves' rumored interest in a Ben Simmons trade has something to do with D'Angelo Russell's poor offensive start to the 2021-22 NBA season. But there's reason to consider a Simmons addition through a more complementary lens as the starved T-wolves try to get back to the playoffs.
Russell's raw scoring and shooting numbers indeed leave much to be desired. But D-Lo is actually having a brilliant season.
D'Angelo Russell has deceptive offensive statistics
On the surface, D'Angelo Russell appears to add nominal value to the Timberwolves offense.
Through 25 games, the 25-year-old combo guard is shooting below 40% from the field, including 34.1% from beyond the arc. He's averaging 18.9 points, his lowest mark since the 2017-18 campaign. But closer examination shows D-Lo has a tremendous impact.
For starters, Minnesota's offensive rating is at 111.1 with the former Ohio State star on the floor. That number plummets to 104.4 when he sits. Additionally, Russell provides the Timberwolves with scoring and shot creation when they need it most.
According to NBA.com, Russell ranks third in the NBA in clutch scoring (min. 10 games) at 4.1 points per game. He's making close to 39% of his triples in those situations on high volume and gets to the free-throw line at a decent clip.
Sure, Russell and the T-wolves would likely prefer him to be a more efficient scorer for all four quarters. He'd make Minnesota all the more dangerous offensively, especially considering Anthony Edwards' current scoring trajectory. But the 2015 No. 2 overall pick gets it done at the most crucial of junctures and contributes to winning in that regard.
Perhaps even more importantly, Russell has made enormous strides defensively.
Russell is locked in on the defensive end of the floor
D'Angelo Russell's previous reputation as an individual defender was, shall we say, lackluster. But D-Lo has clearly put in the work to better himself on that end of the floor.
Again, the on-off splits are pretty telling. Opponents have a 116.6 offensive rating when Russell sits. But when he plays, that number falls all the way to 102.0 points per 100 possessions. That's pretty remarkable.
The rotations have been sharper, as has Russell's defensive positioning. He's gotten far better at anticipating the next pass and making plays as a help defender while showing more determination when guarding the ball.
Russell is also exhibiting a genuine desire to improve on the defensive end. He said toward the end of November that everyone on the Timberwolves takes "pride" in locking up.
The increased defensive effort seems to point to more collective action from everyone on this T-wolves roster. It's something Edwards essentially forecasted when he called for unity back in October. That sense of togetherness is propelling Russell and others to show more focus, which has led to more numbers in the win column.
Can Russell help the Timberwolves reach the playoffs?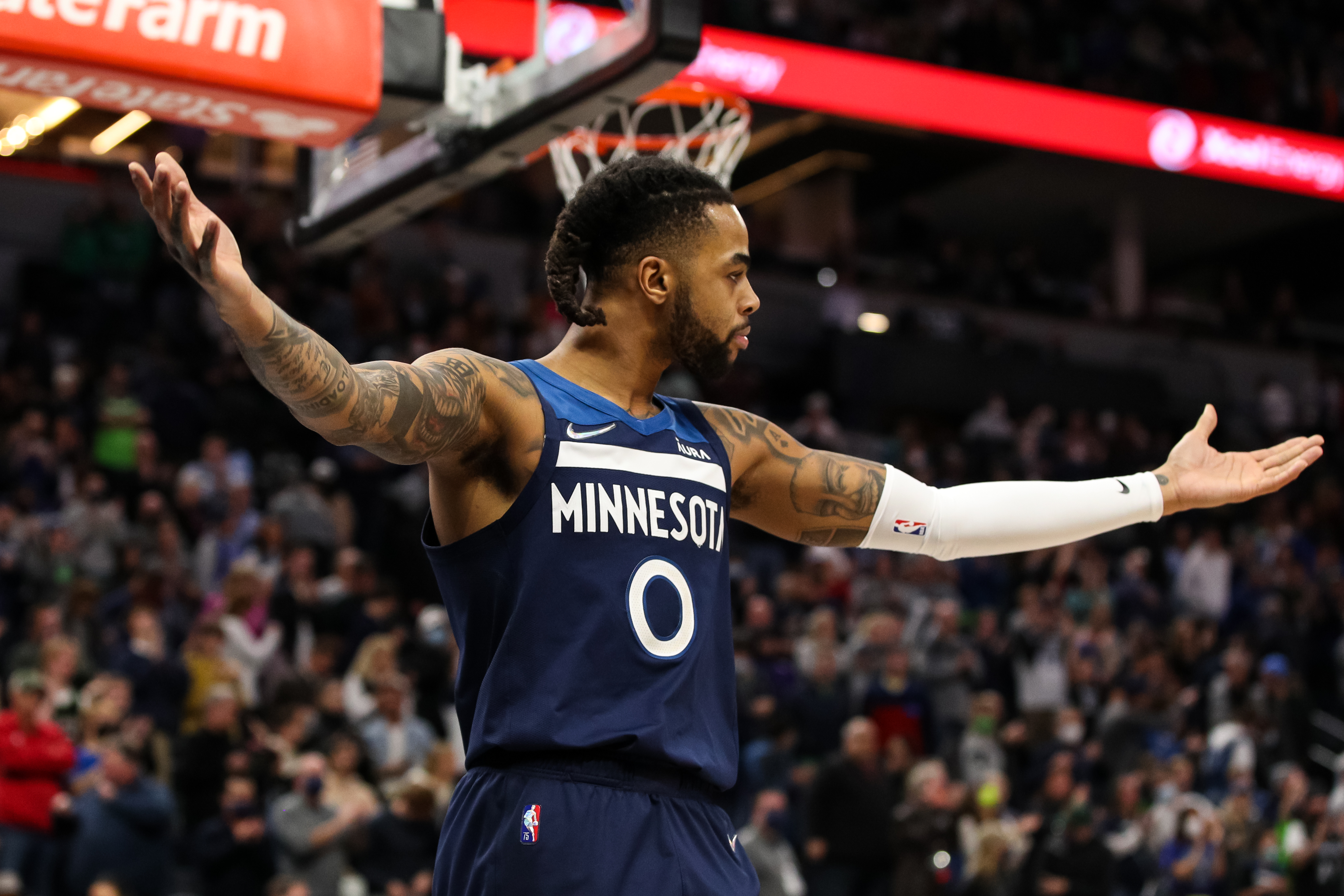 After multiple years of frustration, Minnesota has finally fielded a competitive team. Can D'Angelo Russell and Co. reach the playoffs in a crowded Western Conference?
As of Dec. 20, Minnesota (at 15-15) holds the No. 8 seed in the Western Conference. If the season ended, that would be good enough to earn them the home court as part of the play-in format.
There's a long way to go, and the Timberwolves have their work cut out. However, their status as one of the NBA's best surprises looks all the more encouraging, and there's more upside should Russell match his effort and clutch shot-making with better scoring efficiency.
Stats courtesy of Basketball Reference unless otherwise noted.