The Most Dangerous QB-WR Duos NCAA Football Has Ever Seen
From the historically great programs to the ridiculous records to the diehard fans, there's a lot to love about college football. For us, we like how so many teams have such rich histories stocked with unlikely heroes. When you're talking about the most dangerous QB-WR duos NCAA football has ever seen, these 16 combos have to be in the discussion.
We'll count down from oldest to most recent duos, including a record-setting combo we almost forgot about at No. 14.
1. Steve Tensi and Fred Biletnikoff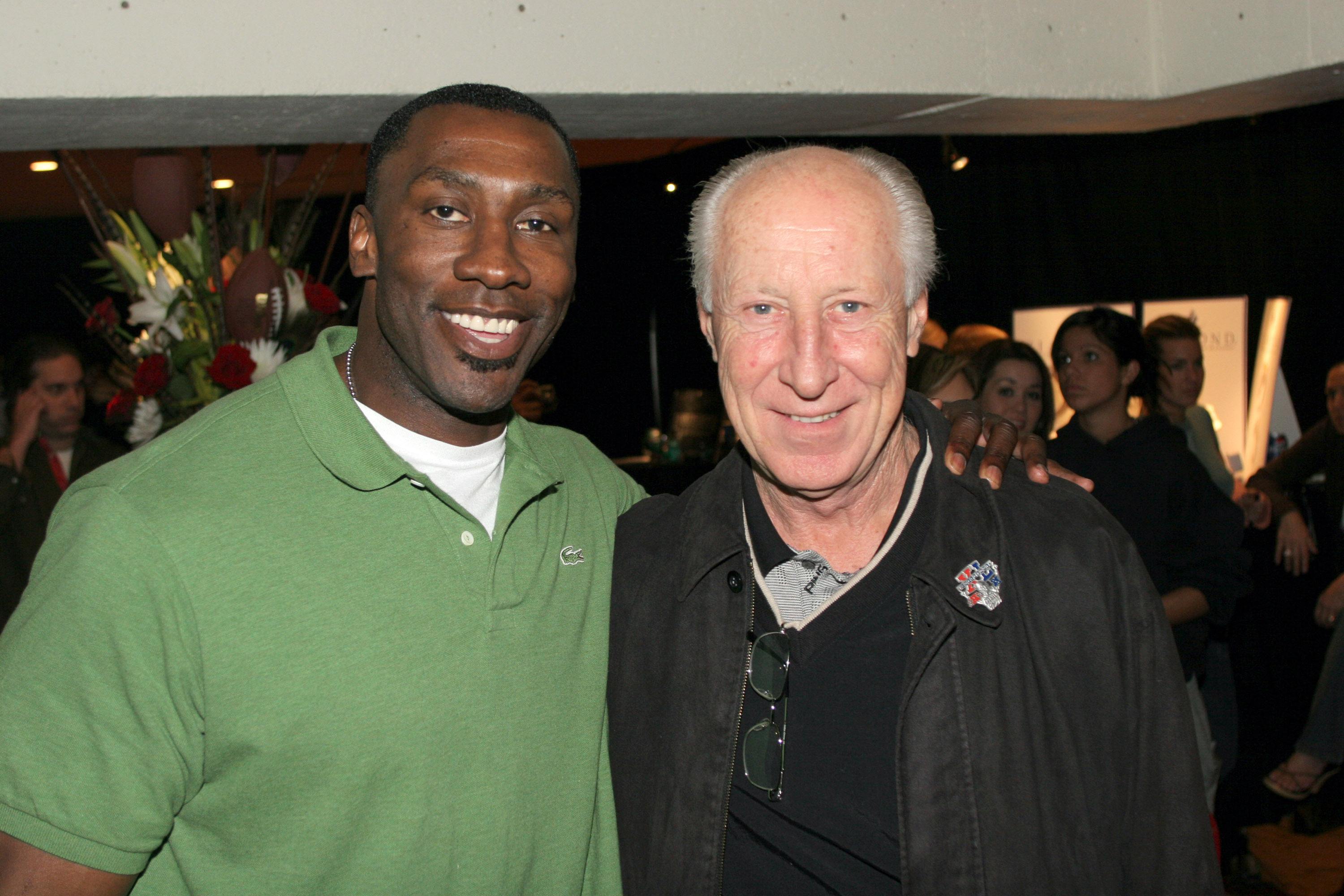 School: Florida State
Year: 1964
Before the game developed into a literal arms race, NCAA football was about establishing the run and then turning to the passing game. So while Tensi's 1,986 passing yards and 19 touchdowns don't look impressive on the surface, that was a good season in 1964. On the other hand, receivers of any era would take Biletnikoff's 1,179 yards and 15 touchdowns. There's a reason the prize for college football's best receiver is called the Biletnikoff Award.
Next: An all-time great tandem for an all-time great program.
2. John Huarte and Jack Snow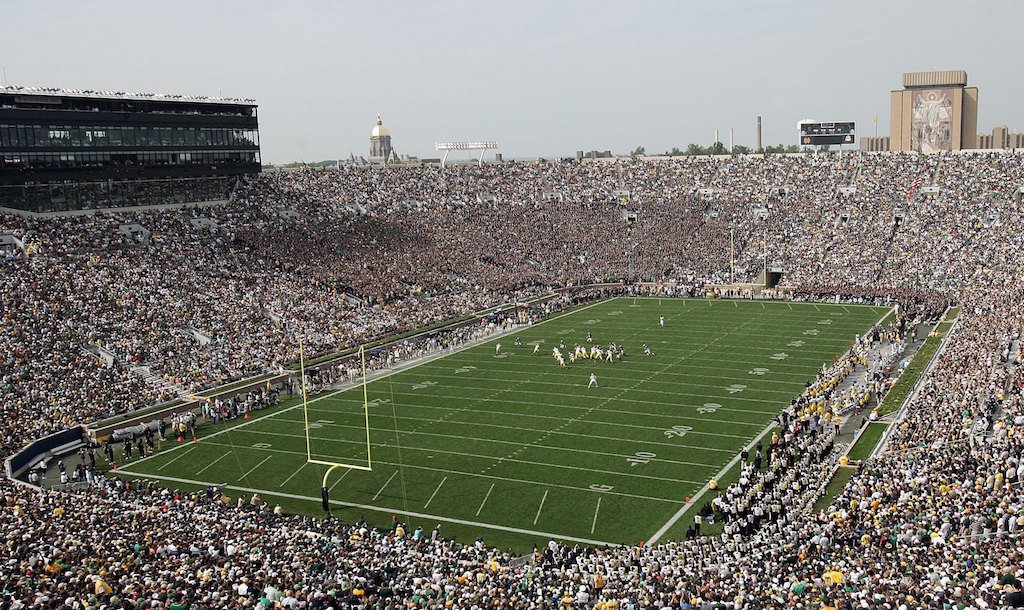 School: Notre Dame
Year: 1964
The Fighting Irish steamrolled almost every opponent they faced as they started the season 9-0, and they have Huarte and Snow to thank for it. The pair is one of the most dangerous QB-WR duos NCAA football has ever seen. Huarte passed for 2,062 yards and 16 touchdowns, and he won the Heisman Trophy. Snow was easily his favorite target with 60 receptions for 1,114 yards and nine TDs.
Next: What's that Frank Sinatra lyric?
3. Jerry Rhome and Howard Twilley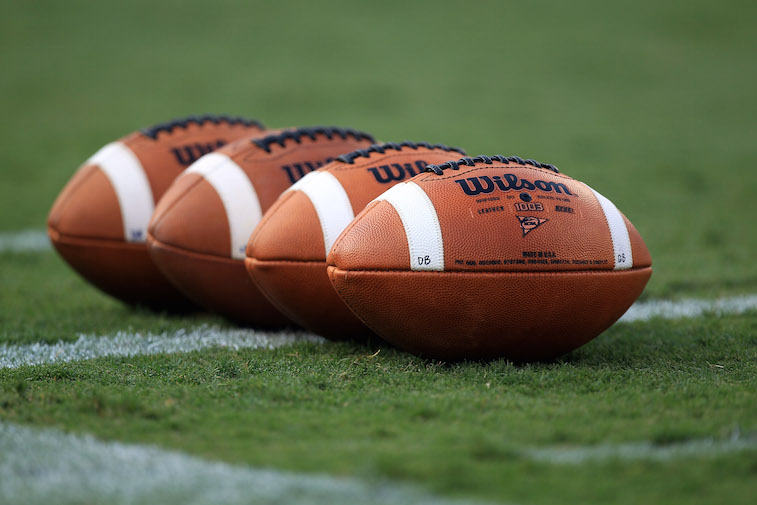 School: Tulsa
Year: 1964
Even though the suave Frank Sinatra released his version of "It was a Very Good Year" in 1966, he might as well have been singing about the 1964 NCAA football season. Jerry Rhome and Howard Tilley had unreal seasons in 1964. Rhome passed for 2,870 yards and 32 touchdowns (against just four interceptions), and he ran for another 258 yards and eight scores. Tilley, meanwhile, hauled in 95 catches for 1,178 yards and 13 TDs in the era before dynamic passing games took over college football.
Next: So many touchdowns.
4. Dennis Shaw and Tom Reynolds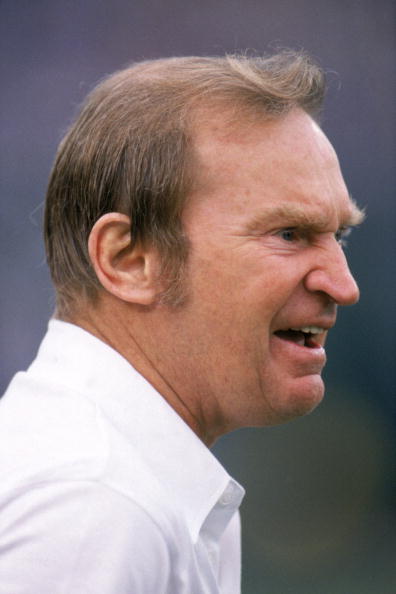 School: San Diego State
Year: 1969
Before he moved to the NFL and made Dan Fouts one of the greatest quarterbacks ever, Don Coryell revolutionized the passing game in college. In 1969, Dennis Shaw and Tom Reynolds formed one of the most formidably dangerous QB-WR duos of all time. Shaw passed for 3,185 yards and 39 touchdowns, and Reynolds hauled in 50 passes for 885 yards and 18 touchdowns before an injury cut his season short.
Next: A duo that shined before the option totally took over.
5. Jerry Tagge and Johnny Rodgers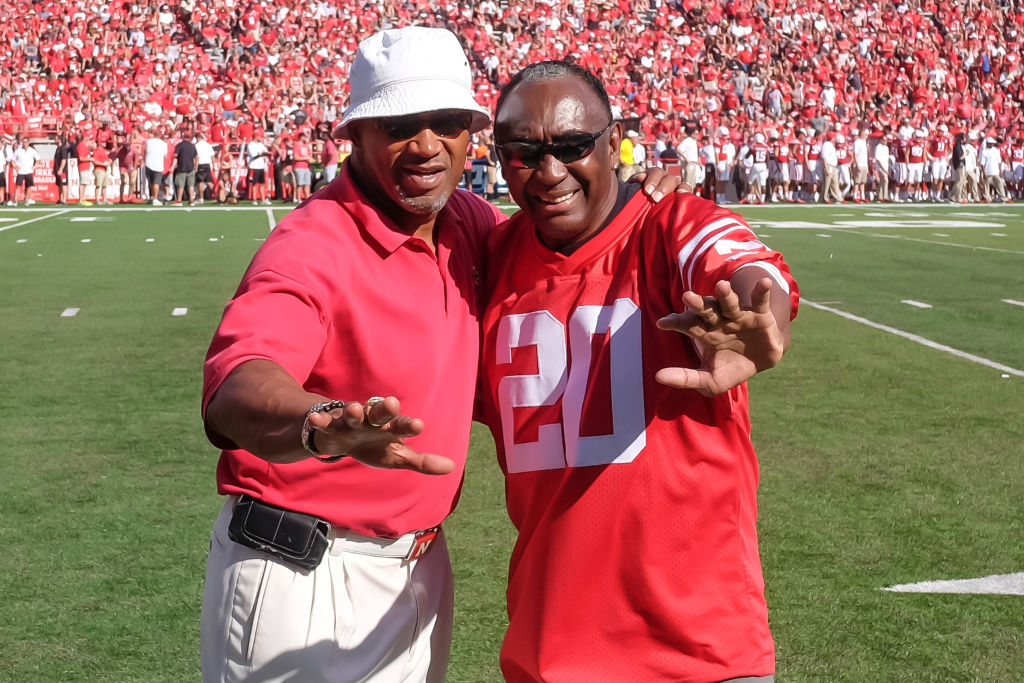 School: Nebraska
Year: 1971
Nebraska practically invented running game-powered option football, but in 1971, the Cornhuskers got it done through the air, too. Jerry Tagge completed 154 passes for 2,178 yards and 17 touchdowns, and he added 330 yards and nine touchdowns on the ground. Johnny Rodgers racked up 965 receiving yards with 11 TDs, and he also ran for 269 yards and two scores as Nebraska went 13-0 and finished first in the AP poll.
Next: A Heisman Trophy winner who loved throwing to a standout receiver.
6. Pat Sullivan and Terry Beasley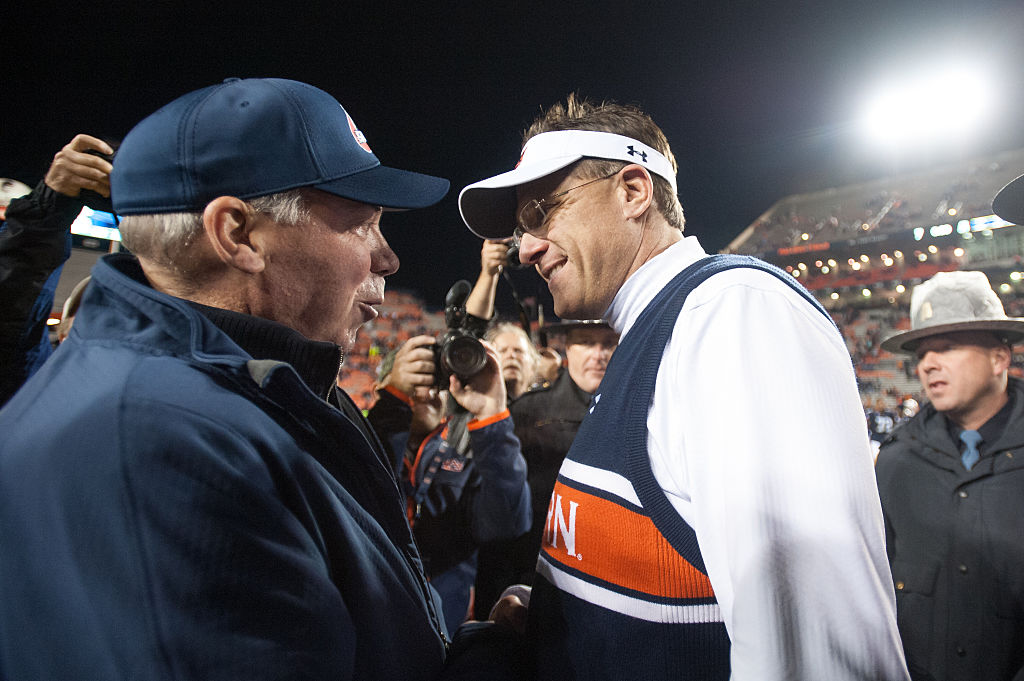 School: Auburn
Year: 1971
It's not a stretch to say Terry Beasley was quarterback Pat Sullivan's favorite target in 1971. His 61 catches accounted for more than one-third of Sullivan's completions, his 963 yards receiving were close to half of Sullivan's total, and his 12 TD catches accounted for 57% of his QB's total. Sullivan's 2,262 and 21 touchdowns don't look awe-inspiring on paper, but they were good enough to earn him the Heisman Trophy.
Next: An NFL great showed his talents in college, too.
7. Dan Marino and Julius Dawkins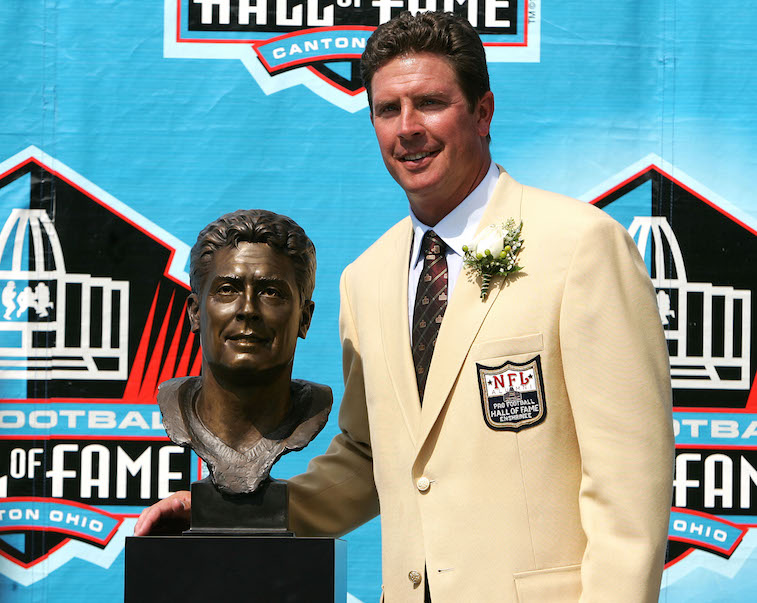 School: Pittsburgh
Year: 1981
If the name Dan Marino sounds familiar, that's because he went on to be one of the best NFL quarterbacks of all time. Considering he passed for 2,876 yards and 37 touchdowns in just 12 games for Pittsburgh in 1981, it's not shocking that his greatness continued at the next level. Julius Dawkins was Marino's top deep threat, hauling in 46 passes for 767 yards and 16 touchdowns, including four in a game against Navy.
Next: An electric, jaw-dropping duo.
8. Andre Ware and Manny Hazard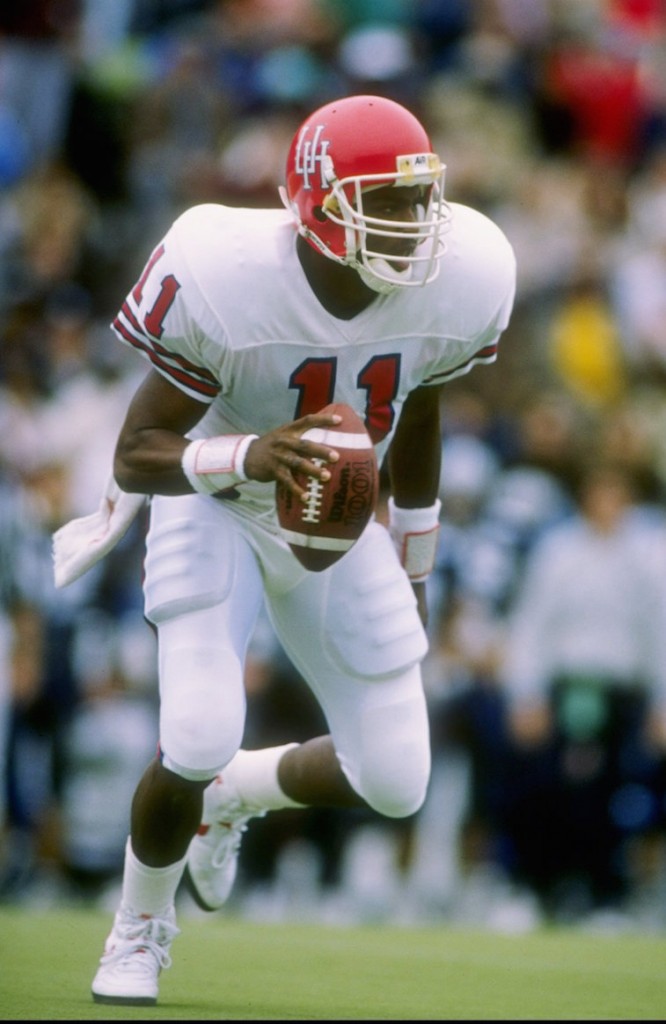 School: Houston
Year: 1989
You can't discuss the most dangerous QB-WR duos in NCAA football history without mentioning Andre Ware and Manny Hazard. They were absolutely electric as Houston scored a jaw-dropping 53.5 points a game.
Ware completed 63.1% of his passed for 4,699 yards and 46 touchdowns. Hazard was one-man wrecking crew at wide receiver, hauling in 142 receptions for 1,689 yards and 22 TDs. Ware was the 1989 Heisman Trophy winner, and the Cougars finished 9-2 on the year.
Next: Two names football fans should recognize.
9. Donovan McNabb and Marvin Harrison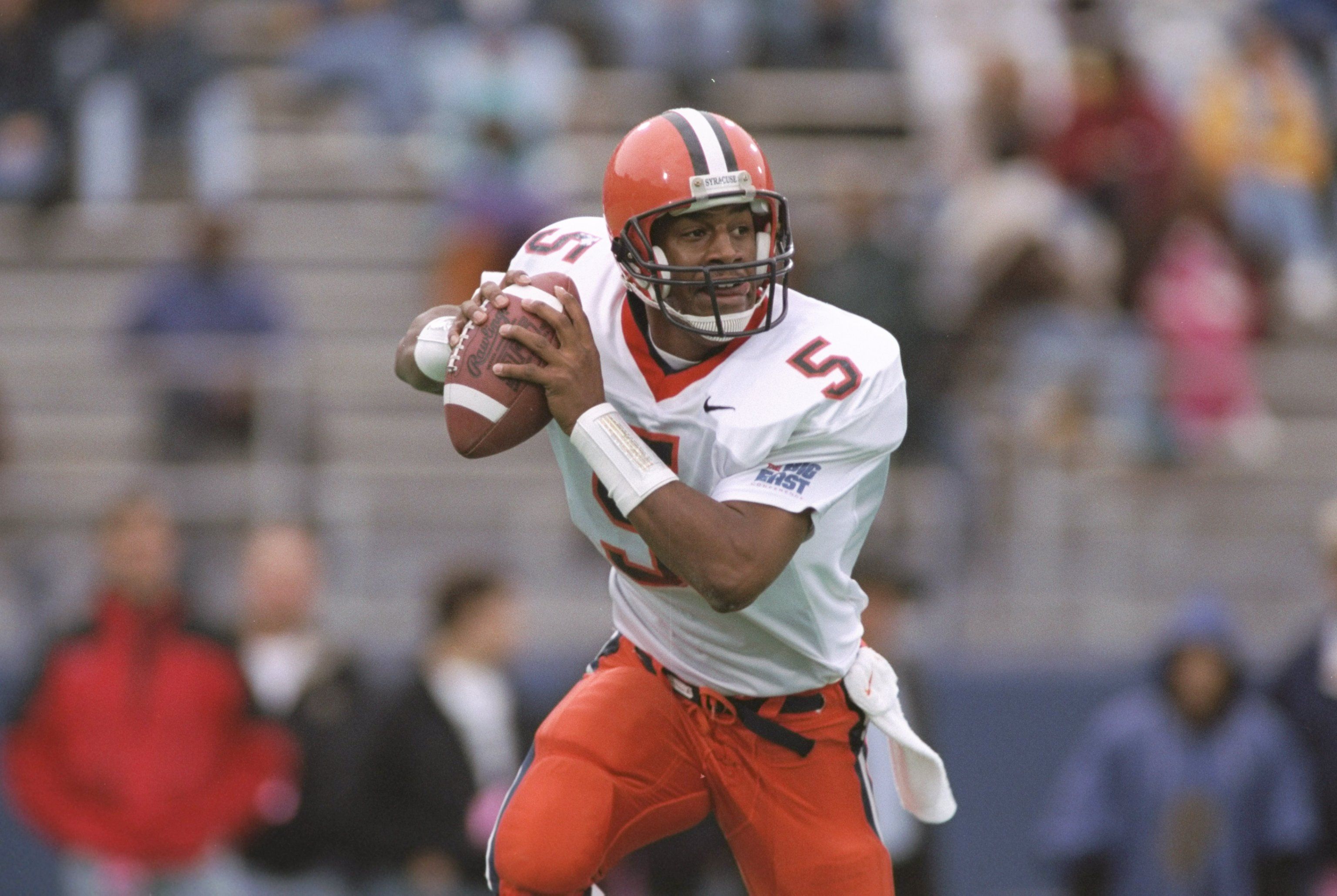 School: Syracuse
Year: 1995
Both names of this tandem should be well-known to football fans. Marvin Harrison an NFL Hall of Fame member, and Donovan McNabb might get the call some day.
McNabb wasn't asked to do too much under center for Syracuse in 1995, but he still passed for 1,991 yards and 16 touchdowns. Harrison was the prime target as he hauled in 56 receptions for 1,131 yards and eight scores.
Next: Two future NFL players tore up the NCAA gridiron.
10. Chad Pennington and Randy Moss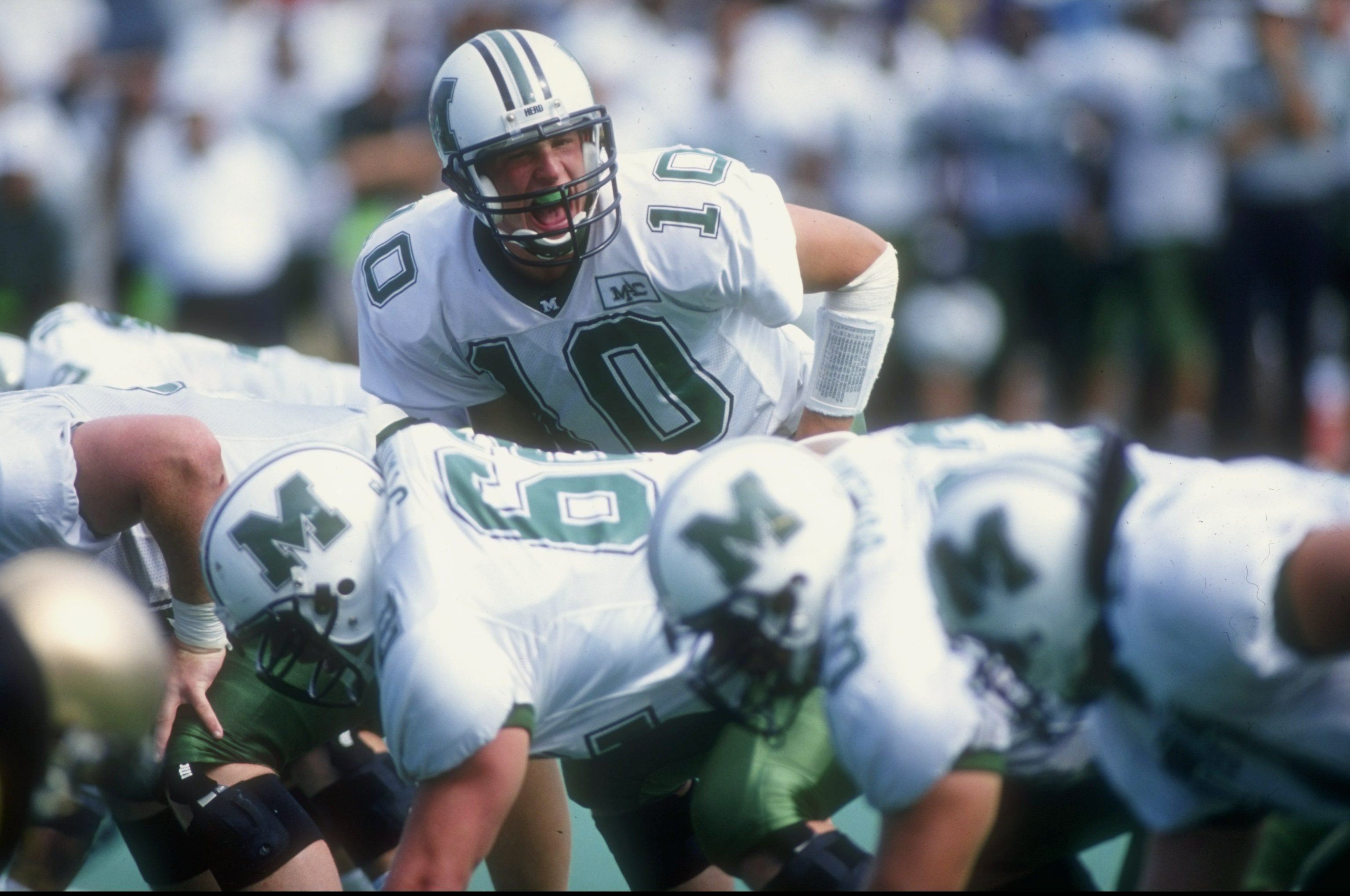 School: Marshall
Year: 1997
Considering both Chad Pennington and Randy Moss played on NFL Sundays, it shouldn't be too shocking seeing them form one of the most dangerous QB-WR duos in NCAA history. Pennington passed for 3,817 yards and 42 touchdowns, and Moss was the prime target. He finished with 96 catches for 1,890 yards and a Division I-best 26 TDs.
Next: A dynamic duo for a storied program.
11. Joe Germaine and David Boston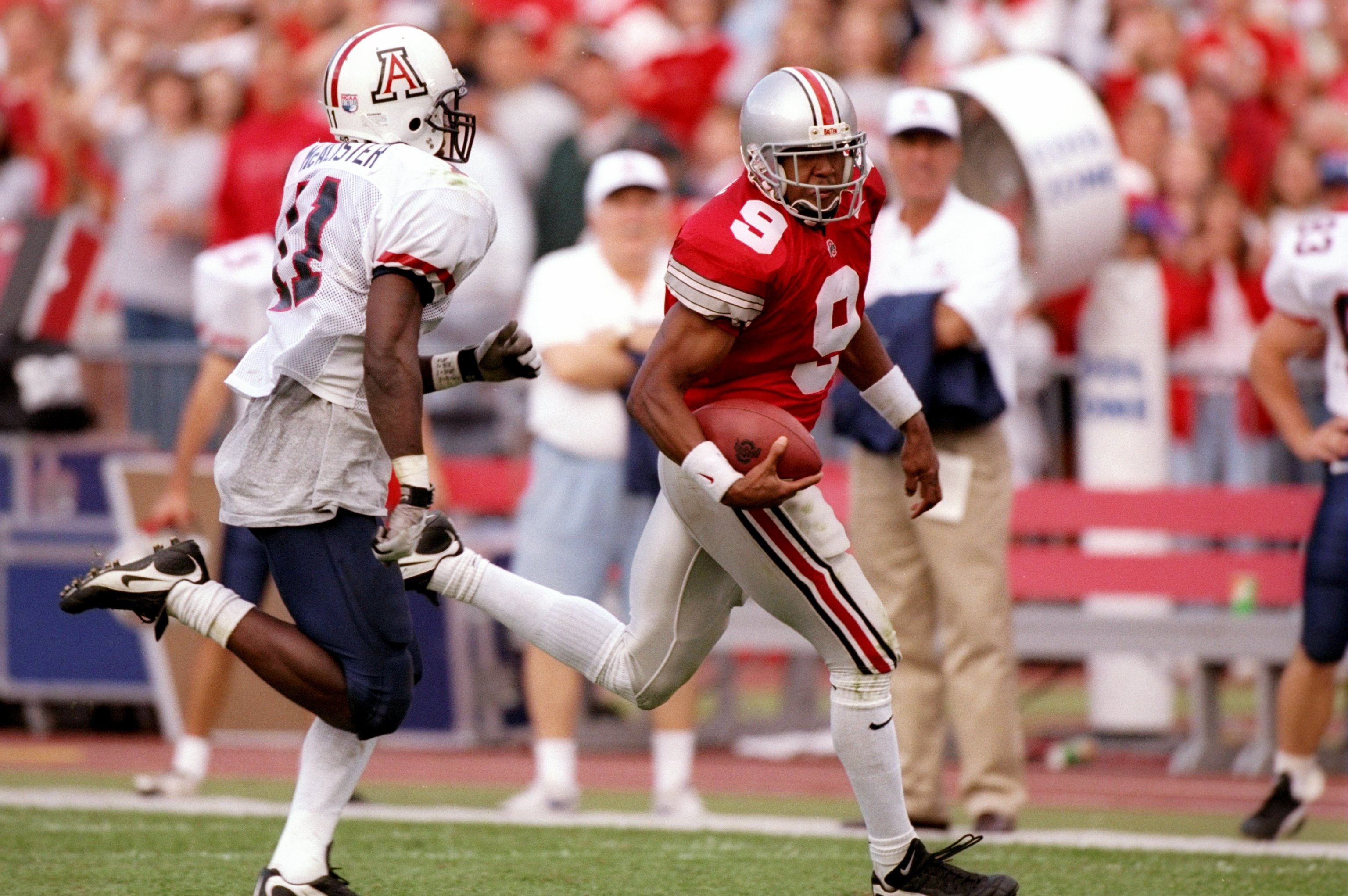 School: Ohio State
Year: 1998
At 6-foot-2, Joe Germaine wasn't big by quarterback standards, but he played big and formed one of college football's most dangerous QB-WR duos along with David Boston.
During Ohio State's 11-1 season in 1998, Germaine passed for 3,330 yards and 25 touchdowns for a 150.6 rating, and Boston was a prime target. His 85 catches, 1,435 yards, and 13 touchdowns were all far and away the best figures on the team.
Next: A pair of players you might have forgotten.
12. Matt Leinart and Mike Williams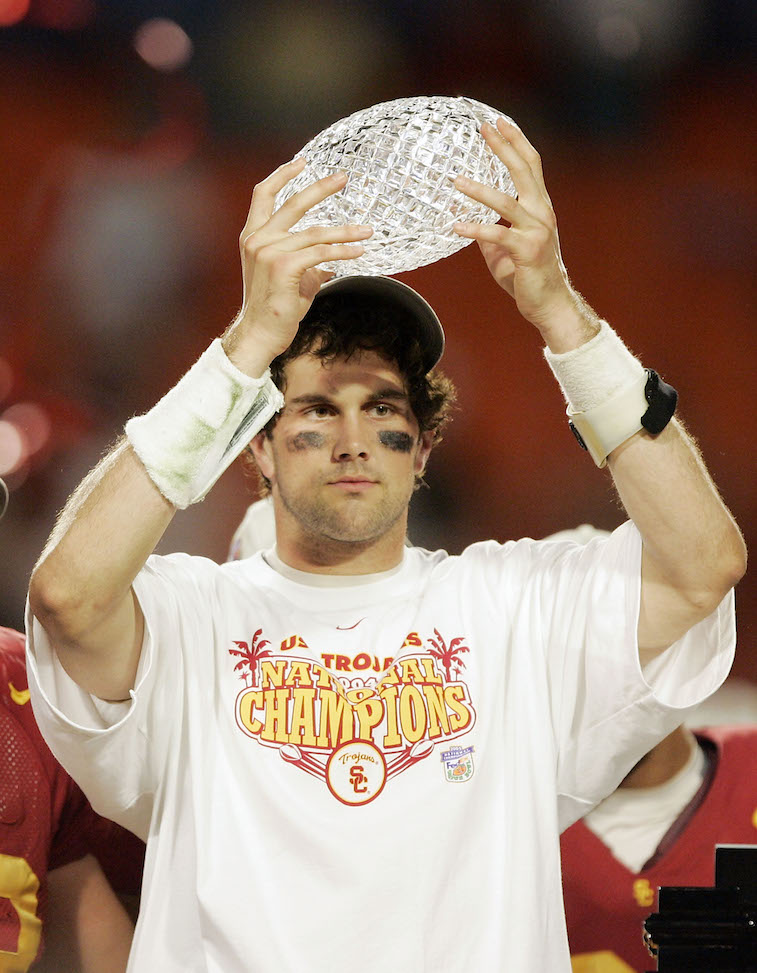 School: USC
Year: 2003
If you're anything like us, you might have forgotten just how prolific Matt Leinart and Mike Williams were during the 2003 season. Leinart, who finished his career as one of the greatest NCAA quarterbacks ever, piled up 3,556 yards and 38 touchdowns passing. Williams finished with 95 catches for 1,314 yards and 16 scores, and together one of the NCAA's most dangerous QB-WR duos helped USC go 12-1 and finish No. 1 in the final AP poll.
Next: A two-man show on offense.
13. Colt Brennan and Davone Bess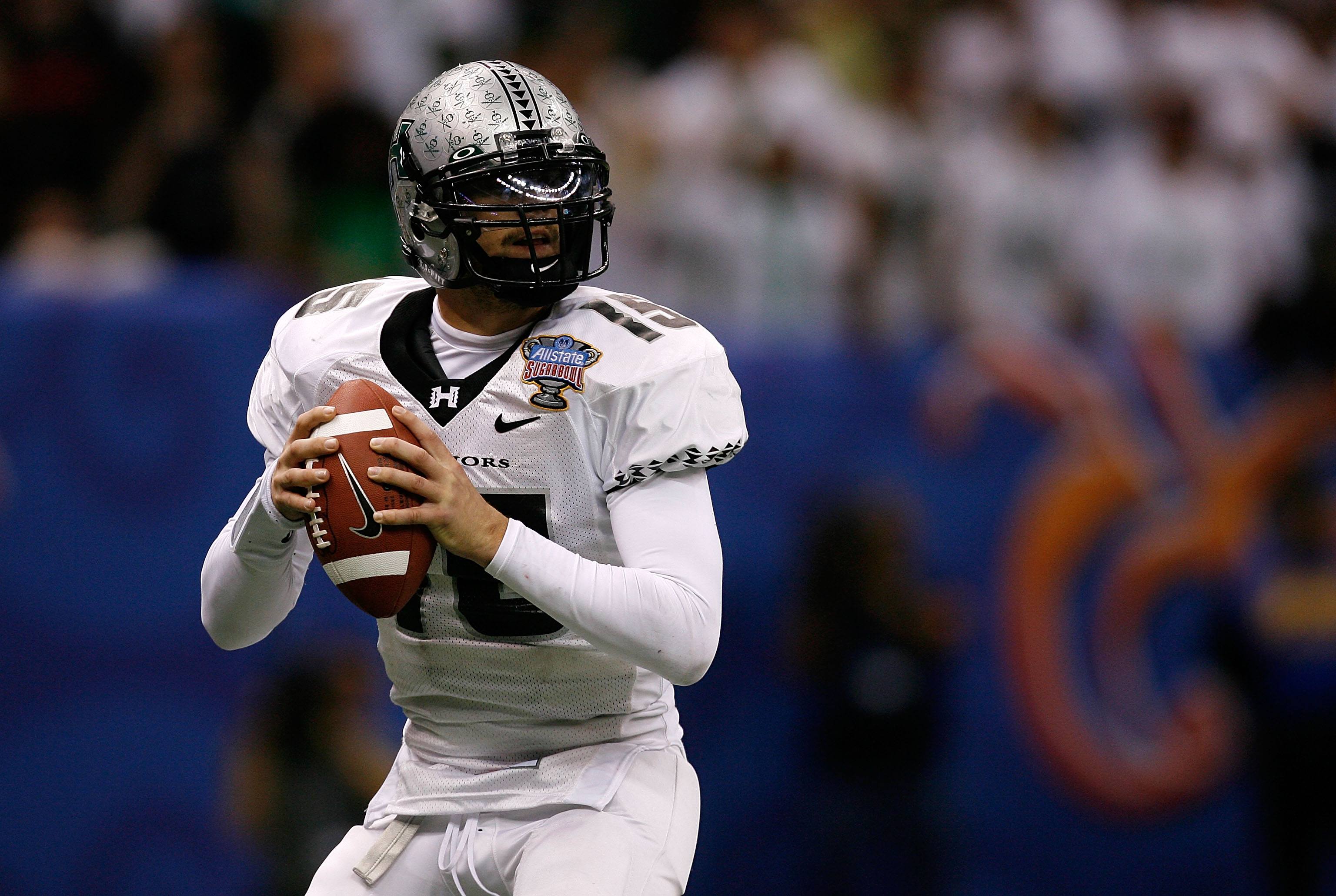 School: Hawaii
Year: 2006
Colt Brennan and Davone Bess suited up for Hawaii from 2005 to 2007, but 2006 was the season they formed one of the most dangerous QB-WR duos ever. Brennan completed an unreal 72.6% of his passes for 5,549 yards, an NCAA-best 58 touchdowns, and a sparkling 186.0 passer rating. Bess was the best among a large stable of receivers with his 86 catches for 1,220 yards and 15 scores.
Next: These numbers are staggering.
14. Graham Harrell and Michael Crabtree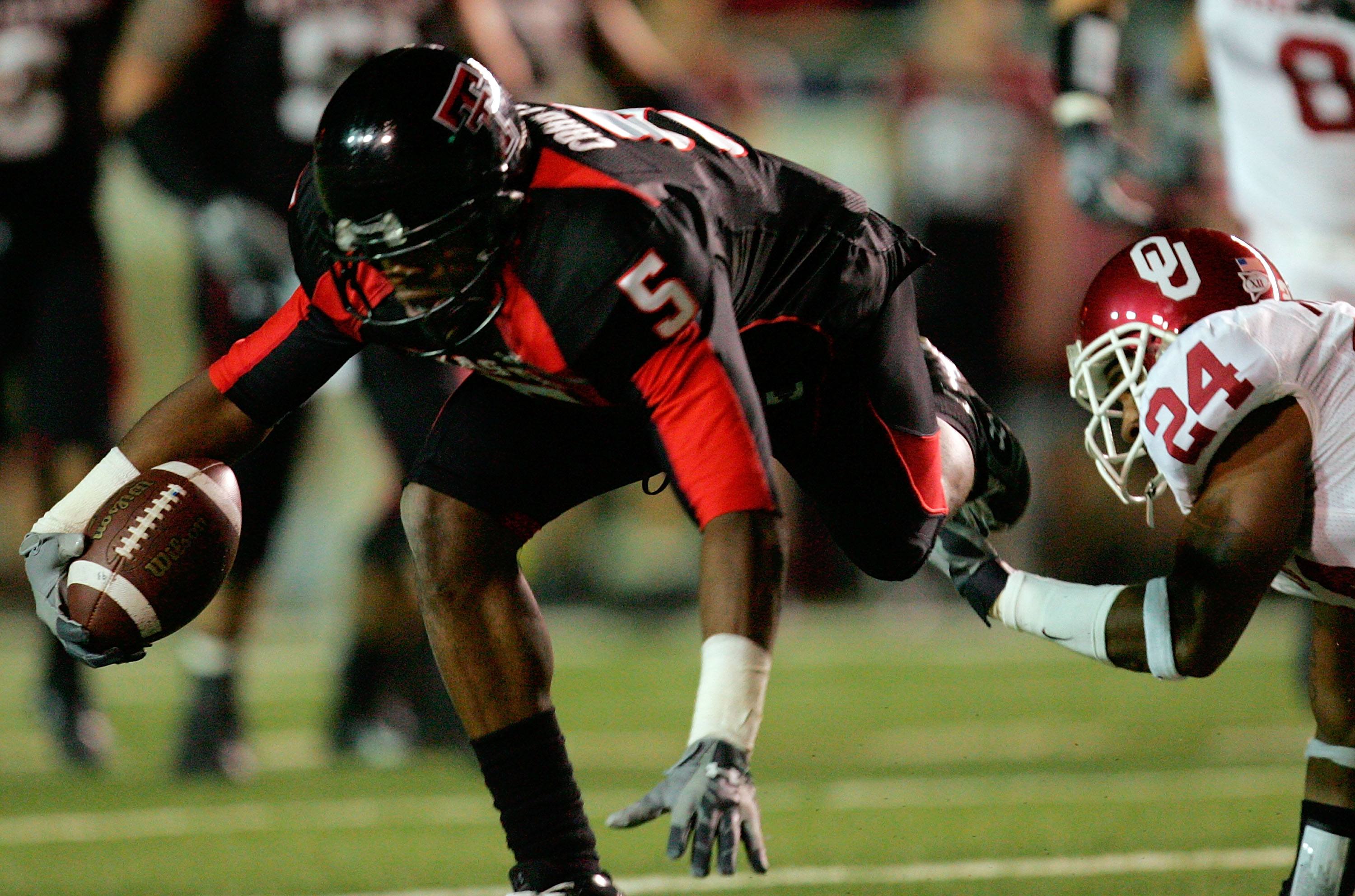 School: Texas Tech
Year: 2007
The 2007 numbers for Graham Harrell and Michael Crabtree are so staggering that they're hard to believe. Harrell's 48 touchdowns passing were the most in the NCAA. He also had the most attempts and most completions, the second of three straight years Harrell led the nation in both categories.
Crabtree, meanwhile, was nearly unstoppable. He led college football in every major receiving category, including receptions (134), yards (1,962), and touchdowns (22). Put it all together, and you get one of the most prolific and dangerous QB-WR duos that helped the Red Raiders score 532 points on the year.
Next: Another Texas duo we can't ignore.
15. Case Keenum and James Cleveland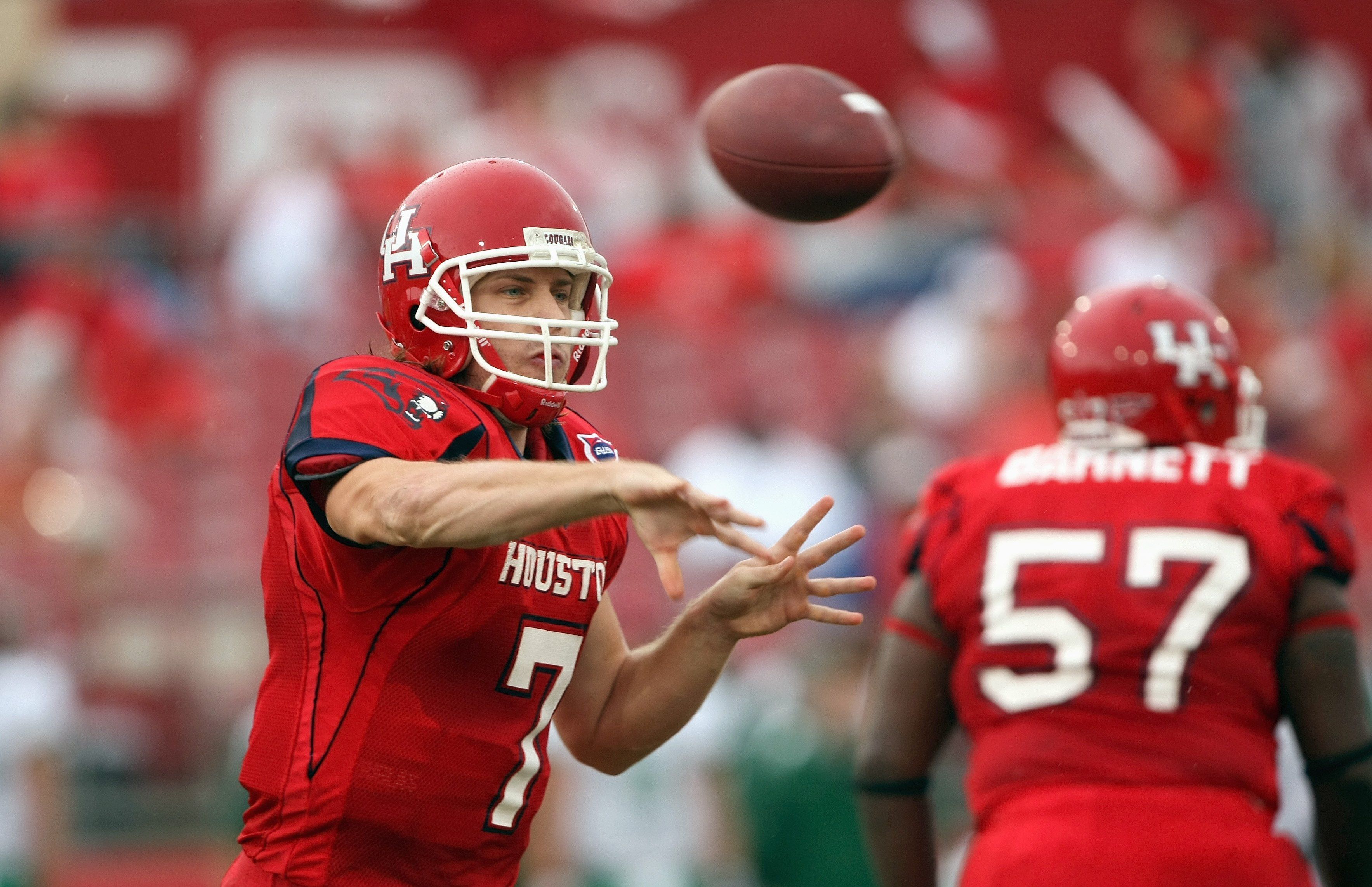 School: Houston
Year: 2009
Even though his NFL career is spotty, he'll always be able to say he authored one of the best seasons ever for a college quarterback. His 2009 numbers are off the charts ridiculous:
492 completions on 700 attempts in 14 games. That's 50 attempts per game and 70.3% completion rate.
5,671 yards passing, which is more than Peyton Manning had when he set the NFL's single-season record.
44 touchdowns against 15 interceptions.
Just look how often Keenum's name shows up among on the list of NCAA passing records.
James Cleveland was no slouch, either. He hauled in 104 passes for 1,214 yards and 14 touchdowns to be the other half of one of the most dangerous QB-WR duos in college football history. Houston failed to score 30 points or more in a game just twice.
Next: These big-time NFL stars teamed up in college.
16. Derek Carr and Davante Adams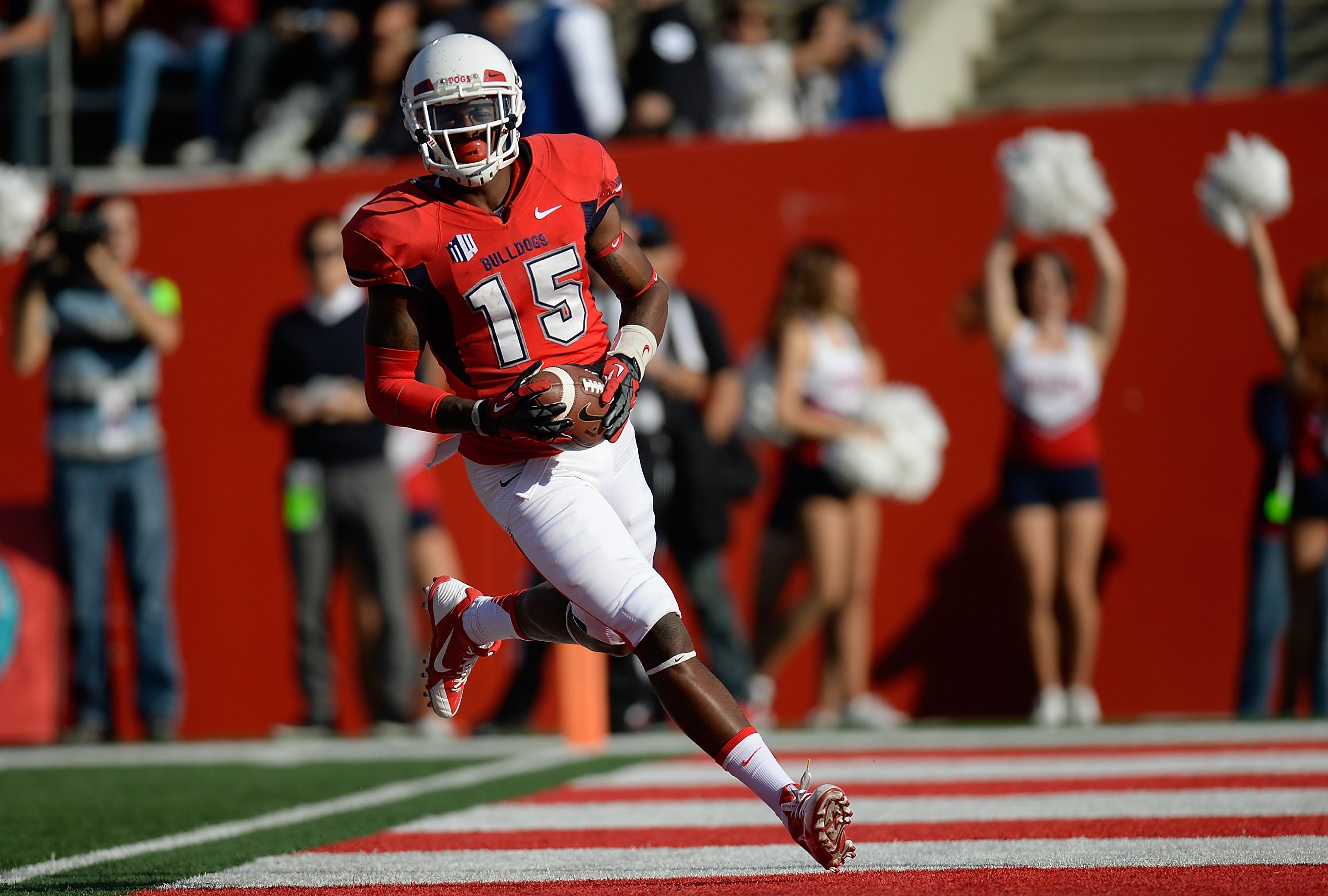 School: Fresno State
Year: 2013
Before Derek Carr and Davante Adams were NFL stars, they formed the most recent of the dangerous QB-WR duos. Carr led the NCAA in completions (454), yards (5,083), and touchdowns (50), and Adams was the main benefactor. He had the most receptions (131) and receiving TDs (24) in all of college football, and his 1,719 yards were just 11 behind the national leader.
All stats courtesy of Sports Reference.
Read more: Watch Your Wheels: These 15 American Cities Have the Most Stolen Cars