Danica Patrick Is Missing $20,000 From Her Bank Account Because She Once Let Her Temper Get the Best of Her
Danica Patrick had a monumental motorsports career, as she opened doors for women in racing everywhere. This led to Patrick becoming pretty wealthy during her career, too, and even more successful in her post-racing career. However, during one 2016 race, Patrick let her temper get the best of her. While it probably didn't hurt her too much, Patrick ultimately lost $20,000 because of the incident.
Danica Patrick got into a big crash with Kasey Kahne in 2016
RELATED: Jeff Gordon Once Threatened To 'Slam' Tony Stewart 'Into the Wall' During an Epic Dispute
At the Auto Club 400 in 2016, Danica Patrick's car collided with Kase Kahne's during lap 122. Patrick's car then went into the outside wall, and ultimately received extensive damage, according to USA Today. The collision ended her day.
The crash didn't injure Patrick, but she wasn't too happy about what happened. After she climbed out of her car, she then "walked onto the track apron to gesture at Kahne as he drove past under caution," according to USA Today.
She then later had some comments about the incident.
"I really feel bad if he felt he had to be in that desperate a situation to side-draft and hit a lead-lap car (Kahne was a lap down) down the straightaway," Patrick said, according to USA Today. "It's always dangerous to hit cars down the straightaway. I could have flipped and been much more airborne, but luckily the cars have gotten safer over time and they don't do that."
Kahne, however, did admit to making a mistake.
"Man, I felt bad," Kahne said, according to USA Today. "I'm glad she got out and is all right. I passed her in 3 and 4 and she had the momentum off the top and just went back under me going down the front stretch."
He continued: "So I went to catch a side draft to make sure I was in position getting into Turn 1, and it didn't hold me up when I got there because I was the one coming. I just got too close, and the car was moving around and we hit. She had a bad wreck. I felt really bad, because it was far from anything but trying to hold my position I had just gained."
Despite Patrick's car being the damaged vehicle, she was the one that got fined.
She lost $20,000 for her actions after the wreck
RELATED: Tony Stewart Once Called Joey Logano a 'Little Rich Kid Who Has Never Had To Work in His Life'
After the race, Patrick received a $20,000 fine for making the gesture toward Kahne while on the track apron.
"Competition officials ruled that Patrick violated safety rules when she walked toward the racing surface to gesture at Kasey Kahne's passing car," NASCAR said, according to Sporting News.
NASCAR implemented a rule in 2014 after Kevin Ward Jr. was tragically struck and killed while approaching traffic under caution, according to USA Today. The rule is that when drivers exit their cars, they "should proceed to either the ambulance or other vehicle as directed by safety personnel or a NASCAR official," per Sporting News.
Patrick probably wasn't too happy about the crash or the fine, but, financially, it probably didn't hurt her too much.
Danica Patrick is still doing well financially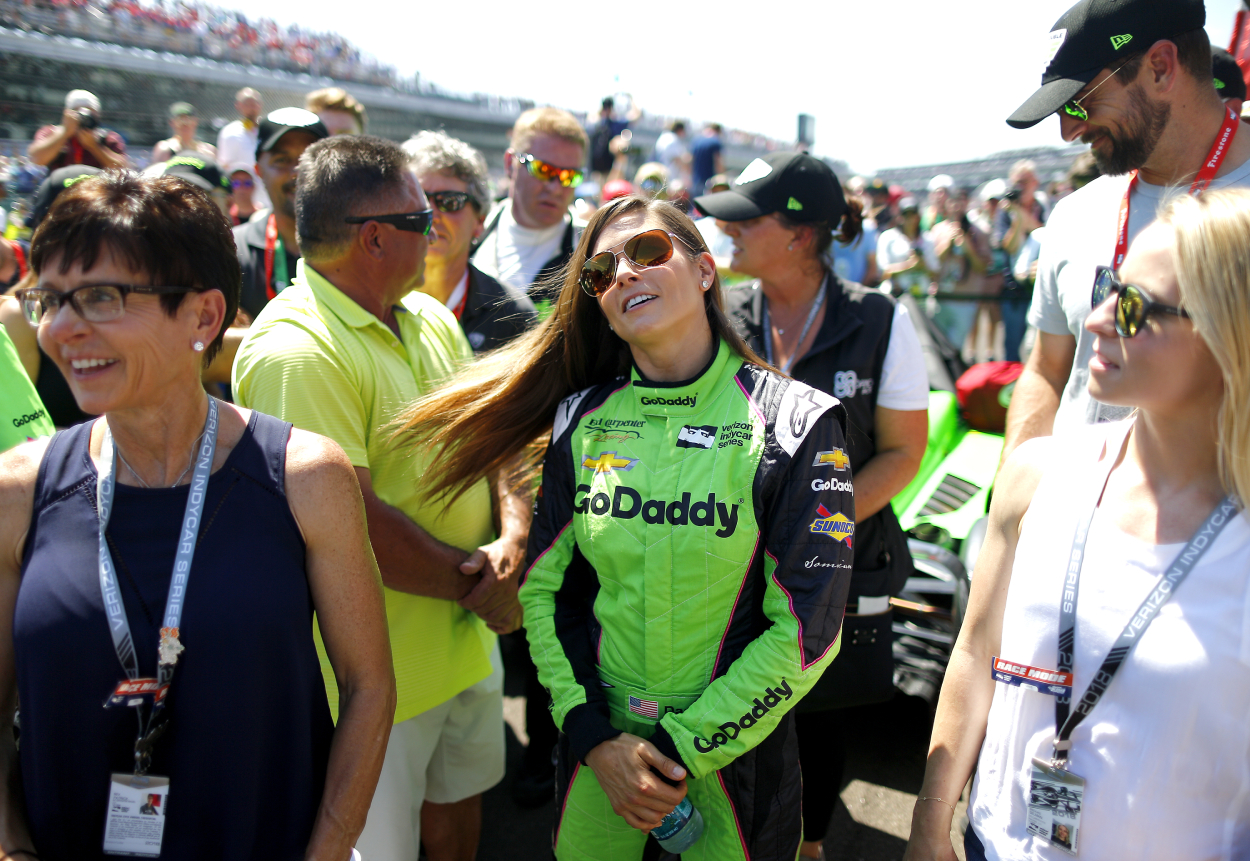 RELATED: NASCAR Legend Junior Johnson Served Time in Prison for 'Moonshining' Before Getting Pardoned by Ronald Reagan
When people think of women who have broken barriers in sports, Danica Patrick is a name that immediately comes to mind.
Patrick became the only woman to lead laps in the Daytona 500 and the Indy 500, win the Daytona 500 pole, and win a race in the IndyCar Series, according to the Associated Press. Additionally, she finished third at the Indy 500 in 2009, which is the highest a woman has ever finished in the race.
Patrick then eventually retired after the 2018 Daytona 500.
In addition to racing, though, Patrick became the first woman to host the ESPYs. She also has her own wine label, as well as her own clothing brand and podcast.
Because of the great work she has done inside and outside of racing, Patrick has racked up an estimated $80 million net worth, according to Celebrity Net Worth.
So, yes, while losing $20,000 probably wasn't too much fun. It most likely didn't hurt the racing legend too much.
Like Sportscasting on Facebook. Follow us on Twitter @sportscasting19.