Between Giants' Outmoded Offense and Injured Supporting Cast, Daniel Jones Behind the Eight Ball
Early in a critical season for several key members of the New York Giants organization, an outmoded offensive philosophy and a rash of injuries have put third-year quarterback Daniel Jones behind the eight ball. Jones' development, already slow relative to his peers, could ultimately undo the team's playoff hopes in 2021 and force significant changes in the coming offseason.
With the Giants off to an 0-2 start, Jones' play will fall under an even brighter spotlight over the coming months.
Daniel Jones' struggles in New York
Since entering the NFL as the No. 6 overall pick in 2019, Jones has displayed flashes of high-level quarterback play while mostly struggling to keep pace with the league's other signal-callers. Of the 57 players to attempt at least 100 passes since the start of the 2019 season, Jones ranks 42nd in adjusted net yards per attempt, a metric from Pro Football Reference that factors for touchdowns, interceptions, and sacks in addition to passing yardage.
Some of the fault for the middling performance falls on Jones' shoulders. In 29 games, he has amassed 22 interceptions (11th-most) and 30 fumbles (most by any player regardless of position). Those mistakes have consistently put the Giants in disadvantageous situations and cost them opportunities to win.
However, Giants offensive coordinator Jason Garrett has created an environment where Jones has to press more than most of the quarterback's contemporaries. With fewer layups dialed up by the play-caller, Jones has tried to create out of structure more than a player with his skill set should, and the numbers reinforce that notion.
Antiquated New York Giants offense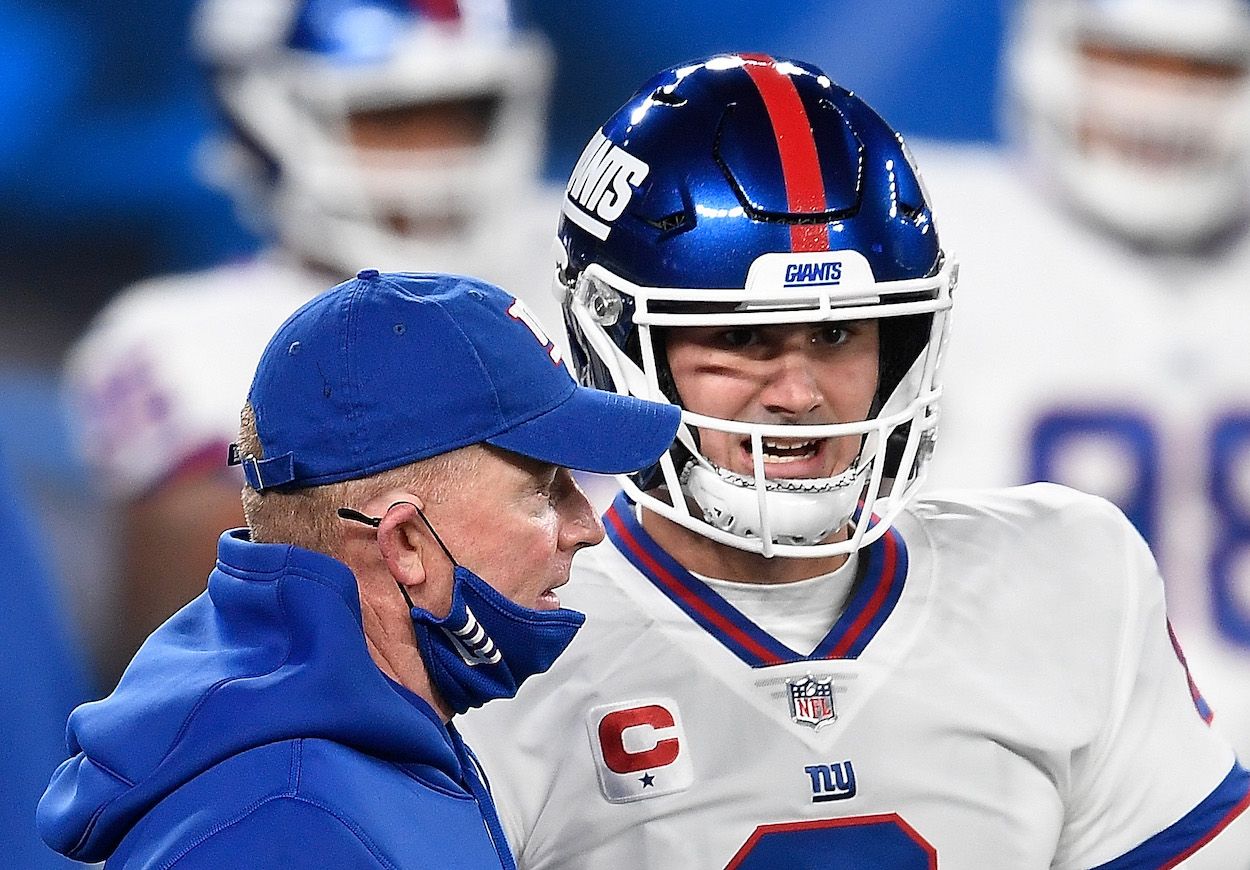 As NFL offenses have evolved over the past decade, the best coaches have increasingly implemented pre-snap motion into their offensive play calls. Pre-snap motion creates advantages for the QB by providing man-zone indicators and forcing defenders to adjust at inopportune moments. Play-callers such as Kyle Shanahan, Andy Reid, and Matt LaFleur all lean on pre-snap motion extensively, and each has guided a premier offense within the past few seasons.
Since Garrett took over as offensive coordinator in 2020, the Giants have utilized pre-snap motion on just 43% of their offensive plays, according to NFL Next Gen Stats. That figure ranks 26th in the league over that span, and only one team with a lower rate of pre-snap motion has reached the playoffs.
Garrett's offenses in New York have also lagged behind much of the league in terms of play-action rate. Jones, the type of quarterback who could most benefit from the easier reads and throws that play-action creates, ran it on just 26.9% of his dropbacks in 2020, according to Pro Football Focus. That rate has effectively remained unchanged thus far in 2021, coming in at 27.2% through two weeks.
Giants' injuries adding to Jones' burden
Independent of the issues with the Giants' offensive scheme, the supporting cast around Jones has deteriorated since the start of the season.
Starting left guard Nick Gates suffered a season-ending leg injury during the team's Week 2 loss to the Washington Football Team. The offensive line lost another starter the following Sunday when Shane Lemieux tore the patellar tendon in his left knee.
The twin losses along the Giants' interior O-line create immediate issues for an already struggling offense. The quickest way to the quarterback goes through the A gaps, and New York will now have two backups on either side of one of them.
Under the watch of a different play-caller, the offense might mitigate those issues with play-action and quick game. But the Giants haven't operated that way under Garrett and don't seem prepared to adjust to their new reality.
RELATED: Eli Manning Gives Unpopular Opinion on Giants QB Daniel Jones for the 2021 Season