Daniel Suarez Seeks First NASCAR Win: 'Very, Very Soon'
During the mid-week preparation for the NASCAR Cup Series' 2021 winter stopover at Las Vegas Motor Speedway, Daniel Suarez climbed out of Trackhouse Racing's simulator, convinced the No. 99 Chevrolet's setup was off.
He was right.
At the time, three races into his first season with Trackhouse, he crashed out 13 laps into the Daytona 500, suffered from car sickness during the Daytona Road race, and failed to generate a top-10 run. The simulator work must have provided some intelligent data. Suarez led the Vegas field for 12 laps, but the setup ultimately proved off. He dropped to 26th place.
For most of 2021, Suarez was off.
In 2022, he's confident he's on track to win claim his first Cup race, "very, very soon."
Daniel Suarez is ready to put down roots with Trackhouse Racing
Last season was a virtual wash for Suarez with his new organization.
In 36 starts, his average start was 20.1.
His average finish? Yup, 20.1.
For the first time in his six-year Cup career, he didn't lead at least 20 laps. Suarez didn't lead one. His lone top-5 finish was a P4 at the gimmicky Bristol Motor Speedway dirt course. Collecting just four top-10s, Suarez finished 25th in the driver standings in 2021.
During the offseason, Suarez spoke of the adjustments the team and driver were making together. He said he wanted to put down roots with Trackhouse. He wants to grow with the organization.
Suarez's driving appears to be maturing. His style seems to be a match for the new Next Gen cars.
With three laps to go in the Wise Power 400 at Auto Club Speedway on Feb. 27, Suarez drove below race leader Kyle Larson and claimed the lead off Turn 2.
His pace was short-lived, however.
Suarez: 'I'm happy, and I'm heartbroken at the same time'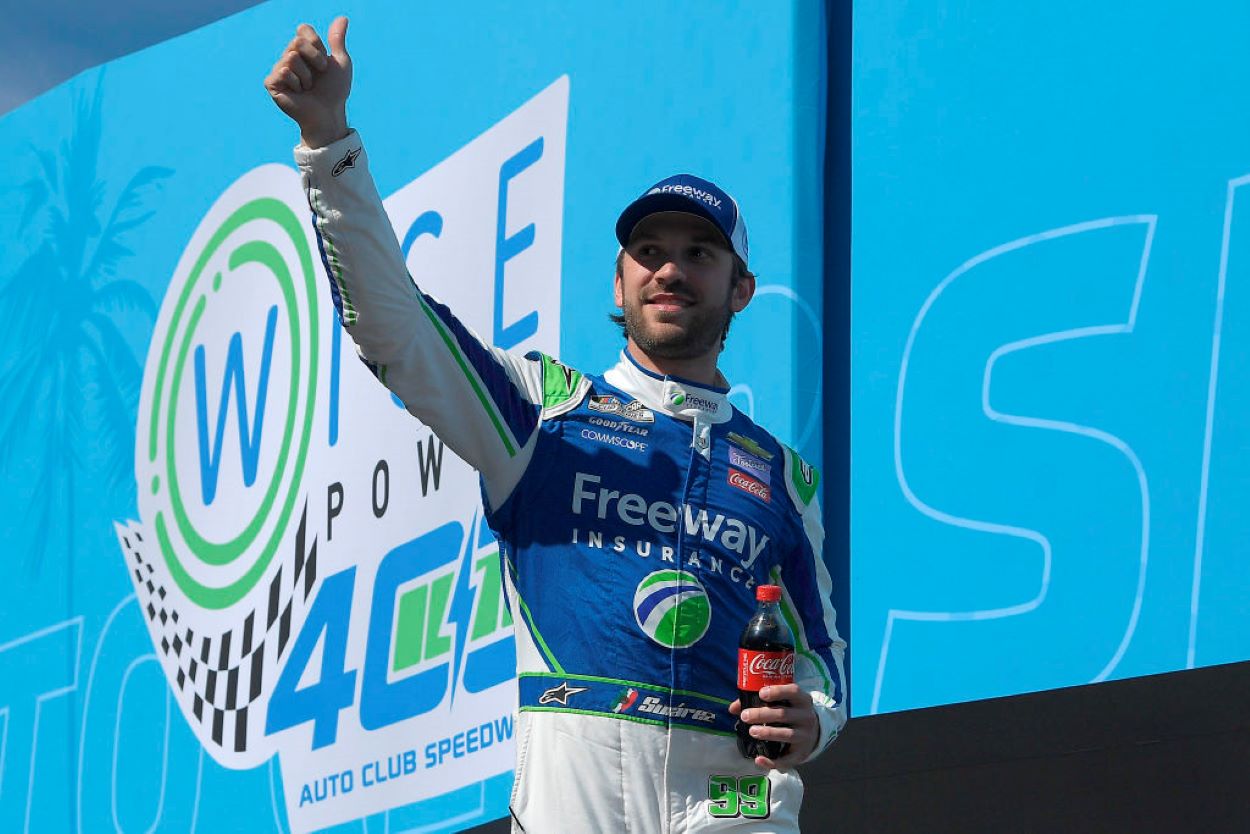 Two corners later, Larson, the eventual winner, utilized the outside lane to run the wall and propel past Suarez, who dropped to P4. Runner-up Austin Dillon made his move with laps remaining between the first and second turns. Suarez's defensive maneuvering couldn't keep Erik Jones from taking the spot on the final lap.
"I'm happy, and I'm heartbroken at the same time," Suarez told Fox Sports after the race.
Two points races and one made-for-Hollywood exhibition extravaganza into his second season with Trackhouse Racing, Suarez is thinking about ending his career-long winless streak, spanning 84 starts.
It's been six years since Suarez last visited Victory Lane, capturing three Xfinity Series races and one Camping World Truck Series event.
"We're going to win a few races," Suarez said.
When?
"Very, very soon," he added.
Suarez: 'We had a fast car, but we went through a lot of adversity'
To do so. Suarez will have to avoid some of the mishaps that plagued him with 13 laps remaining at Auto Club Speedway. Running with the leaders and in communication with his team, Suarez attempted to move up and gain momentum by riding the wall.
He scraped it instead.
"We had a fast car, but we went through a lot of adversity," he said. "We had a few issues – we hit the wall once, we had an issue with the diffuser."
On the restart after Chase Elliott's vengeful spinout with nine laps remaining, Suarez, who credited his pit crew for a needed boost, had another chance to secure the lead, but Larson, the defending series champ, earned his first of the season.
Suarez still seeks the first of his career.
When?
He made one promise: "I can tell you that I'm going to work very, very hard to go to victory lane very, very soon here."
Like Sportscasting on Facebook. Follow us on Twitter @sportscasting19.
RELATED: William Byron, Tyler Reddick, Daniel Suarez: Daytona 500's Top 3 Breakout Candidates