Danny Green's New Tattoos Pay Homage to the Raptors, Lakers, and Kobe Bryant in the Most Heartwarming Way
Philadelphia 76ers shooting guard Danny Green keeps bouncing between the right teams. With three championship wins between three teams, he is an obvious choice for putting the bow on top of a playoff-ready roster. Over the last decade of his career, he has enjoyed championship success with the San Antonio Spurs, Toronto Raptors, and Los Angeles Lakers. The longtime role player hasn't enjoyed the regional adoration that comes with being associated with one team, but he has found a way to pay tribute to each major stop in his career: on his skin. Keep reading to learn more about Danny Green's many tattoos and the meanings behind them.
Danny Green's newest tattoos pay tribute to his three championship runs
Green's strong perimeter defense and accomplished three-point shooting approach make him a perfect fit for the current state of the league. His numbers aren't exactly superstar level, but that isn't an insult. The Painted Lines describes him as a "journeyman," but of a caliber that can truly affect the fate of his teams as the outcomes of tight games average out.
So how does an in-demand role player find meaning in the league when they aren't identified with any one team? According to Daily Hive, Green's tattoos help provide that continuity. In particular, his three tributes to his championship-winning stints.
Sports Illustrated shares details of each tattoo. Honoring the 2014 Spurs is a flag tattoo in the shape of Texas, with a cowboy boot adorned with the Spurs logo. For the 2019 Raptors, the iconic Jurassic Park raptor charges forth in front of the iconic CN Tower. And for the 2020 Lakers, a mashup of the Lakers logo with the globe in front of Universal Studios. Each finds space for the Larry O'Brien Trophy. Now, fans in Philadelphia hope a tribute to their city will make it on Green's body.
He has a touching tattoo tribute to Kobe and Gigi Bryant
According to Body Art Guru, Danny Green's many tattoos have personal meaning even when it isn't immediately obvious. He's open about most of them when the press is inclined to ask. But one is a deeper tribute that Lakers fans, and NBA fans in general, will understand at a glance.
Lakers Nation reports that the former Lakers guard has the numbers 24 and 2 banded around his tricep. These familiar numbers also appeared in the 2020 NBA All-Star Game. That's because they're a direct tribute to Kobe and Gianna Bryant, who tragically died in a helicopter crash earlier that year.
The rest of his tattoos each carry unique personal meaning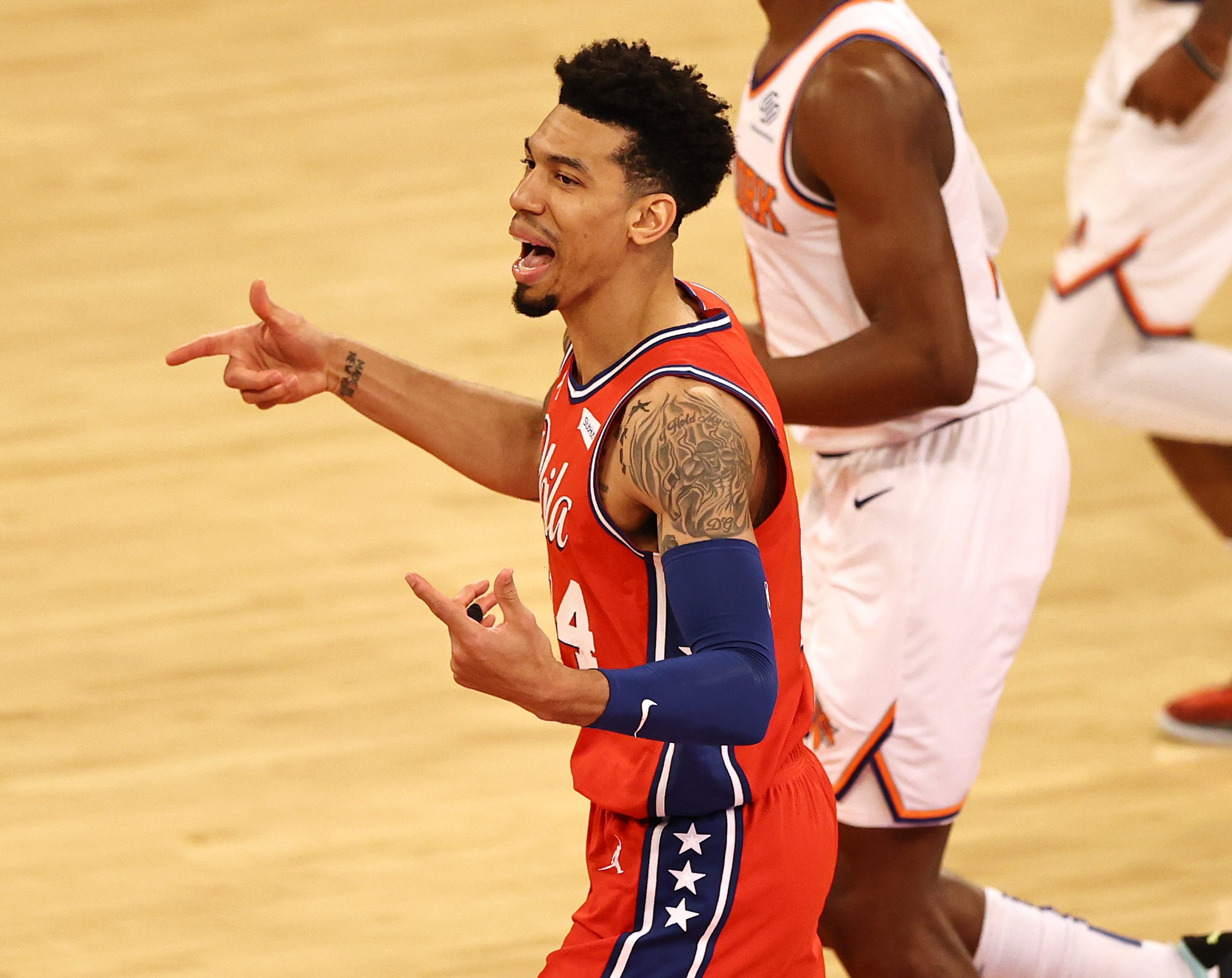 ClutchPoints reports that Green's ink collection is heavily slanted toward pop culture. Characters from genre films and comic books make up the most prominent tattoos, including most of his basketball tributes. He tends to go for some of the more brutal, action-centric characters for most of his ink.
Violent anti-heroes, like Deadshot from DC Comics, and nasty villains, like Marvel's Bullseye, might seem a bit much. But remember, these characters are all about hitting their targets no matter what. Which is fitting for a three-point shooter. The same goes for his massive tribute to the Godzilla and King Kong films, referencing his perimeter defense.
His non-pop culture tattoos tend to be more personal, about family and friends. His back is adorned with a massive mural based on a photograph of a childhood basketball coach alongside him. He has the names of his three brothers written on a scroll carried by an angel, representing their love for each other. And, as a crucial reminder for someone who has made his home in a different city so many times, he has the words "Made In New York" tattooed across his wrist.
RELATED: It's Been Over 2 Years Since the Toronto Raptors Won the NBA Finals, But 1 Player Still Hasn't Received His Ring