Darius Garland Boldly Put the Rest of the NBA on Notice With Strong Comments About the Cleveland Cavaliers: 'We're Not a Slouch Anymore'
The NBA standings look significantly different through (almost) the first month of this season than they did last year, especially in the Eastern Conference. The Washington Wizards are tied with the Brooklyn Nets for the No. 1 seed while the Chicago Bulls are No. 3, and the LeBron James-less Cleveland Cavaliers are No. 4.
The latter has had a strong start to the year, proving its rebuild might be just on schedule or even ahead of schedule. And recently, one of its top young players, Darius Garland, sent out a bold message to the rest of the NBA.
The Cleveland Cavaliers have had a solid start to the 2021-22 NBA season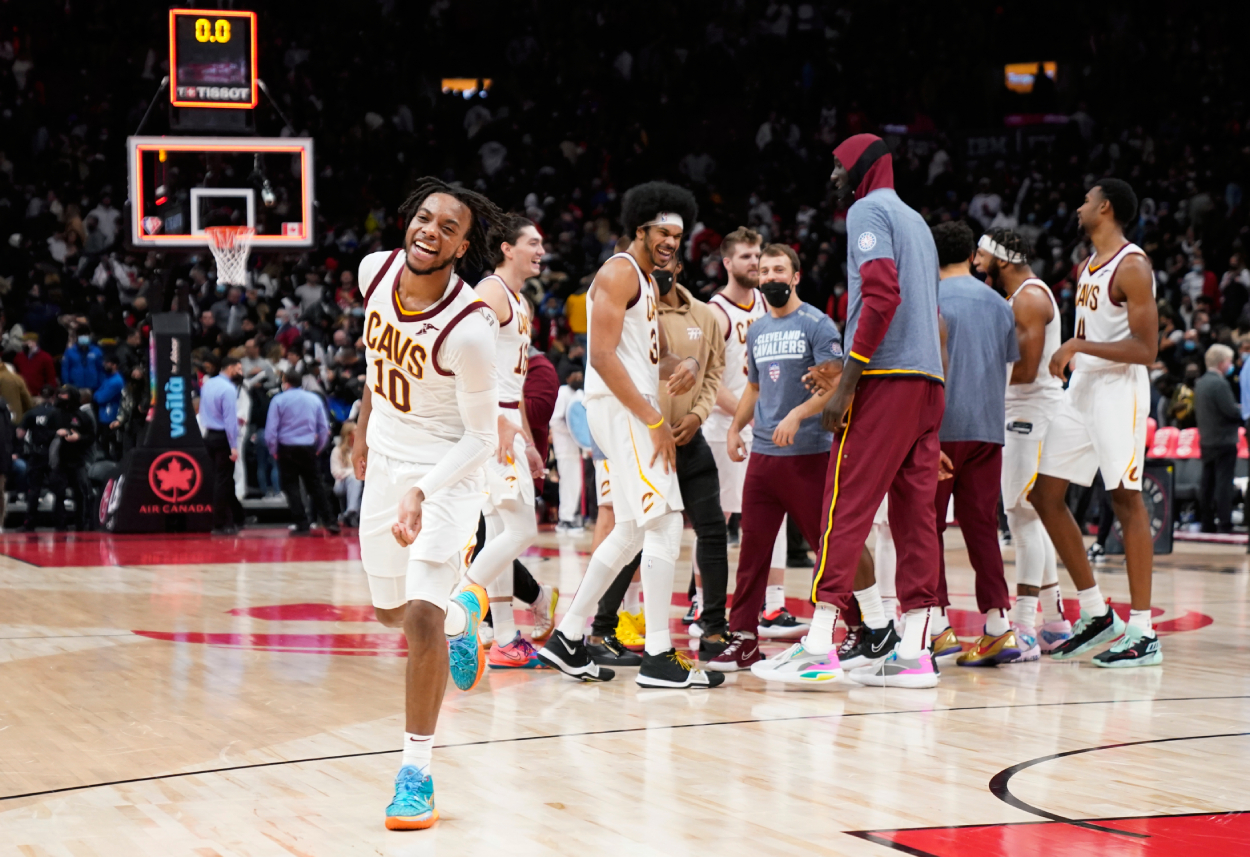 The Cleveland Cavaliers have started strong this year, but not without some adversity. Two of their bigs, Kevin Love and Lauri Markkanen, have spent somewhat extended time away from the team due to health and safety protocol. Their leading scorer from the past couple of years, Collin Sexton, also suffered a tear in his meniscus and is out indefinitely.
But they have still somehow found success.
Cleveland is 9-5 through its first 14 games with wins over the Atlanta Hawks, Denver Nuggets, Los Angeles Clippers, and Portland Trail Blazers. It also came back from a 19-point deficit in its most recent game against the Boston Celtics and won 91-89.
The Cavs haven't just had one person dominate this year, either. It has been a group effort with five players, not including Sexton, scoring over 12.0 points per game. 
Darius Garland has taken another step in his development so far, averaging 16.8 points, a career-high 7.1 assists, and he is shooting career-bests from the field (48.7%) and 3-point range (40.3%). Rookie Evan Mobley has also proven he has what it takes to become a star, averaging 15.6 points and 7.9 rebounds, and Jarrett Allen is continuing his ascension to becoming one of the NBA's best top men, recording 14.2 points and 10.9 rebounds per game.
Their stars have certainly come to play so far this year, and Garland has let everyone know it.
Darius Garland put the rest of the NBA on notice
Garland has already proven a significant amount this year with his play on the court, but he wants the rest of the league to know who the Cavs are this season, and he has let them know it through various strong comments.
"We're some dogs," Garland said recently, per The Athletic. "You're not just about to come to Cleveland and roll over us anymore. We're going to show some fight, show some grit, show some competitiveness, and that's what we're trying to do every night."
He then echoed the sentiment that the Cavs won't just "roll over" following the team's come-from-behind win over the Celtics.
"We're here; we're not a slouch anymore," he said to Bally Sports. "We just came back from [19] down. That's the dog that we've been talking about, that's the fight; that's the tenacity that we always talk about."
His statements have certainly been strong, especially considering the Cavs haven't made the playoffs since LeBron James left in 2018. And as an organization, the franchise hasn't reached the postseason without James on its roster since 1997-98.
But is this success sustainable? Are the Cavs actually a force to be reckoned with this year?
Darius Garland and the Cavs are showing more consistency this season
While Garland's comments may seem premature, especially since the Cavs have only played 14 games so far, the team has shown more consistency this season than in previous years.
Defensively, it has held the likes of the Hawks, Nuggets, and Clippers to under 100 points, and its 104.6 defensive rating is No. 8 in the entire NBA.
On offense, sure, the big names have been key night in and night out. Garland, Mobley, and Allen are the team's core pieces and will be for years to come. But role players like Ricky Rubio and Cedi Osman have also been tremendous. Rubio is averaging a career-high 13.7 points and shooting a career-best 37.8% from 3-point range. He even dropped 37 points to go with 10 assists in a win over the New York Knicks.
Osman, on the other hand, is averaging 9.8 points and shooting a career-best 40.6% from 3-point range.
The biggest questions about the Cavaliers, though, are whether they can continue their high-level defensive play throughout an entire season and not just 14 games; and whether they can hold up offensively while Sexton is down.
If they can prove to do both those things, Garland could be right; the Cavaliers might just be some dogs that other teams need to have on their radar. Cleveland might actually have some bite behind its bark.
Stats courtesy of Basketball Reference