Darius Leonard Lived a Life Full of Tragedy Before Becoming a Star on the Colts
When looking at the best defensive players in the NFL today, Darius Leonard has consistently been one each of the past two seasons. Leonard has gone from being an unknown guy while coming into the NFL draft to becoming one of the best linebackers in the league. Leonard's life, however, hasn't always been great. He overcame a lot of tragedy before becoming a star on the Indianapolis Colts.
Darius Leonard wanted to go to Clemson
While he was in high school, Leonard wanted to play college football at Clemson. His brother Anthony Waters did and even led the Tigers in tackles in 2005 with 109, according to Clemson's team site. 
However, Clemson was waiting for Leonard to qualify academically before offering him a scholarship. By the time he qualified, though, he had already decided to play for South Carolina State University, according to ESPN.
Leonard ultimately earned two MEAC Defensive Player of the Year awards while he was at South Carolina State. He even played Clemson in a game during his career and had 19 tackles and a blocked field goal in a loss, according to ESPN. 
In his career at South Carolina State, he started all 43 games and led the team in tackles in three separate seasons. In 10 games in 2017, Leonard had 113 total tackles, eight sacks, two interceptions, and one forced fumble, according to South Carolina State's team site. 
Leonard has been a star for the Indianapolis Colts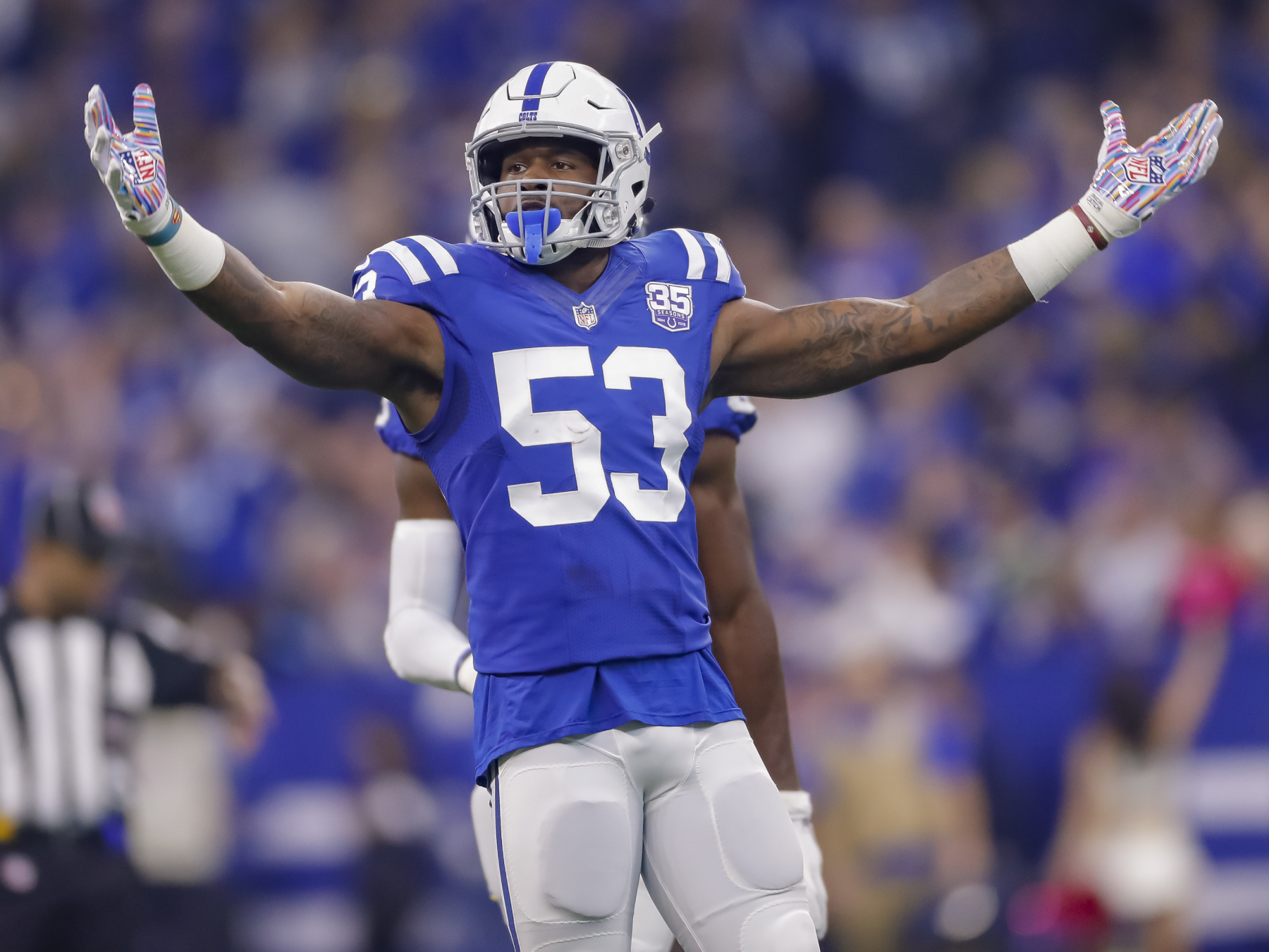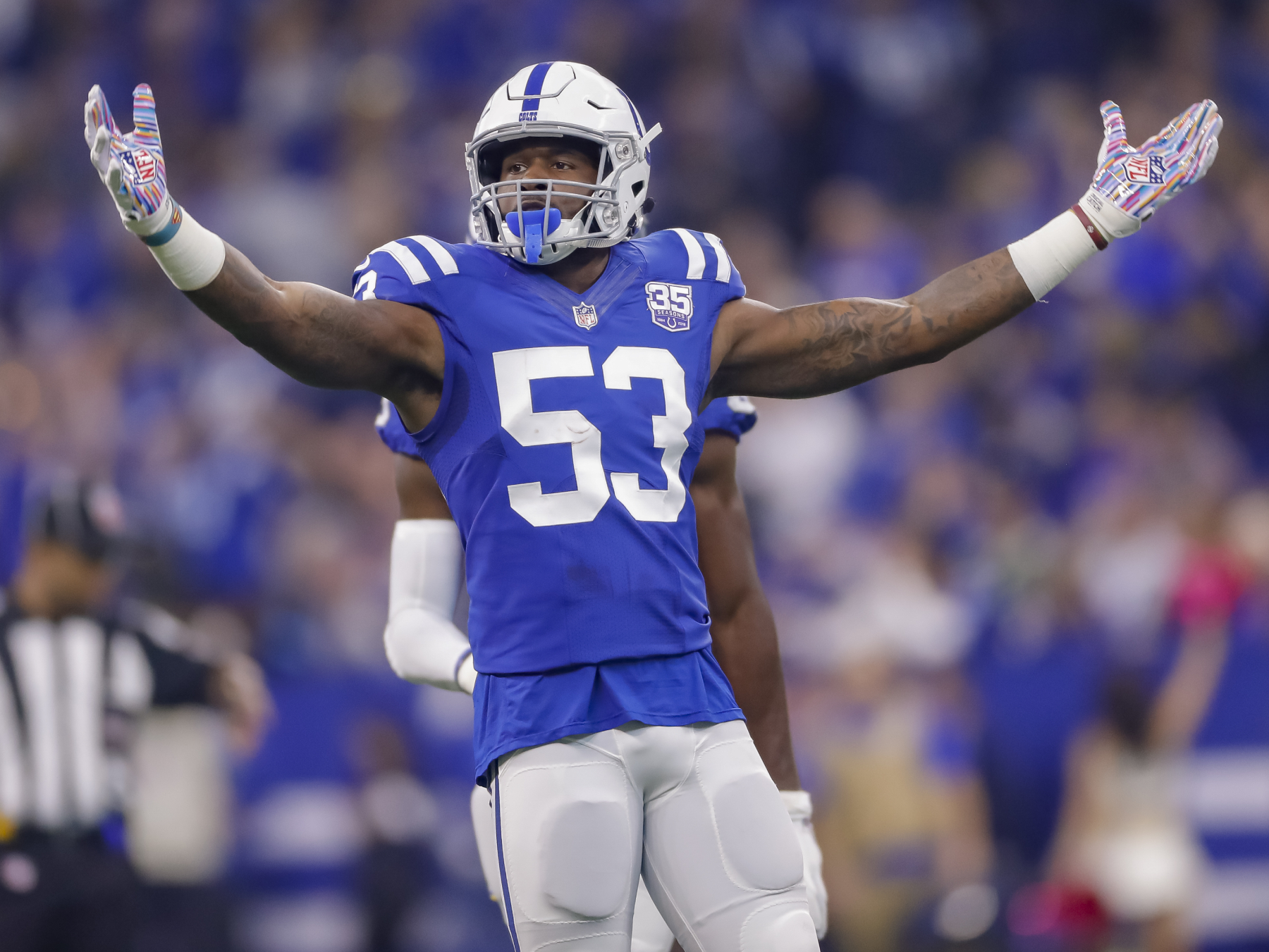 Playing for a school like South Carolina State, Leonard wasn't a big-time prospect going into the 2018 NFL draft. In fact, after the Indianapolis Colts selected him in the second round of the draft, Bleacher Report even listed him as one of the worst picks of that year.
Leonard proved them wrong, though, as he absolutely dominated in his rookie season. In 2018, Leonard led the NFL in total tackles with 163, and in solo tackles with 111. He also had seven sacks, four forced fumbles, and two interceptions. He became the first player to rack up at least 125 tackles, seven sacks, and four forced fumbles in a season since Bryan Cox in 1992, according to Colts.com.
His play ultimately helped him earn First-Team All-Pro honors. (He somehow was not a Pro Bowl selection.) He was also the AP Defensive Rookie of the Year.
Then in 2019, Leonard continued to dominate. In 13 games, Leonard racked up 121 total tackles, five sacks, two forced fumbles, and five interceptions. His five interceptions led all linebackers and tied for fourth in the entire NFL. He ultimately earned Pro Bowl honors that season too. 
Before all of his football success, though, Leonard had to overcome a lot.
Two of his brothers are in prison while another one was killed
Leonard has sadly had to overcome two of his older brothers, Charlie and Cody Waters, being in prison, according to ESPN. Charlie is reportedly in prison for a "murder case" that happened in 1997, Leonard said, according to ESPN. He also said that Cody is in prison for being an "accessory at a wrong place, wrong time," ESPN also reported.
He, however, still talks to them regularly as Charlie writes him a letter after every game. 
That is not all the tragedy that Leonard has had to deal with, though. Another brother of his, Keivonte Waters, died in 2012 after an altercation at a club, according to ESPN. Leonard and Keivonte were born only a year apart. 
"Every time I look at football, I look at life, I know how quick life can change," Leonard said, according to ESPN. "I've got two brothers incarcerated and one deceased. I don't take nothing for granted."
Darius Leonard is one of the best players in the entire NFL. When looking at the path he has had to take to get there — he is certainly an inspiration.
Stats courtesy of Pro Football Reference