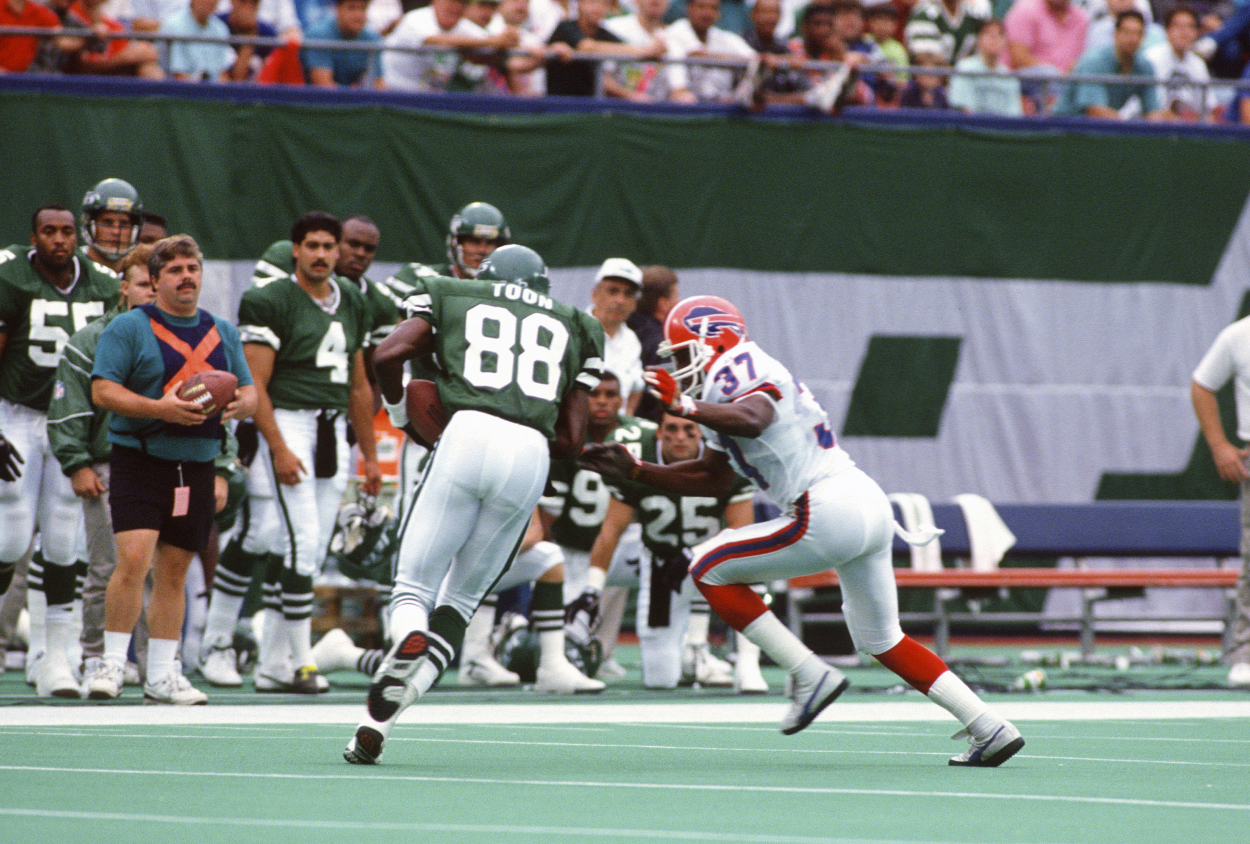 Daughter of Former New York Jets WR Al Toon Tragically Killed in Apparent Murder-Suicide
Molly Lillard, the daughter of New York Jets great Al Toon, was tragically killed Sunday.
The 28-year-old daughter of former New York Jets star wide receiver Al Toon was found dead Sunday. Molly Elizabeth Lillard was allegedly shot and killed by her husband in a murder-suicide Sunday in Scottsdale, Ariz. Authorities said a woman was found with gunshot wounds in front of a house Sunday. She was transported by a nearby hospital, where she died. Police said the woman's husband later died from a self-inflicted gunshot.
Al Toon was a star for the New York Jets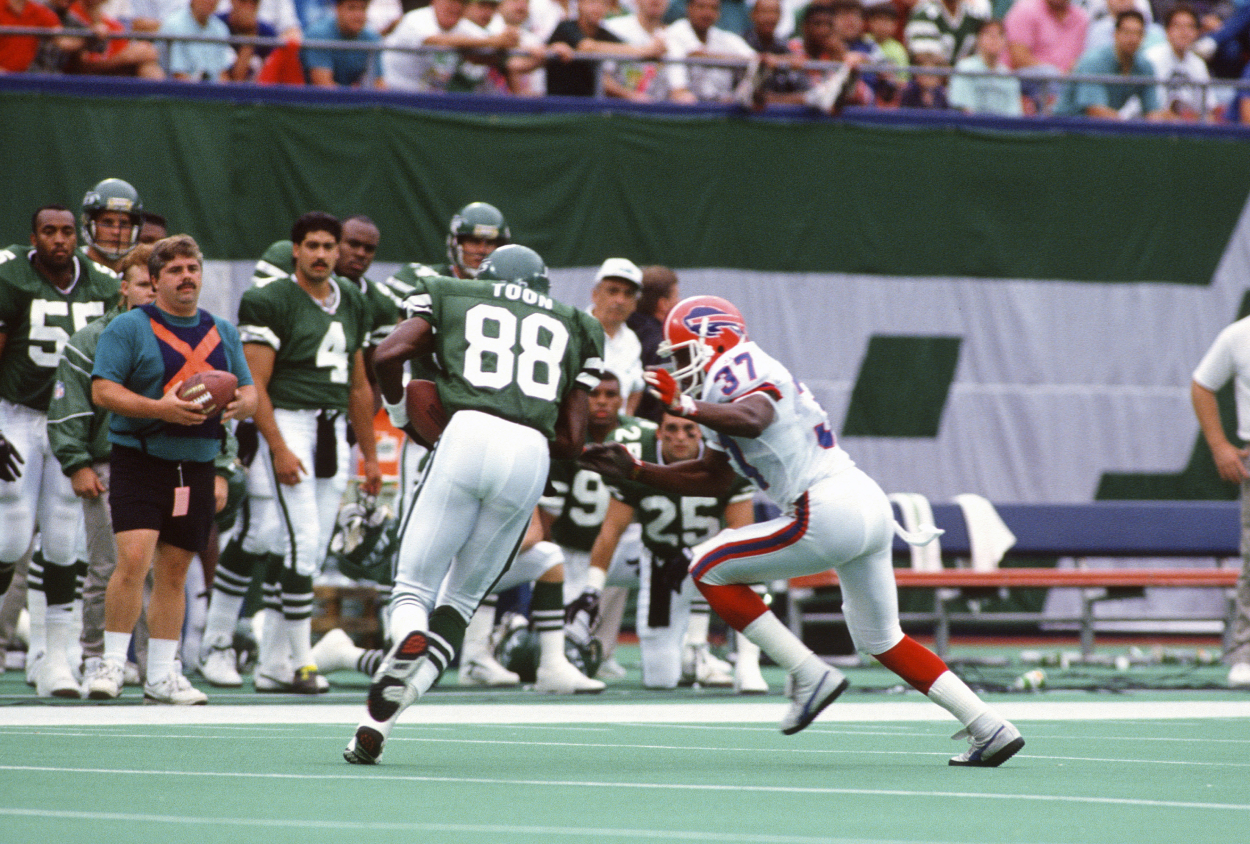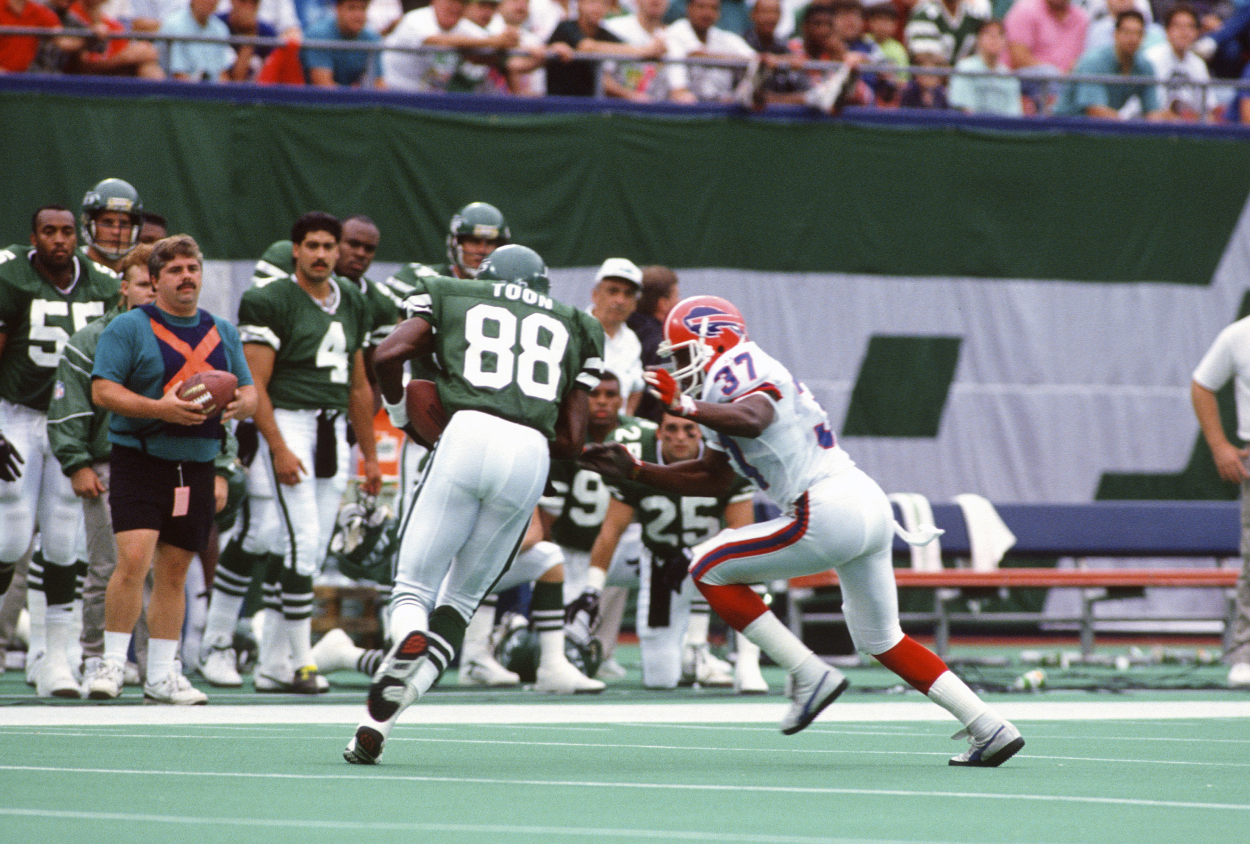 Al Toon was a first-round selection of the New York Jets in the 1985 NFL draft. The Jets took him with the 10th overall pick after playing his college football at Wisconsin. Toon went on to have a stellar NFL career despite having it cut short after suffering numerous concussions.
Toon, a 6-foot-4 wide receiver, played eight seasons – all with the Jets. After his rookie season in 1985 in which he caught 46 passes for 662 yards and three touchdowns, he made the straight Pro Bowls. Toon had his best season in 1986 when he had a career-high 1,176 yards and eight touchdowns. He was named AFC Player of the Year that season.
In 1988, Toon led the league in receptions with 93. Toon is a member of the New York Jets Ring of Honor. He retired at the age of 29 after suffering many concussions during his career. Toon is one of two players in NFL history to play in fewer than 110 games and rack up more than 500 catches in a career. The other player is Kellen Winslow Sr.
Toon's daughter was the victim in alleged murder-suicide
Police believe the daughter of former New York Jets wide receiver Al Toon was the victim of a murder-suicide. Molly Lillard was fatally shot outside her Scottsdale, Arizona home on Sunday. Authorities believe Lillard's husband, 36-year-old Royce Lillard III, shot her before later shooting himself inside their Scottsdale house.
According to The New York Post, the couple's 8-month-old child was present during the shooting but was unharmed. Royce Lillard allegedly killed his wife sometime before 5 p.m. on Sunday. He then went inside the house as police arrived and police were unable to communicate with him.
A SWAT team arrived around 10:45 p.m, entered the house, and found Royce Lillard dead from a self-inflicted gunshot wound, according to police. According to the Middleton (Wisc.) Times-Tribune, the couple had been married for two years.
Molly Lillard was a standout volleyball player
Molly Lillard was one heck of a volleyball player. Lillard, the daughter of New York Jets great Al Toon, had her dad's athleticism and it showed on the volleyball court. She graduated from Middleton High School in Wisconsin in 2010 and twice led the school to the state volleyball tournament, according to The Milwaukee Journal-Sentinel.
Lillard, then Molly Toon, then went on to play volleyball at the University of Michigan. There, she was a four-year letter-winner. She was an All-American honorable mention as a senior in 2013.
During her time at Middleton High School, the team won 60 straight conference matches. She's one of four children to Al and Jane Toon.
How to get help: In the U.S., call the National Suicide Prevention Lifeline at 1-800-273-8255. Or text HOME to 741-741 to connect with a trained crisis counselor at the free Crisis Text Line.