Daunte Culpepper Was Adopted by a Worker From the Jail His Mother Was in
Daunte Culpepper's mother was in jail for a serious crime when she gave birth to him. Culpepper was actually adopted by a woman who worked in the very jail his mother served her sentence. The quarterback had plenty of ups and downs during his NFL career, but he was always thankful for what Emma Lewis Culpepper did for him.
Why was Daunte Culpepper born in jail?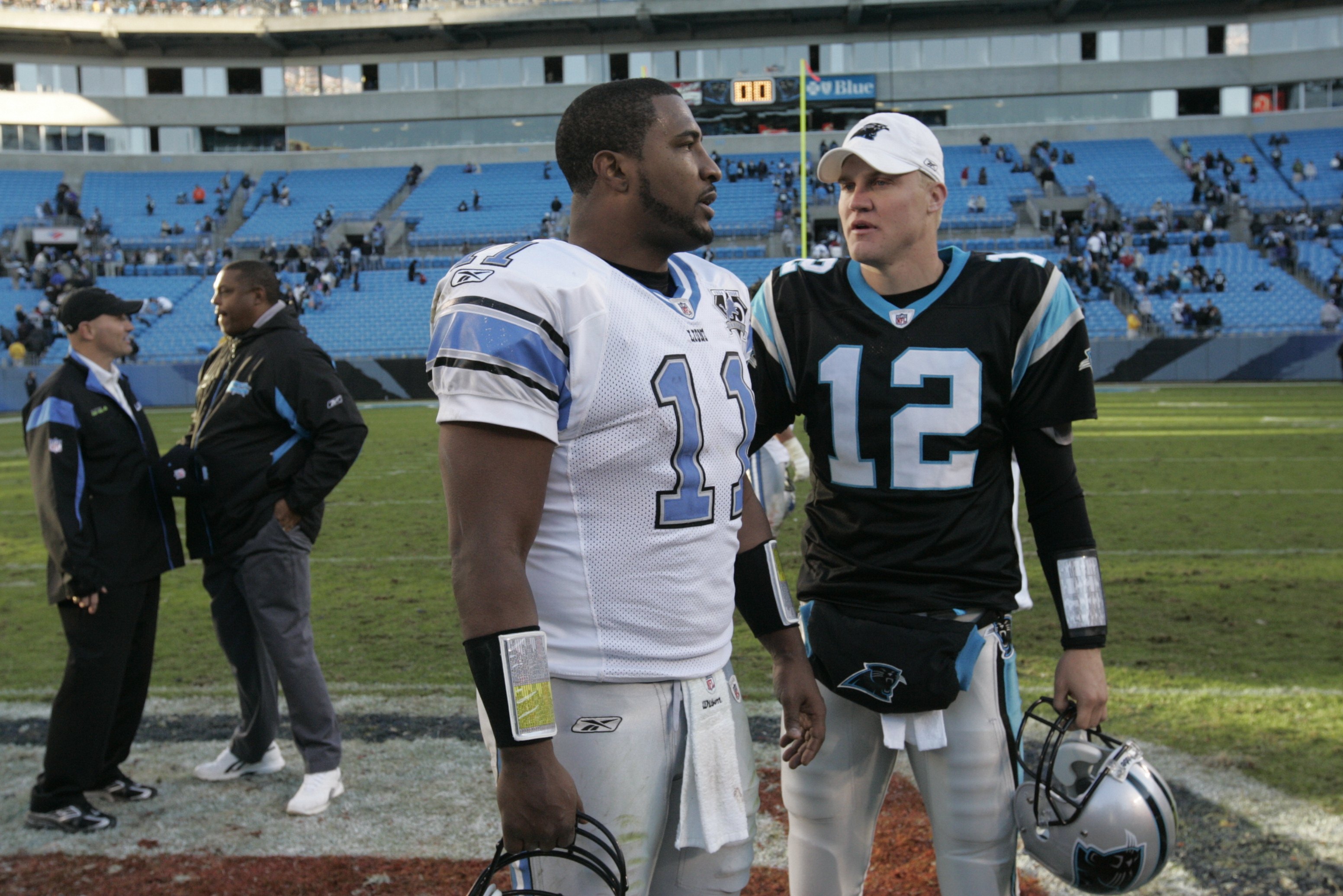 RELATED: A Prison Inmate Once Sued the NFL for $88 Billion After a Dallas Cowboys Loss
Daunte Culpepper's life story is a prime example of the effect good parenting can have on a child. Culpepper was born on January 28, 1977, in Ocala, Florida. His biological mother, Barbara Henderson, was in jail for armed robbery. Still a teenager, Henderson had to find someone to raise her child. She found her in the same correctional facility she resided in.
Emma Culpepper had plenty of experience raising children that were not her own. She raised all four of her brother's kids after he died. She took in her sister-in-law's seven kids when got into some trouble. Culpepper later adopted three more kids. Raising the child of a convicted stranger sounds like a lot, but if you're already raising 14 children, adding a 15th kid isn't a big deal. She adopted Daunte a day after he was born.
There were some understandable growing pains for Daunte and the family, but they soon began to look at each other as a family. When Henderson was released from jail in 1983, she showed up at Culpepper's door to take her son back. But Daunte felt a deep sadness about leaving the only house he ever knew. So, Henderson made the mature decision of letting her son return to Emma's house.
The loving environment gave Daunte the platform to chase his curiosity in many areas – he learned to play the bass violin in elementary school – but sports was always his greatest interest. Culpepper played baseball, football, and basketball growing up. The Yankees even drafted him in the 26th round of the 1994 MLB draft. Ultimately though, football was his passion.
His poor grades put off the bigger Florida colleges, so he attended Central Florida. Culpepper became the best QB in school history. In his senior year — he stayed in college in part because he promised his mom he'd get his degree — Culpepper broke the school record for all-time passing yards and the NCAA record for highest completion percentage (73.6%). He finished eighth all-time for most yards from scrimmage.
His NFL career was full of incredible highs and dismal lows
RELATED: Former NFL Player Keith Wright Was Sentenced to 234 Years in Jail for His Various Crimes
The Minnesota Vikings selected Culpepper 11th overall in the 1999 draft. He didn't throw a pass in his rookie season, but his second year is one of the best debut seasons in league history. He threw 33 touchdowns, ran for seven more, and led the team to the NFC Championship game.
The sky appeared the limit for Culpepper's career. It turns out the sky was a lot lower than anyone thought. In his next two years, he threw a combined 32 touchdowns and 36 interceptions. Some tried to blame the regression on the "Madden curse" since he was the cover star in 2002, but the rest of Culpepper's career shows that he was simply a wildly inconsistent player.
He was great again in 2003 and 2004 – he threw for 39 touchdowns in the latter season – before starting the '05 season with zero touchdowns and eight interceptions in the first two games. Any hopes of Culpepper rediscovering his mojo died in the seventh game of the season. Sadly, he tore his ACL, PCL, and MCL against the Carolina Panthers.
He was traded to the Miami Dolphins, who chose him over signing Drew Brees, after the season. Culpepper's poor play and additional injuries ended his season after four starts. He continued to experience injuries and underperformances for the Raiders and Lions during his final three years in the league.
He's always been grateful for the love of his stepmother
Emma Culpepper passed away in 2007 at the age of 92, reports ESPN. Daunte couldn't have spoken higher of her after her death.
"She was basically just on a mission always to help people. Anybody that touched her life, she was always trying to better them," he said. "She instilled some great values in me and let me know it's not where you're at, but where you're going."

"It was the best thing that happened to me in my whole life," he said. "I never really had a man in my life. She was my mother and my father."
Culpepper was always talented, but without the right support from his stepmother, his potential could have easily gone unrealized.