Davante Adams' 1 Key Word Sends Packers Fans Into a Frenzy Regarding Aaron Rodgers Situation
Davante Adams said one word that has turned heads of Packer fans.
Anyone connected with the Green Bay Packers, or the NFL for that matter, is hoping to find answers to the drama between quarterback Aaron Rodgers and the team. Packers wide receiver Davante Adams recently said he and his teammates don't talk about the situation. He did, however, use one key word that has some Packers fans giddy with some newfound hope.
Davante Adams and his Packers teammates aren't focused on Aaron Rodgers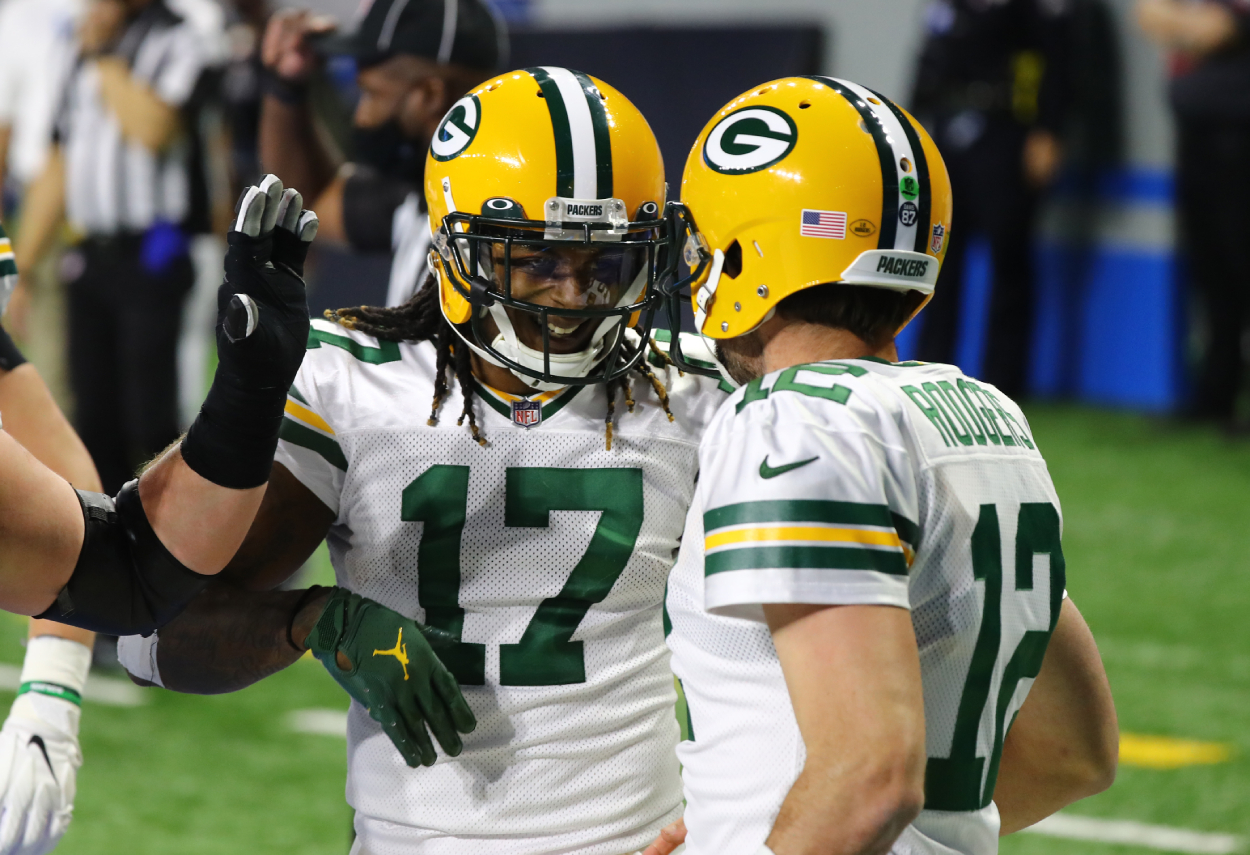 Adams and four other wide receivers never showed for voluntary OTAs last month. The move was likely a sign they were backing Rodgers, who also was a no-show as his dispute with the front office continues. Although Adams said he supports his quarterback, he did say he never told any of his teammates what to do.
Adams just finished his seventh season with the team and has developed a strong rapport with Rodgers. The duo has become one of the best QB-WR combos in the league. Despite Rodgers' absence, Adams said he and his teammates aren't doing a whole lot of thinking about it.
"Honestly, it's not even something that we truly talk about like that," Adams recently told Fox News. "It's just, everybody's been dialed into what they got to do. There's enough to worry about with themselves than to be going and worrying about what other guys are doing and what their situation is like, especially when we can't control any of that."
Adams gets Packers fans hopes up with one key word
Maybe it was wishful thinking. Maybe Adams knows something. During his interview with Fox News, Adams gave Packers fans a reason for hope with one key word when discussing the Rodgers situation.
"I think everybody's mindset, everybody is going to love Aaron the same way when he returns, and obviously it's been a little bit of a confusing situation but there hasn't been any negative talk or anything like that," he said. 'Everybody's behind him."
When he returns?
Packers fans took the word "when" and ran with it. "Every comment from people close to Rodgers keeps coming to the same conclusion… He'll be back," wrote one Twitter user.
"Rodgers return confirmed," wrote another.
It was a harmless sentence from Adams, but several Packers fans are taking whatever they can get for even a small dose of good news.
With Rodgers still holding out, it's business as usual for the Packers
Training camp begins for the Packers on July 27. It remains to be seen if Rodgers will attend, but Adams said whether or not his quarterback shows, he will be ready to go.
"I'll be there and I'll be ready to rock. Hopefully, Aaron will be there as well and if he's not, we're gonna get going," Adams said. "Like I said in the press recently, I back him and I support him whatever he does. It's just kind of how we get down. We've always had each other's backs since I first got here. Like I said, praying that he comes back, but if not I'll be there and I'll be working."
With or without Rodgers at camp, Adams will continue to show his veteran leadership.
"It's been that way for quite a while now, but as soon as I step in the building, I kind of wear that on my sleeves," Adams said. "I think that the guys, they're looking forward to that. (It's) a little bit of a different angle as far as the way that I teach versus our wideout coach or the offensive coordinator or somebody else. It's a little bit different. It's like learning from your brother rather than hearing it from your dad."
For now, Rodgers' absence continues to be the talk of the NFL or at least the buzz among Packers fans. Adams remains close to the quarterback and clearly has not lost hope of Rodgers' return. He said so with one word.