Davante Adams: 3 Best Destinations if Packers Don't Franchise Tag Him
The Green Bay Packers have a lot of tough decisions to make during the NFL offseason. One is Aaron Rodgers, who just won another NFL MVP. But another one is on star wide receiver Davante Adams.
As the franchise tag deadline approaches, Adams is easily the top name of all players likely to get tagged. If the Packers bring Rodgers back, they would likely want Adams to return.
But, it might not be that easy. The Packers are in cap space limbo and need to maneuver some cash around to make it work, but if anybody can do it, it's Green Bay.
Nonetheless, if Adams does hit the open market, he will easily be the top name in free agency. With that being said, here are the three best destinations for Adams if he doesn't end up with the franchise tag.
Indianapolis Colts
The Indianapolis Colts have questions regarding Carson Wentz and the quarterback position. Will Wentz be dealt? Will Indy pursue another option under center?
Who knows. Either way, Adams makes sense here. The Colts have the cap space to throw him a huge contract. If Wentz gets traded, they could have even more money to offer Adams a massive deal.
The Colts have Michael Pittman Jr., who had 1,082 yards and six scores on 88 catches. But, after that, the WR room is terrible. Here is how the others fared this year:
Zach Pascal: 38 catches, 384 yards, three touchdowns
T.Y. Hilton: 23 catches, 331 yards, three touchdowns
Ashton Dulin: 13 catches, 173 yards, two touchdowns
Parris Campbell: 10 catches, 162 yards, one touchdown
That isn't encouraging, and Jonathan Taylor finished third on the team with 360 yards receiving, and he and Nyheim Hines tied for second in catches (40 each).
The Colts need another WR, and Adams and Pittman would be a force to deal with. With or without Wentz, the Colts should come calling on Adams.
Los Angeles Chargers
In April of 2021, Adams tweeted that out and riled up Los Angeles Chargers fans everywhere. Now, Mike Williams is another tag candidate, although it remains to be seen whether LA keeps him or lets him test the open market.
If Williams doesn't get tagged and Adams doesn't, the Chargers should be one of the first callers on the Packers star.
The Chargers have more than $70 million in cap space and could throw the bag at Adams. Can you imagine Justin Herbert with Austin Ekeler, Keenan Allen, and Adams on the same offense?
That is a recipe for success, and the Chargers would have two of the best WRs in the NFL while having more cash to throw around and improve the defense and other areas of this roster. Is Adams a luxury? Perhaps.
But would Adams going to LA put the Chargers over the top? It certainly could, and Tom Telesco's time as general manager is ticking down quickly.
Las Vegas Raiders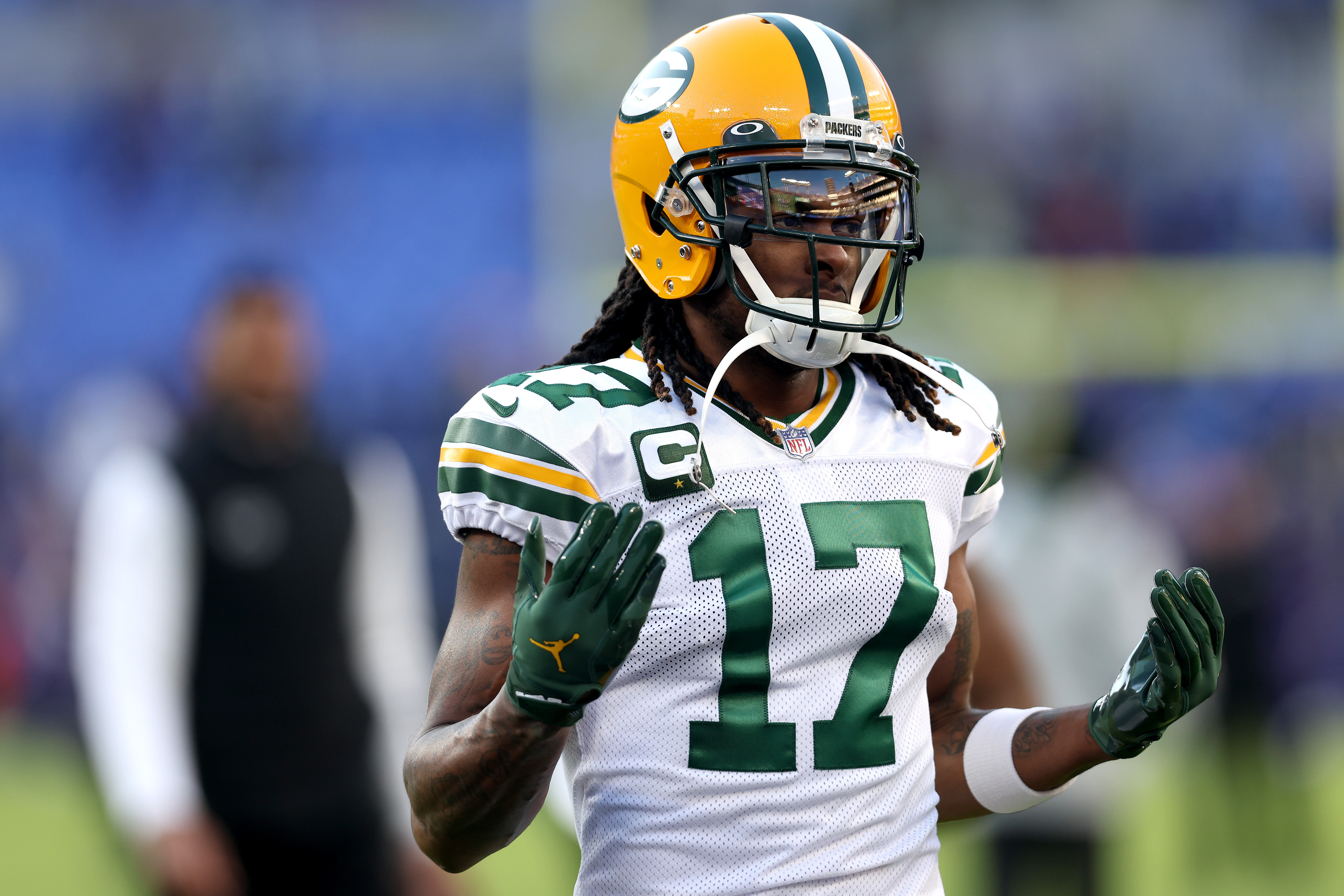 The Las Vegas Raiders are in desperate need of a top-tier wide receiver. Hunter Renfrow did all he could, but he isn't a true No. 1 WR.
With Derek Carr reportedly commanding more than $40 million per year, the Raiders might have no choice but to extend him. Nonetheless, if Carr is back, Adams to Sin City makes too much sense.
The Raiders could offer him whatever he wants, and the Fresno State tandem would be reunited in the NFL — something they have talked about for some time. It was reported that Carr would take a pay cut to make a run at Adams, and Adams would help out new head coach Josh McDaniels in a big way.
Remember how electric Adams and Carr were at Fresno State? They would be even more dangerous in the NFL, especially with Darren Waller and Renfrow on the same offense.
Adams to Vegas makes too much sense, but would he want to go there? That is the more important question.
Stats Courtesy of Pro Football Reference
RELATED: NFL Free Agency: 4 Players the Green Bay Packers Should Let Walk