Ranking Davante Adams and the Best Green Bay Packers Wide Receivers in the Aaron Rodgers Era
Davante Adams and Aaron Rodgers have now connected for 67 regular season touchdowns for the Green Bay Packers. The duo broke the record that Rodgers and Jordy Nelson set back when Nelson was the top receiver wearing green and gold.
Rodgers is a future Hall of Famer because of his incredible talents as a quarterback, but he's without a doubt had some extremely dynamic receivers to throw to over the past 17 seasons.
Where does Adams rank on that list? Here's a hint: He's very high up.
5. James Jones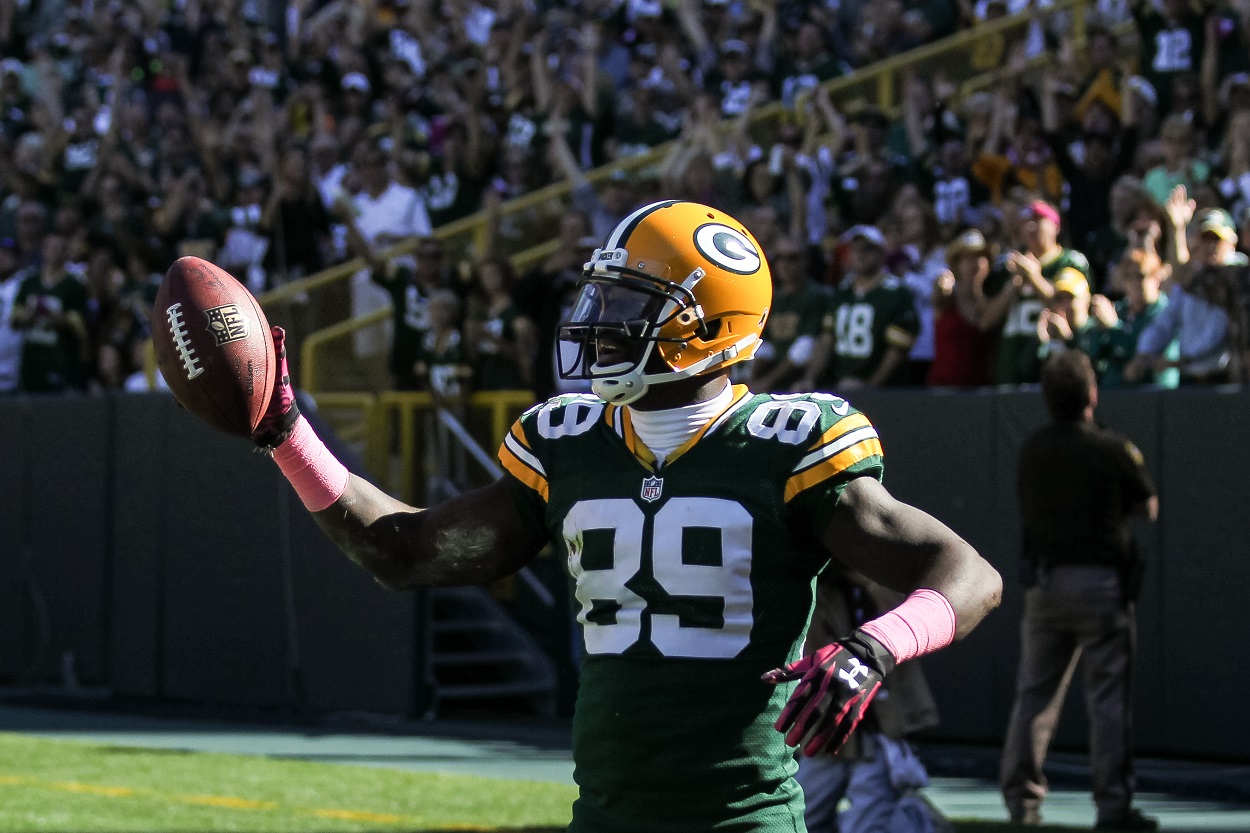 James Jones was perhaps best known for the turtleneck he wore to protect himself from the Green Bay cold. It was a style statement as much as it was practical. Jones was much more than a fashion icon for the Packers, though.
At 6-foot-1, 208 pounds, Jones was a big wide receiver with long arms. He was a possession receiver who also had a knack for making big plays.
Including the playoffs, Jones caught 45 touchdown passes from Rodgers. He spent the first seven seasons of his career with the Packers, had a cup of coffee with the Raiders in 2014, and finished things out back in green and gold in 2015. Jones' best season was in 2012 when he caught 14 touchdown passes and notched 784 yards.
4. Greg Jennings
Greg Jennings may be the most physically talented receiver Rodgers has played with not named Davante Adams, and his two touchdown catches in Super Bowl 45 will go down forever in Green Bay lore.
Jennings had it all as a receiver. He was only 6-foot, 198 pounds, but he was fearless going up to get the football; he ran excellent routes and had the speed to take the top off any defense. His career fizzled out once he left Green Bay, so it's easy to forget just how dominant he was.
The first two seasons of Jennings' career saw him catching touchdowns from Brett Favre, but he developed instant chemistry with Rodgers and finished his time in Green Bay, including the playoffs, on the receiving end of 42 touchdown passes from No. 12.
Jennings put up three-straight seasons of 1,000-plus receiving yards with Rodgers and was a two-time Pro Bowler thanks to his connection with the quarterback.
3. Randall Cobb
Randall Cobb had the pleasure of "getting the gang back together" this season in Green Bay. He was let go after the 2018 season after eight dynamic years with the Packers. His first stint in Green Bay saw him become one of Rodgers' most trusted weapons.
Not only was Cobb one of the best options for Green Bay on third down coming out of the slot, but he also caught more than his fair share of big touchdown passes. He notched 5,554 yards and 41 touchdowns before being banished to play with the Cowboys and the Texans in 2019 and 2020.
Rodgers demanded Cobb be brought back into the fold in 2021, and the Packers acquired him back via trade with the Texans, basically for peanuts.
Cobb's 2021 season was cut short because of a groin injury, but he proved that he still had a ton left in the tank and that his chemistry with Rodgers was undeniable. Cobb caught a handful of big passes for the Packers in 2021, finishing with 28 catches for 375 yards and five touchdowns while essentially acting as Green Bay's fourth receiver.
2. Jordy Nelson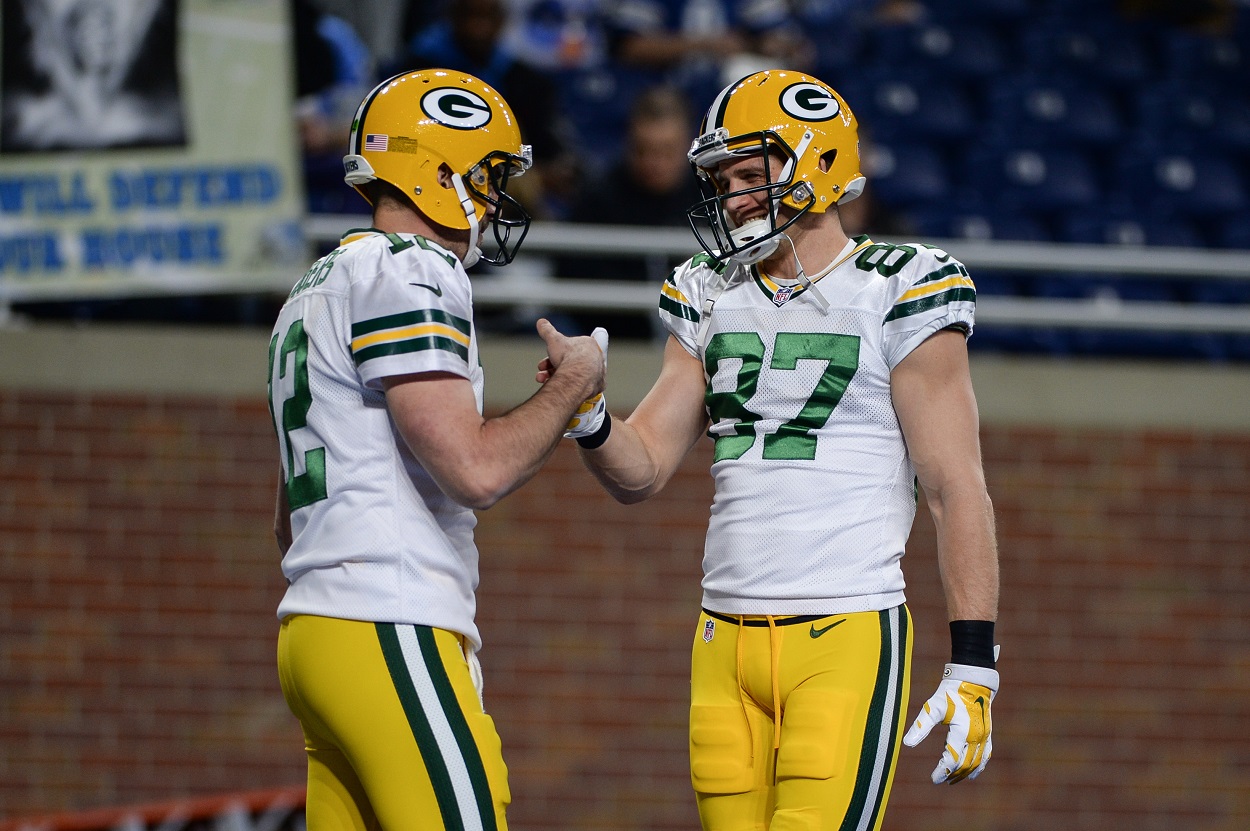 Before Rodgers and Adams showed off their almost telepathic communication on the football field, the three-time MVP had developed that sort of connection with Nelson.
Nelson was drafted by Green Bay in round two of the 2018 draft, so his rookie season was actually Rodgers' first as a starter for the Packers. Nelson snagged only six touchdowns total over his first three seasons in Green Bay, but he burst onto the scene in 2011. That was the season after the Packers won the Super Bowl, and they boasted the most dynamic offense in football, led by Rodgers and Nelson. The Packers went 15-1 and ultimately lost in the divisional round to the Giants, but Nelson secured his place as Rodgers' new favorite receiver, catching 68 passes for 1,263 yards and 15 touchdowns.
That was the first of four 1,000-plus yard receiving seasons for Nelson and the first of three that saw him score over 10 touchdowns. He notched 13 in 2014 and 14 in 2016. Nelson missed the 2015 season because of a knee injury suffered in the very first preseason game of that campaign. If it wasn't for that, he likely would have put up similar numbers in that season as well.
He was at the peak of his powers during that stretch, and he and Rodgers perfected their connection on both the back shoulder throw as well as the deep post.
Including the playoffs, Nelson caught 70 touchdown passes from Rodgers. The 65 regular season touchdowns he and Rodgers connected on was previously the record in Green Bay before Rodgers, and the top receiver on this list broke that record.
1. Davante Adams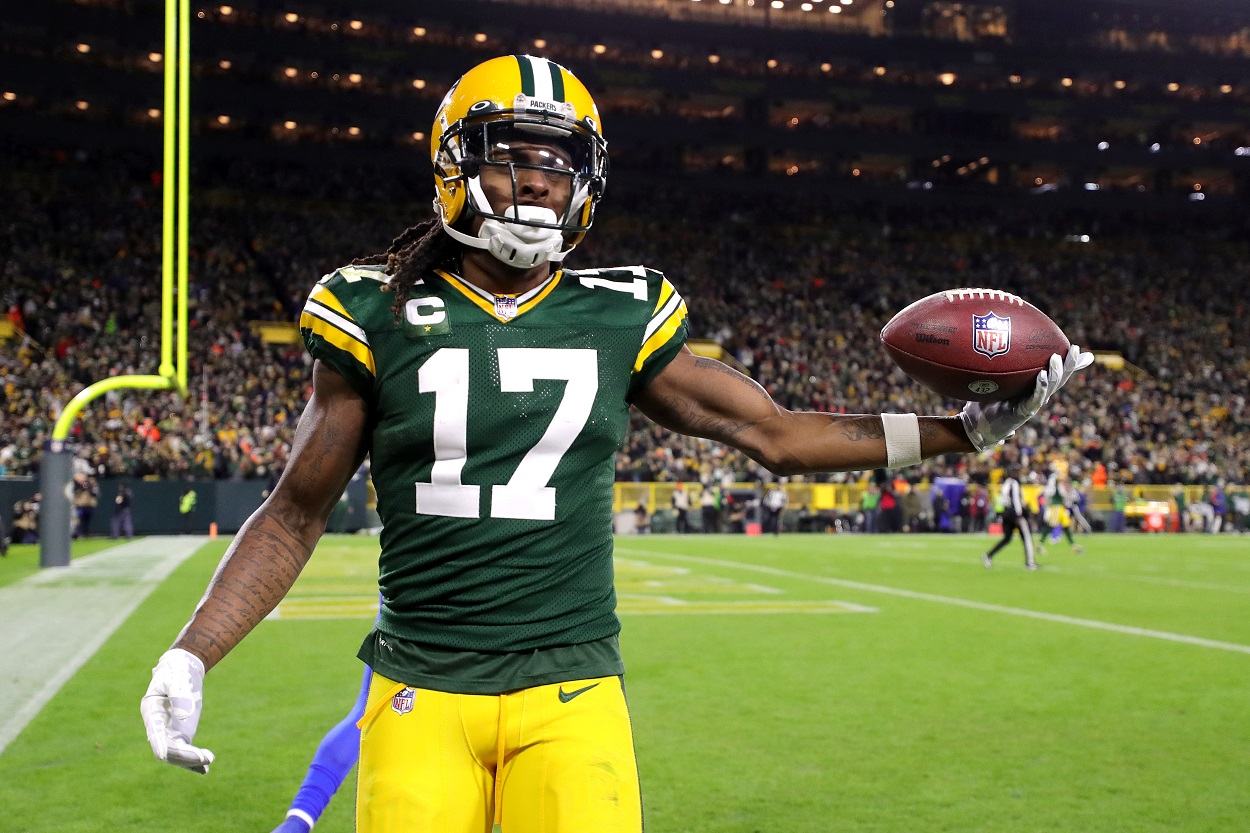 In terms of pure talent, there's nobody on this list better than Adams. As of the time of this writing, he's undoubtedly the best wide receiver in football. He's been so good that Rodgers considers him the most dominant player that he's ever played with, and he's including teammates like Favre, Nelson, and Charles Woodson in that conversation.
Adams has everything you look for in a modern wide receiver. He's big and strong at 6-foot-1, 215 pounds, but he's also fast enough to beat a defender down the field, and he's plenty athletic. What makes him stand out more than any other receiver is his route-running ability, though. Adams has the best feet in football, and he's able to get an immense amount of separation against even the best cornerbacks because of his ability to run both crisp and creative routes.
There's nobody better at it right now, and it's a huge reason why he's soo dominant.
Against the Browns, Adams and Rodgers became the most productive regular-season touchdown duo in Green Bay history. They notched No. 66 as well as No. 67 in that contest and will only continue to put up numbers as the season progresses, and the playoffs loom.
At the time of this writing, and including the playoffs, Adams has now caught 75 total touchdowns from Rodgers.
There's nobody better, and that says a ton, considering the incredible receivers Rodgers has had over the years in Green Bay.
Stats courtesy of ESPN and Pro Football Reference.