Davante Adams Blows Smoke at Jalen Ramsey and Odell Beckham Jr. Ahead of Rams vs. Packers
Green Bay Packers superstar wide receiver Davante Adams is not lacking confidence.
He and the 8-3 Packers have a huge game against the 7-3 Los Angeles Rams coming up, and within that matchup, a few exciting storylines have emerged.
Previewing the contest with legendary Dallas Cowboys receiver turned NFL commentator Michael Irvin, Adams dished on everything from his thoughts on being the best wide receiver in the league to his failed recruitment of Odell Beckham Jr.
Davante Adams says there's no doubt that he's the best receiver in the NFL
Through 10 games this season, Adams has caught 72 receptions for 979 yards and five touchdowns. He catches 7.2 passes per game and averages nearly 100 yards per game in receptions. He's coming off a 2020 season that saw him catch 115 balls for 1,374 yards and 18 touchdowns.
He's been dominant, without a doubt, and many believe he's ascended to the top spot in the pantheon of NFL wide receivers.
He seems to agree with those assessments of his game.
"I'm to the point now where I don't even feel like [there's] much that I need to say or should say about it. I feel like I've been letting my play speak. I've been consistent over the past few years. I just put it on film and let everybody make their lists how they want to," he told Irvin. "You let me tell it, I definitely say it's undeniable."
Adams is at the point of having the complete confidence of Aaron Rodgers, and with that has come plenty of targets. That naturally bumps up his stats a bit, but the areas in which Adams is elite sometimes don't show up in the stat sheets at all.
He's arguably the best route-runner in football. He's also constantly double-teamed and sometimes even triple-teamed, but even the best corners in the game rarely keep him from coming away with the rock.
The Green Bay Packers wideout is looking forward to going up against Jalen Ramsey
Regarding the best cornerbacks in the game, Adams has a huge matchup with Jalen Ramsey when the Packers take on the Rams. Ramsey is widely regarded as the best cover corner in football and he's elite at taking away the ball. The two have had some prolific one-on-one battles in the past.
"It's a fun matchup. I've got a lot of respect for Jalen's game," Adams said.
The issue for fans that want to see the two duke it out on a down-to-down basis is that LA doesn't necessarily use a man-only scheme. There will be times when Ramsey is matched up on Adams one-on-one, but Green Bay likes to move its star receiver around via formations and motions, and there's no guarantee Ramsey will pick him up play-to-play.
For his part, Adams seems disappointed in that fact. So much so that to Irvin, it sounded like the star wideout was calling out Ramsey and telling him to get his coaches to match the two up more often.
"I'm definitely open to anybody taking it however they want to," Adams said, backing up his smack talk.
Irvin laughed at the response and said he loved how Adams is willing to deliver the "smoke."
"I live in the smoking section," the star receiver replied.
Adams talked trash to his good friend Odell Beckham Jr.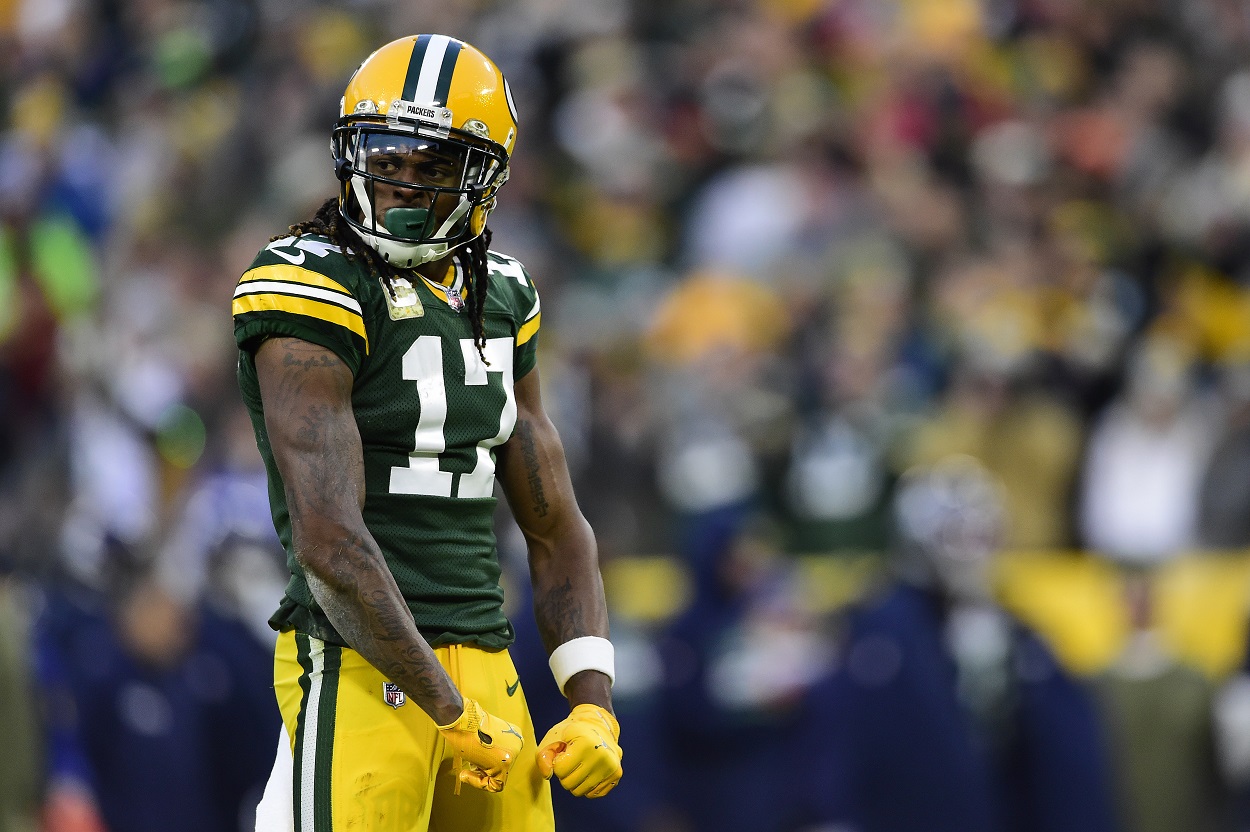 Upon his release from the Cleveland Browns, OBJ found himself deliberating between joining the Packers and Rams. Ironically, the two teams find themselves matched up this Sunday, and their respective pursuit of the receiver will be justified one way or the other.
Beckham picked the Rams, but there was a major interest in the Packers on his part. Adding drama to what ultimately unfolded is the fact that Green Bay apparently wasn't willing to pay as much for OBJ as the Rams were, according to a recent report from Adam Schefter.
With that said, it makes sense that he went with the Rams. This, despite Adams lobbying for his friend to join him with the Packers.
"Now that he's not here, I can say I definitely did too much," Adams told Irvin when asked how active he was in trying to recruit OBJ.
The two are friends, and they would have made a terrifying combo for opposing defensive coordinators, but Adams has clearly moved on now that Beckham has made his choice.
"We did talk two days ago, and he said he needed a jersey after the game. I told him to get a Cooper Kupp jersey since that's obviously his guy and that's who he wanted to be with," Adams said, eliciting laughter from Irvin.
"That's my guy. I love Odell. I think he would have been a great fit here, but I wish nothing but the best for him."
Stats courtesy of ESPN and Pro Football Reference.