Davante Adams' Franchise Tag Response Should Have the Packers Scrambling for an Answer
The 2022 NFL free agency period will be a busy one for the Green Bay Packers. After clinching the top seed in the NFC, the franchise will need to decide on Aaron Rodgers and Davante Adams.
Will Rodgers return? Also, will Adams and the Packers agree to a long-term deal?
For now, it looks more and more evident that Green Bay will place the franchise tag on Adams and buy more time to work out a long-term deal. However, Adams' recent comments should have the Packers scrambling to find an answer before it is too late.
The Packers and Davante Adams seem to be on a crash course for a franchise tag
At the beginning of the 2022 calendar year, Ian Rapoport of NFL Network reported that the Packers are prepared to place the franchise tag on Adams.
One of — if not the best — wide receivers in the league, Adams and the team tried to work out a long-term deal over the summer but ultimately failed.
This season, Adams has 1,498 yards on 117 catches and 11 touchdowns going into the season's final week. Those stats would look even more impressive if it weren't for the unworldly season Cooper Kupp has registered.
There is no denying the importance of Adams, who has 1,000 more yards than the next highest Packers receiver — Allen Lazard with 438 yards entering Week 18.
Adams is also top-five in the NFL in receptions, receiving yards, and touchdowns. He deserves to be paid, but the Packers seem inclined to place the tag on him.
However, Adams' response to being hit with the tag might have Green Bay in panic mode over the next couple of months.
Davante Adams' latest comments should be a concern for the Packers
All signs point to the franchise tag for wide receivers north of $20 million. For one year, that is pretty decent money for Adams.
On the other hand, we have seen how things can change quickly. For example, the Tampa Bay Buccaneers placed the franchise tag on Chris Godwin, who then tore his ACL and might have lost out on millions in free agency.
When Adams was asked about being given the franchise tag, he didn't seem too happy (h/t Matt Schneidman of The Athletic).
"I'm not sure how to answer that safely, so we'll just cross that bridge when we get there. I like to be professional on here."

Davante Adams on potential franchise tag
That doesn't sound like somebody who is looking forward to being tagged.
After all, who could blame him?
After leading the NFL in receiving in 2020, Adams has done nothing but help his case. He has more yards and catches this season than any other season in his NFL career.
There is no question Adams would be priority No. 1 on many teams' checklists if he hits free agency. Moreover, there is a clear path for Adams to fetch a $100-million deal in the offseason if he doesn't get the tag.
The Packers can't be thrilled with Adams' answer one bit. Sure, the tag helps the team navigate a tricky cap space situation, especially with Rodgers becoming a free agent. As it stands, Green Bay is projected to be $48 million over the cap, according to overthecap.com.
Nonetheless, Green Bay must take this seriously and find a way to ink Adams to a lengthy, top-dollar extension and give him what he is worth.
Green Bay needs to do whatever it takes to ink Adams to a long-term deal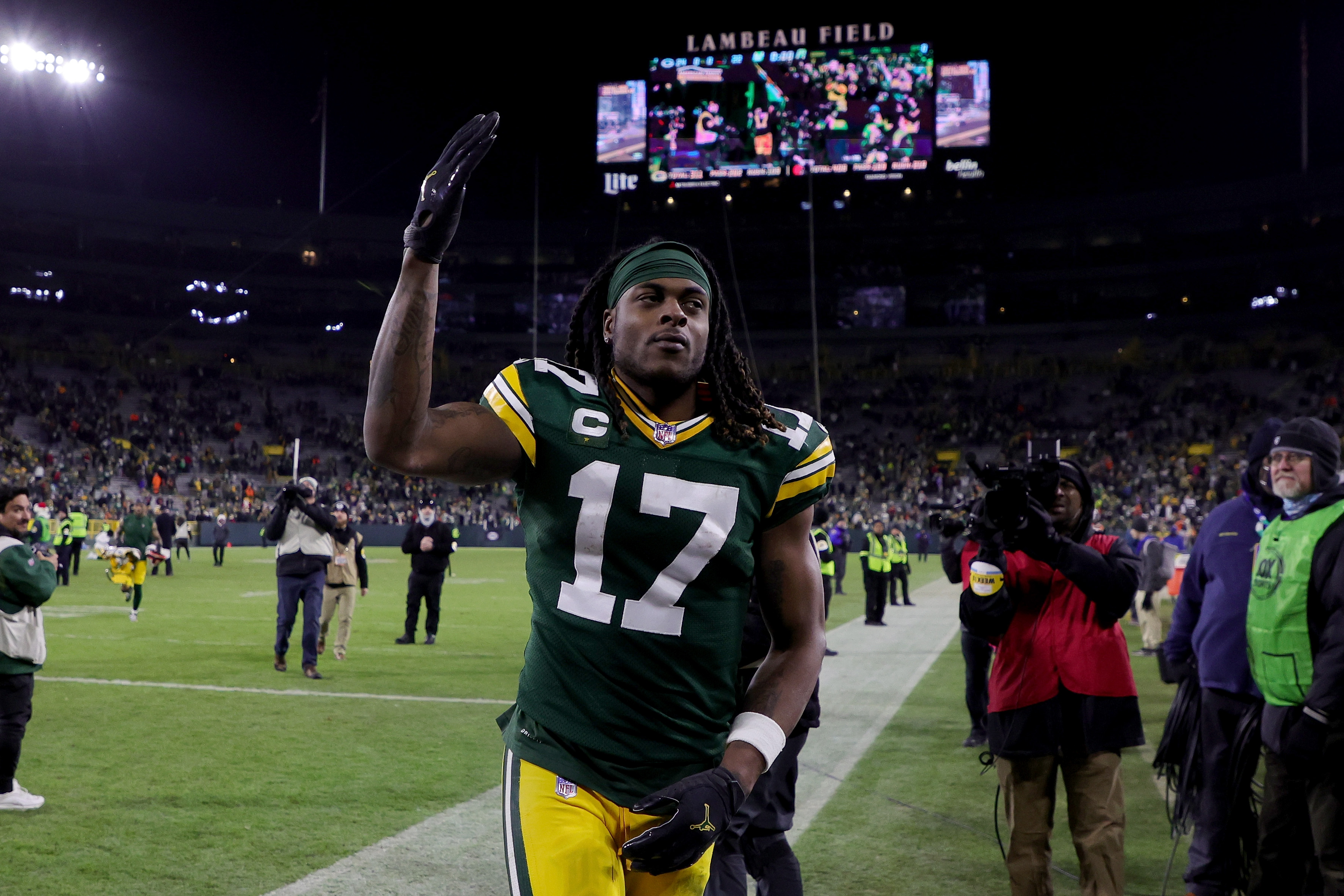 Who can replace Adams' production?
Nobody. Lazard isn't the answer. Marquez Valdes-Scantling and Randall Cobb aren't the answers. Rookie Amari Rodgers has barely played, and No. 12 won't be too pleased if he comes back and his favorite pass-catcher is frustrated.
Despite working on an extension all summer, Adams continuously showed up to camp. If tagged, he will likely play, but he might not be too happy about it. Doing so could burn bridges with the Packers and have him headed out in 2023 regardless of what they offer him.
It is a slippery slope to walk, especially after the sticky situation with Rodgers this past offseason.
Sure, signing Rodgers is obviously priority No. 1 for Green Bay, but finding some way to keep Adams for the next 4-5 years is priority 1A.
The question is, can they get it done?
Stats Courtesy of Pro Football Reference