Davante Adams' Honest Admission on Vikings' Superstar Justin Jefferson Will Keep the Packers' Defense up at Night: 'He's Aging Like a Dog'
Sparks will fly when the Green Bay Packers hit the road to take on the Minnesota Vikings in Week 11. The matchup features two of the most explosive wide receivers in the NFL in Davante Adams and Justin Jefferson.
Adams recently spoke about Jefferson's quick rise to the top ranks and dished him well-deserved praise. If he lives up to the bill against Green Bay, Joe Barry's defense could be in for a long day.
Justin Jefferson's meteoric rise in the NFL
Justin Jefferson was part of the loaded 2020 wide receiver class featuring Jerry Jeudy, CeeDee Lamb, Tee Higgins, and Michael Pittman Jr.
Jefferson was underrated a bit coming out of LSU and fell to No. 22 overall. The Minnesota Vikings considered themselves lucky and wouldn't let the St. Rose, Louisiana native pass them by.
The former Tigers standout burst onto the scene in his rookie season in Minnesota. He recorded 88 receptions for 1,400 yards and seven touchdowns. He broke the rookie receiving record, outperforming every wideout taken over him in the 2020 NFL Draft.
Jefferson is on pace to have another monster campaign in 2021, too. He's already caught 55 passes for 775 yards and four touchdowns.
The second-year wide receiver became the fastest wideout to reach 100 receptions in Vikings franchise history. His latest monster performance came against the Los Angeles Chargers in Week 10.
Jefferson notched his tenth game of 100 or more receiving yards, making him the second player to accomplish the feat in his first 25 games (Odell Beckham Jr.).
The guy is a problem.
Davante Adams gave high praise to the Vikings wideout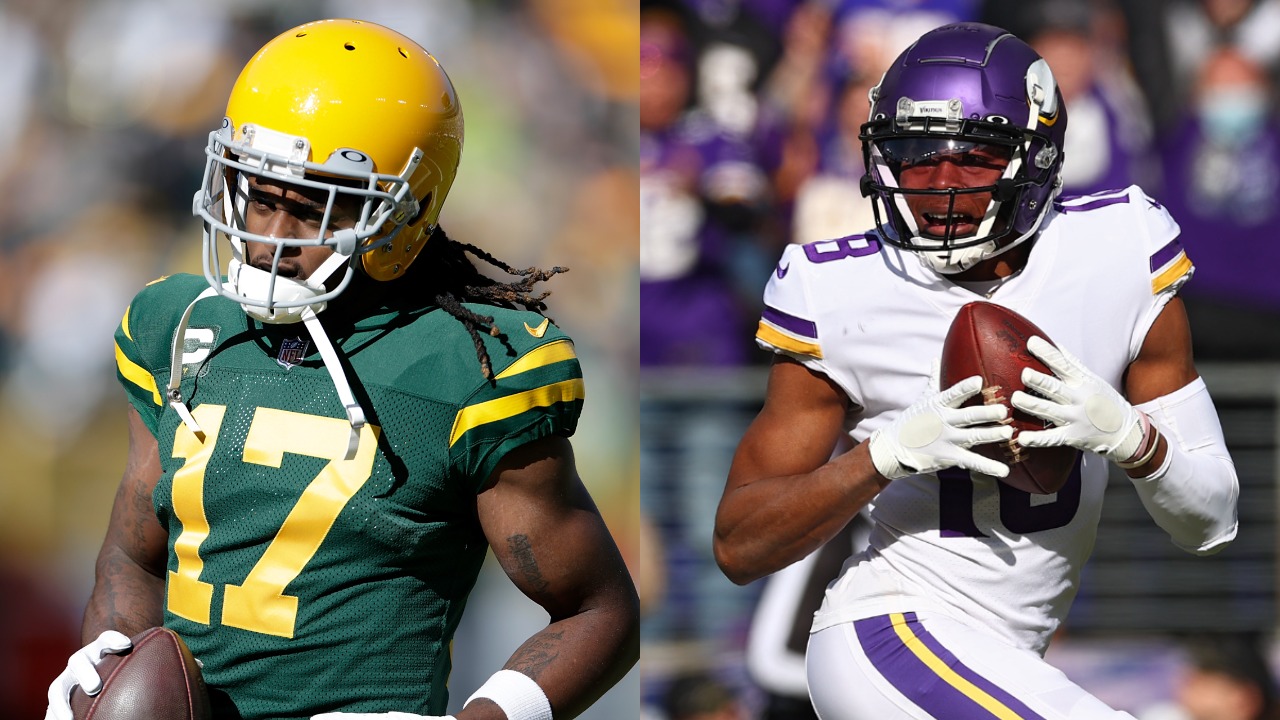 Davante Adams is arguably the best wide receiver in the NFL today, but he's not too good to give out flowers. The Green Bay Packers star receiver thinks highly of Justin Jefferson.
In a recent press conference, Adams praised the Vikings star for his immediate success in the NFL.
"I see a six-year vet when I watch him play," said Adams on Jefferson. "I haven't seen anybody come in a while and play the way that he's playing right now. He really strikes me as somebody that has it figured out, whatever that means. Cause I wasn't playing that fast in my first and second year."
Adams combined for 88 receptions, 929 receiving yards, and four touchdowns during his first two seasons with the Packers. Jefferson well surpassed those numbers in his rookie season alone.
"He's kind of aging like a dog right now," Adams added. "And I mean in its purest form because he's a dog out there. I respect what he's doing, and it's really fun to watch. I truly hope it doesn't look like what's it's been looking like the last couple of weeks against us, but it's definitely fun to watch."
That's high praise coming from a guy who is virtually unstoppable when catching passes from Aaron Rodgers. It just speaks to how good Jefferson has been in such a short amount of time.
The Packers will have their hands full with Jefferson
The Green Bay Packers' defense has been strong so far in 2021, but the Minnesota Vikings' offense should still present a stiff challenge.
Defensive coordinator Joe Barry has done a great job putting this defense together. His unit is currently fourth in the NFL in team defense. The Packers are allowing just 18 points and 309.9 yards per game to opposing offenses.
In comes Justin Jefferson and an explosive Vikings offense. Green Bay has done well against the pass so far, but the second-year stud won't be easy to slow down.
The Chargers have a good secondary, but Jefferson still torched them for 143 yards on nine receptions.
Green Bay will likely have either Eric Stokes or Kevin King lined up across from Jefferson on most plays. However, that will be a mismatch every time.
The Packers held the 22-year-old to less than 30 yards in each of the two meetings with Minnesota in 2021. However, Jaire Alexander, one of the league's top cover corners, had a lot to do with that. He won't be playing this time around.
If Green Bay decides to double Justin Jefferson, they'll have the veteran Adam Thielen to deal with. If the Vikings can establish a run game with Dalvin Cook, it will force the Packers to play honest defense.
Davante Adams talked him up, so No. 18 has to respond in a big way to pull off the upset.
All stats courtesy of Pro Football Reference