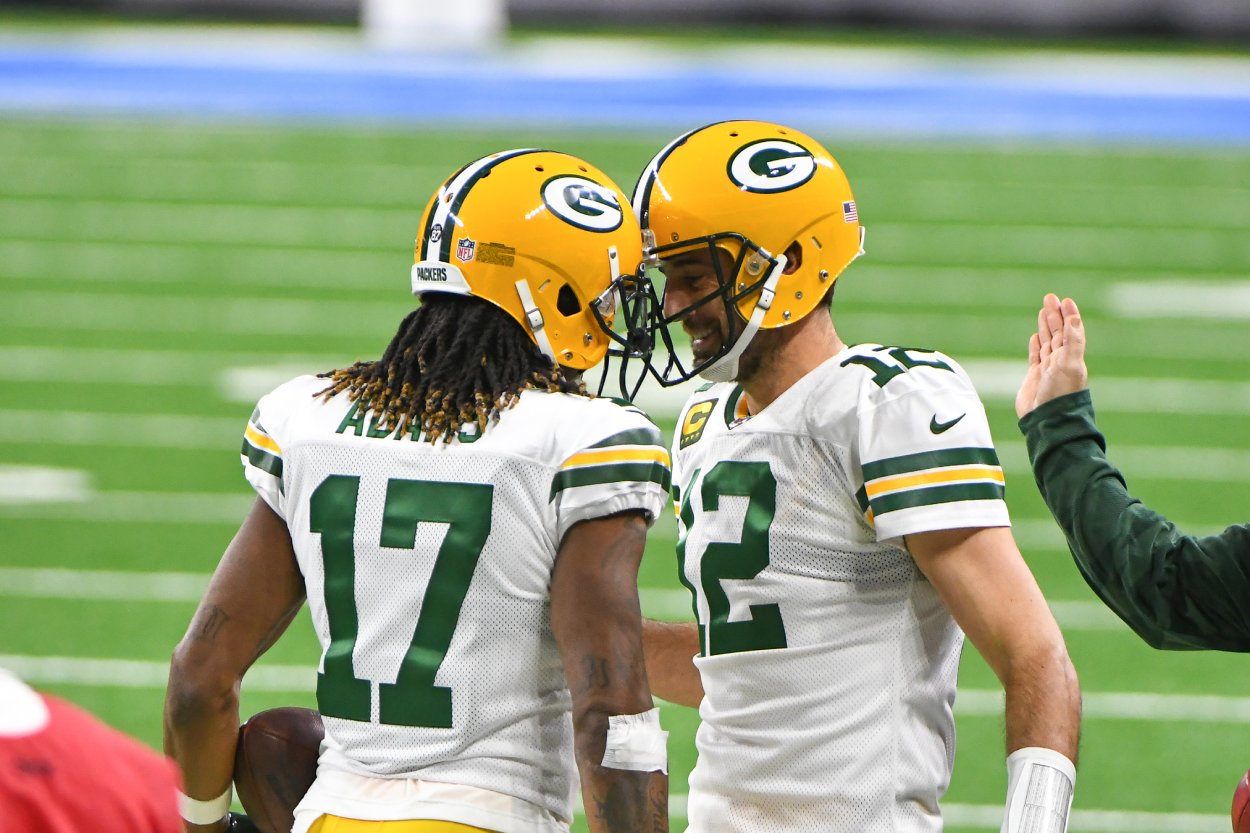 Davante Adams May Have Spoiled His Intent to Follow in Aaron Rodgers' Footsteps
Green Bay Packers receiver Davante Adams could follow Aaron Rodgers and be on the way out.
If the Green Bay Packers and Aaron Rodgers are headed for a divorce, Davante Adams is the child who's plotting to run away. 
But rather than yell and pout as his quarterback has for months, the Pro Bowl wideout is taking a different approach — and it's one the Packers should be extremely concerned about over the coming months. 
Adams keeps flirting with joining the Raiders in 2022
Sports fans have an obsession with plotting free agency and the draft ahead of time. Why else would LeBron James organize The Decision in the summer of 2010?
Way back in December 2017, Adams and the Packers agreed on a four-year contract extension worth $58 million. The explosive receiver is now entering the final year of that contract and will receive $12.2 million in base salary during the 2021 season.
Because it's never too early to speculate about free agency, Adams has already been linked to the Las Vegas Raiders. The 28-year-old grew up in California and played at Fresno State, where he caught touchdown passes from Raiders quarterback Derek Carr in the early 2010s.
According to The Mercury News, Adams said he "can't really get too far ahead" on free agency. However, what he said next should have Packers fans especially concerned.
"When the season ends and if nothing's figured out, then maybe we'll have something to talk about. But those are cautious waters, so I can't really dabble in that now."

Davante Adams
There's a ringing endorsement about his future in Green Bay if you ever needed one. For his part, Carr recently said he plans to recruit Adams to the Raiders if he can.
Should the Packers be concerned about Adams following Rodgers and taking a stand?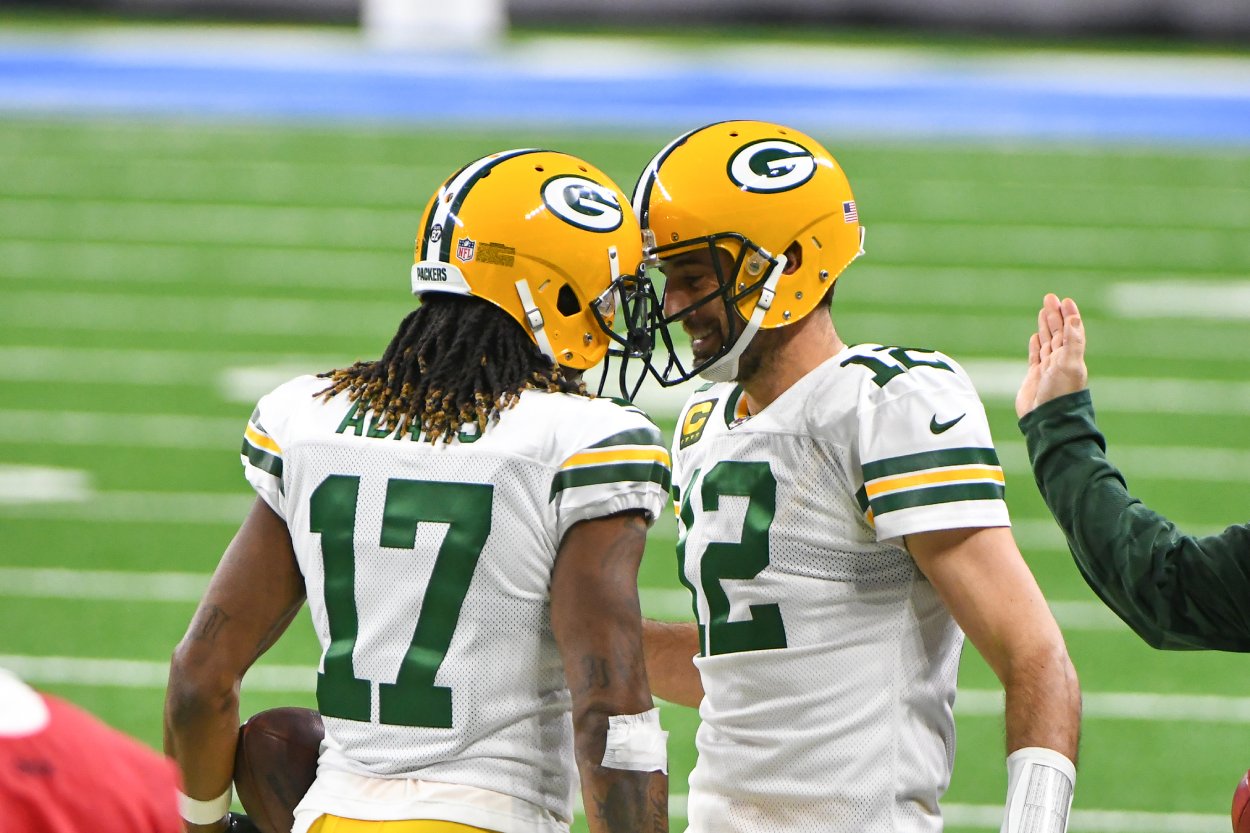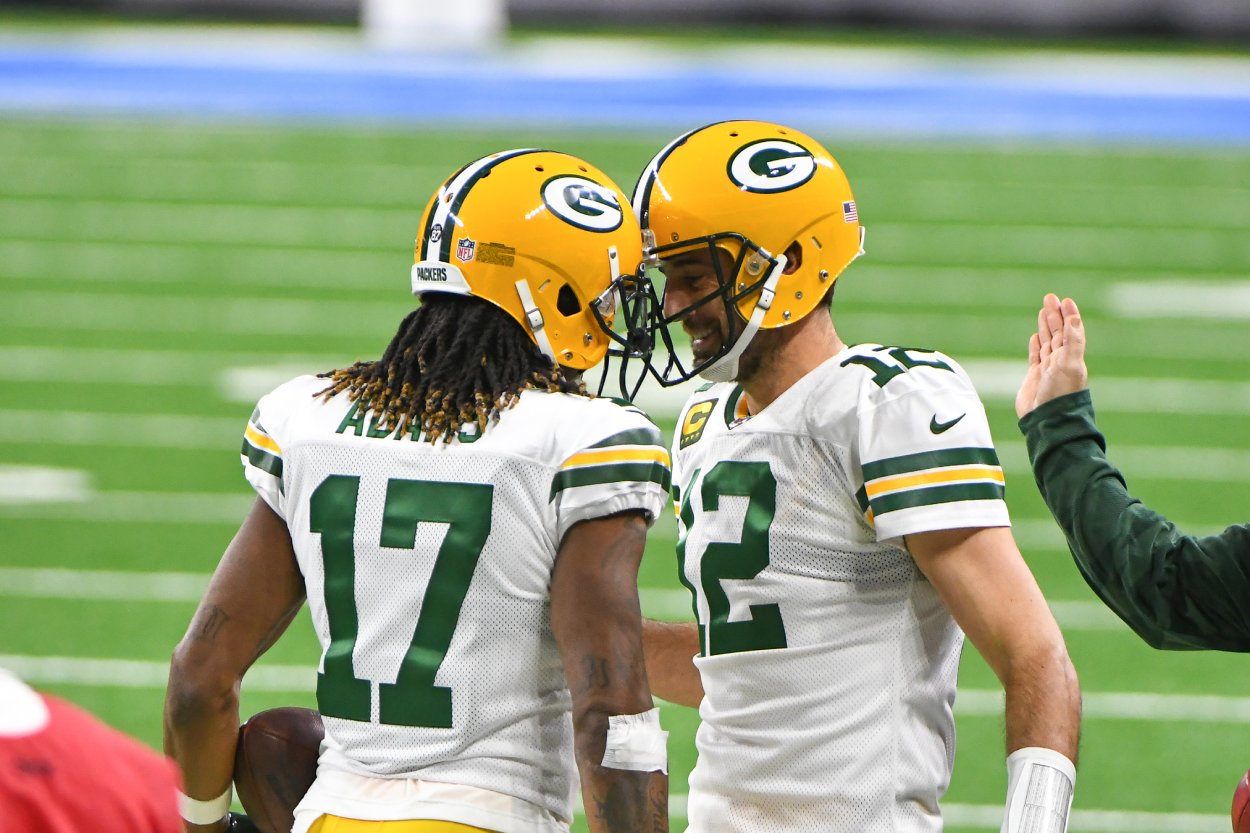 As the 2021 NFL season draws closer, the feud between Rodgers and the Packers remains unresolved. The three-time NFL MVP has shown no indication that he'll report to the Packers in the coming weeks.
The Rodgers problem is bad enough, even with Jordan Love waiting in the wings and sounding confident about taking over a dangerous offense. Now though, the Packers might need to worry about Adams taking a similar stand.
Adams is already subtly floating the idea that he isn't long for the Packers. So what is stopping him from following in Le'Veon Bell's footsteps and simply sitting the 2021 season out? Without Rodgers at quarterback, Adams' numbers could significantly plummet right before he enters free agency.
It'd be a risk, but Adams is also coming off the best season of his career. He set career-highs last year in catches (115) and touchdowns (18) while also totaling 1,374 receiving yards, the second-highest total in his seven seasons. Those are the numbers that would have earned him either a massive contract extension in Green Bay or a hefty deal on the open market had he been a free agent.
However, Adams at least attended the Packers' offseason workouts, and he sounds committed to playing in the green and white this season. That's the good news — and with Rodgers remaining steadfast in his beliefs, Packers fans need all of the good news they can get.
Carr and Adams would be an intriguing duo on the Raiders
Adams would be quite the bold one if he left the Packers, a consistent playoff threat in the NFC, for a Raiders organization with one postseason appearance since the 2003 season began.
Carr and the Raiders can only legally say so much because of tampering rules. But if Adams hits the open market in 2022 and he's open to playing in Las Vegas, the Raiders need to pull off, as Carr called it, a full-court press.
Adams and Carr have a history together, and he totaled 233 catches for 3,3031 yards and an eye-popping 38 touchdowns in 26 games for the Bulldogs from 2012-13. So who knows what they'd combine to do in the NFL, especially in an offense with Josh Jacobs at running back and Darren Waller at tight end?
The Raiders have needed that reliable, consistent No. 1 receiver for decades. Unfortunately for Raiders fans, Randy Moss didn't pan out, Amari Cooper flashed before the team traded him to Dallas, and the less said about Darrius Heyward-Bey, the better.
But who knows? Maybe Adams will sign with the Raiders next year, and Rodgers will be his starting quarterback. At least Packers fans won't have to worry about playing the Raiders in a regular-season game until 2023 at the earliest.
Like Sportscasting on Facebook. Follow us on Twitter @sportscasting19.