Davante Adams, the Most 'Dominant' Player Aaron Rodgers Has Ever Played With, Isn't Satisfied With the Green Bay Packers
It was a special afternoon for Davante Adams, Aaron Rodgers, and the Green Bay Packers. It was a historic afternoon.
It was also somewhat frustrating, as the Packers barely held on to beat the Cleveland Browns at home, 24-22.
Can you celebrate historic accomplishments while at the same time realizing that you still have much work to do? The answer to that question is yes. The Packers lived that reality on Christmas Day, 2021.
Davante Adams and Aaron Rodgers both made history for the Green Bay Packers
It would be wrong to talk about this game negatively because it indeed was a special day for the Packers.
With 5:13 to go in the first quarter of the contest, Rodgers found Allen Lazard on an out-route that ended up with the fourth-year receiver diving at the front pylon for a touchdown, which was Rodgers' 443rd thrown as a member of the Packers. That touchdown broke a tie with Brett Favre at 442 and put Rodgers alone on top of the mountain in Green Bay.
The crowd went nuts, Favre showed up on the jumbotron to congratulate his former backup quarterback. All was great in Title Town, USA.
The Packers' next offensive possession was a seven-play, 78-yard drive that culminated in a touchdown pass from Rodgers to Adams. That was a historic play as well, marking the 66th touchdown connection between the two players, which moved Adams and Rodgers ahead of Jordy Nelson and Rodgers for the most passing touchdown connections in Green Bay history.
In the first half, Adams would catch one more touchdown pass from Rodgers. He finished the game with 10 receptions for 114 yards and two touchdowns. It was the eighth time in his career he's had a game with at least 10 catches, 100-plus yards, and two touchdowns. He now has 106 total catches this season, marking the second-straight campaign that has seen him catch over 100 footballs and his third overall.
Rodgers was effusive in his praise of Adams after the game
Rodgers and Adams have been playing football together for a long time. Remember, Rodgers was already in his 10th season by the time the Packers drafted Adams in the second round of the 2014 draft. The three-time MVP has seen Adams go from a young player with a bad case of the drops to the most dynamic wide receiver in the NFL.
The two share a special connection, and that's evident on the field every week. Adams is by far Rodgers' favorite target, and it really doesn't matter what a defense tries to throw at him. Adams just finds a way to get open and catch the football.
"I've played with some great ones over the years," Rodgers said, according to Bill Huber. "Obviously, Brett Favre, incredible player, all-time great; Charles Woodson, the same and the way he could dominate on the field from a defensive back position was incredible. Jordy Nelson, him and I always had such a great connection. But when you start stacking up the numbers for Davante, it's mind-blowing. I really feel like he's the best player I've played with, and I said that to him the other night, actually. I was just thinking about him and having a lot of gratitude for our friendship and the fact I get to play with him for so many years now. I just felt like I wanted to tell him that because it's true."
Rodgers was asked to clarify later on in the press conference if Adams is just the best offensive player he's ever played with or the best overall player.
The quarterback didn't mince his words.
"Most dominant player I've played with," Rodgers said of Adams.
Adams knows the Packers still have work to do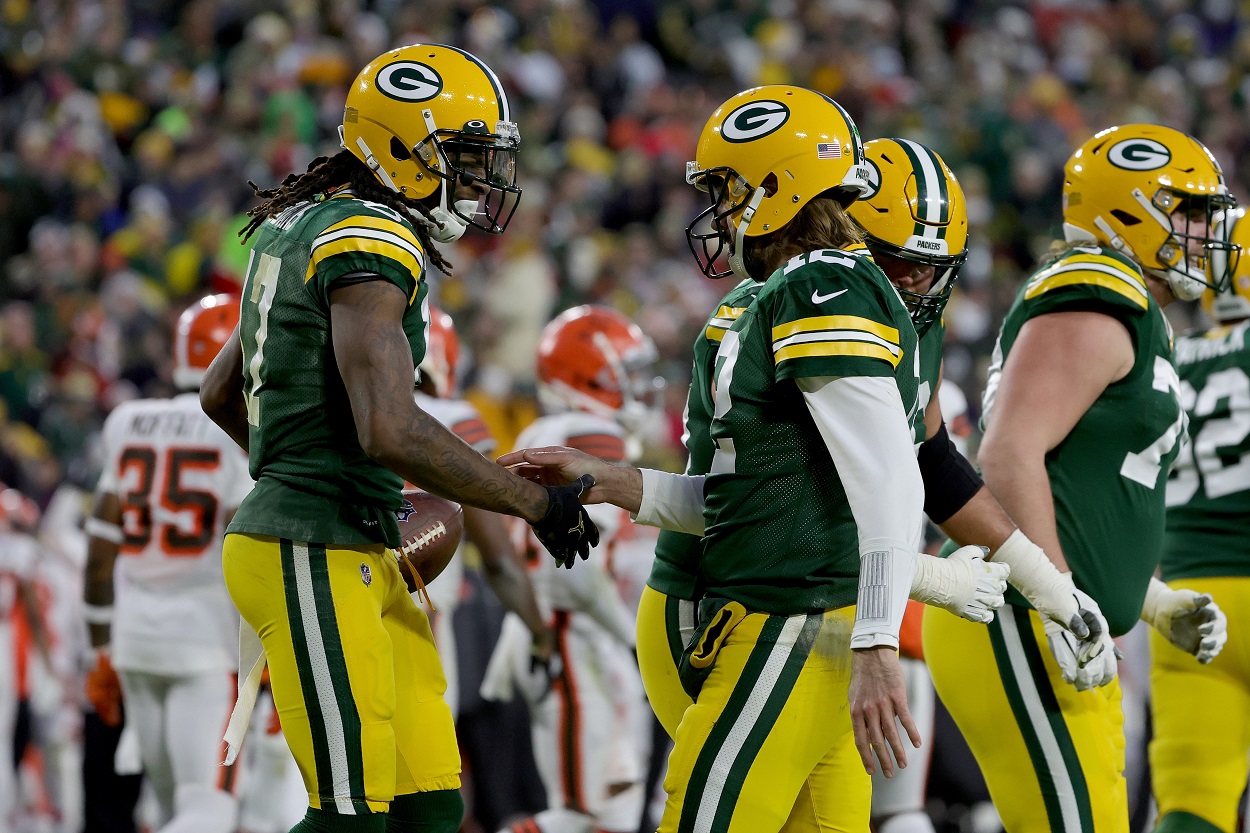 All is well that ends well for Green Bay, but the Packers came perilously close to losing to the Browns on Christmas.
Green Bay's offense, which looked unstoppable in the first half, put up only three points in the second half. Yes, the defense picked off Baker Mayfield four times, but they also allowed Nick Chubb to run all over them for 126 yards and a touchdown. Cleveland rushed for 219 yards as a team against Green Bay.
It was far from a perfect game from a team that is hoping to soon lock up the No. 1 overall spot in the NFC. In fact, had this game been against Tom Brady and the Buccaneers or even Dak Prescott and the Dallas Cowboys, it very well could have ended in a loss. Three second-half points won't cut it against playoff teams like the Cowboys or Buccaneers, and no offense meant to Mayfield, but it's tough to expect four interceptions thrown by the opposing quarterback in a big playoff game.
The Packers won. No NFL team will ever apologize for that.
Green Bay clearly has a few things to iron out before the playoffs begin, though. Despite the win and despite the record-setting day, the Packers played one of those games where it feels like you lost even though you ended up winning.
"There's a lot of mixed feelings, I would say," head coach Matt LaFleur said after the game, according to the team website.
Adams was more direct in his assessment.
"I mean, to a certain extent, we got lucky," he said, according to Madison.com. "We definitely played some good ball early on, but (we) took our foot off the gas pedal a little bit. We did enough, but that's not our standard, finishing games like that."
While he was more critical when speaking to the press, what Adams put on Twitter should have the rest of the NFC taking notice. Green Bay is 12-3 and certainly one of the favorites to win the Super Bowl this season. However, Adams doesn't think we've seen the best of this team yet.
"Great win fellas, our best ball is still ahead of us, he said.
Stats courtesy of ESPN and Pro Football Reference.