Davante Adams Opens Up on His (and Aaron Rodgers') Uncertain Future with the Packers: 'See If We Can Keep the Family Together'
The Green Bay Packers are rolling right now, sitting atop the NFC. The front office probably never wants the season to end because, then, they'll need to address the elephant in the room. Aaron Rodgers' future in Green Bay is still up in the air. Davante Adams future is uncertain, too. The Packers wideout recently opened up about what may transpire in the offseason.
Davante Adams would love to keep playing with Aaron Rodgers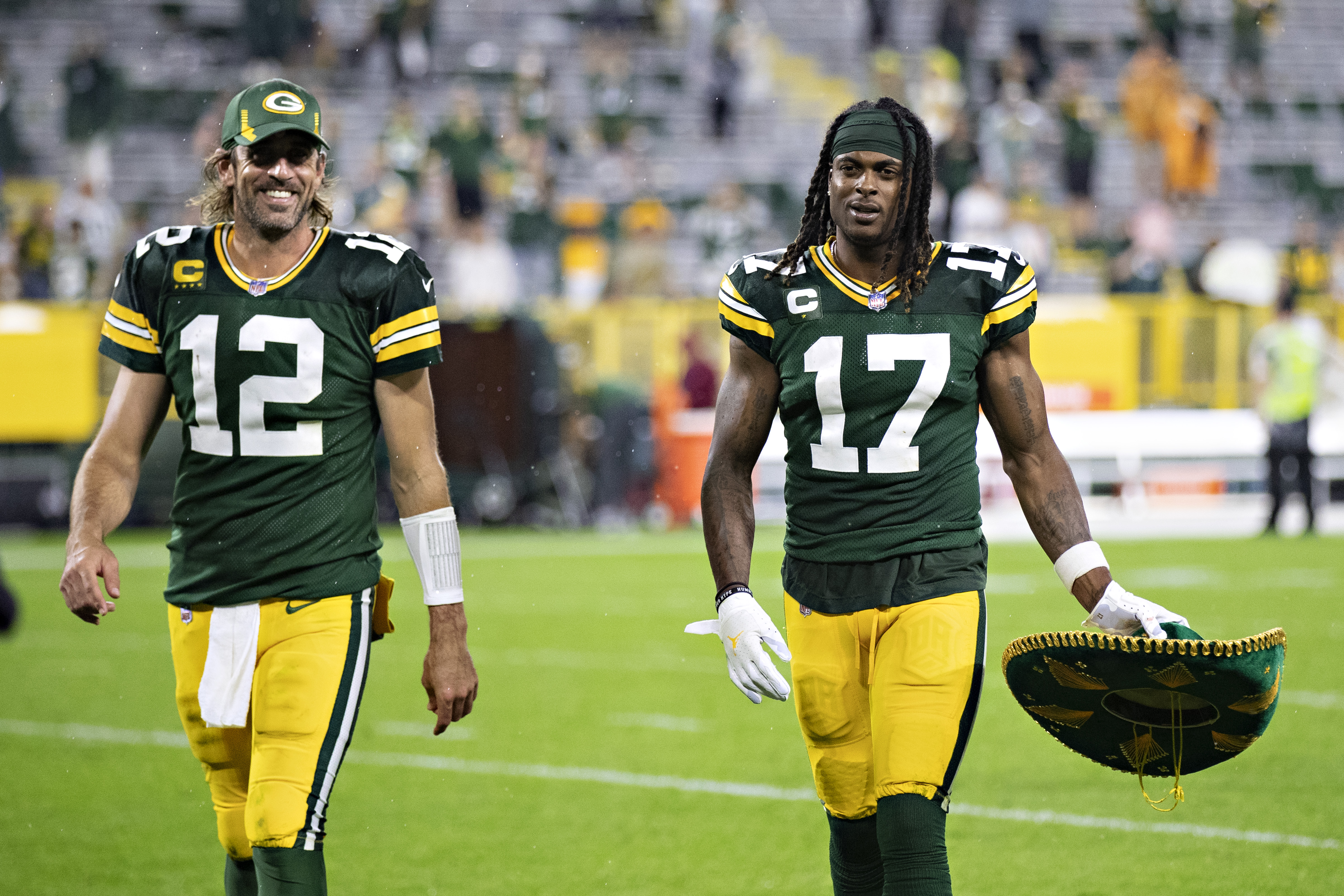 Aaron Rodgers and Davante Adams combine to form the most dominant quarterback-wide receiver tandem in the NFL today. Could the 2021 season be their last hoorah together?
Adams joined The Rich Eisen Show to discuss the Packers' postseason hopes and his future in Green Bay. The NFL Network analyst asked if Rodgers' status would impact what he does in free agency.
"Potentially," said Adams. "All my success has been attributed to just being locked in at the moment and enjoying playing ball with my teammates. Going in and producing at a high level, and trying to focus on being the best every week."
The 4-time Pro Bowler also weighed in on Rodgers' future with the Packers.
"He's definitely been in good spirits," said Adams. "I think we're the same type of guy in the sense that certain things go on in the offseason, but there's a time and place. Figuring out the business aspect of it, whether it's contract situations or whatever Aaron had going on with his situation. But once it's time to play ball, just lock in and do what we love."
While Davante Adams didn't completely show his hand, he's clear that he wants to continue playing with Aaron Rodgers.
"It's a business, so there's a lot of stuff that goes into it," he said. "We got to lock in on this part first. Then, we'll head into that and try to map out and see if we can keep the family together."
The Packers WR is focusing on winning a Super Bowl
Davante Adams answers the questions that interviewers ask him, but he's not ready to look ahead to the 2022 season just yet. He says the Green Bay Packers still have plenty of work to do in 2021.
"Once we wrap this thing up, hopefully, with a ring, we can figure out where everything is heading with that," said Adams. "During the season, definitely not at this point. We've played a lot of ball. We're just going to finish it out, try to get this ring, and see what happens after that."
The Packers boast a 10-3 record, which currently has them as the 1-seed in the NFC playoff picture. Matt LaFleur's squad closes the season with matchups against the Ravens, Browns, Vikings, and Lions. Securing home-field advantage at Lambeau Field would go a long way to making a deep playoff run.
Rich Eisen suggested that it would be foolish for the Packers to break up the band if they win the Super Bowl in 2021. Adams agreed, but he knows Green Bay hasn't finished the mission yet.
"We got a few games to win before we even start thinking about all of that," he said.
Green Bay's front office must do everything it can to retain both players
Aaron Rodgers dominated headlines in the offseason as questions emerged about his future with the Green Bay Packers. The 3-time All-Pro skipped mandatory OTAs, but he did report for training camp.
Even though Rodgers ended up joining his teammates, doubt still exists about whether or not he'll be staying beyond the 2021 season.
The Packers' signal-caller is still under contract through the 2023 season, but demanding a trade be wouldn't off the table if things fall apart.
On the other hand, Davante Adams will become an unrestricted free agent once the season ends. He's the best wide receiver in the NFL, so suitors will likely be lining up to make a run at him. Green Bay's front office cannot afford to drop the ball here.
General manager Brian Gutekunst and team president Mark Murphy will have some tough decisions to make, but making Rodgers and Adams happy shouldn't be one of them.
The two players have connected for 84 receptions, 1,162 yards, and seven touchdowns so far in 2021. In 2020, Adams led the NFL with 18 scores.
This is a no-brainer. However, as Davante Adams suggests, other variables could prevent the family from staying together.
All stats courtesy of Pro Football Reference and contract figures courtesy of Spotrac