Davante Adams Potentially Missing the Green Bay Packers' Tilt Against Undefeated Arizona Cardinals Puts Pressure on Several X-Factor Players to Step Up
Let's get the bad news out of the way for the Green Bay Packers: Superstar wide receiver Davante Adams is in danger of missing Thursday Night Football and the Packer's huge matchup against the undefeated Arizona Cardinals.
Adams, who's undeniably the best receiver in football right now, was placed on the reserve/COVID-19 list Monday afternoon after testing positive for COVID. The news broke just several hours after defensive coordinator Joe Barry ended up in the same position. While an even greater spread is likely a huge concern for Green Bay, losing Adams for this game is a huge deal.
The Packers are already down multiple star players because of injuries, and if Adams isn't able to get cleared before the game, Green Bay is going to be under a ton of pressure. The offense, of course, will suffer and have to react accordingly. The Packers' defense will also be put under a ton more stress, having to slow down an Arizona team that scores 32.1 points per game behind the leadership of head coach Kliff Kingsbury and quarterback Kyler Murray.
If Adams is both vaccinated and asymptomatic, two facts we don't know, he will need to receive two negative tests, 24 hours apart, in order to play on Thursday. With Green Bay leaving for Arizona on Wednesday, his status is 100% up in the air.
Green Bay is going to have to get creative in order to win because this was already going to be hard without Adams. Credit to the Packers, they are a deep team and they have been winning games while down key players this whole season.
Riding a six-game winning streak and trying to get one more while in the national spotlight, several key players are going to have to step up for the Pack.
If Davante Adams can't play, the Green Bay Packers are going to need another big game from Allen Lazard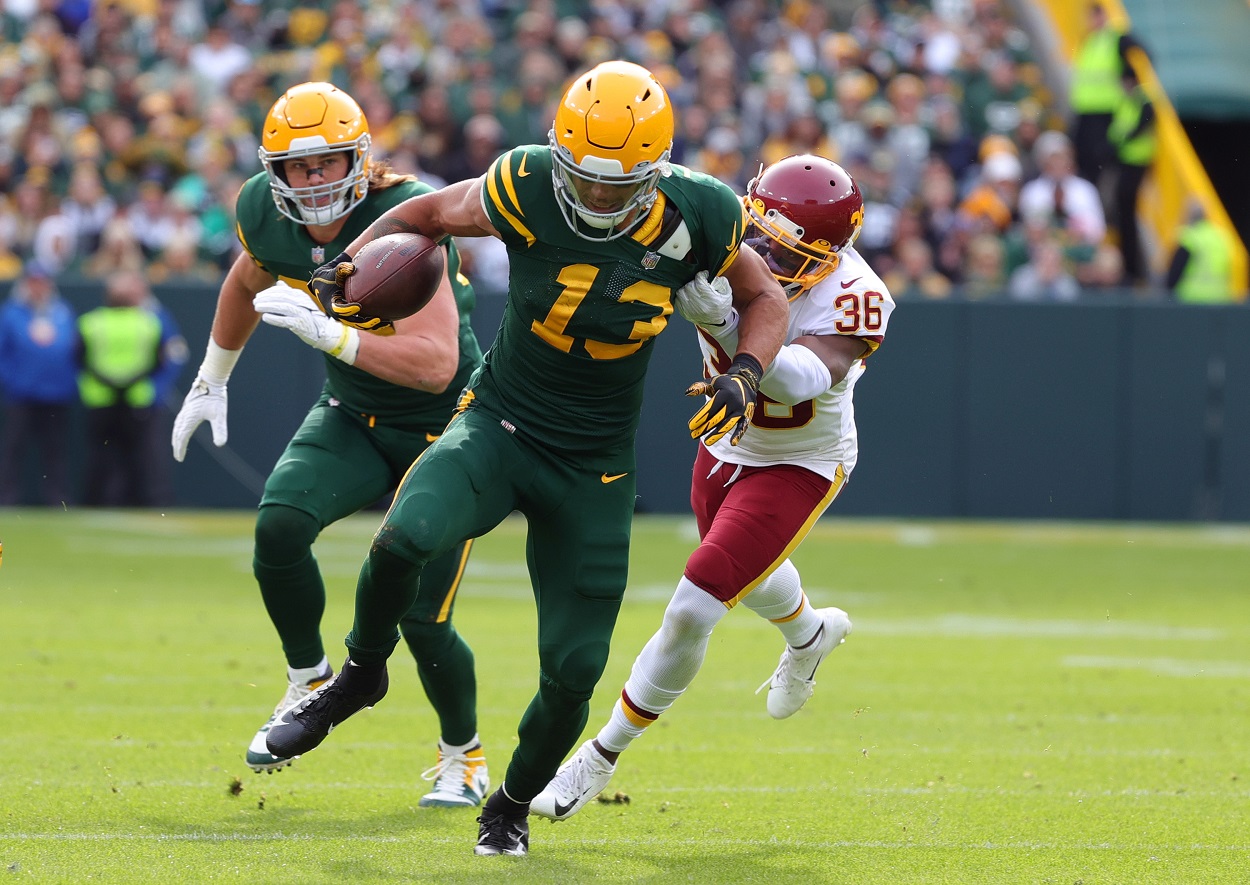 UPDATE: Allen Lazard is going to miss Thursday Night Football's matchup because he's been placed on the reserve/COVID-19 list, according to Adam Schefter.
***End of update***
Allen Lazard, the "Lizard King" as they call him in Green Bay, has spent much of 2021 as an afterthought in Green Bay's offense.
The fact that he's even on the roster is incredible enough, considering he's a former undrafted free agent and practice squad player. He has worked his tail off to build a niche within Green Bay's offense, though, and he's going to need to once again prove his worth in LaFleur's scheme against a strong Arizona defense.
Lazard has made his name in Green Bay as a tenacious run blocker on the edges, so he'll need to continue that for Green Bay to do what it wants to do in the run game, and also on wide receiver screens, a scheme LaFleur loves to utilize. The 6-foot-5, 226-pound bruiser is far from a utility-only player, though. He was a superstar receiver at Iowa State, and he has proven throughout his short NFL career that he can capitalize on opportunities when he's featured within Green Bay's offense.
Lazard is a big wideout who runs smart routes, so he'll have to play an important role for Aaron Rodgers as a reliable possession receiver on third downs, which is a role that Adams oftentimes plays for the MVP quarterback. Though he's not the quickest receiver you'll ever see, Lazard can also get open downfield and use his size to his advantage.
Last season against the New Orleans Saints, he had a game in which he caught six passes for 146 yards and a touchdown, averaging 24.3 yards per grab. Last week against the Washington Football Team, he caught five passes for 60 yards and a touchdown.
If Adams can't go in Arizona, Green Bay will need another performance like either of those from Lazard.
The Packers are going to have to lean heavily on Aaron Jones and A.J. Dillon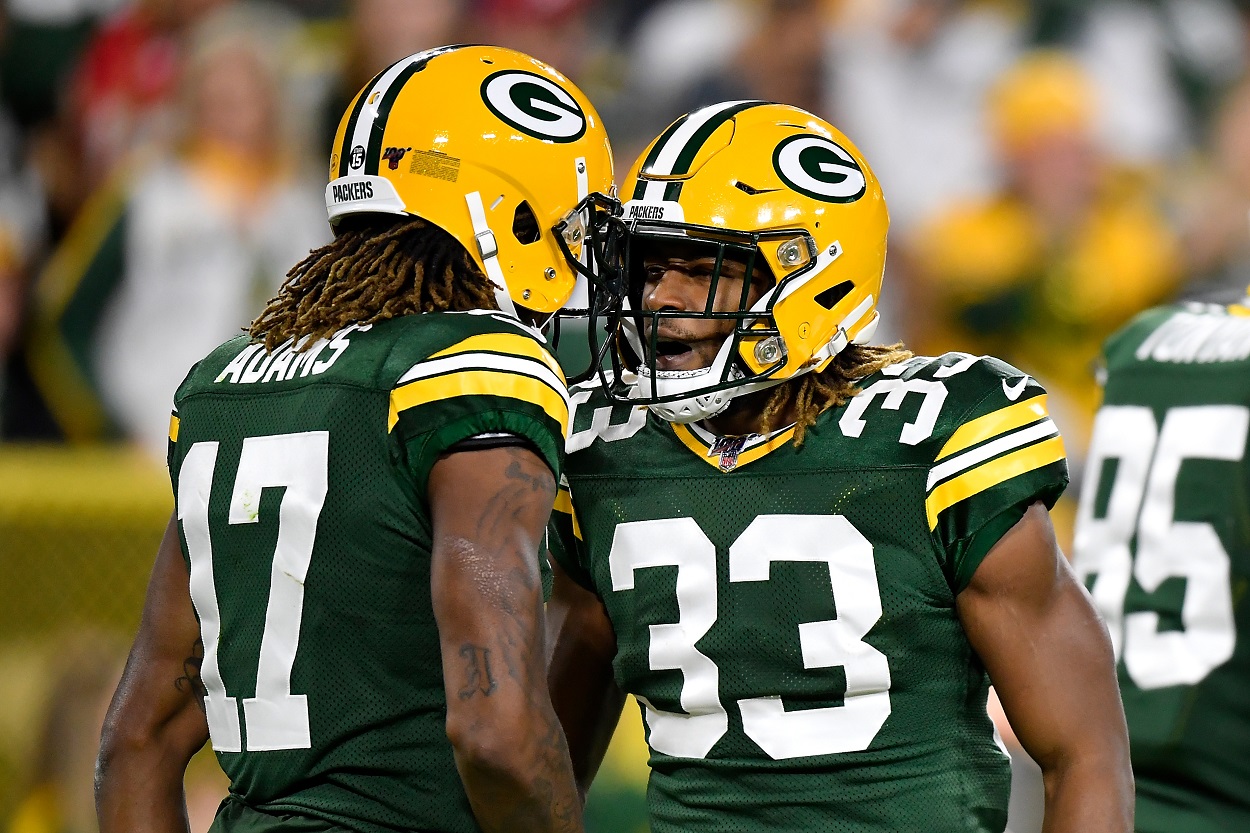 One of the best ways to keep a good offense off the field is by controlling the pace of play and especially the time of possession. The Packers are used to opposing defenses using this strategy to keep Rodgers off the field, but now they're going to have to do the same thing to the Cardinals.
Aaron Jones is one of the top running backs in the league, and coming off a game against Washington in which he only saw six carries, LaFleur and the Packers are going to have to let him loose in the desert. They were apparently saving him for this moment.
The good news for Green Bay is that he is the type of running back who can take over a game, and he also provides a huge boost for Rodgers as a pass-catcher out of the backfield. He's caught 26-of-28 targets this season, turning those into 186 yards and four receiving touchdowns. Jones averages 7.2 yards per catch, and that type of production will go a long way toward helping the Packers move the sticks against the Cardinals.
The thunder to Jones' lighting, A.J. Dillon, is also going to have to be a big part of Green Bay's game plan. He's a bruising 247-pound running back who runs straight downhill and is a massive problem to tackle for opposing defenders. He's a great change of pace back for the Packers, and LaFleur is going to have to utilize both him and Jones to control the clock.
LaFleur and Rodgers both have a tendency to throw the ball too much at times, because with an MVP quarterback, why not? They'll have to reel that tendency in this week, though, because ball control and clock management are going to be key.
It's once again your time to shine, Eric Stokes
Rookie cornerback Eric Stokes has had a ton of responsibility thrust on him early in this season. While the plan was clearly to let him come along slowly, a massive injury to all-world cornerback Jaire Alexander has thrust the rookie into a starting role, and he's delivered so far for the Packers.
He'll need to deliver again against Arizona because the Cardinals just have way too many weapons.
Stokes is going to get beat. That much is inevitable and that's really the life of an NFL corner. Known for his elite coverage skills, even Alexander has been bested this season at times. With that said, Stokes has flashed sticky coverage for a rookie and he has the speed and length to be a shut-down corner. We've already seen him make plays, and he'll have to continue to do so.
The Cardinals are deep at wide receiver, with both Christian Kirk and a suddenly refreshed A.J. Green making plays in Kinsbury's scheme. DeAndre Hopkins is the star of the bunch, though, and Green Bay is going to really have to rely on Stokes to at least make life a bit more complicated for the superstar wideout.
If Stokes can pester Hopkins, lesser cornerbacks like Kevin King (if he's healthy), Rasul Douglas, and Chandon Sullivan can focus on taking care of the supporting cast. That's a huge ask for the rookie, but him stepping up and at least slowing down Hopkins is really the only way Green Bay's defense stands a chance.
If the Packers' defense can slow Arizona down just enough to give Rodgers and the offense enough of a chance to keep up in a high-scoring affair, Green Bay can still walk away with a win.
Stats courtesy of ESPN and Pro Football Reference.
RELATED: Davante Adams Says There Are Only 2 Ways to Try and Stop Him but Won't Reveal 1 of Them